The definitive Algarve bucket list: 29 tips from east to west
July 18th 2017
Mountains and artisan food, festivals, wildlife, and outdoor adventure galore, the Algarve isn't just about the beach. There's no doubt that those sandy shores are one of the region's greatest asset, but so many things in Portugal's southern province deserve more attention. Tick off this ultimate Algarve bucket list to witness the many faces of this sun-soaked destination.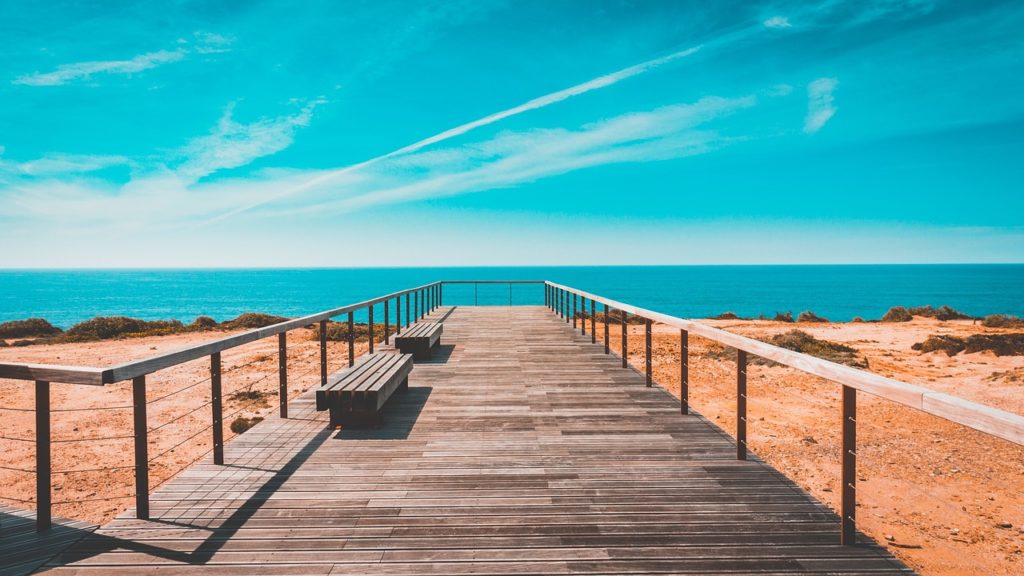 1. Visit an Algarve vineyard
The Algarve isn't known for its wine, but that's not to say no one is producing it here. Plus, the wine culture's under-the-radar quality makes it even more of a special thing to experience. Our top choice is Quinta do Francês, a vineyard in the secluded setting of the hilly Monchique area making a small selection of red, rose, and white wines. There's also Monte de Casteleja, an organic wine producer near Lagos, and Quinta dos Vales Wine Estate at Estômbar, set on a picturesque estate with gardens and sculptures.
// Related: Travelling to Portugal soon? You need our print journal A Year in Portugal, filled with outstanding travel narratives and photography. Find out more
2. Discover Silves
Silves is one of the best places to retreat to if you want to get away from the coast for a while. Located 15km northeast of Portimão, this town is easy to get to from most places in the centre or west of the region, and there's enough to do here for a day trip taken at a leisurely pace.
One of Silves' greatest highlights is its castle, dating back to Roman times and the best-preserved in the Algarve. You can still see one of the castle's gates, plus its battlements, from which you can take in spectacular views across the surrounding countryside.
// Related: Algarve travel – a practical guide to eating, sleeping, and getting around
3. Take the ferry up the Guardiana River
The Guardiana River separates Spain and Portugal, a natural border that runs for more than 810km in the two countries, 260km of which are in Portugal. Boat trips up the river from Vila Real de Santo António up to Alcoutim connect you with the Mediterranean vegetation of this area, and the slow paced way of life that bumbles along on its banks. Pass by rural villages and hills gently rising up either side of you as you wend along the waters, have lunch up in Alcoutim, and head back down.
4. Eat a cataplana
The cataplana is a traditional Algarve seafood dish and a word that refers to both the pan it's cooked in and the food itself. It's thought that the Moors first brought the dish here, taking inspiration from the Moroccan tagine that also mimics its name from pan to plate.
Anything can be put in a cataplana. The base sauce is usually of a tomato, wine, and garlic make-up, and the variable ingredients include clams, mussels, prawns, white fish, and pork. Alongside other fish and seafood, the cataplana is a must-try in the Algarve and they are served at most seafood restaurants.
// Related: 6 delicious and drool-worthy Portuguese dishes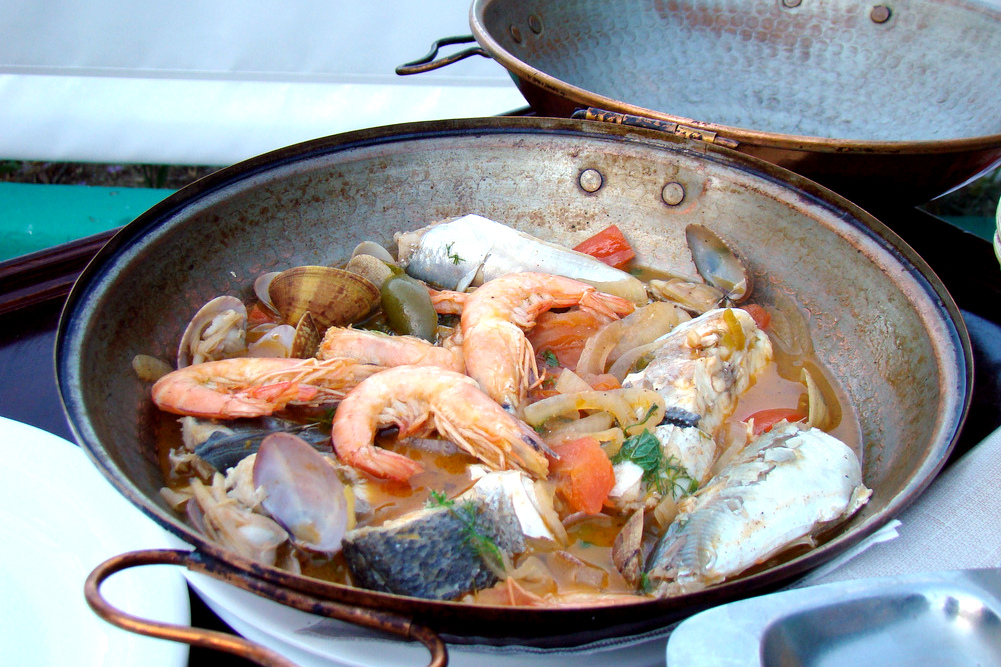 A cataplana, served in the traditional dish
5. Spend time in Monchique
The Serra da Monchique is the Algarve's mountain range and remains little unchanged from decades ago. This is a picture far removed from the beach life in the southern Algarve – up here you'll come across farmers and village folk, rolling hills as far as the eyes can see, and local produce playing a major factor in the region's culture. Look out for honey stands by the side of the road.
Go mountain biking or hiking up here on the peaks of Foia and Picota (the range's highest) and relax afterwards in Caldes de Monchique, a thermal spa town. The water here has attracted humans since the Roman times, and today you'll find luxury spas nestled in the trees. Eat at Restaurante A Rampa, which does the most delicious piri-piri chicken and boasts a panorama down to the coast from its terrace.
6. Marvel at Estoi
There's one main reason to visit Estoi in the eastern Algarve, and that's to witness its beautiful pink palace. The Palácio de Estoi is famous for its distinctive colour and tiling on other parts of the property, plus the beautiful surrounding gardens. You might not come here for a whole day out, but if you have a spare afternoon and want a break from the beach it's worth popping to Estoi for a wander round.
7. Go to Cabo de São Vicente
As the most southwestern point in Europe, a stop-off at Cabo de São Vicente is an essential when visiting the Algarve. There's not a huge amount to do here – just a lighthouse, small museum, and bar sit on the edge of the cliffs, surrounded by empty headland – but the novelty of saying you've been here, and the dramatic setting, makes it worth it. Check the weather before you visit; this far western tip can often get stormy and overcast, cloaking the sky in a gloomy mist. When it's sunny, however, you can't beat the views.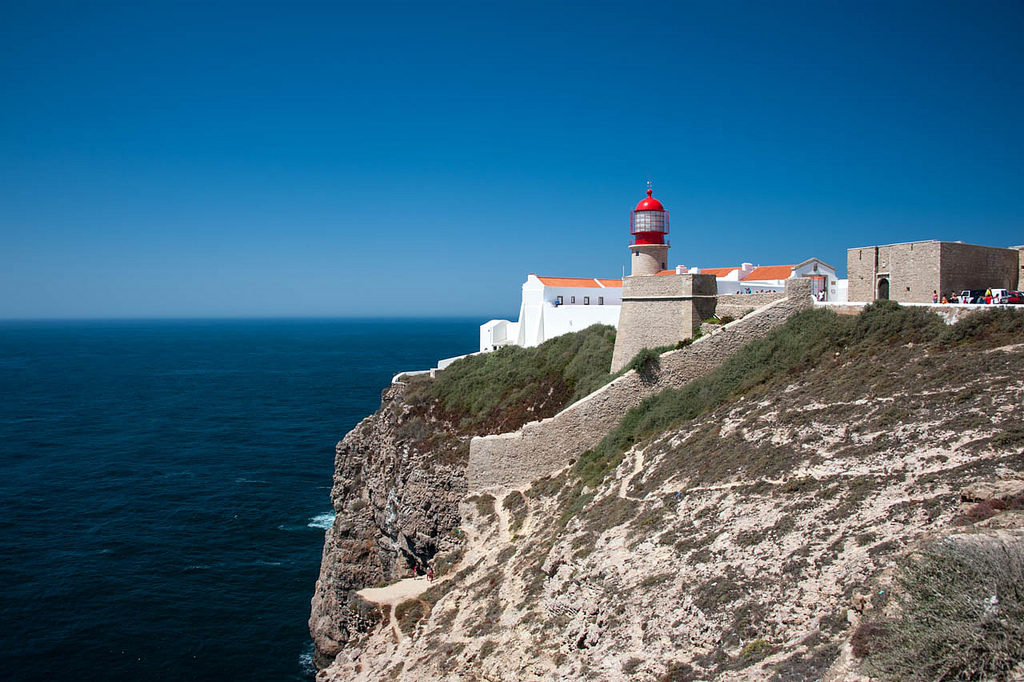 The lighthouse at Cabo de São Vicente. Image source
8. Hike the Via Algarviana
If you're hiking mad, there's no better route to tackle in the Algarve than the Via Algarviana. Running from Alcoutim in the far east to Cabe de São Vicente, the trail runs for 300km, through 11 municipalities, right across the region.
Most of the Via Algarviana is inland, making it a unique way to discover some of the more undisturbed parts of the Algarve where few people set foot. It's extremely well marked and easy to navigate, with plenty of stops along the way to pitch up for the night and get supplies. Visit the trail's website for more detailed information.
// Related: 5 easy western Algarve walks
9. Swing by Loulé
The little town of Loulé, less that half an hour north of Faro, makes for a fun day out or even a short stopover. The highlight is without doubt the Municipal Market, a pink and creme building in the centre that sells fruit and veg, typical products such as spices and honey, and an entire half is dedicated to the fishmongers.
Pulling their catch from the nearby seas, these are among the most skilled fishmongers in the Algarve, making a visit to the market a spectacle of skill. They scale, slice, and fillet with ease – come here whether you like fish and seafood or not, as it's quite the show.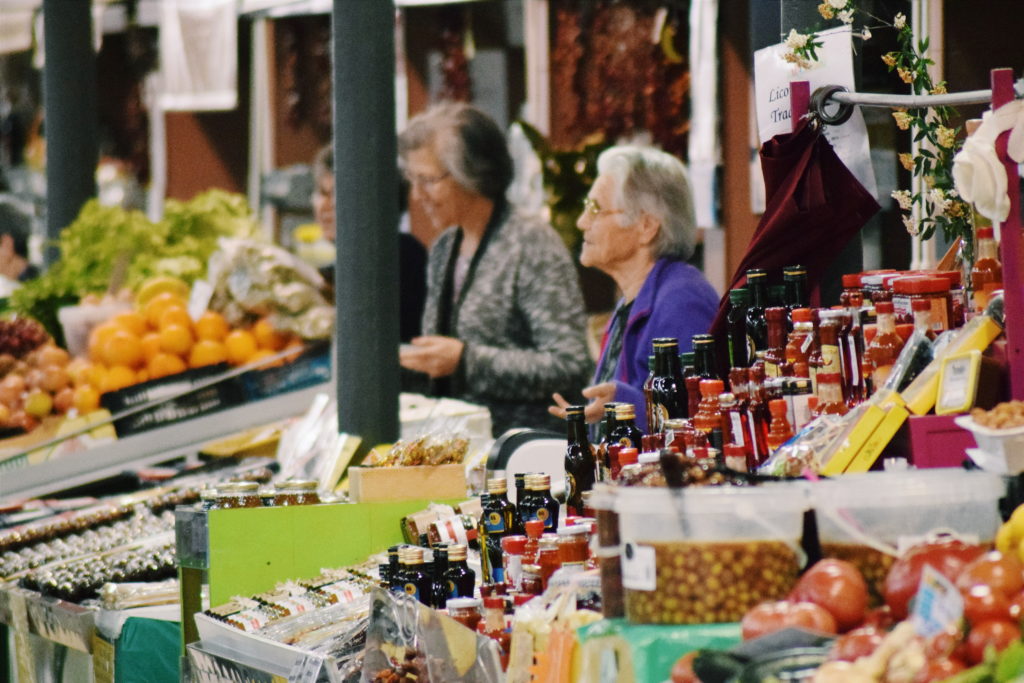 Sellers at Loulé Municipal Market
10. Go to the medronho festival
Each April the town of Monchique holds a festival dedicated to medronho, the local firewater. Prized by all locals here, medronho is actually made in many parts of Portugal, but Monchique is considered the very best place to try it and one of the quintessential products that make this humble town special.
During the festival talks are held around town, but as a non-Portuguese speaker you're better off just bubmling around trying sips of the drink for yourself. There are more than 80 licensed medronho producers in the area and this is one of the best places to sample the fruits of their labour. Approach with caution, however – this isn't called firewater for nothing.
11. Wild swim in a lake
It's only a fraction of the year that the beaches in the Algarve are unoccupied, making it a difficult place to be if you want to go for some undisturbed swimming. However, seek and you shall find – there are a few lakes to take a dip in across the region.
Our go-to spot was the lake next to the Bravura dam, north of Portimão. With no one around even in August, this is the perfect escape from some hassle-free bathing. It's also a great spot for some stand-up paddleboarding as the water is so calm. Rent one down on the coast and drive up here for a chilled afternoon.
12. Visit Ponte da Piedade
Potentially one of the busiest tourist attractions in the Algarve, Ponte da Piedade is a network of rock formations and sea stack near Lagos. It's undoubtedly impressive and worth stopping at briefly, but we don't recommend that you come here to sunbathe for a while in peak months as it gets extremely busy.
A perhaps more peaceful way of seeing Ponte da Piedade is by kayak – join a tour or rent a kayak from a beach nearby and paddle over here to admire the view from the water. There'll be far less people around you, and it's a fun way to experience this beautiful sight.
// Related: A weekend in the western Algarve itinerary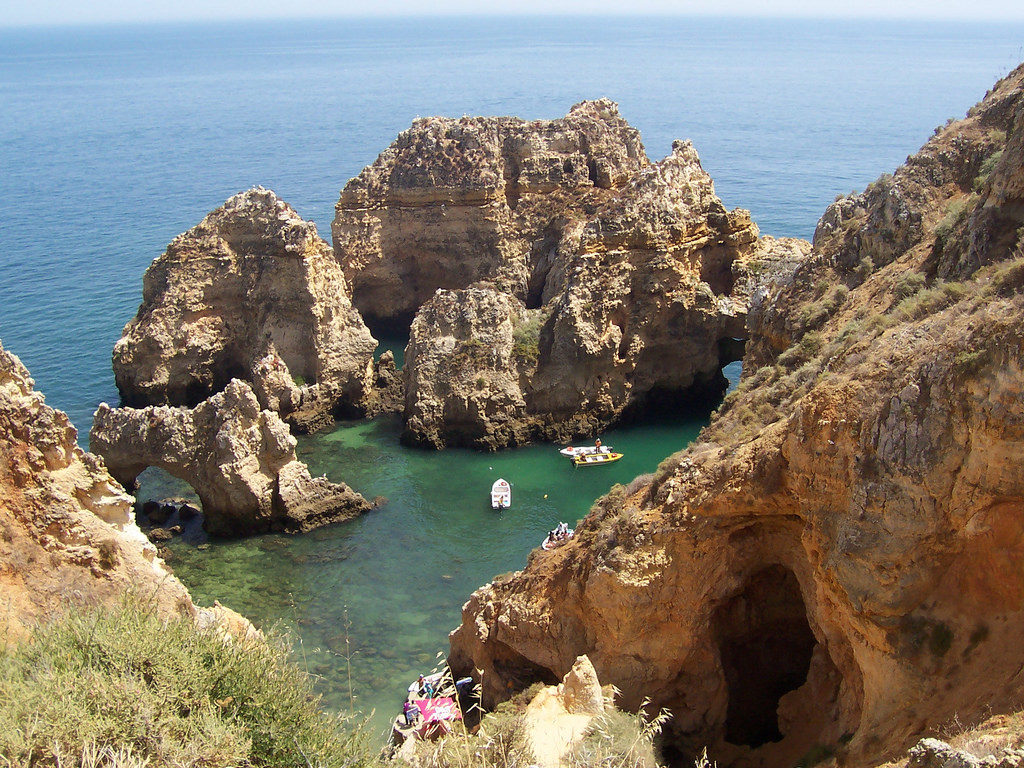 Ponte da Piedade. Image source
13. Stay in a pousada
As a rapidly growing tourism destination, both on the coast and further inland, there is a bigger variety of accommodation options in Portugal than ever. Few, however, are more unique than the pousada, a range of historical properties turned into luxury hotels. From fairy tale castles to grand palaces, there are 34 pousadas across the country, and six of these are within the Algarve.
The Pousada Convento de Tavira – a 16th century convent in the eastern Algarve – is among the most impressive, with a renaissance cloister and just 36 rooms, not far from the centre of this gorgeous little town. In the west, the Pousada de Sagres (or Hotel Infante) boasts cliff-top views over the wild Atlantic Ocean, and the Vila Valverde, a 19th century manor house near Praia da Luz, mixes its traditional roots with modern, fresh design.
14. Take a boat to Ria Formosa Natural Park
One of the few parts of the Algarve's coast untouched by mass tourism (although perhaps not for long), Ria Formosa Natural Park is where to go if you're looking for miles of secluded sand. Catch the ferries out from Faro, Olhão, or Tavira to reach this collection of five islands and two peninsulas. As well as uncrowded shores, you'll also find pretty villages to walk through and be able to watch fishing boats haul in loads from the sea.
Spend a couple of days staying on the mainland and hopping out to different parts of the park. Culatra is our favourite as it's the most traditional, with permanent residents still living on the island.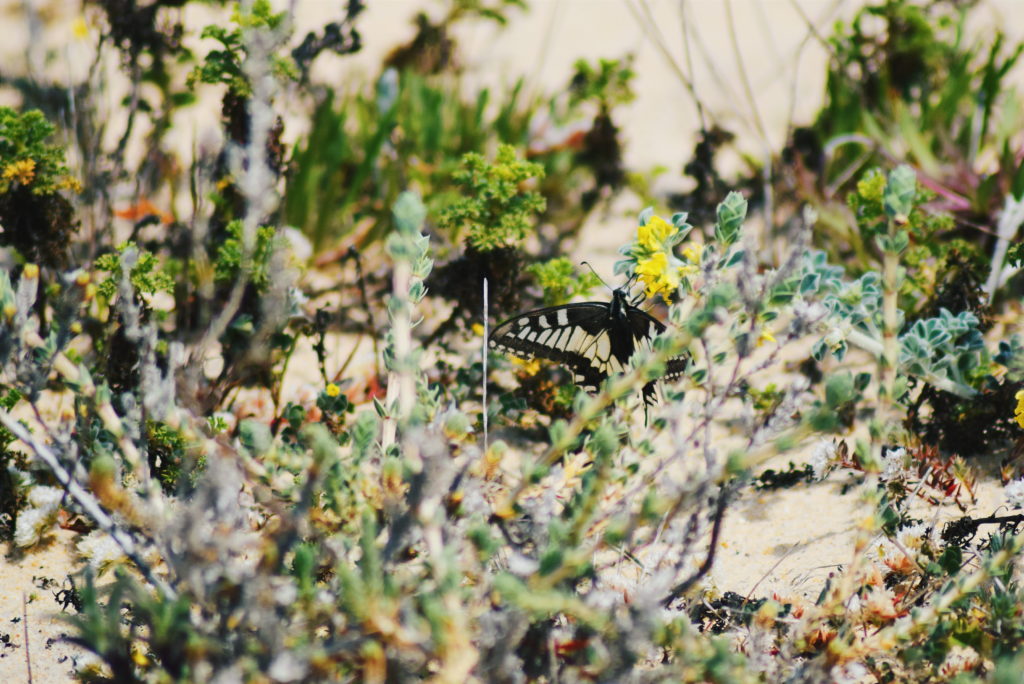 A butterfly in Ria Formosa Natural Park
15. Go to a sardine festival
It might sound strange, but yes – sardine festivals are a thing. It's extremely common to find this little fish on menus across the Algarve, grilled over coals to perfection. To celebrate this tradition festivals are held all over the region from east to west over the months of July and August.
During these events not only fish is served but also other types of seafood and Portuguese cuisine, plus copious amounts of beer and wine and often some live music too. Portimão hosts one of the most famous sardine festivals in the Algarve – they even have a daily parade here to kick things off.
16. Experience Tavira
Tavira is one of the gems of the eastern Algarve – a quaint little town in the banks of the Gilão river that's surprisingly untouched by foreign visitors. It's worth staying here for a couple of days to really experience all of Tavira's charms; it's pretty streets by day and night, the beaches and islands nearby, and its Moorish, Roman, and typically Portuguese architecture and landmarks. We stayed at Taah Billa Guest House, a quiet, affordable hotel right next to the river.
17. Spot dolphins off the coast
On any given day, with a good pair of binoculars, from the Algarve shores you can see dolphins breaching the top of the ocean. This mainly occurs in the west – we once spotted a large group on the cliff-top walk from Praia da Luz to Lagos.
You'll notice on your travels around here that there are many dolphin spotting tours you can go on – approach these with caution. There are a few different companies that run these, and once a group of dolphins is located all the boats flock to see them, something that disrupts the way of life for these animals. To play on the safe side, avoid these tours and just keep your eyes peeled as you explore the coast.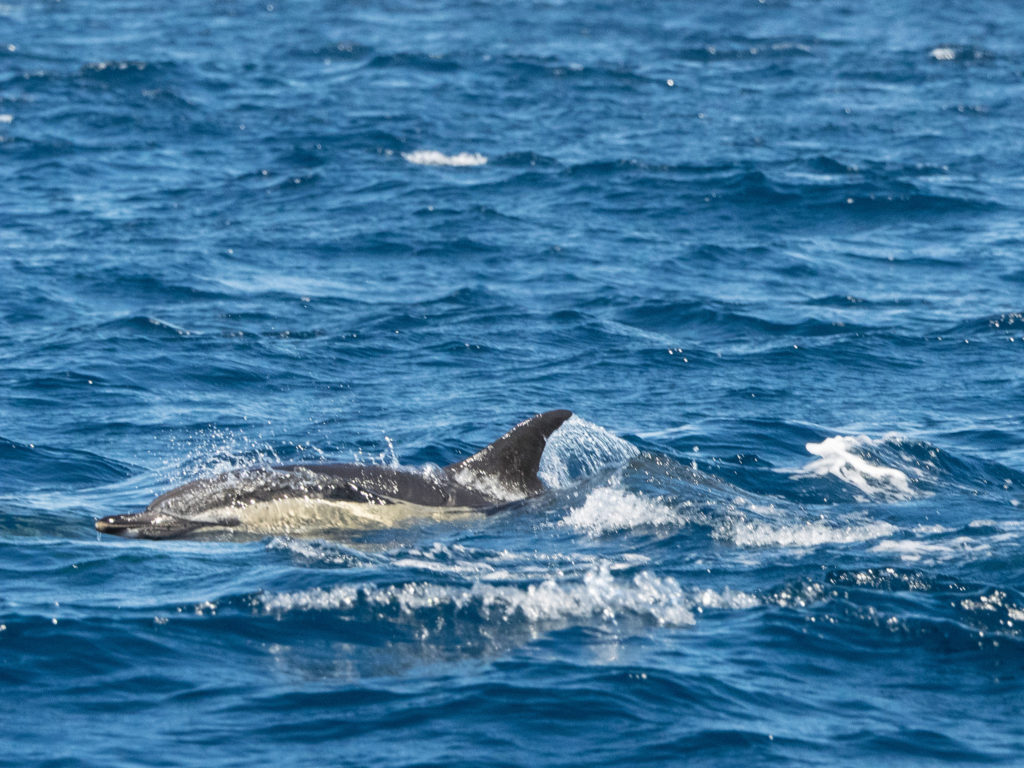 Bottlenose dolphin off the coast. Image source
18. Join a yoga retreat
Yoga breaks in Portugal have boomed in the last five years or so, and they've proven particularly popular in the western Algarve. This region is known for being more rugged and isolated, where a relaxed pace of life goes hand-in-hand with meditation and calming yoga practice overlooking the Atlantic.
Meka Yoga runs retreats out near Sagres every month of the year, some hosted in their luxurious yoga village and others in tipi glamping. If you can't do an entire week, they also run yoga classes every day between July and September, or you can find plenty of other yoga classes in most parts of the Algarve.
// Related – Active Portugal: the best hiking, biking, surfing, and more
19. Stop by Olhão
Just west of Faro, the town of Olhão is becoming an increasingly popular stop on most people's Algarve itineraries, and for good reason. Cobbled laneways trail through the centre, flanked by buildings covered in tiles with lines of washing hanging out on balconies. It would only take two or three nights to get to know Olhão as it's small, but it's still worth lingering in.
Olhão is a 15-20 minute ferry ride from here out to Ria Formosa, one of the Algarve's most unspoilt coastal regions. Base yourself in Olhão, nipping out to the part to spot bird life and lie back on the quiet beaches, heading back into the town for dinner (tapas at Bioco is out favourite) and evenings around town.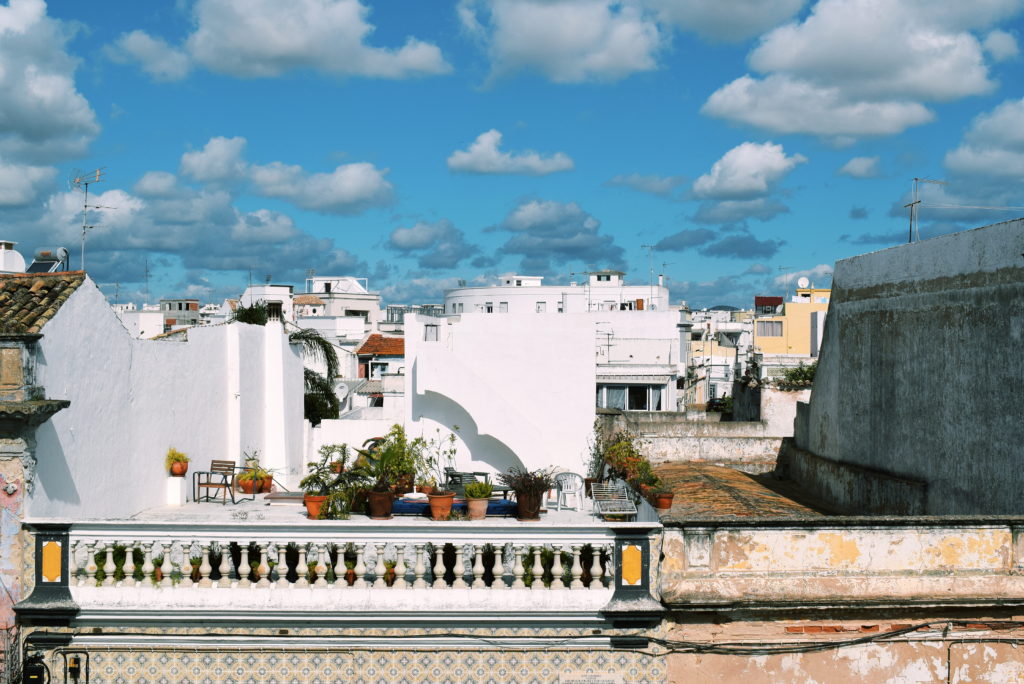 Rooftops of Olhão, eastern Algarve
20. Splash out at O Paolo
Set atop the cliffs just outside the village of Arrifana, O Paolo is a place you certainly won't forget dining at. The show stopper of a view from this west coast fish restaurant is exceeded in wow factor by almost no other on these shores – and the food is excellent too.
The menu is mostly fresh fish and seafood, but there are a few meat and vegetarian dishes to even out the selection. You'd come here on an intimate night with your partner or a big, special family meal. It's not outrageously expensive, but you'll have to loosen the purse strings a touch – but it's completely worth it.
21. Go cave hopping
As well as Ponte da Piedade, there is a collection of other magical rock formations and caves to explore on the coast. These hideaways are best explored on a boat tour, where a guide will take you to those secret spots that only the locals know about.
We took a guided tour from Benagil beach, which is around the corner from one of the most famous caves, and close to plenty of others that the driver will take you to. Cave excursions are mostly run in the western Algarve as opposed to the east, where the Atlantic has battered the shores for centuries and left its mark.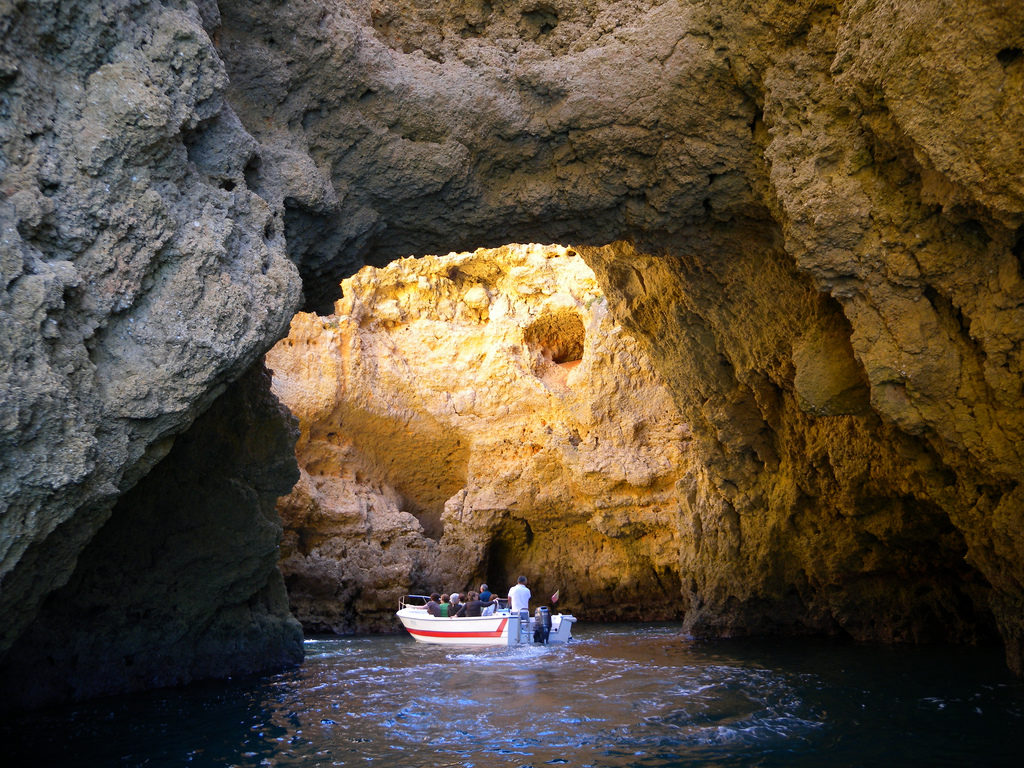 Cave hopping near Lagos. Image source
22. Eat octopus in Santa Luzia
Santa Luzia in the eastern Algarve is known as the capital of octopus. Traditionally, fishermen would catch the creatures in the sea using alcatruz, clay pots that the octopus attach themselves to at night, offering the perfect opportunity for fishermen to snap them up. Not all fishermen use this technique, but it's what the area is famous for.
Casa do Polvo in Santa Luzia is the best restaurant to try regional octopus at, and it's cooked here in many different ways – fried, stewed, and more – with lots of different accompaniments. Book a table ahead here in peak season as it gets very busy.
23. Ride the train from Faro to Lagos
There's a special place in our hearts for the rickety train that runs from Faro to Lagos, and back again. It's not the most jaw-dropping journey you'll ever take, but it's cheap and convenient, and trundles through groves of orange trees and traditional stations covered in tiling. The train is made up of just a couple of carriages and it's hardly ever full, so you can sit back and enjoy the slow pace and the views that drift by the window.
24. Try surfing
Surfing is a major part of life for people in the Algarve, particularly on the far western shores. At any time of year here you'll find wave worshippers going around in vans with boards strapped to their roofs scouting for the best conditions. People come here for months on end just to surf the best waves in Europe.
If you're a newbie, there are plenty of surf schools that will teach you – head to Amado to book some lessons. When you've got a grip of your skills, head out to Ponta Ruiva, a popular surf spot all year round, Zavial, or Monte Clérigo.
25. Stay in Lagos
We were based just outside Lagos for most of our time in Portugal, and we couldn't rate the town more. It gets a little touristy in August and there are certain streets to avoid if you want to dodge other foreigners, but Lagos is full of great places to eat and drink, and serves as a top launch pad for exploring the rest of the western Algarve. For restaurant recommendations, read our guide to the nine best restaurants in Lagos, and we've also got you covered for where to stay.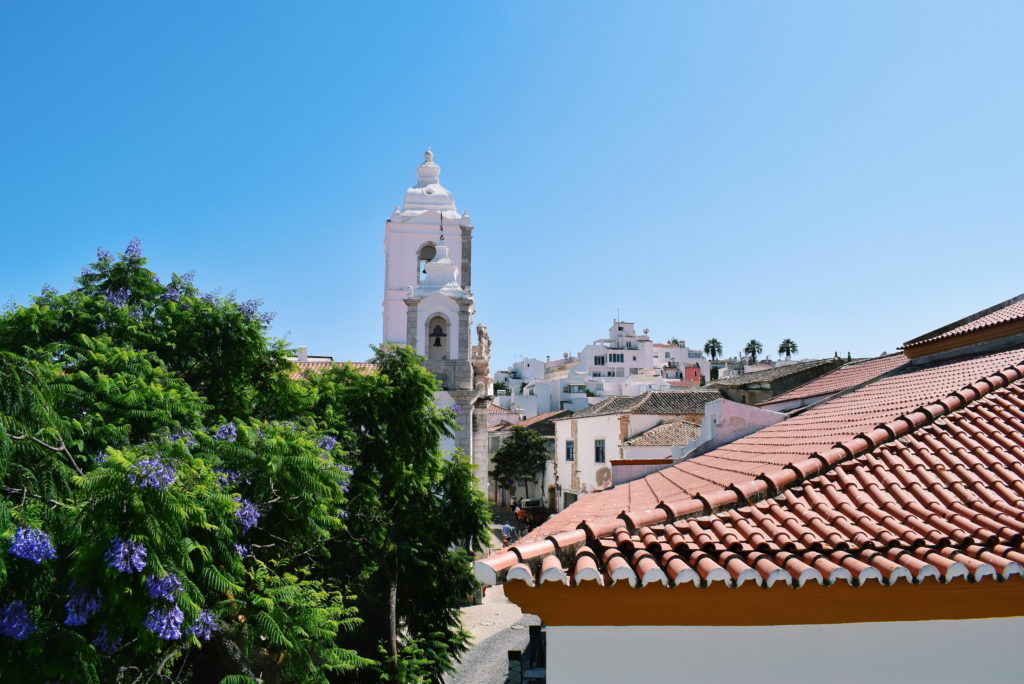 Loveable Lagos
26. Hop on the Rota Vicentina
Second to the Via Algarviana, the Rota Vicentina is another of the Algarve's best long distance hiking trails. This path begins at Cabo de São Vicente, and travels all the way up the wild west coast to Santiago do Cacém in the Alentejo. The sections within the Algarve are among the best on the trail, and there are two different routes: the Historical Way, which focuses more inland, and the Fisherman's Route, diversions that connect you with incredible coastal scenery.
If you don't have time to complete the whole Algarve section, there are also suggested circular routes along the way that are manageable in just a day or half day. The Algarve circular routes are mainly based around Bordeira and Carrapateira.
27. Dine at Caniço, a restaurant in the cliffs
Set right in the side of a cliff face near Alvor in the west Algarve, Caniço is one to save for a special night in Portugal. You have to take an elevator down into the centre of the cliff to reach it, and there are just a handful of tables – those on the edge look right over the beach.
Caniço's menu is almost exclusively fish and seafood, although there are a few other options if that's not your thing. As a quality restaurant in a truly unique setting it's also quite expensive, and you must book a table or you'll likely not get one, but it's well worth pushing the boat out for.
28. Go to Lagos Food Festival
Lagos Food Festival will be in its third year in 2017, and it will no doubt be running for a good few years to come. It was started by a local called Maria Nobre de Carvalho, who craved a place to hang out with her friends with good food for her birthday. Maria was inspired by a similar event held near Lisbon, and single-handedly decided to bring that vision to Lagos.
The festival is held each July next to Praça Infante Dom Henrique, and a wide selection of food trucks take part over the course of two days. You can find anything here from gourmet sandwiches to artisan pizza, vegetarian and vegan options plus drinks and chill out areas ideal for enjoying them in. The atmosphere is always electric.
29. Have a night at the theatre in Faro
Faro hasn't got a huge amount going for it that's not driven entirely towards tourists, but it's home to some of the few theatre productions in the Algarve. There's the Teatro das Figuras, a large, modern theatre on the outskirts of town that runs large productions, but in the centre of Faro is Teatro Lethes.
This minuscule, intimate theatre has been running since 1874 and puts on small shows and concerts. It's a joy just to be sitting in its small interior with ornate details and painted roof, and its existence is hugely under-publicised to tourists. One of the Algarve's hidden gems, without doubt.
What would you choose from this Algarve bucket list?
have you ticked any of these off yet?
4 responses to "The definitive Algarve bucket list: 29 tips from east to west"