6 delicious and drool-worthy Portuguese dishes
From southern seafood to scrumptious sweet treats, Portuguese cuisine is rich, diverse, and wildly underrated. These Portuguese dishes are your must-dos in this far corner of Europe.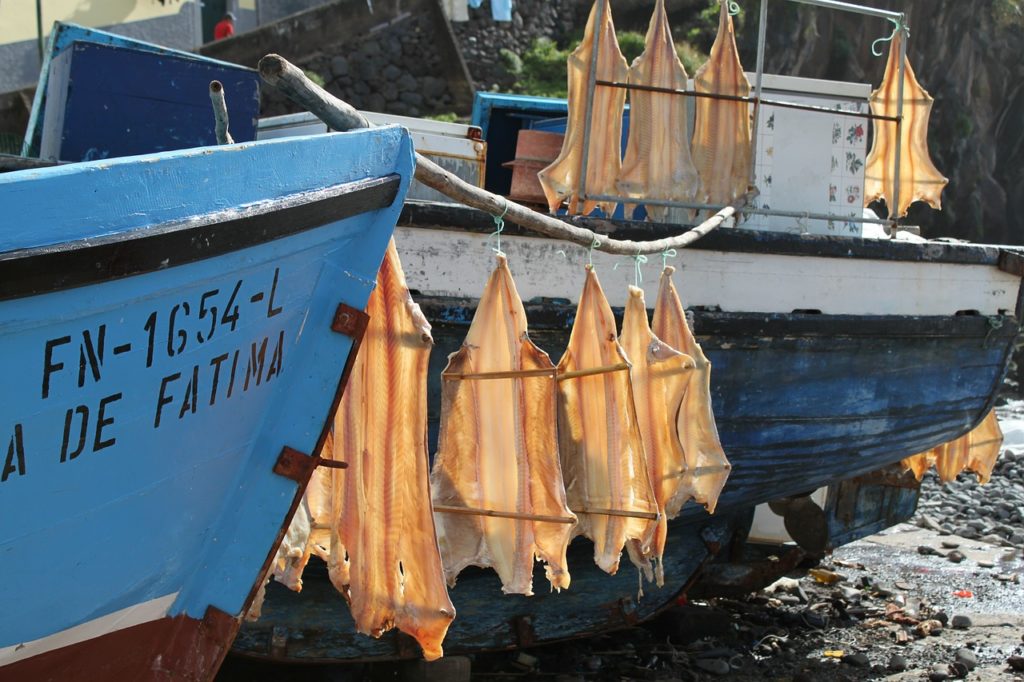 1. Piri piri chicken
You might have tried piri piri chicken at Nando's, but the restaurant chain has nothing on the lip-smackingly good real thing in Portugal. This spicy dish can be found just about anywhere across the country, and the other good news is that it's always affordable. The piri piri spice itself is in many different Portuguese dishes, but the chilli actually came to the country from Africa. Portuguese explorers found the chilli here and brought it back to their native land, and this is why you'll also find piri piri (or 'peri peri' in Africa) in places like Mozambique or Angola.
Crisp yet juicy, sweet with plenty of heat, piri piri chicken is a Portuguese staple that every meat-eater should try here. If you're sampling the dish in a restaurant and don't take too kindly to spice, always enquire with waiting staff as to how hot they make their piri piri marinade. Some like to make it fiery!
2. Bacalhau
Otherwise known as salted cod, bacalhau is among Portugal's most famous fish dishes. Wander around any of the country's supermarkets and you'll notice giant, flat sheets of cod next to the fish counters – these are dried cuts that have been coated in salt. Traditionally, Portuguese buy these then submerge them in water for days on end to re-hydrate the meat before filleting and preparing in various dishes.
In most cafés in Portugal you'll find pasteis de bacalhau, which are like croquettes, and there'll almost always been a bacalhau and potatoes dish on the menu of a good fish restaurant. Also keep an eye out for bacalhau com natas, where salted cod is mixed with cream and baked. The best we've ever eaten was at Petiscaria Santo Antonio in Porto.
3. Pastel de nata
The jewel in the crown of Portugal's bakeries, pastel de nata is one of the most recognised specialities to come out of Portugal. These sweet treats are typically made of a flaky pastry case filled with custard and slightly browned on top, and many Portuguese natives will have them with coffee in the morning or a snack in the afternoon.
Not that you need telling, but be sure to sample plenty of these sweet treats from different locations. Pastel de nata can differ greatly from bakery to bakery and café to café; it's worth putting in the hours to find the best in town because when you hit the jackpot it's nothing short of sublime.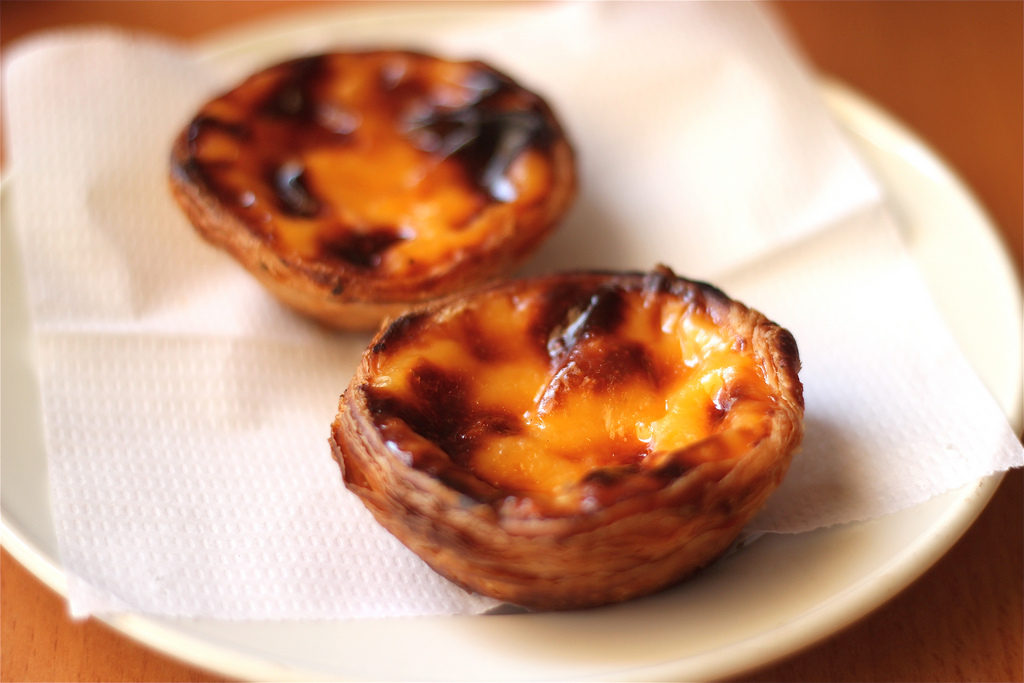 Pastel de nata. Image source
4. Suckling pig
Pork is an extremely popular meat in Portugal. It's cheap in the supermarkets, and features heavily in most menus all over the country. Despite it's frequent appearance in many Portuguese dishes, few pork experiences in Portugal surpass that of the suckling pig in Mealhada.
This small village between Lisbon and Porto is full of restaurants specialising in leitão assado da bairrada, the art of roasting to perfection whole pigs on spits. The results are mouth-watering: crispy on the outside, plump and tender on the inside. This is a Portugal foodie experience not to be missed.
5. Caldo Verde
Made of cabbage-like greens (not dissimilar to kale) and potatoes, topped off with a slice or two of chorizo, caldo verde is Portugal's most popular soup. This humble dish, often referred to simply as 'green soup' in English, is eaten all over the country but originated in the Minho province in northern Portugal.
As the ingredients of caldo verde are so cheap and easily sourced, this has been a dish that's crossed the classes over Portugal. The rich and poor alike have dined on caldo verde for generations, and it's particularly enjoyable in the winter when it warms right down into your bones.
6. Cataplana
The word cataplana is used to describe both and Algarvian seafood dish and the pot used to cook it in. There are a few variations in ingredients but clams usually play a big part, often accompanied by pork or prawns. The dish has been served in restaurants along the coast for decades, and the best cataplanas can usually be found in traditional restaurants, places that are a little rough around the edges and heaving with locals.
Due to its similarities to the Moroccan tajine (in both cooking style and the fact 'tajine' is also the name of the food and dish it's made in), the cataplana is thought to have taken influence from North Africa and the Moors.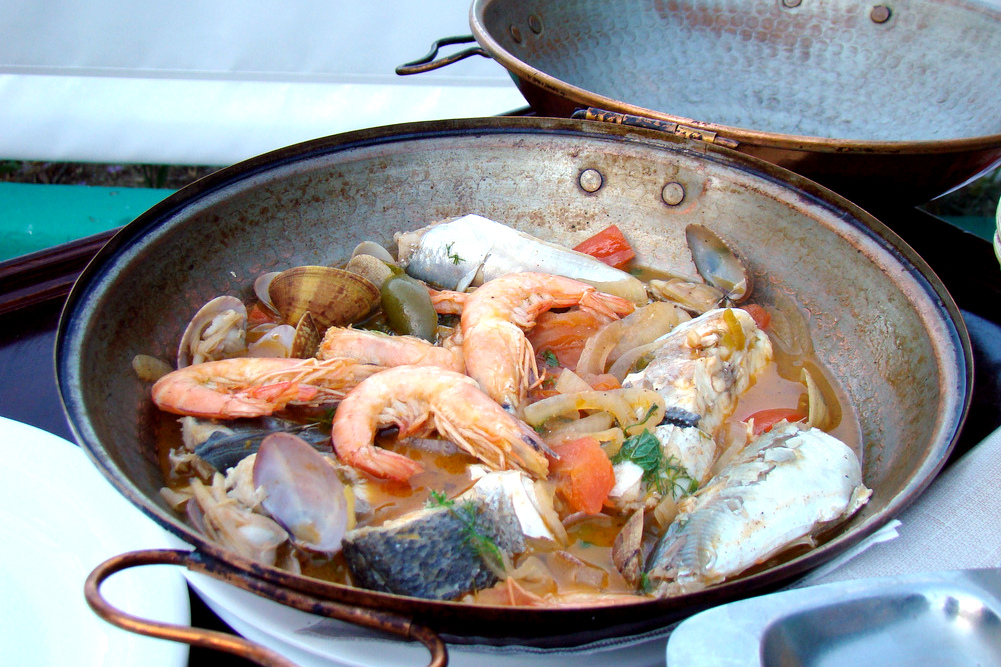 Cataplana with seafood. Image source
Which of these Portuguese dishes would you most like to try?