Loulé Market: a glimpse into century-old Portugal
Author: Emma Higgins  //  September 9th 2016
I enter, and the first thing I hear is the thump of a chopping knife. In the high-ceilinged building, the noise reverberates and rings around the rafters. It slings my attention to the left, towards a row of six or so fishmongers each wielding knives and flinging fleshy lumps around on the boards in front of them. Fish heads are lopped off, scales are removed, and fillets are carved with precision before being tossed onto for-sale piles. I find myself mesmerised as if watching a magic show, forgetting that this is part of everyday life here at Loulé Market.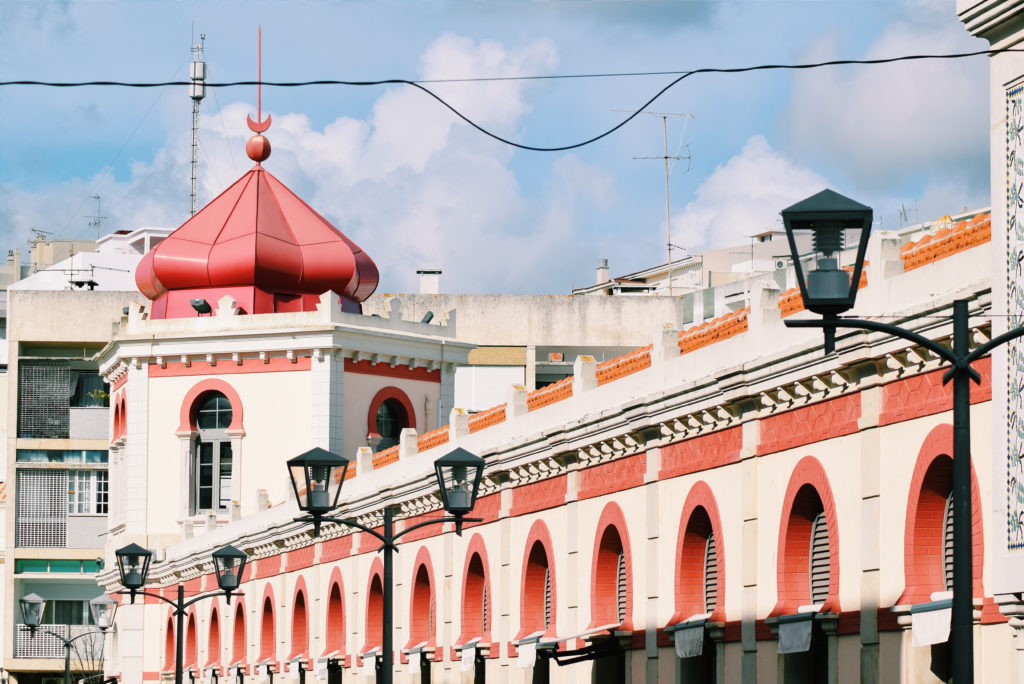 Built in 1908, Loulé's Mercado Municipal has stood strong for over a century as one of the town's most famous landmarks. The building's style is reminiscent of Portugal's Arab past:  turrets topped with decorative domes, spheres, and crescent moons on each corner, and arches lining its doorways and windows. While these features are distinctly Moorish, the crème walls accented around the frames with a dark salmon pink scream Portugal, evoking a traditional painting design used across the country.
Beyond serving as a space to buy food and drink, the market is a meeting place for this little town just north of Faro. Outside the entrance that opens out on the main high street, a group of stout men gather and survey the comings and goings before them for hours. Some pull up chairs, others sit on the steps and smoke cigarettes or stand with their hands planted on their lower backs, chests and bellies stuck out and brows furrowed. Around the circumference of the market, old women shuffle along and stop by the building's side doorways to chat to women in aprons who have loose change jingling around in their pockets.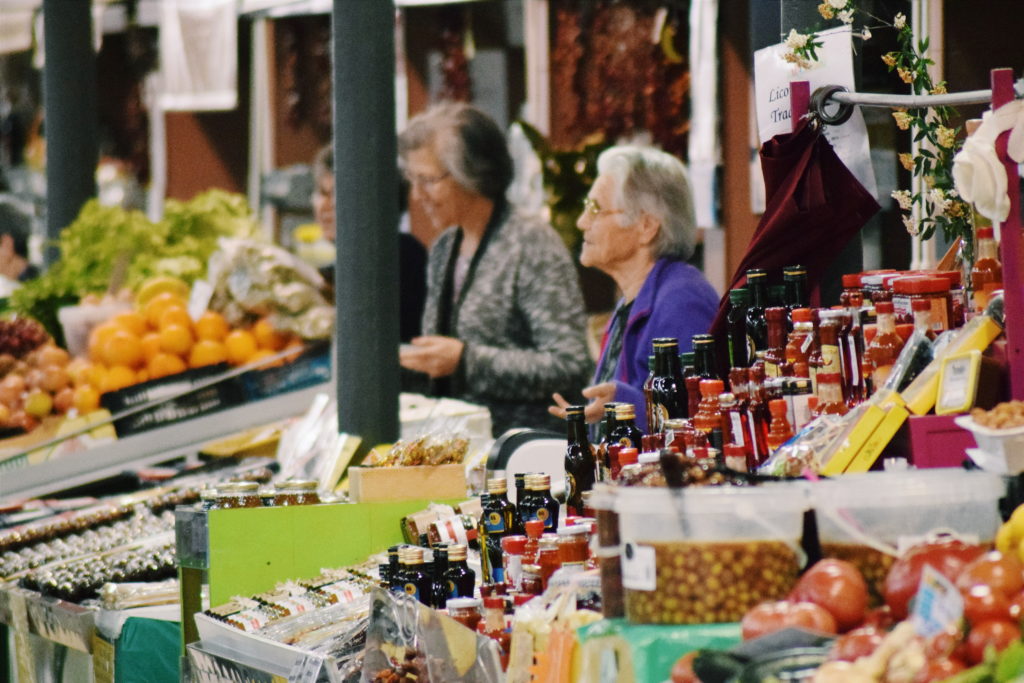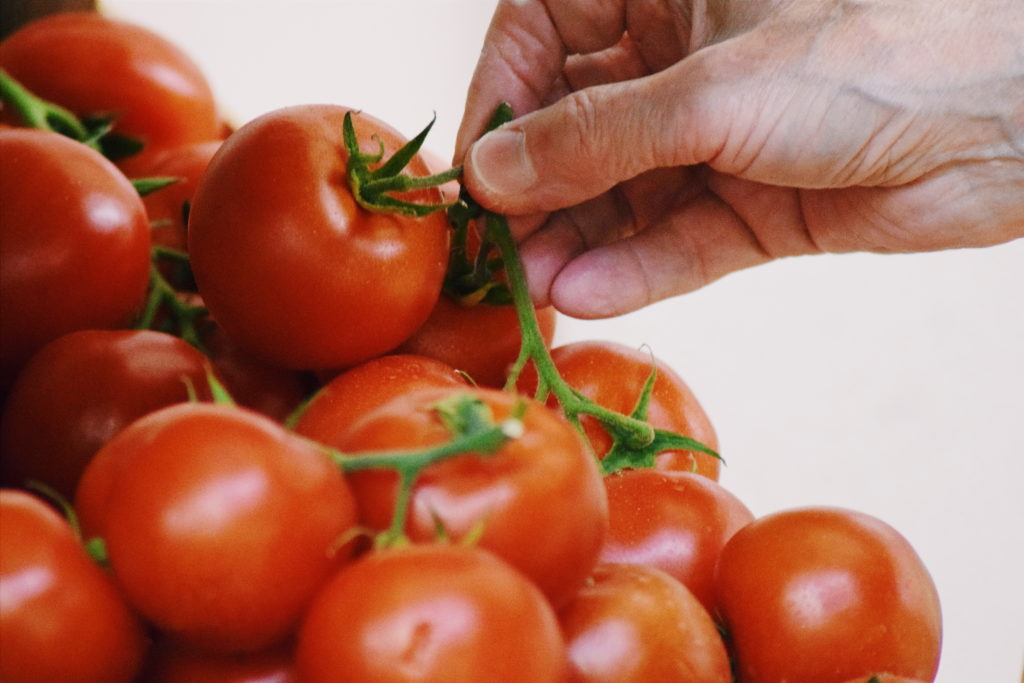 I decide to do a loop of the market inside, and head first for the fruits and vegetables. A rainbow of colours spreads out across the stands, in piles so high they almost completely obstruct the sellers who stand in their cubby of space behind them. Customers with bags hanging from their forearms come along and pick out handfuls of lemons or bunches of lettuce and pass them over to the vendor for weighing. During the quiet periods the sellers shout over in conversation to the opposite stands. One of them has strung up a little Portuguese flag no bigger than an A4 piece of paper on the pillar next to him.
On the other side of the row, I find more fruit and veg stands but this time interspersed with local honey, Algarvian lemon curd, bags of dried piri piri spices, sea salt from nearby Ria Formosa Natural Park, and an assortment of other store cupboard produce. Tourists huddle around these sellers, asking questions about where the products come from and if they'll last the risky flight home in a suitcase. An old gent in a flat cap walks to the front of his stall with a small brush and attentively cleans and rearranges his area.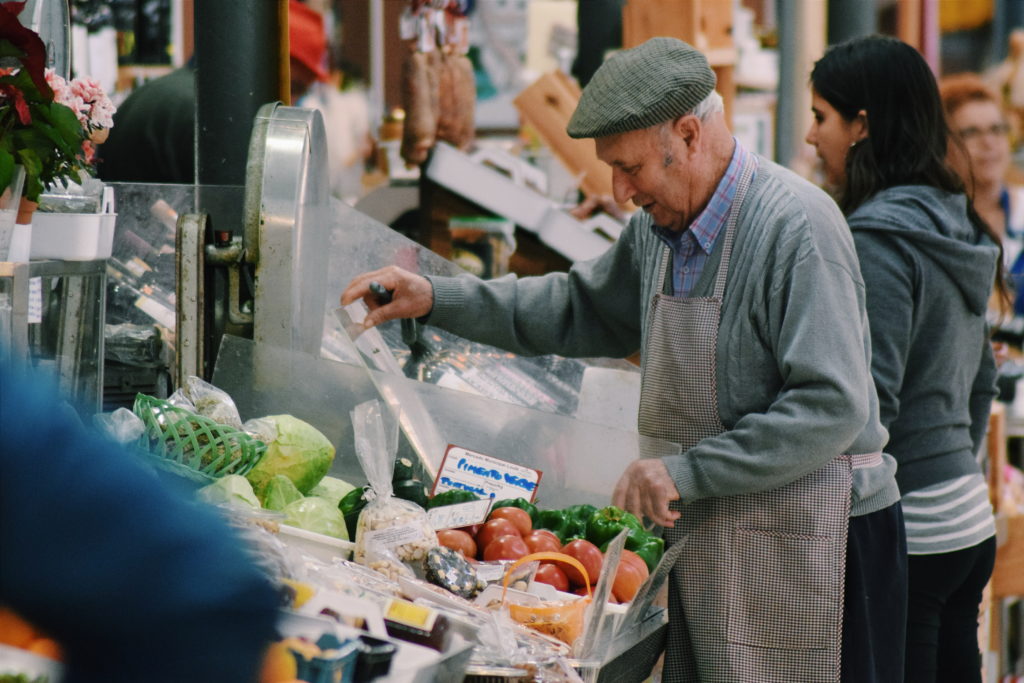 My continuing walk around the hall leads me to a textiles section. A group of women in head dresses sit on stools next to stacks of patterned blankets, one eye on their stand another on their children, who run around in front of them. Sheets with bells and exotic flowers on are folded and put on coat hangers, which are hung metres above our heads. At the end of the aisle I catch sight of a tiny woman with small, mousy features behind a sewing machine, barely visible among the mountain of fabric surrounding her.
The other half of Loulé's market is dedicated to the fishmongers. At its shortest point, Loulé is around six miles from the sea, which means the fish and seafood on offer here is among the freshest you can find inland in the Algarve. While the other side of the building is often populated by travellers, this side of the hall belongs to the local. Portuguese potter around, stopping to chat to the fish sellers as they pick up sardines, a local favourite, or mussels and whelks gathered from Ilha do Farol, an island just off the coast. One male seller shouts out to potential customers the catch he has on offer, while the vendor next to him stands idly on his phone, taking a laid-back approach to selling by only glancing up once or twice every minute. The smell in the air is pungent – salty and at times stifling.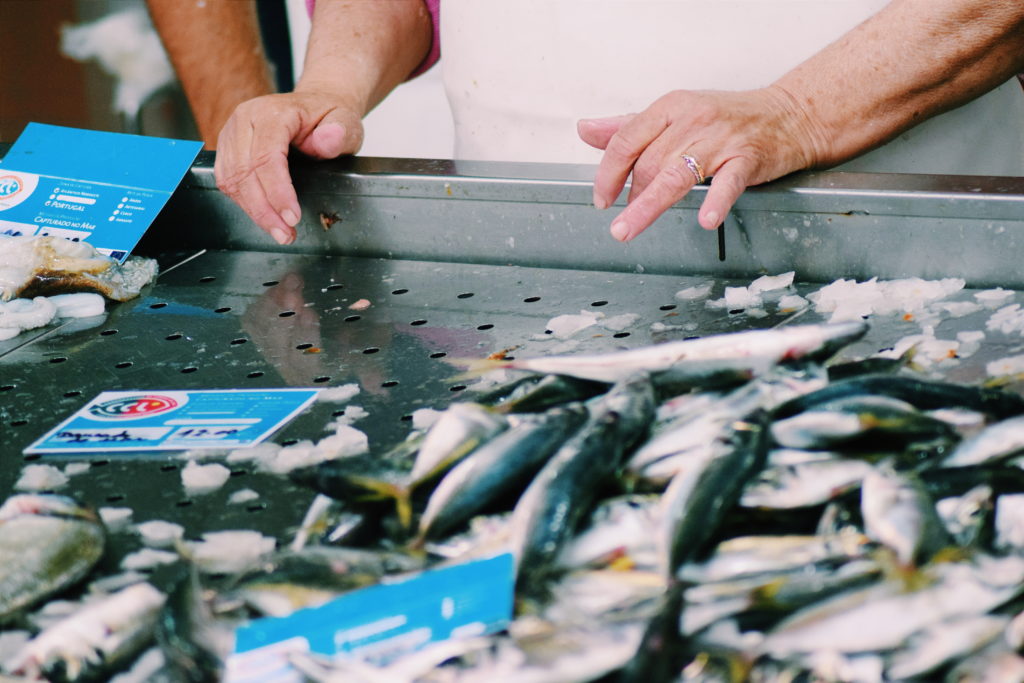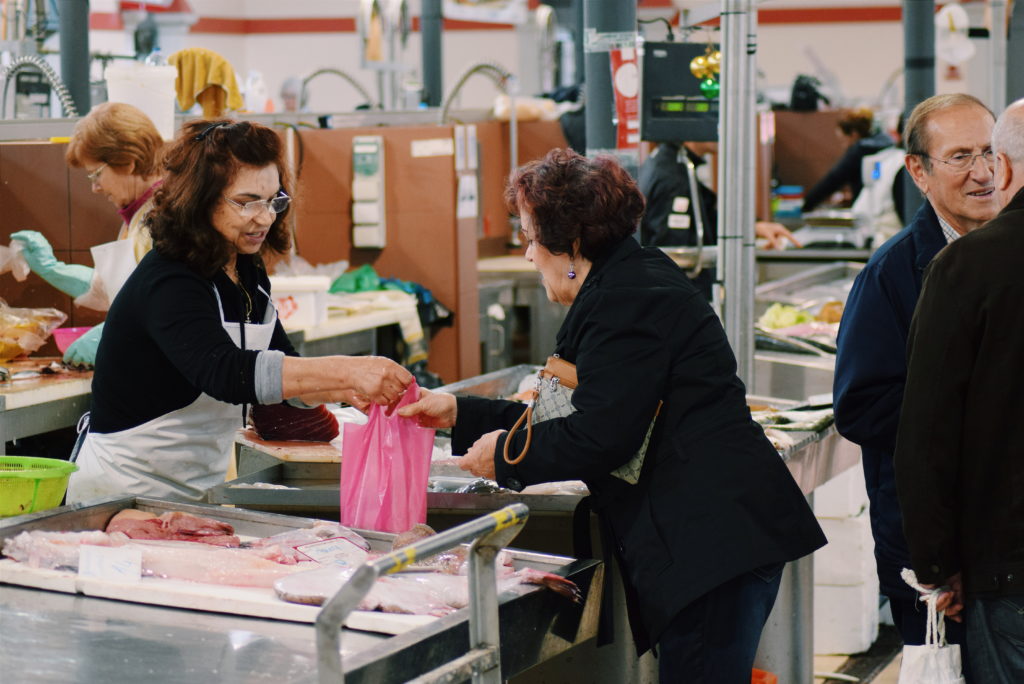 Giant trays filled with piles of sad-looking splodges of squid or fish with surprised expressions face the customers, and behind these are the work benches that dozens of fishmongers stand at. They carry out a series of masterful thwacks and wallops, skimming and slicing and scouring their catch. The age range is mixed: some are young women, others are men and women of the older generation – the kind you imagine to have been selling here for years. They wear normal clothing, no white coats or hair nets, and get the job done at lightning speeds. There's a permanent array of blood and guts splattered across the floor at their feet.
I walk two circuits of the fishmongers, feverishly taking pictures of their work. One or two catch me in the act, and give me slightly confused looks as if to wonder why anyone would want to take a picture of someone gutting a fish. These looks are often followed by a shrug of indifference and return to the task at hand. They carry on chopping and chucking, just like they do every morning, six days a week.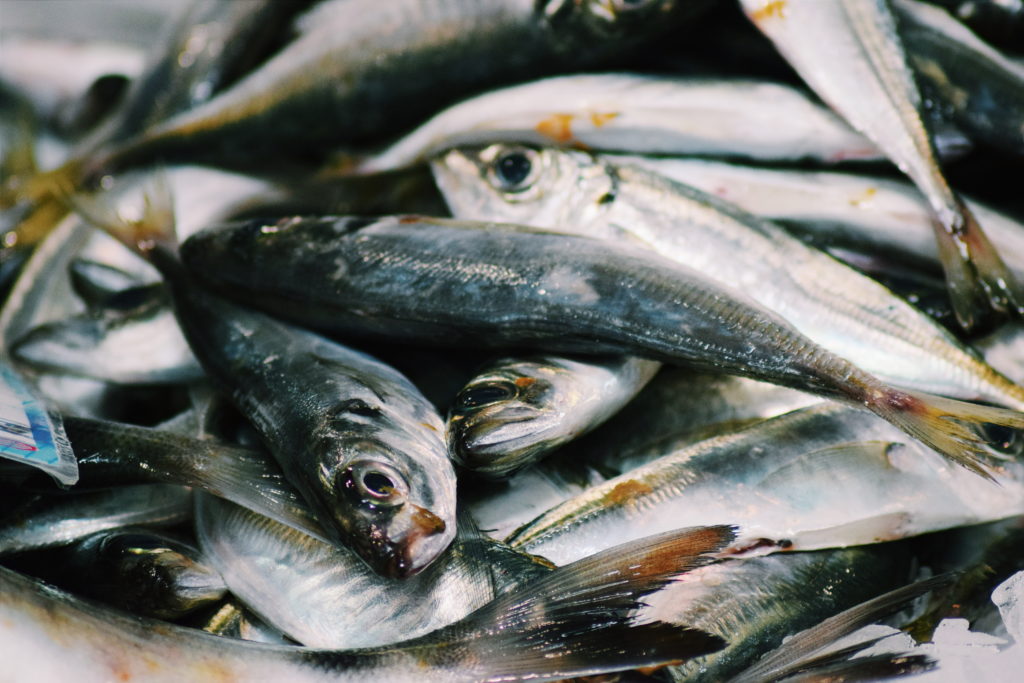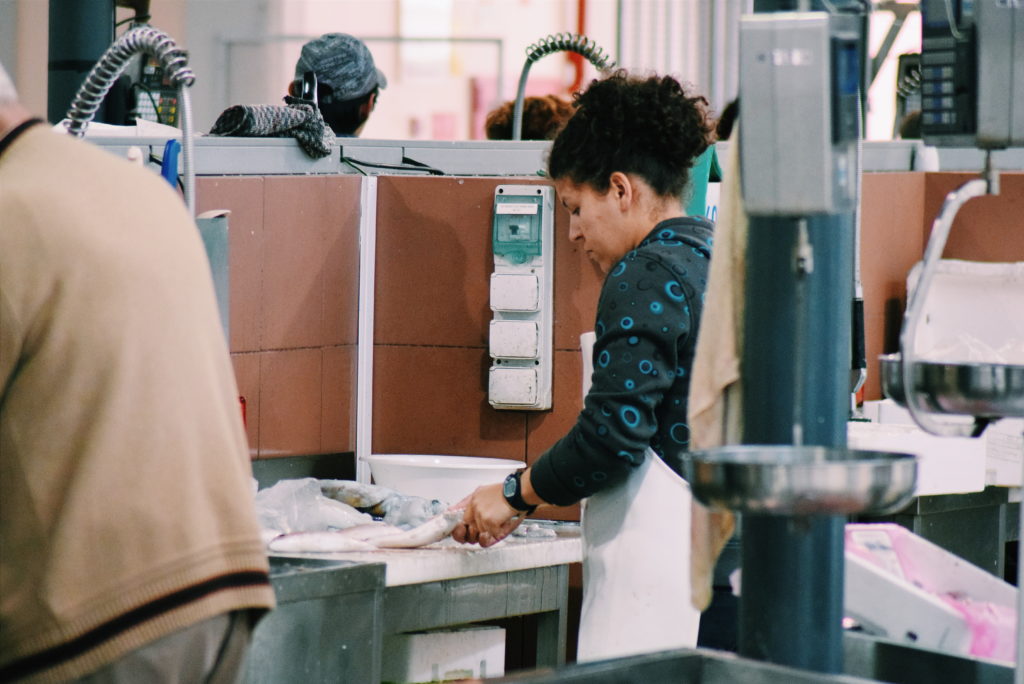 Would you like to visit Loulé Market?