Where to stay in Lagos, Portugal
January 4th 2017
Travelling to Portugal soon? You need our print journal A Year in Portugal, filled with outstanding travel narratives and photography. Find out more
Surfer town and cobbled street heaven, Lagos is one of the liveliest places to stay on the southern shores of the Algarve. This is the last stop before you hit the rugged west coast, where wave worshippers base themselves for months on end. The nightlife scene is strong here, but during the day life moves at an unhurried pace.
When it comes to where to stay in Lagos, there are plenty of options. From budget-friendly hostels that don't skimp on style, to ultra-modern concept hotels showing the best of Portuguese hospitality, this Lagos hotel guide has something to suit any kind of traveller.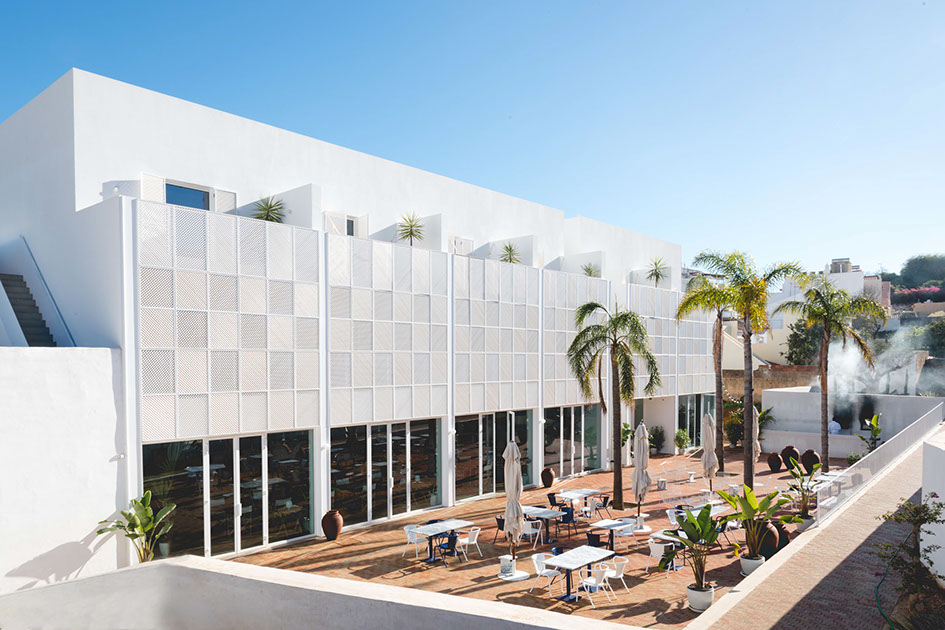 Casa Mãe. Image source
Budget
Olive Hostel
Right in the centre of Lagos, Olive Hostel couldn't want for more in terms of location. Unlike a few other hostels in this same area, Olive is calm and peaceful, a retreat from the sometimes overwhelming mojitos-all-night backpacker crowd. The atmosphere is energetic and warm, and the décor is rustic and beachy, capturing what Lagos is all about.
There are private and dorm style rooms available here, alongside a full-equipped kitchen, common areas, and a small bar. Wi-Fi is free, donation-based yoga classes are run on the rooftop twice a week, and there are even occasional Portuguese classes.
Rua da Oliveira 67 | Dorms from €12, privates from €30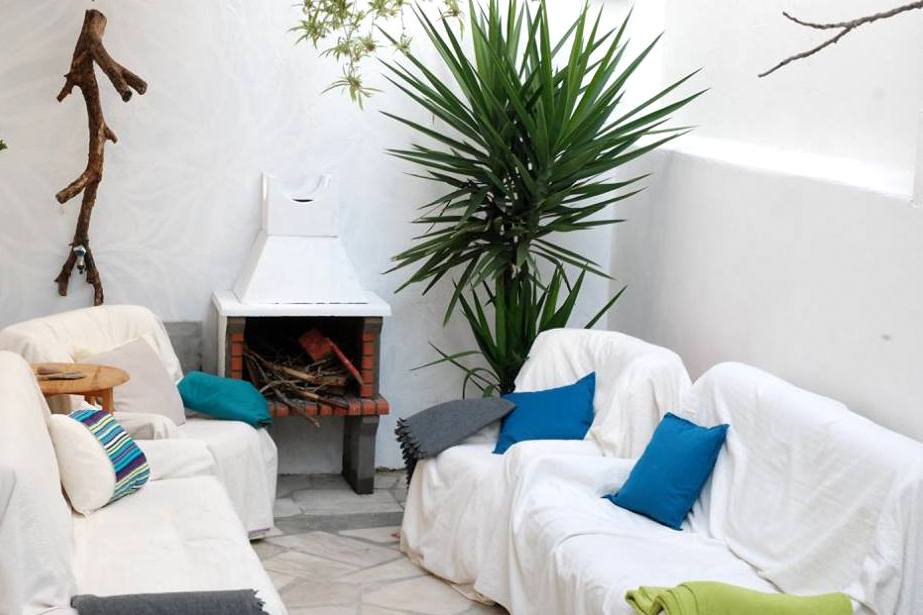 Olive Hostel. Image source
Bura Surfhouse
Bura Surfhouse is one of the most well-known hostels in Lagos, and it's one for the social traveller. With a constant stream of young nomads coming through its doors, there's never a dull moment in Bura Surfhouse – that said, it's not a wild party hostel either.
With a host of activities on offer – surfing, yoga, mountain biking, SUP lessons, and much more, this is the place for go-getters who want to make the most of the outdoors during their stay in Lagos. When you're not out and about, enjoy the hostel's modern and clean rooms and common areas, a beer at the poolside bar, and your complimentary breakfast.
Rua da Pedra Alçada 15 | Dorms from €15, privates from €19, apartment from €22
// Related: 9 best restaurants in Lagos //
Camone Hostel
Set in an eye-catching red building on the corner of one of Lagos' beautiful pedestrian streets, Camone Hostel draws in the attention of passersby. There are just five dorm rooms here, on top of a cafe serving healthy foods plus burgers and bruschetta, cocktails and, of course, pastel de nata.
The accommodation is white and bright, sleek and stylish, and maintains a relaxed atmosphere throughout. This is a hostel for city lovers looking for a laid-back time in Lagos, where you can pop down to the terrace for a coffee in the morning, and potter around the town that's at the foot of the front door.
Rua 1º De Maio 36 | Dorms from €22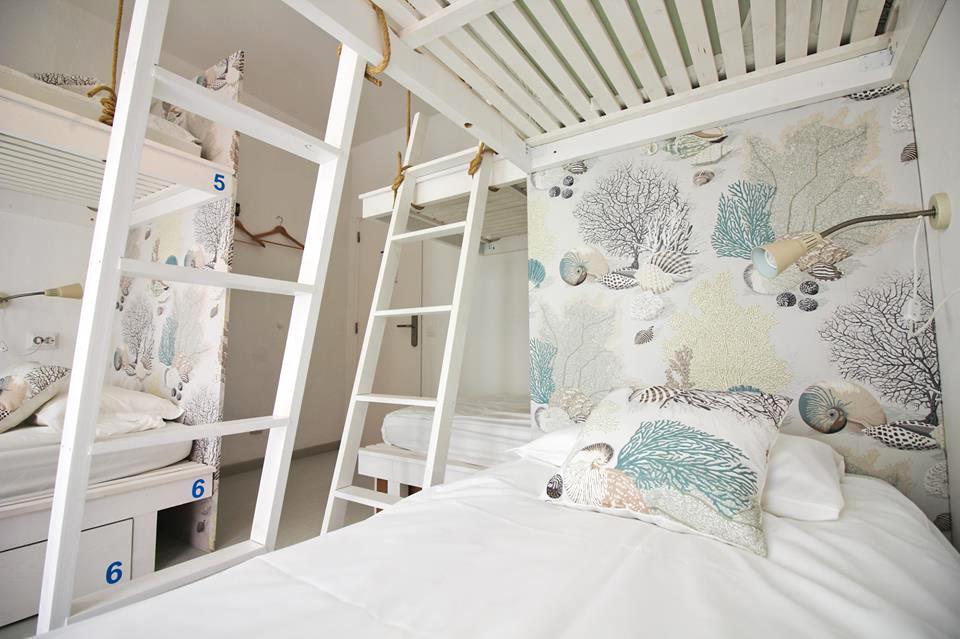 Camone Hostel. Image source
Mid-range
The Surf Experience
Open since 1992, The Surf Experience is one of the originals of Lagos. Most travellers come to this lodge on a surf break, which is what the accommodation specialises in, but the recent addition of apartments and studios has broadened The Surf Experience's profile from humble hostel to full surf holiday experience.
The surf lodge here is the usual colourful backpacker accommodation, but the other options – nearby serviced apartment, boutique suite, and self-catering flat – are decked out in modern furnishings and amenities, making them perfect for groups or families in Lagos.
Main building at Rua dos Ferreiros 21 | Apartments from €60 (low) to €120 (peak)
Guest House Enseada
It may have a fairly humble website and almost no footprint on Trip Advisor (although top reviews on AirBnB), but Guest House Enseada is something of a hidden gem. Located in centre of Old Town, the property is owned by a British couple and has been renovated in a minimal, fresh style.
There are just three rooms here (two with double beds, one with a king size and a balcony), plus a sun-drenched courtyard and lounge for guests to use. This is the perfect place to stay if you want an undisturbed escape, which is something often hard to come by in Lagos.
Rua João Bonança | Doubles from €65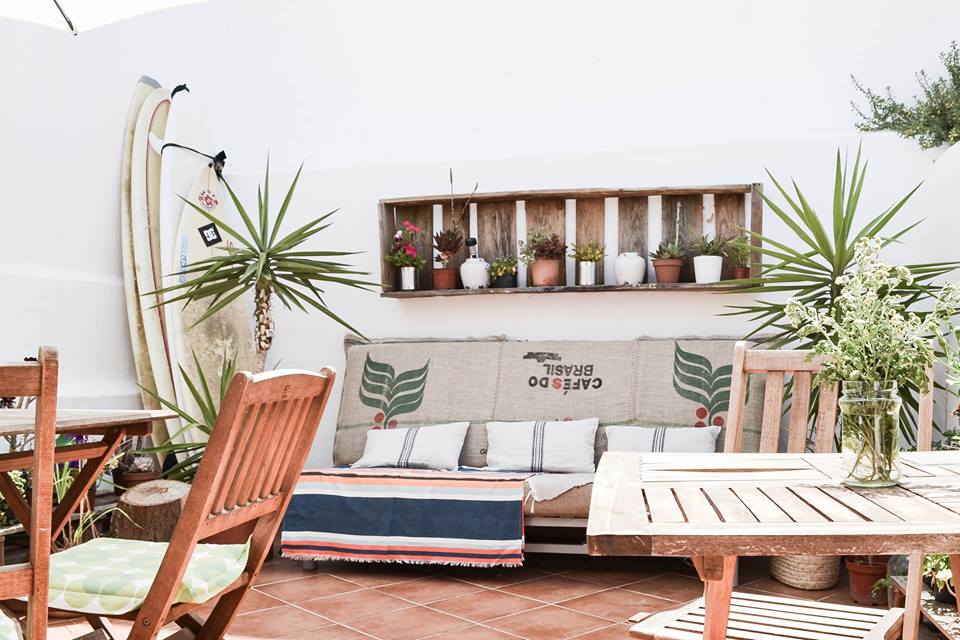 Guest House Enseada. Image source
Lagos Uptown B&B
Outside of the town centre, but well within walking distance and with the benefit of free parking, Lagos Uptown B&B is another under-the-radar guest house. One of the best things about staying here is having access to the rooftop terrace, which has sweeping views of the ocean and a bar where you can grab a drink.
This property has been recently refurbished, so no run-down amenities here, the hosts are friendly, free wifi strong, and rooms are spacious and airy. It's a simple stay here (not too many bells and whistles in the room but nonetheless welcoming), made special by being very affordable and unique.
Rua da Ilha de São Miguel 14 | Doubles from €30
High-end
Quinta Bonita
A luxury, family-run hotel just outside Lagos with eight rooms and a two-bedroom cottage, Quinta Bonita is master of traditional elegance and modern hospitality. This is frequently named as one of the best hotels in the Algarve, which is not only down to the comfortable rooms but also the large gardens, panoramic terraces, massage and yoga centre, large pool, buffet breakfast and complimentary afternoon tea each day.
Quinta Bonita offers lunches or evening sharing platters, a weekly three-course dinner in peak season, or packed picnics to take on a romantic adventure with you, all made with fresh and local produce and, of course, local wine. With all that on offer you might not want to even venture into town…
Matos Morenos Quatro Estradas | Doubles from €140 (low) to €240 (peak)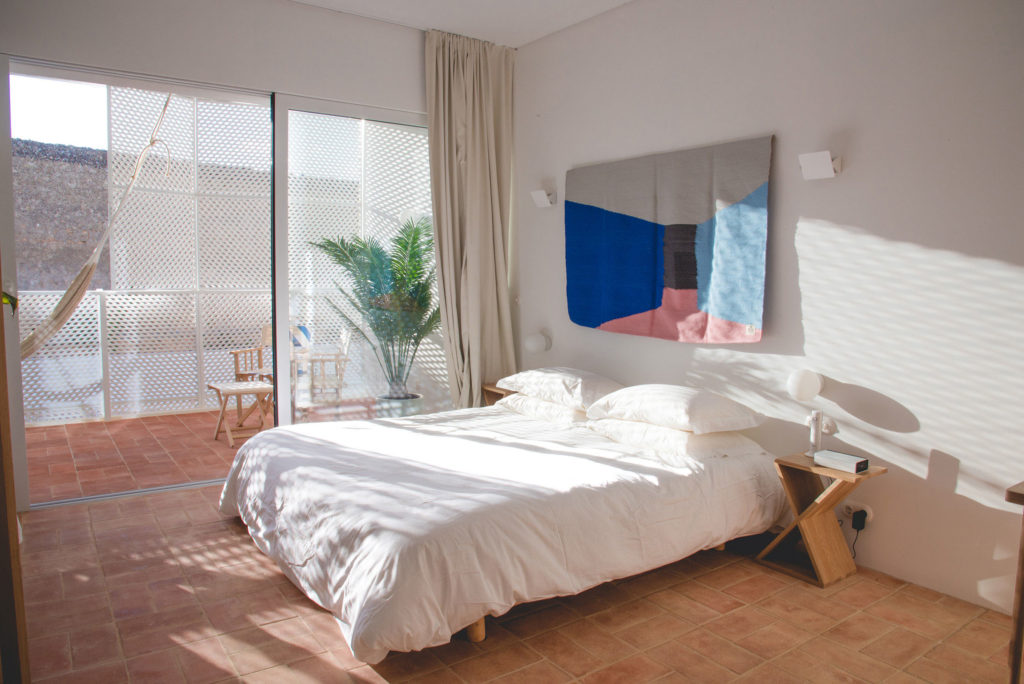 Casa Mãe. Image source
Casa Mãe
Casa Mãe is one of the latest additions to Lagos' hotel scene, and it's so far made quite a splash. This chic and contemporary accommodation has a host of facilities, from a triangular pool to an outdoor cinema, a concept store and a restaurant that will show you the finest gastronomy the region has to offer.
Casa Mãe is more of a concept than a hotel, and the perfect place for the discerning traveller in Lagos. The owners have gone on a real journey to create this space, and it shows from wall to wall. Without doubt our top pick on where to stay in Lagos.
Rua do Jogo da Bola 41 | Doubles from €95 (low) to €150 (peak)
Vila Valverde
Originally a 19th century manor house with renovations and extensions made in 2004, Vila Valverde labels itself as a 'design and country hotel'. Its location certainly confirms the latter – on the outskirts of Luz, a village next to Lagos, over five hectares with orange trees, a garden and pond – and the plush interiors vouch for the design element.
A wine cellar, two pools, sauna, and available spa treatments are just some of the highlights of this decadent hotel's facilities list. With just 15 rooms, this has all the perks of a resort but with a more intimate, exclusive feel.
Estrada da Praia da Luz | Doubles from €115 (low) to €210 (high)
Have you ever visited Lagos?
Which would you pick from this guide on where to stay in Lagos?