Active Portugal – the best hiking, biking, surfing, and more
May 28th 2017
With one of the most favourable climates in Europe, Portugal is an ideal destination for getting outdoors. Whether you get your kicks via foot, pedal, or wave, this active Portugal guide introduces you to discovering some of the country's best natural highlights.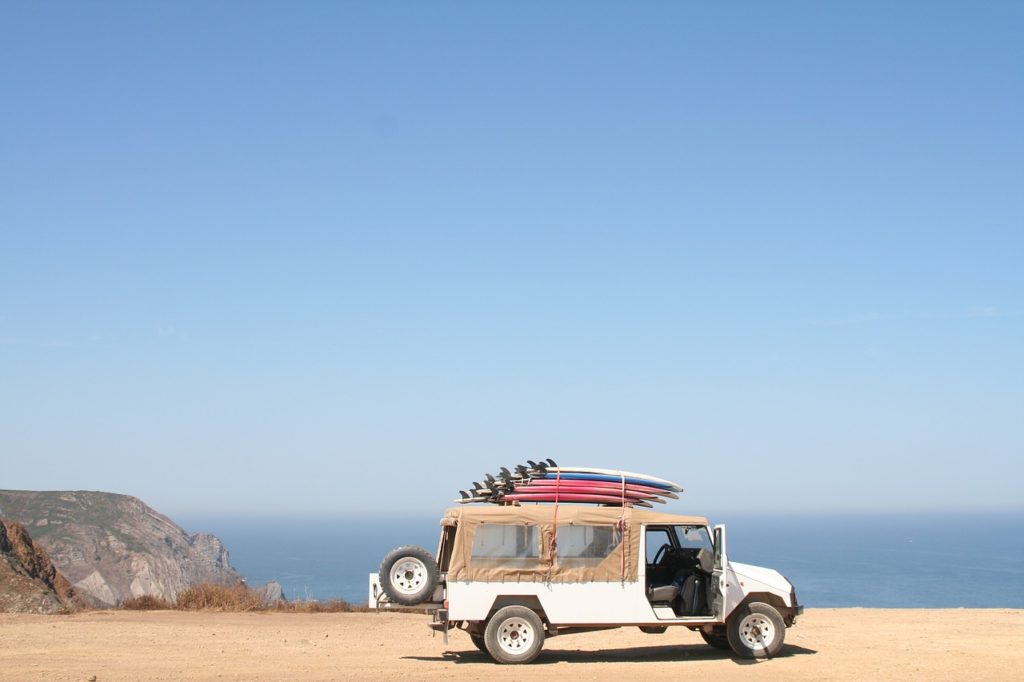 Hiking
You can get from the rugged coastline in the west up into the mountains of the north or east in a matter of hours in Portugal, making it heaven for hiking no matter what your preference. Some of the big hitters for long distance hiking in Portugal include the Rota Algarviana (300km across the Algarve), Rota Vicentina (450km from the southwest tip of Portugal up the coast to Santiago do Cacém, near Sines), and the Caminho Portugués (an alternative to Spain's popular Camino de Santiago, running around 600km from Lisbon up to Santiago in Spain).
If you're close to any of these routes but don't have time to complete in their entirety, check out their websites and find small sections that are more manageable. The Rota Vicentina, for example, also include several suggested circular trails on some of its more scenic sections.
// Related: Travelling to Portugal soon? You need our print journal A Year in Portugal, filled with outstanding travel narratives and photography. Find out more
Peneda-Gerês National Park, the country's only national park, is also a top spot if you're looking to roam around hills. There are trails all over the place here, but among the best include those around Caldas do Gerês, from which you can walk up to Pedra Bela, one of the most magnificent viewpoints in the park. Also consider the waymarked circular route from the village of Peneda, which includes a steep hike up the surrounding summits and more views across this undulating scenery.
If you're going out to Madeira you won't be short on walks either. This volcanic island boasts an abundance of trails through its unique landscape – one of the most popular is the walk from Pico do Arieiro to Pico Ruivo, which takes you across the rugged mountain scenery on a roughly 12km loop. There is an easy option and more challenging trail here.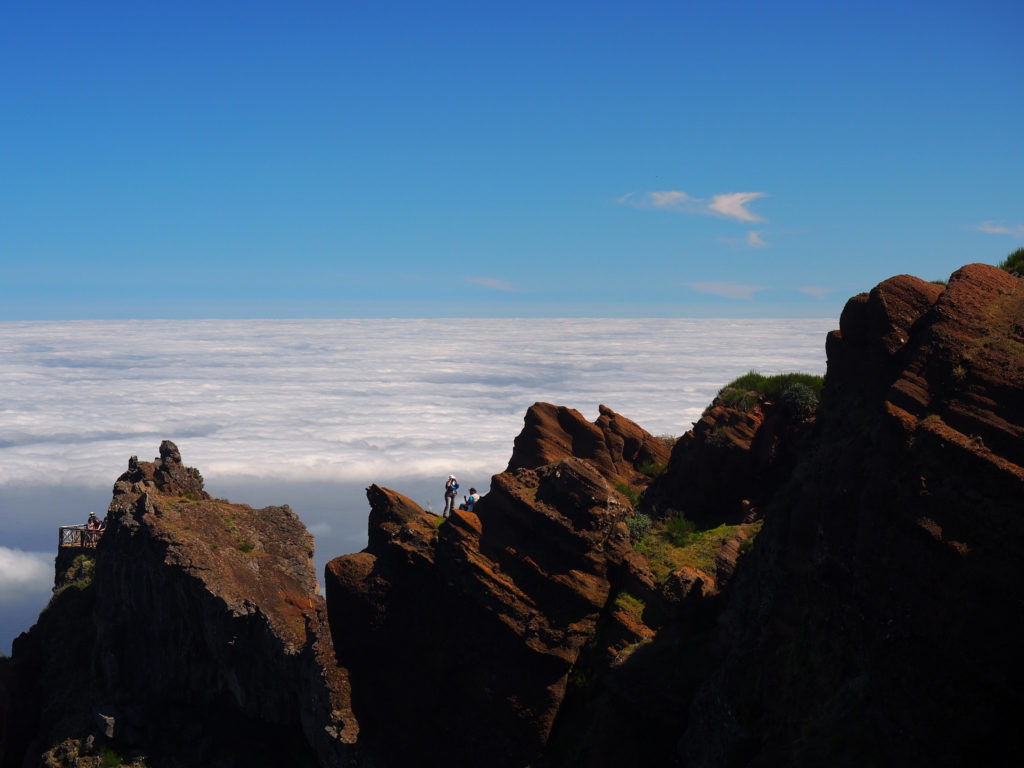 Hikers around Arieiro and Ruivo on Madeira. Image source
Our related post on hiking in Portugal:
Alentejo Hiking: Taking on Portugal's Serra D'Ossa
Kayaking
The Douro River, which stretches east of Porto and runs all the way to (and beyond) the Spanish border, is one of the go-to destinations for kayaking in Portugal. Here you'll be gliding between towering hills covered in vineyards and by cobbled towns where time stands still. Spend a few days on a kayaking trip winding along the river, with vultures and storks wheeling in the skies above you. Other rivers prime for exploring by kayak include the River Tejo, which flows through the centre of Portugal, and the River Minho, in the country's far north.
Lake Alqueva in the Alentejo is Europe's largest man-made lake and offers a slightly more off-the-beaten-track experience. This peaceful and quiet environment, a stone's throw from Spain, allows you to paddle undisturbed by human life for hours on end. Stick around at night too because this is one of the best places in the country to go stargazing – a "Starlight Tourism Destination" and protected area.
If you're further south, head to Vila Nova de Milfontes on the Alentejo coast and spend a couple of hours kayaking on the Mira River. This is a quiet spot ideal for beginners or families without much previous kayaking experience.
Sea kayakers also have a couple of options in Portugal. If you're staying in the Lisbon area visit Arrábida Natural Park, a couple of hours south of the capital, to paddle on the calm waters. Otherwise you will want to venture south to the Algarve, where you can kayak a lot of the coastline through caves and into caverns, and hop between beaches by way of the sea.
Surfing + watersports
With the Atlantic Ocean crashing against its western border, Portugal is considered one of the best places in Europe to go surfing. People come here in droves every year to spend weeks (for the dedicated, months) on end chasing waves along the coastline, and when you see for yourself how big they can get you can hardly blame them.
The most renowned surfing beaches include Peniche, Ericeira, and Nazaré, which are all in between Lisbon and Porto. These are the classics when it comes to surfing in Portugal – so much so that World Surf League competitions are held in this area – so be aware that while the waves are world-class, you won't be alone here. It's worth chopping and changing between beaches in this area to see where you can find the most undisturbed waters as they can differ from day-to-day.
If you're further south and want to surf, you could try the Alentejo coast, where you can surf at Praia de Odeceixe or Praia do Carvalhal, or even further south still in the Algarve at Arrifana (however, this can get very busy as surf schools run here) or Amado.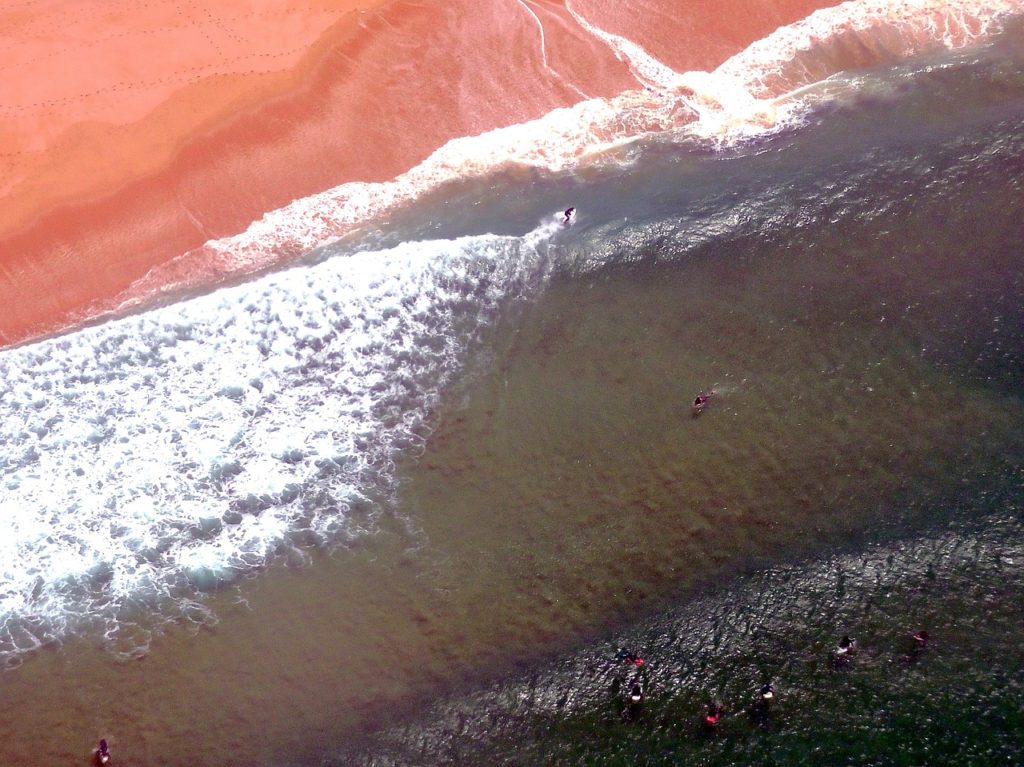 An aerial view of surfers at Peniche
If you love being out on the water also try your hand at windsurfing while in Portugal – head to Guincho just 5km from Cascais for one of the best windsurfing beaches in the country. Stand-up paddle boarding is also starting to become popular in Portugal. There are hotspots for this all over the place but the calmer waters in the Algarve where you can paddle right up next to the dramatic coast and into caves such as those at Benagil and around.
Biking
There are ample opportunities for biking – both road and mountain – across Portugal. The cycle touring scene is slightly more developed, although there are still far fewer cycle tourists in Portugal than other parts of Europe. The roads are mostly well-paved for this kind of cycling – many of the main roads will have a shoulder that will give you plenty of space to cruise along.
Among the most popular cycle tour routes are up the Atlantic Coast – you can ride all the way from Sagres up to the border with Spain if you want – and along the south coast of the Algarve. There are also lots of routes around the Alentejo, which is for the most part rural and quiet, where you'll be undisturbed for miles and miles. If you don't mind a climb, also consider this road cycling route in Serra da Estrella, the highest mountain range in Portugal perfect for those looking for some mind-boggling landscapes.
Check out this Pedal Portugal cycle touring guide for more information of road biking in Portugal.
For mountain biking head to the Monchique area in the Algarve, a region 25km north of Portimão. Here you'll find a couple of companies running downhill days, and riders of all levels are welcome. These trails are quickly gathering speed in terms of popularity, but are still relatively under-the-radar in the mountain biking world so you won't see a ton of other riders out here.
There are also good mountain biking spots around Lousã, which is 20km or so from the city of Coimbra. If you're mainly based around Lisbon, consider either heading up to Cascais near Sintra, or down to Arrábida, a natural park south of Lisbon with spectacular coastal views.
Which of these active Portugal suggestions would you take?
How do you like to get outdoors on your travels?