Alternative Lisbon city guide
January 18th 2017
Travelling to Portugal soon? You need our print journal A Year in Portugal, filled with outstanding travel narratives and photography. Find out more
Lisbon is hotting up – and we don't just mean the weather. As Portugal continues to recover from a financial crisis, industry is making its way back into Lisbon and new businesses are opening up all over the city. A thriving arts scene, up-and-coming craft beer movement, undiscovered pockets of green, and stylish hotels make up just some of the city's highlights for the discerning traveller.
Follow this alternative Lisbon city guide to find some of the more off-beat things to see and do, and witness Lisbon at its most creative and contemporary.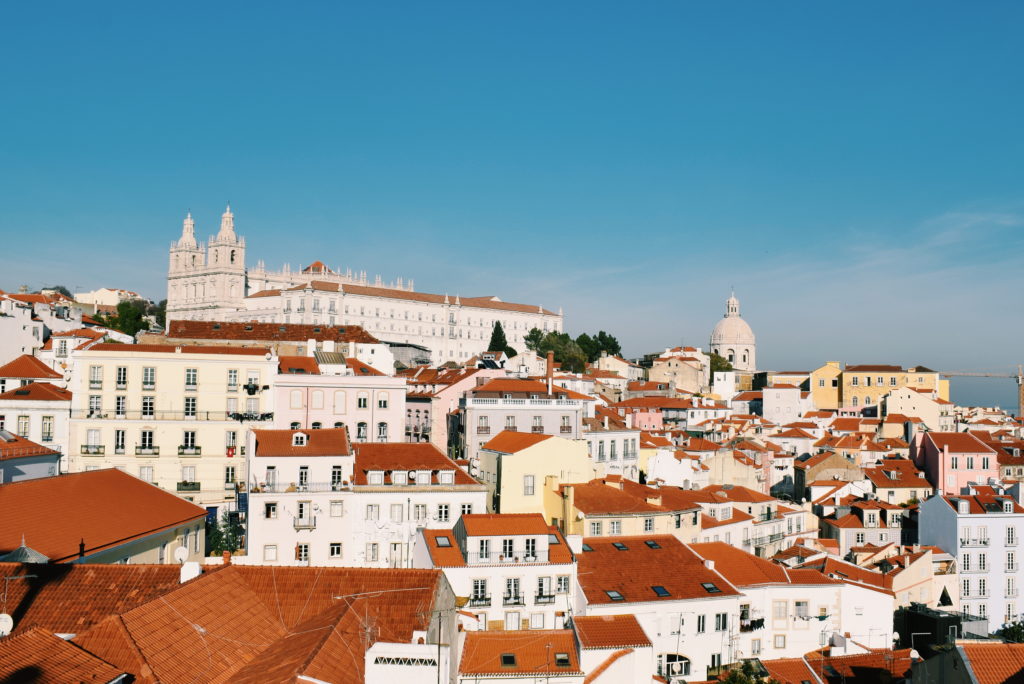 WHAT TO DO
Lx Factory: In most Lisbon articles across the web you'll see a picture of a white bike against the backdrop of a wall of books. That photo was taken in Lx Factory. Set in an old complex of fabric warehouses, this project underneath Ponte 25 de Abril in west Lisbon is a network of cafés, shops, bars, restaurants, and art projects.
Far from the beaten track, Lx Factory is one of the most interesting places in the city to take a walk around. Come here in the day to pick up something unique from the shops and get coffee and cake at the Wish Slow Coffee House, and head here at night to see the alleyways lit up and dine at Cantina Lx.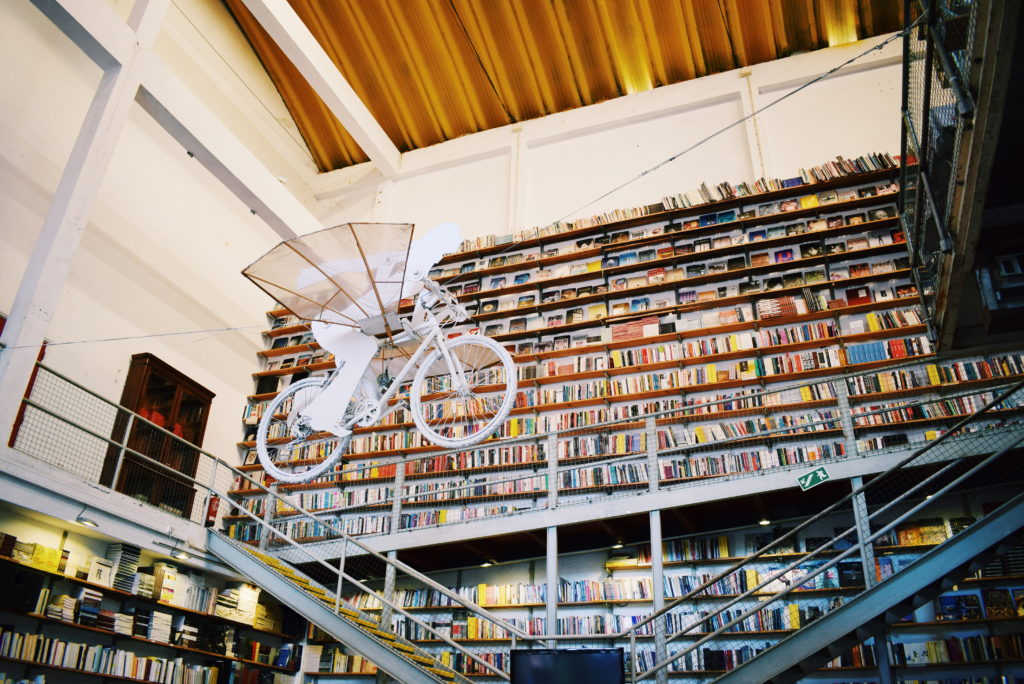 Underdogs: A contemporary gallery, murals across the city, and art store-cum-café make up the collective known as Underdogs. This collaborative project focuses on urban art from Lisbon and around the globe – one to check out if you're into unconventional, gritty, modern artwork.
The company runs public art tours, which lead you to the pieces they've created on walls around the city. The Underdogs Art Store is also worth stopping by as it's a pleasant spot located on the harbour where you can buy affordable prints from artists involved and grab some coffee with a rainbow bagel or a burger. Bear in mind the gallery is on the other side of the city, near Braço de Prata train station.
Jardim do Torel: As Lisbon is sat atop seven hills, there are viewpoints across the city connecting you with beautiful panoramas. Many of these can get overcrowded, leaving you begging for a moment's peace. Head up to Jardim do Torel, north of the city centre, to find a quiet, shady park with an esplanade, small café, and vistas over the rooftops. In August each year, the pond in this park is turned into a public swimming area. Bring a towel and lie back on the warm walkway, taking a dip in the pool every now and then to cool off.
Dois Corvos Brewery: Portuguese craft been has just begun to take off in the last two years or so, and Lisbon is leading the charge. For an all-round experience, visit Dois Corvos Brewery, where beer is brewed in front of your eyes and you can try all the fruits of their labour too.
This brewhouse is in a bit of an odd neighbourhood – out of the city centre and towards Oriente station – but don't be put off by the seemingly deserted location as you try to find it. Behind the grey doors embellished with a black crow (dois corvos means two crows in English) is a working brewery. Try a beer flight (a sampling of five different beers) for €8 and chow down on a delicious focaccia sandwich.
Dois Corvos brewery + tap room
Feira da Ladra: Held every Tuesday and Saturday from 6am until 5pm, Lisbon's Feira da Ladra is a market thought to have been held here in some shape or form since the 12th century. This flea market is held at Campo de Santa Clara in the central Alfama district, and anything and everything can be bought here, from antiques to vintage magazines and collectables. Even if you don't have the budget to buy anything, it's worth stopping by the Feira da Ladra just to witness this curious snapshot of Lisbon life.
Casa do Alentejo: If you didn't know there was something to see inside Casa do Alentejo, you'd walk right past it. We only found out about this Lisbon gem via a tip-off from a friend. This building, just up from Rossio Square, is primarily known as a restaurant, but don't be afraid to stop by just to take a look.
When you enter, you're met with ornate Moorish architecture in a light-drenched courtyard with a fountain in the centre. Grand empty ballrooms make up most of the rooms upstairs, alongside the traditional restaurant. Casa do Alentejo is a short pit-stop, but one well worth going out your way for.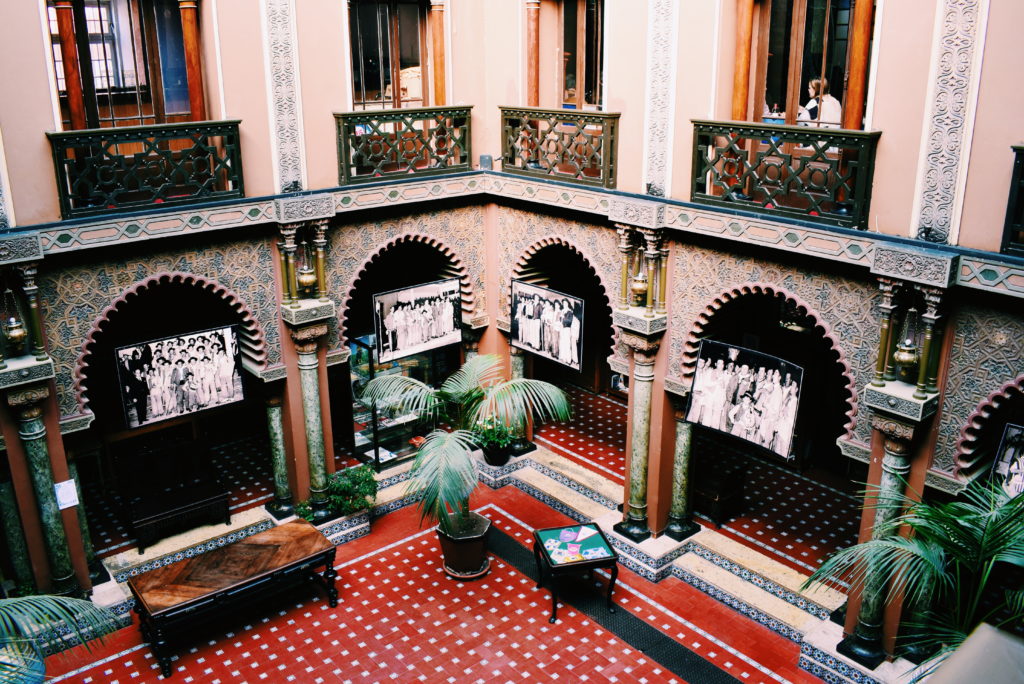 Casa do Alentejo
WHERE TO STAY
Splash out: If you've got real money to burn in Lisbon (and we mean hundreds of euros), there's no finer place to stay than the Palacio Belmonte. This five-star hotel is based in a 15th century palace and national monument, which means it has one of the most enchanting stories of all hotels in Lisbon. There are only ten suites here, and the cheapest is €450 a night. It's best not to mention the most expensive.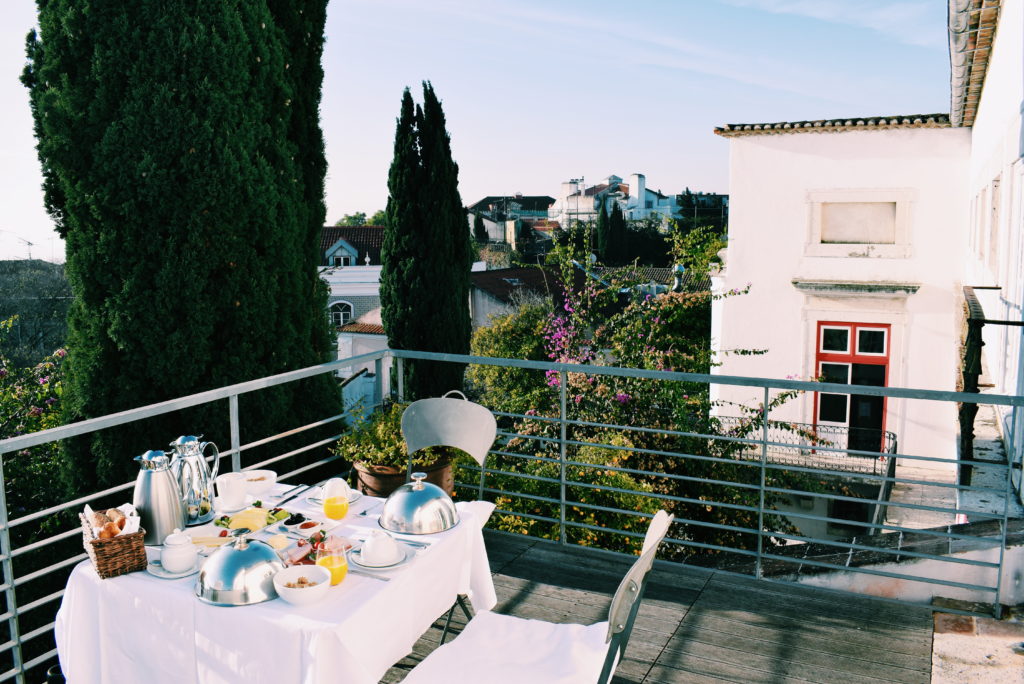 Breakfast on the terrace at Palacio Belmonte
If you haven't got quite that much money, there's plenty more luxury accommodation in Lisbon. Casa Balthazar in Bairro Alto is another historical stay with a modern twist, owned by the Balthazar family who founded one of the city's most famous bakeries. The eleven rooms are stylishly decorated, and some have balconies overlooking the city with their own private Jacuzzi.
Mid-range: The Hotel Convento do Salvador in Lisbon's Alfama district is set up in one of the city's oldest convents. After considerable restoration, the property is now a beautiful contemporary hotel with 43 rooms, all styled with minimal furnishings to give a fresh and clean feel. You couldn't ask for a better location than this, as the best sights in Lisbon are right at your feet here.
Lisbon Cheese & Wine Suites is a new hotel on the Lisbon scene with a unique concept in mind. As the name suggests, this property – in the Santos neighbourhood – not only offers accommodation decked out with retro and custom-made furniture, but guests are also offered a selection of local wine and spread of cheeses on arrival.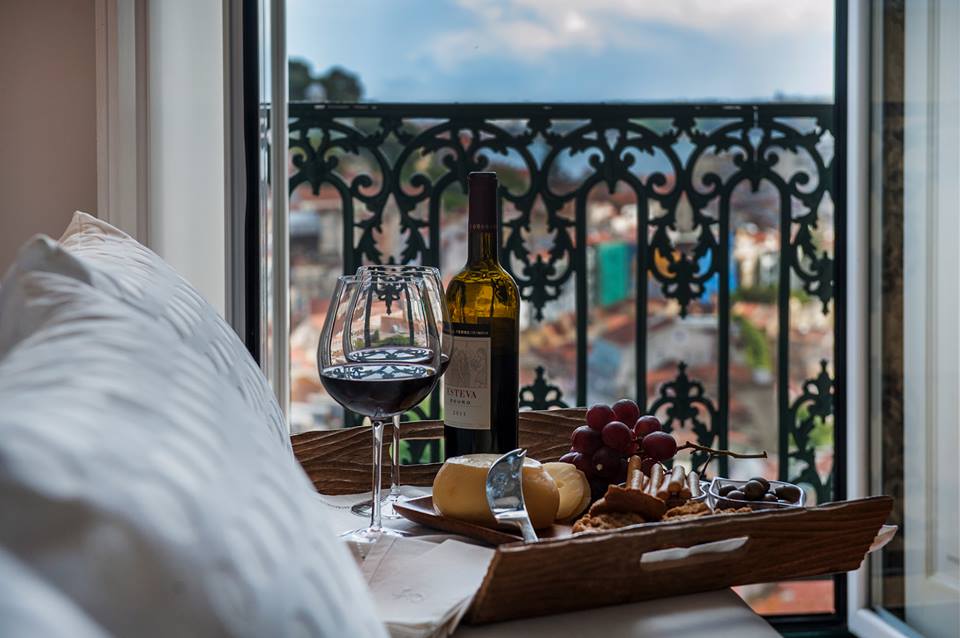 Lisbon Wine & Cheese. Image source
Budget: If you're just after a hostel, there are plenty of great options in Lisbon. Here, you don't have to rough it – the city prides itself on a number of boutique and luxury hostels that don't break the bank. Lost Inn Lisbon is set in an 18th century palace in Bairro Alto with dreamy tiled walls and a laid-back, friendly vibe. There are dorms and private rooms available here, and the décor is white with a splash of colour, making it feel spacious and light. There are lots of hostels like this in Lisbon but this is the one we've stayed in and can personally recommend.
Homestays: There are hundreds of quality AirBnBs in Lisbon, and as the Portuguese are a warm and welcoming bunch, homestays are one of the best accommodation options here. It would take an eternity to list all the great apartment rentals here, but this beautiful studio for under £50 a night caught our eye. This would make the perfect cosy nook for a couple looking to stay right in the city centre.
Also check out this one bedroom flat styled with vintage furniture and with a pull-out sofa in the living room for another couple of people for less than £100 a night. If there are a few of you, this two-bedroom renovated apartment accommodates four people and is a bargain at under £70 a night.
As for rooms, the choice is equally endless. This guesthouse accommodation offers pleasantly decorated rooms and very reasonable at £26 a night (be aware you have to share a bathroom with other guests). If you're on a very strict budget and not after frills, this basic room is £17 a night and close to the metro and tram stops.
WHERE TO EAT + DRINK
Coffee: There are heaps of great little coffee shops all over Lisbon – the trend of excellent coffeemakers has certainly made its way over to this corner of Europe. Fabrica Coffee Roasters is one of those cafés serious about the art of making coffee, and you can try all sorts of blends here. Also swing by Copenhagen Coffee Lab for a Scandi coffee house experience. Portuguese coffee is strong and silky no matter where you go though, so you'll have no problem finding some decent jet fuel in Lisbon.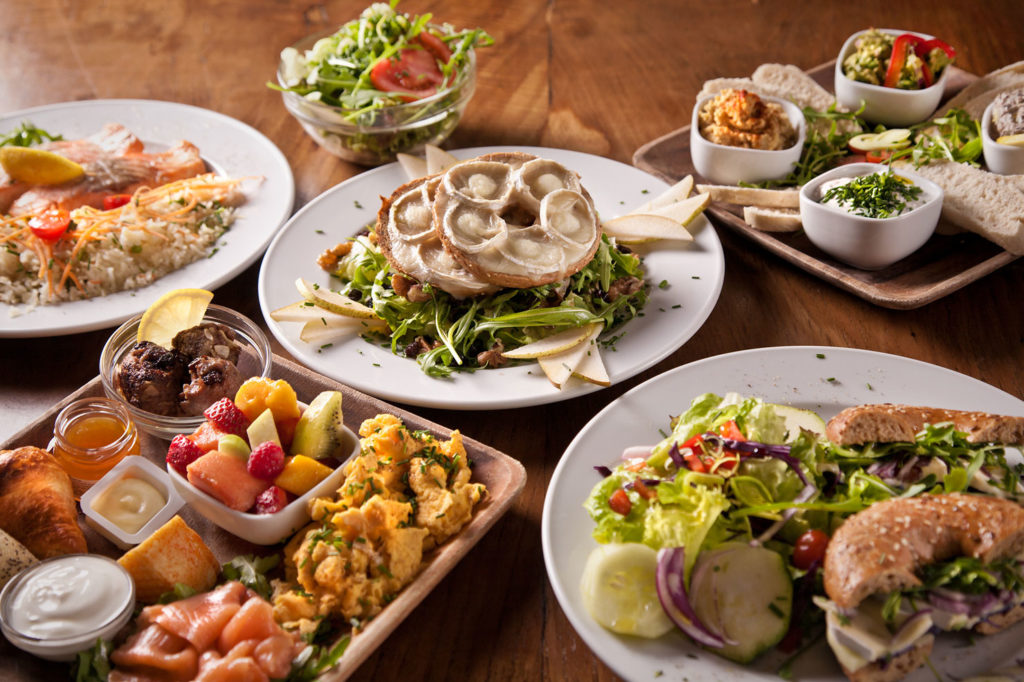 Pois Cafe, in the Alfama district. Image source
Lunch + brunch: Despite being the capital city, there are a lot of affordable lunch places in Lisbon that serve quality food. Brick Cafe is one such place, with a menu of soups and salads, plus heartier mains and big brunches each for less than ten euros. Similarly, Pois Café in the Alfama district serves bagels, sandwiches and salads and cheese, meat, and eggs brunches on Saturdays and Sundays.
For something a little fancier try Royale Café, which specialises in Portuguese and Mediterranean food such as ocotopus with smashed potatoes or delicious burgers and salads. Brunch is served here on Sundays and public holidays.
If you happen to be up next to the university of near Entrecampos station, don't miss Frankie. This small fast food joint serves giant, gut-busting gourmet hot dogs like you've never seen before. Certainly not a place if you're trying to watch your weight, but if you're willing to overlook to calorie count (and you should), this is the best place for it.
Dinner: Visiting Lisbon's Time Out Market is an unmissable experience. In this large hall you can choose from a selection of different cuisines, all situated around the outside of the building while dining tables are set up in the middle. A couple of bars are dotted around, from which you an pick up local wines and beers. The atmosphere is always buzzing, and the large selection of food is sure to please everyone in your group.
For a contemporary dining experience, head up to newly-opened Leopold. Situated opposite the aforementioned Palacio Belmonte, this restaurant only serves a six course tasting menu (at the bargain price of €35) prepared by expert chef Tiago Feio. This is fine dining in a casual setting, with an open kitchen where you can watch Tiago create your dishes and drink wine carefully selected to pair perfectly with the meal. A must for any foodie in Lisbon.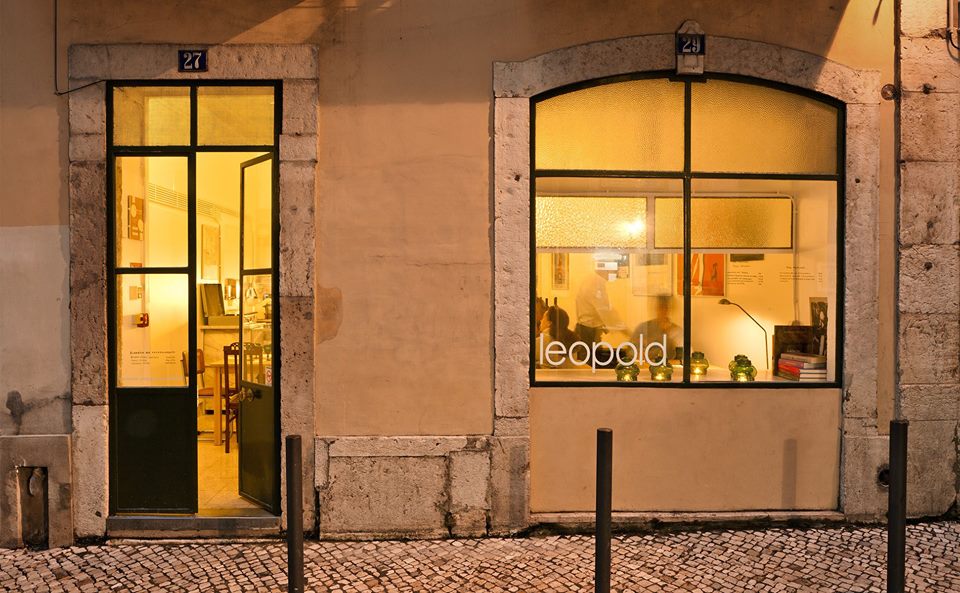 Leopold restaurant. Image source
Drinks: Close to Time Out market you have a couple of options for cosy after dinner drinks. Café Tati, just opposite the back entrance of of the market, is a little boho hangout always full of young groups of locals having a good time. Tuck yourself away in one of its corners with a glass of red wine. There is sometimes live music playing here, making it a spot you could disappear into until the wee hours.
Just up the road, Pensão Amor is another intimate watering hole. This area used to be the red light district, and in this building ladies of the night would come to entertain their customers. Now, there are remnants of its cheeky past on the walls – burlesque pictures and erotica – and dim lighting also sets the mood. The ideal place for a few drinks with deep conversation or someone you love.
Slightly further north of the city centre, up near the castle, Marcelino Pão & Vinho is another charming wine bar with a real local feel. People rate this place highly for food during the day, but if you're staying near by there are few better places around here for a night cap.
What would you pick from this alternative Lisbon city guide?
Or what would you add?