Travel itinerary: a weekend in the Douro, Portugal
March 7th 2017
It's no secret that Portugal's Douro region is one of the most visually stunning places in the country. Its slopes, lined with pleasingly uniform rows of vines and topped with rustic farmhouses, are among the nation's proudest pictures – and quite rightly so.
It takes just a few moments, just one glimpse over one of the Douro's hundreds of spectacular viewpoints, to appreciate its beauty, but a couple of days (at least) are needed to be fully cast under the Douro's spell. Follow this weekend in the Douro guide for a whistle-stop tour of the region's highlights.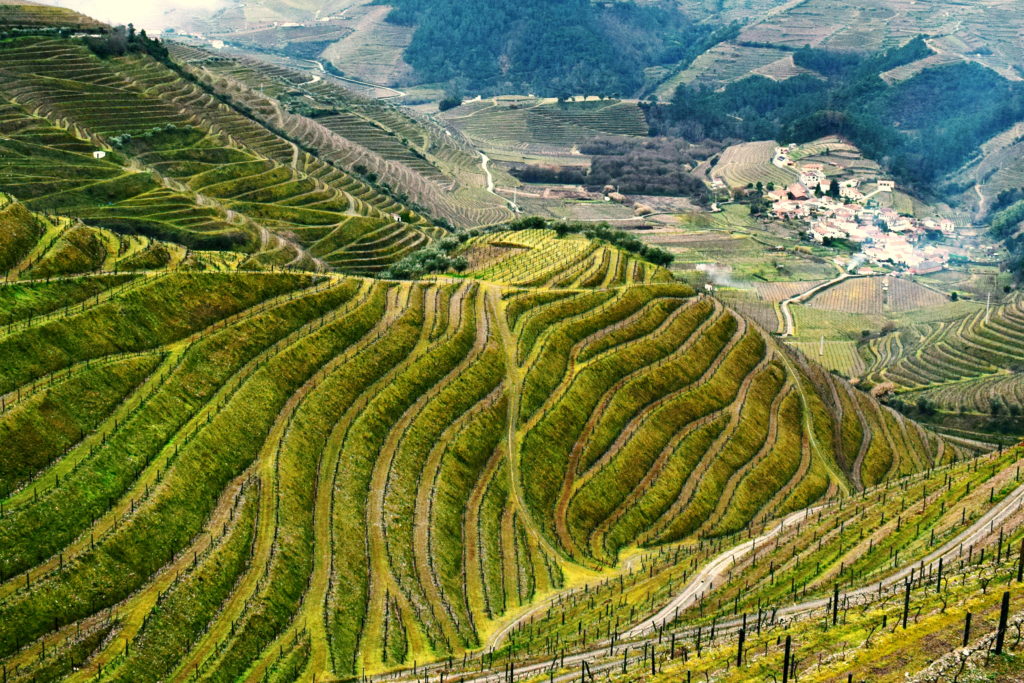 Getting around
The best way to travel around the Douro is by car. Taking a cruise along the river is a dreamy experience, but doesn't allow you freedom to stop off when you like and uncover the villages around the valley. If you're not able to drive there is a train that follows the Douro from Porto to Pocinho (three and a half hours one way, less than €15) that's often pinned as Portugal's best rail ride. The train also doesn't offer as much flexibility as driving, of course, but it's a spectacular way to get around if you're not able to hire a car.
// Related: Alternative Porto city guide
Day 1: Porto to Vila Real
Spend your first day travelling east from Porto towards Vila Real. The small town is only an hour or so from Porto but centrally located, making it an ideal base for a weekend in the Douro and there are a few places you can stop off at along the way. Make a slight diversion to Guimarães, a historical town in the north with a cobbled old town and many historical sites, including Guimarães Castle and the Palace of the Dukes of Bragança. Guimarães is considered the birthplace of Portugal, as it was where Dom Afonso Henriques was from, the man who first achieved independence for the country. Spend a couple of hours here exploring this pivotal place.
Also consider stopping by Amarante, a town often photographed for its 18th-century bridge which straddles the Tâmega, a tributary of the Douro. Amarante doesn't make for a particularly long pit-stop, being small in stature,  but warrants a peaceful wander around against the backdrop of the Serra do Marão mountains.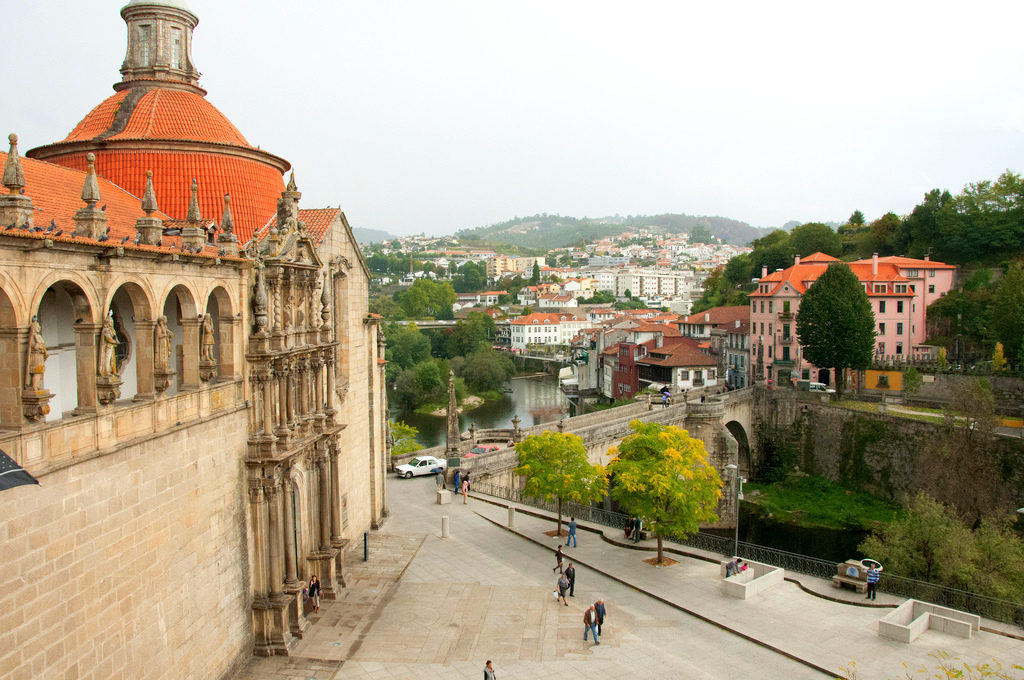 Amarante. Image source
Continue east to Peso da Régua, just south of Vila Real on the banks of the Douro. The town itself is fairly unremarkable, but it's home to Quinta do Vallado, a wine estate that's been here for 300 years. With 50 hectares of vineyards, creating both port wines plus red and white varieties, the is one of the best wineries in the Douro. A visit here gives you a comprehensive overview of wine production in this part of Portugal. Take a tour and wine tasting session (11.30am and 3pm, an hour and a half long), sign up for one of their workshops for a more in-depth experience of wine making, or eat at their restaurant to pair the wines with the region's finest cuisine.
While you're in and around Peso da Régua, visit the Museu do Douro to develop a greater understanding of the area. The buildings is modern, having been recently renovated, and not only contains a museum but also a restaurant and wine bar on the top floor – sit here on a nice day to take in views over the river.
If you still have time to spare after your tasting visit Lamego, a town 11km from Peso da Régua. It's thought that some parts of this pretty settlement date back as far as the seventh century, and there are remnants of Lamego's century-old past all over town. The city's showstopper is the Santuário de Nossa Senhora dos Remédios, a magnificent church with a staircase of 686 steps leading up to it.
For accommodation that night around this area, head back to Quinta do Vallado and stay in one of the decadent rooms. The winery has been receiving overnight guests since 2005 in their refurbished 18th-century manor house and new modern wing. There are 13 rooms in total and standard suites start at €180 a night.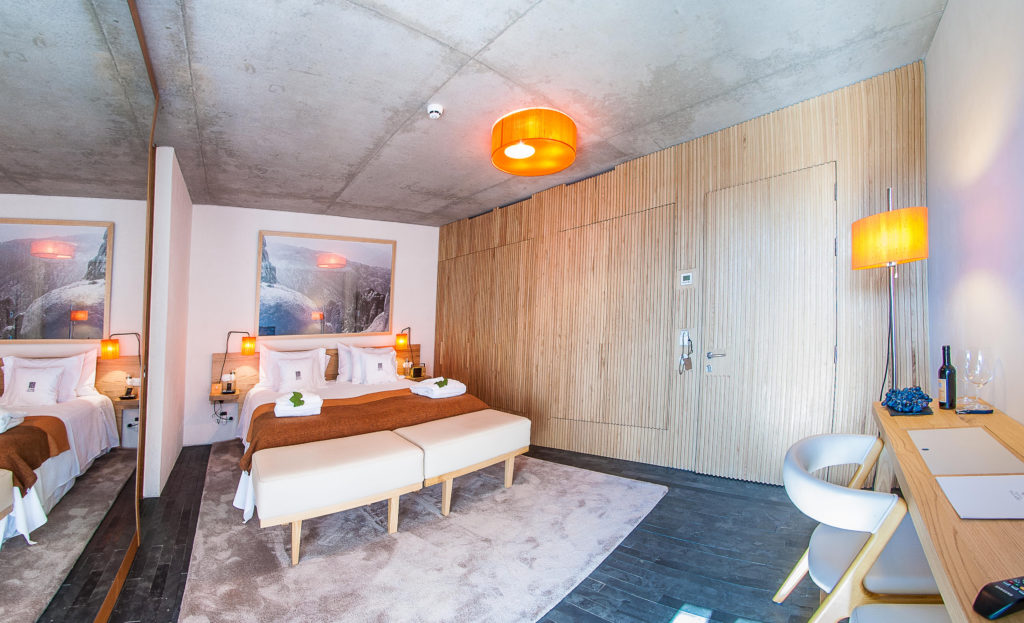 Rooms at Quinta do Vallado. Image source
If that's not within your budget, head back up to Vila Real and stay at the Douro Village Hostel, which has brand new amenities and is located right in the centre of town. There are private rooms here from €35 and dorms from €15, with breakfast an additional €3. For dinner near here, go to Oh, Faxabor and have tapas – the staff are very friendly and the selection is wide – then head just up the road to Johnnie Red Blue & Jazz Bar for some late night drinks.
Day 2: East of Vila Real
On your second day head east from Vila Real, visiting the tourist office first thing if you need a map. One of your first stops just outside of town should be the Mateus Palace, an 18th century estate and gardens (open every day, entry is €7.50 for the gardens, €11 for palace and gardens, free parking outside the gates next to the road). Portuguese wine fanatics will of course know the name as it's linked to the country's most famous rosé – this is the building depicted on the front of every bottle. Inside is a masterpiece but if you haven't got the budget an amble around the garden is equally satisfying.
Continue east on the N322 towards Sabrosa. The views will begin to open up as you venture on, with more and more sightings of the Douro Valley's signature rolling hills. There are two options once you get to Sabrosa: either hang a right here, or carry on east to Favaios then turn right there. These two roads lie on either side of a deep valley, winding downwards towards the village of Pinhão. The views from either are breathtaking, and both Favaios and Provesende (en route when turning right at Sabrosa) are attractive Douro wine villages embedded in a sea of vineyards.
Whichever you take, the cliff-hugging roads are not for nervous drivers. We drove right from Sabrosa via Provesende, and the roads barely seemed wine enough for two cars to pass. Taken at a cautious pace, however, the route is manageable and your bravery is rewarded with jaw-dropping vistas down into the valley, over clusters of terracotta rooftops and sun-drenched vines.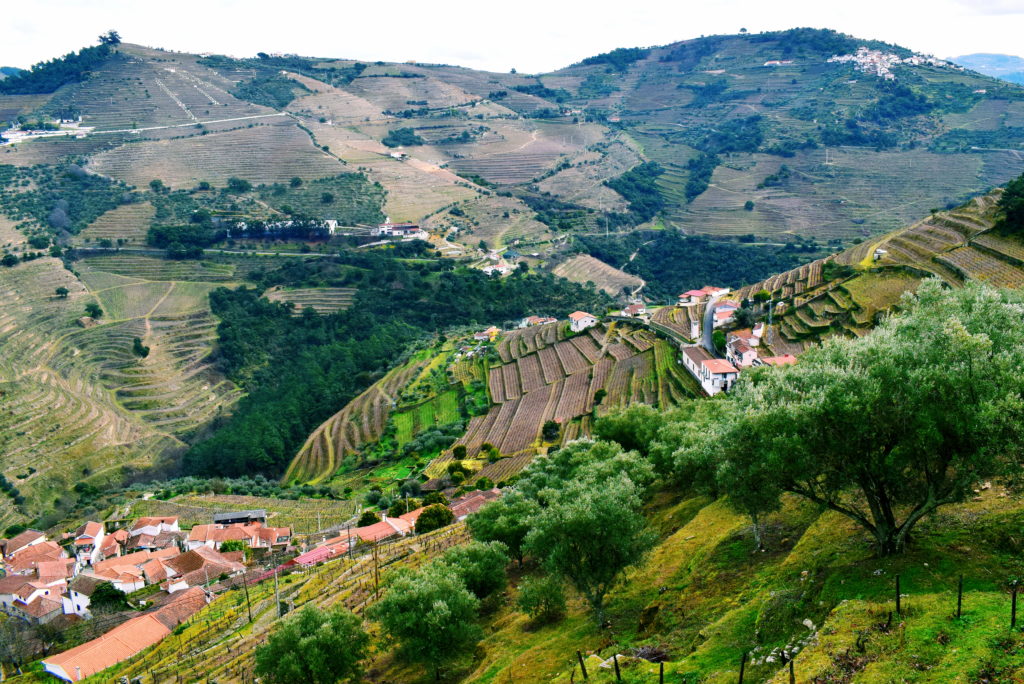 If you choose to go down this way, make a slight diversion back up the other side of the valley towards Favaios as far as the Casal de Loivos viewpoint. From this platform the hillside tumbles down from your feet towards Pinhão, and the river glides by at the bottom before wending into the distance.
Drive back down into Pinhão and cross the Douro and start to make you way back towards Peso da Régua. This drive is often considered one of the most beautiful in Portugal as it sits tight alongside the riverbed so you're at the same level as the water. The hills tower either side as you burrow through the landscape, every few hundred metres passing by quinta after quinta, winemakers with who have had vines across this scenery for decades, if not centuries.
If you didn't manage to visit Lamego yesterday, do so today. Another 10km south again from here are also the wine villages of Ucanha and Salzedas – the latter is worth visiting in particular for its monastery, which is one of the largest Cistercian monasteries in Portugal.
Finish your weekend making you way back to Porto at a leisurely pace along the winding N-222, through more villages, more wineries, and by more dramatic slopes. Fortunately, there never seem like too many – the Douro boasts it all in perfect measure.
Would you like to spend a weekend in the Douro?
What would you most like to see?