Day trips from Porto: Visit Guimarães, birthplace of Portugal
Author: Emma Higgins | February 23rd 2017
The clouds sweep hurriedly over Dom Afonso Henriques' head. He is mounted metres above me, poised, with his sword drawn and steely gaze fixed on the horizon. His metallic form has weathered over the years; his face, helmet and armour are now dull and tinged with green and chalky white. Ana, my tour guide, stands by me, under her umbrella to shield her from the drizzle, while she tells me the legend of this great man – the first king of Portugal.
The statue of much-admired Afonso Henriques takes pride of place in the centre of Guimarães because in the 12th century he secured independence for this region of Portugal, when beforehand it was part of the Spanish Kingdom of Galicia. This was a ground-breaking move in forming the country, a monumental event for the Portuguese, and the reason why the small town of Guimarães is so important.
That's just one reason why you'd want to come here. The other incentives lie in Guimarães' pretty old town byways, its signature baked treats, and relatively undisturbed traditional way of life. At less than 90 minutes from São Bento station and only €3.15 each way, Guimarães makes one of the most accessible day trips from Porto. Here's what to do for a day in the birthplace of Portugal.
Morning
Catch a train in the early hours to make it to Guimarães in good time, and spend your morning on a tour. We were taken around the city by Quality Tours (roughly €25 per person for a half day), a group that lives up to its name. A tour is essential to help you understand more about the significance of Guimarães and its place in Portugal, and the walking tour we took with Ana is packed full of information.
Over the course of the morning, Ana not only told the stories behind Guimarães' monuments, but also pointed to details such as traditional pieces of pottery from the city, original uses for a number of the buildings, and where the old city walls used to stand.  It was a dreary January day, but the city came alive through Ana's words, each part another piece of the puzzle that traced its roots back through history, setting the scene for the rest of our time here.
If you want to guide yourself around, don't miss Guimarães Castle, the Paço dos Duques de Bragança (Palace of the Dukes of Braganca), and Igreja de Nossa Senhora da Oliveira, a stunning church and national monument. These are the essential sights to get to know more about Guimarães and why its historical centre was deemed worthy of UNESCO World Heritage status in 2001.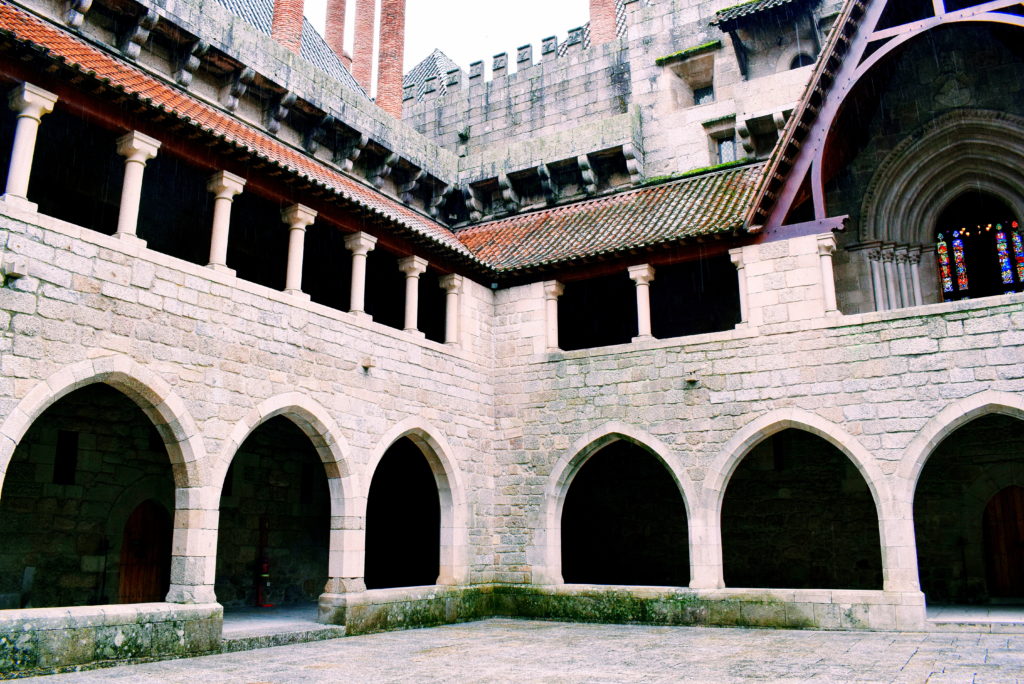 Inside the Paço dos Duques de Bragança
For lunch, there are many restaurants in Guimarães to pick and choose from. Try Casa Amarela for a modern take on traditional Portuguese cuisine, such as pork dishes and bacalhau, in a beautiful setting. If it's a nice day eat on the terrace upstairs. For tapas and a glass of wine, head to Castas & Tostas, where you can sample delicious salads and fresh fish alongside the wares of the region's vineyards.
Portugal is often difficult for vegetarians but not in Guimarães – one of the most highly regarded restaurants, Cor de Tangerina, is vegetarian and vegan, and might sway even the most dedicated meat-eater. Save room for one of their mouth-watering desserts.
Afternoon
Take a walk around Guimarães' old town after lunch. Among the most photogenic streets is Rua de Santa Maria, a narrow cobbled lane with balconies adorned with flower boxes and an ornate archway next to the tourism office (which, while we're on the subject, used to be a stable). If you didn't eat something sweet after lunch, stop by Divina Gula for a bite. This shop-cum-patisserie sells regional pastries, such as the Tortas de Guimarães – dough filled with eggs, almonds, and spaghetti squash.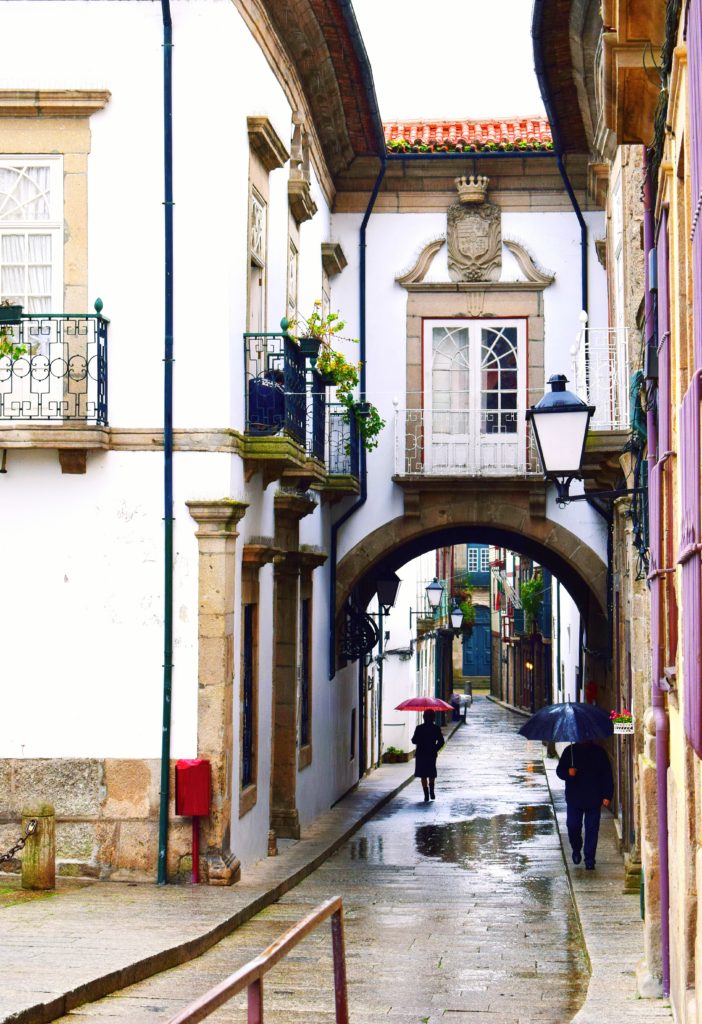 While you're walking around town, keep a lookout for the words Aqui Nasceu Portugal ('Portugal Was Born Here') just off Largo do Toural square. It will take you all of ten seconds to absorb and take a photo of, but this point is something every Guimarães visitor should cast their eyes over.
On the other side of the square here, across Jardim Publico da Alameda, is the Zona de Couros, a once neglected part of Guimarães. Walk down Rua de Sao Francisco behind the buildings to find the abandoned tanning pits. The processing of leather used to be an industry here, which is why this neighbourhood of Guimarães, and the people in it, were shunned for so long. The overpowering smell from the tanneries put other locals off, but since the leather work has finished this has become a desirable area, with renovations to the buildings increasing, and a unique piece of Moorish influence sitting right in its centre.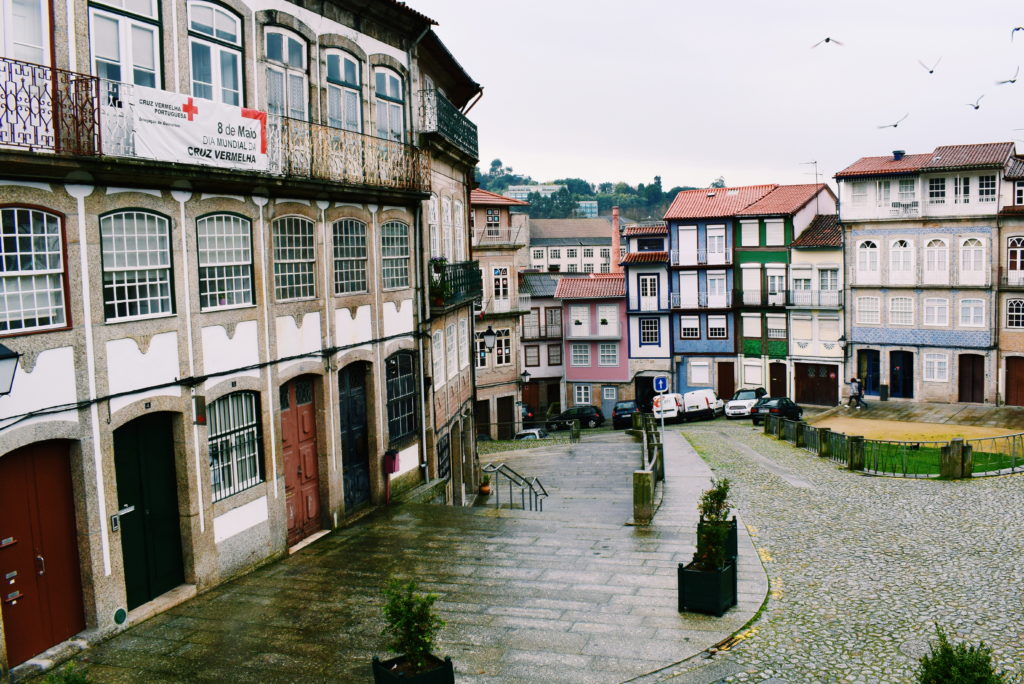 The new buildings in the Zona de Couros, behind which are the tanning pits
Museum buffs shouldn't miss the Museu de Alberto Sampaio, which houses a collection of paintings, sculptures, ceramics, and more from the holy institutes of the Guimarães area. Even if that's not entirely to your taste, the museum is situated in a beautiful chapter house, cloister, and priory that make for a peaceful setting to have a stroll around. Entry is €3, free on the first Sunday of the month, and the museum is open at night in July and August.
For something more contemporary visit the Casa da Memória, a centre dedicated to showcasing the development and community of Guimarães and its surroundings through an assembly of documents, stories, and objects. Housed in an old plastic factory, this is one of the most interesting modern cultural sights in the city. Entry is €3, and the museum is closed on Mondays.
If you're in Guimarães in summer, make you way up the cable car to Parque da Penha. This mountain just outside the city provides the perfect viewpoint from which to look down over Guimarães and its fringes, and walk around for an hour or two. There's a church up here, as well as rock gardens with pathways weaving through them. The Teleférico de Guimarães is about a 10-minute walk outside of town and it takes roughly the same time to get to the top. Note that it's only open Fridays, Saturdays, and Sundays from November to March.
If you have a little time before returning to Porto, amble back into town for a quick leaving drink and nibble. Swing by Manifestis Probatum, a bar in old town that serves tapas alongside wine and a strong selection of Portuguese craft beers. Reason enough to prolong your stay and catch the last train home.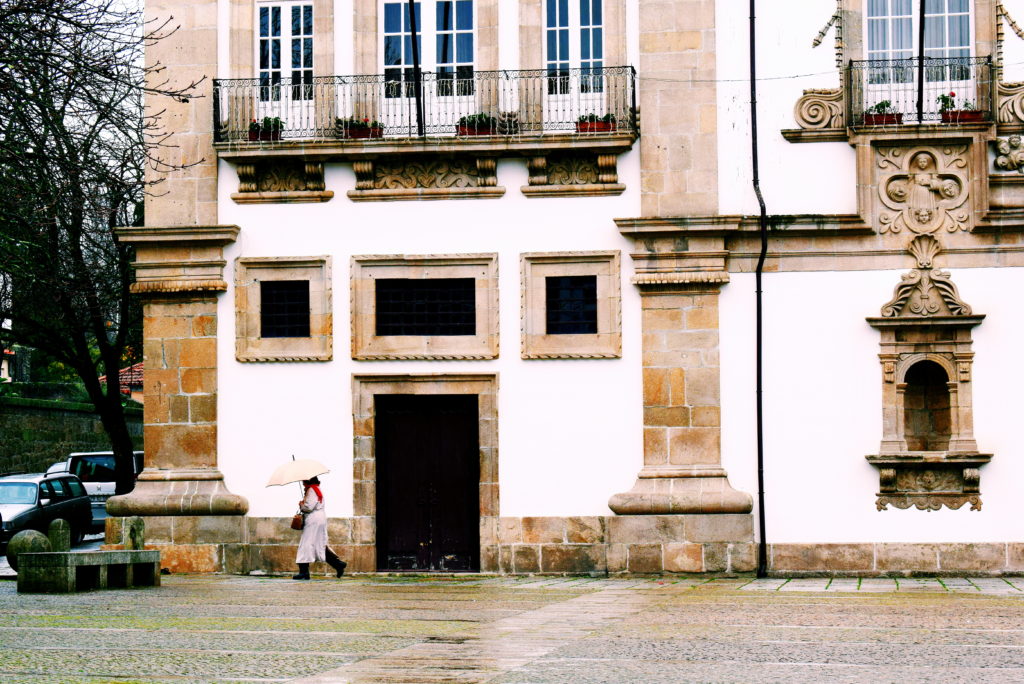 Would you visit Guimarães?
Have you been on any other day trips from Porto?