9 of the best hotels in the Alentejo, Portugal
May 22nd 2017
Portugal's sizzling Alentejo region is characterised by miles of farming land, undisturbed beaches, historic cities, and vineyards as far as the eye can see. There are outstanding hotels across the region, from boltholes on the quiet coastline to wine hotels in the ultra-rural inland depths, and plenty to suit whatever your budget. Here are nine of the best hotels in the Alentejo.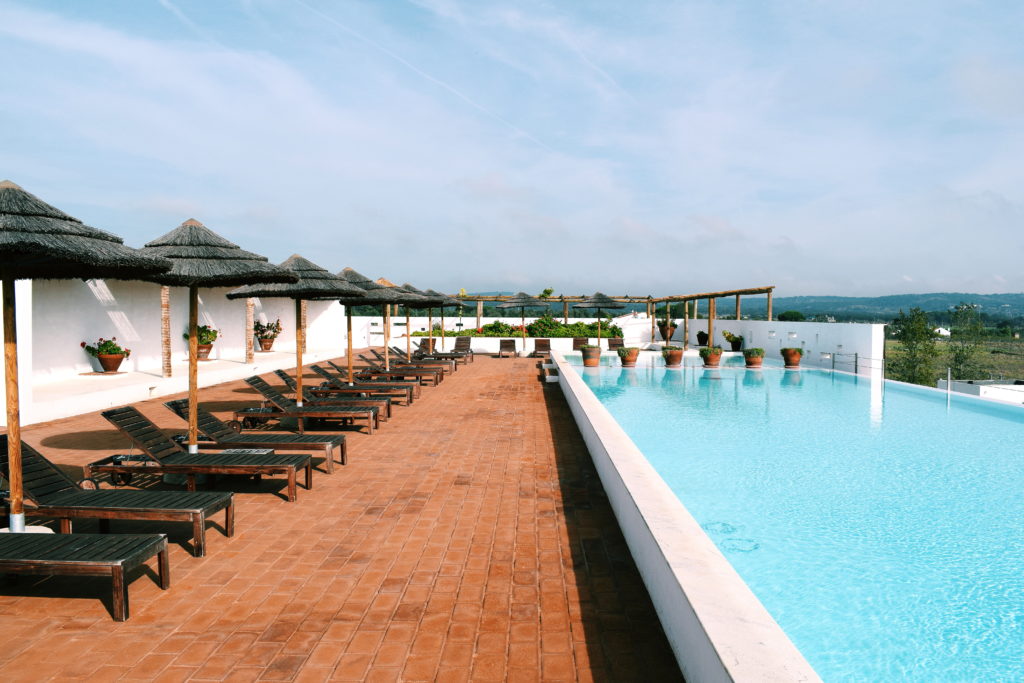 Ecorkhotel Suites & Spa
BUDGET
Train Spot Guest House, Beirã
Ever wanted to sleep in a disused railway station? Of course you have. Train Spot Guesthouse is set up in an old 19th century train station at Marvão/Beirã, a stone's throw from the Spanish border in Serra de São Mamede Natural Park. With tiles all around and a crumbling exterior, but modern interiors, the owners have created the ideal balance of staying true to the building's heritage but making it comfortable to stay in. Here you have all the beauty of the natural park at your feet plus the comfort of free Wi-Fi, affordable private rooms, and breakfast on request.
Doubles from €40 | Facebook
Herdade do Touril, Zambujeira do Mar
Herdade do Touril is bed and breakfast accommodation set on a countryside farm estate, within reach of some of the best surfing on the Alentejo coast. Here you can find anything from basic double rooms up to suites and apartments to stay in, across a total of five houses on their 365 hectares of land.
If you're doing the Rota Vicentina, this is a particularly useful stop-off to know about as the long-distance walking trails swings right by the estate. The folks here are also experts on plenty of other outdoor activities in this wild region, from sea fishing to beaches to explore, plus nearby towns to visit.
Doubles from €60, small houses sleeping up to 5 from €170 | Facebook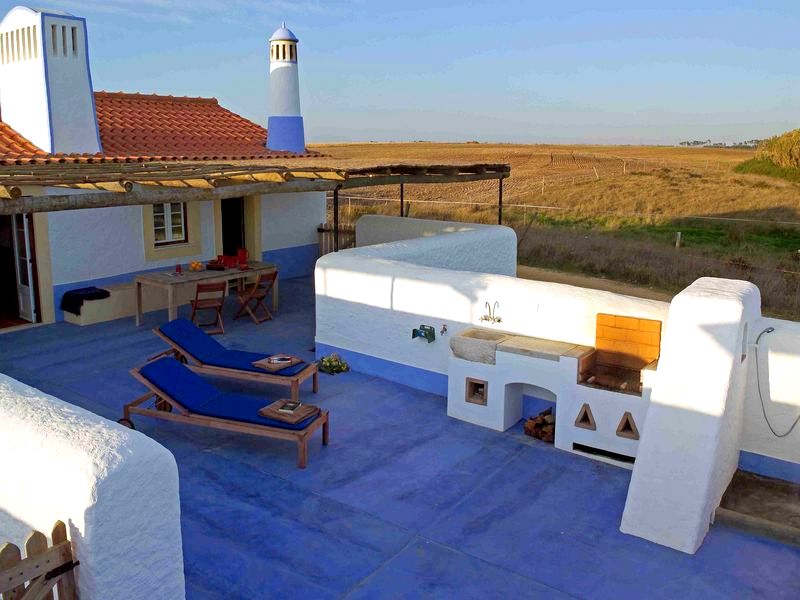 Herdade do Touril. Image source
MID-RANGE
Ecorkhotel Suites & Spa, Évora
Located just a few miles outside the UNESCO World Heritage old town of Évora, Ecorkhotel Suites & Spa is a secluded spot within reach of one of the most beautiful cities in the Alentejo district. The hotel has 56 suites in individual buildings laid out like a village among a sea of olive and cork trees.
One of the hotel's most striking features is its rooftop pool, and ideal place to cool off in the often stifling heat. From up here you can look out over the countryside or lie back on a sun lounger with a drink in-hand. The hotel also uses cork, one of Portugal's most exported products, as an outer layer on its main building, one of the first hotels in the world to do so.
// Read our first-hand review of staying at Ecorkhotel Suites & Spa.
Double suites from €81 | Facebook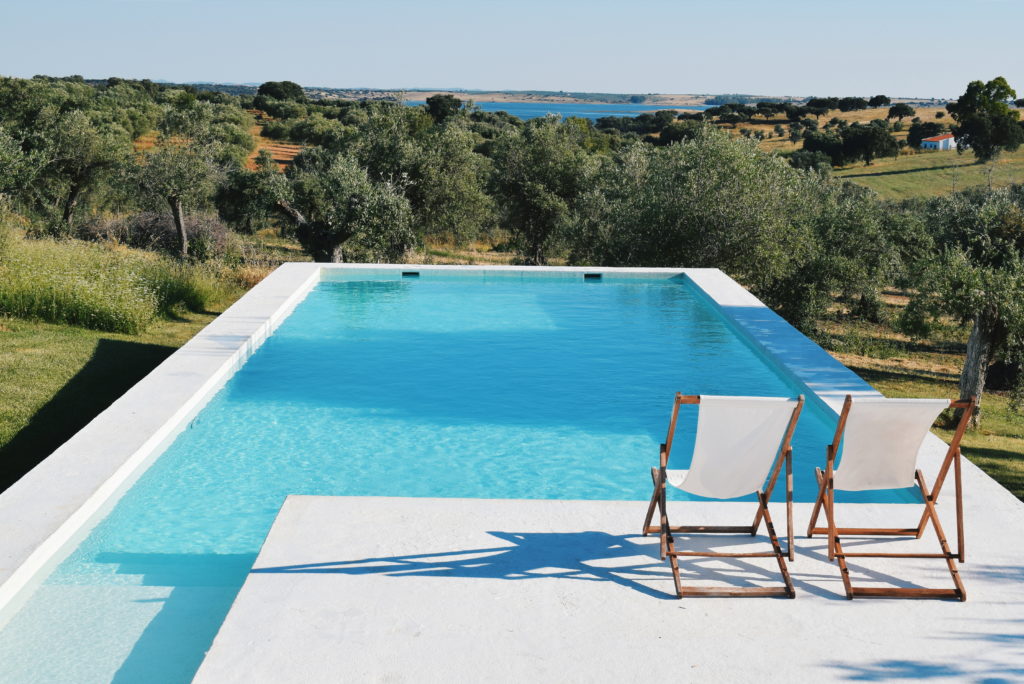 Monte Falperras
Monte Falperras, Mourão
With only six double rooms available, Monte Falperras is the kind of place you stay in if you want a completely undisturbed hotel experience. The house, which is situated close to the eastern Alentejo's Alqueva Lake, prides itself on flawless design with a rustic flavour – think simple, quality furniture alongside white walls and polished concrete floors. The pool at Monte Falperras is one of the hotel's highlights. Pull up a deckchair here and lie back to look out over the rural setting, between dips in the refreshing water.
// We've stayed here – read our Monte Falperras review for more info.
Doubles from €75 | Facebook
Herdade da Matinha, Cercal
A rural haven 15km from the west coast, Herdade da Matinha will make you feel like you're in the lap of luxury without spending a fortune. The isolated nature of this estate means that it's perfect for a peaceful getaway, where you can fill your days riding one of the hotel's eight horses, taking yoga or pilates classes, walking in the surrounding countryside, and spending time by the pool. In the evenings, take a cooking class with owners Alfredo and Monica to learn Portuguese cooking techniques.
Doubles from €89 | Facebook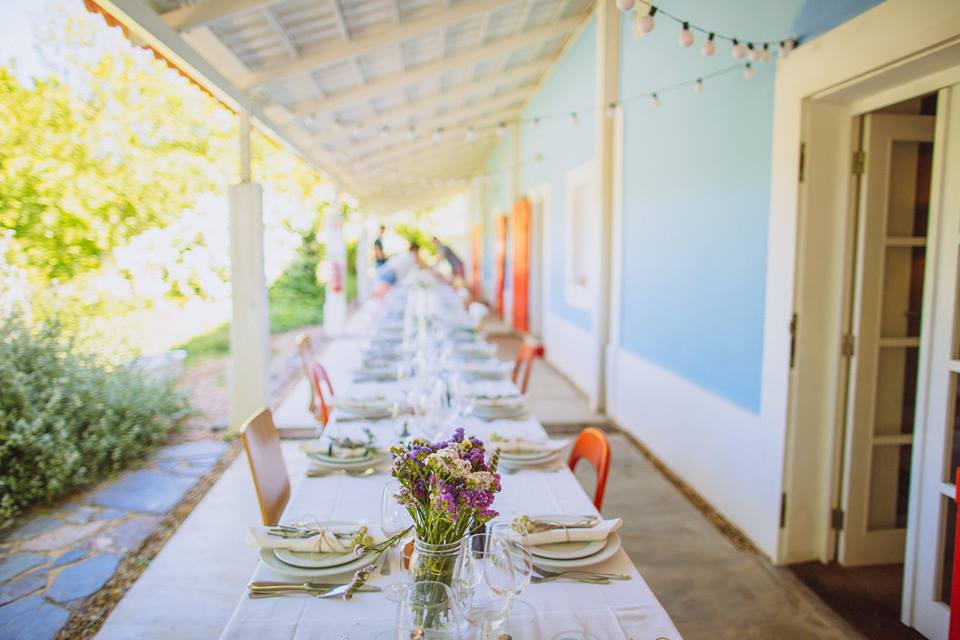 Herdade da Matinha. Image source
Pousada do Crato, Flor da Rosa
Previously a castle, convent, and palace, the Pousada do Crato is one of Portugal's historical properties turned into an outstanding hotel. As it's a significant building in the region's past – the building was once home to the Hospitallers of the Order of Malta, and is one of the finest example of Gothic architecture in Portugal – the hotel has retained many of the natural features, including exposed stone walls and the medieval tower, in which one of the luxurious suites is located. There's a swimming pool, spa, and restaurant here, accompanying the decadent surroundings for a grand stay.
Doubles from €120 | Facebook
HIGH END
Imani Country House, Évora
Imani Country House is a class act from start to finish – a warm welcome, spacious and uniquely-designed rooms, fine dining in its restaurant, two swimming pools, and eclectic collection of furnishings across its small but perfectly formed building. In the heart of the countryside a few miles outside Évora with no neighbours in sight, staying at Imani feels like a true escape from the hectic world.
// Find out more about Imani Country House in our review post here.
Doubles from €145 | Facebook
Imani Country House. Image source
Torre de Palma, Monforte
Torre de Palma is one of the premier wine hotels in Portugal, where you eat and sleep among the Alentejo's miles of vineyards. Filled with plush decor, this hotel creates a stylish atmosphere to relax in while you're not exploring the best of the surrounding region, such as nearby UNESCO-certified town of Elvas and Serra de São Mamede Natural Park.
The main draw here is the wine – as the property is set on a vineyard there's of course no shortage of it. There's a wine barrel room here and you can go wine tasting with the local experts. For the ultimate experience (and a romantic one) go horse riding around the estate.
Doubles from €135 | Facebook
Pousada Convento de Évora, Évora
While the other Évora hotels we've mentioned on this list are slightly outside the city, the Pousada Convento de Évora is slap-bang in the middle of the UNESCO World Heritage listed part of town. Sitting pretty between the Catedral Gótica de Évora and the Templo de Diana, you couldn't ask for more in terms of location from this 15th century convent.
What's more, the classic interiors, outdoor swimming pool, and Loios restaurant situated in the building's cloister make this one of the most accommodating hotels in Évora, a beautiful refuge to come back to after long days of sightseeing.
Doubles from €150 | Facebook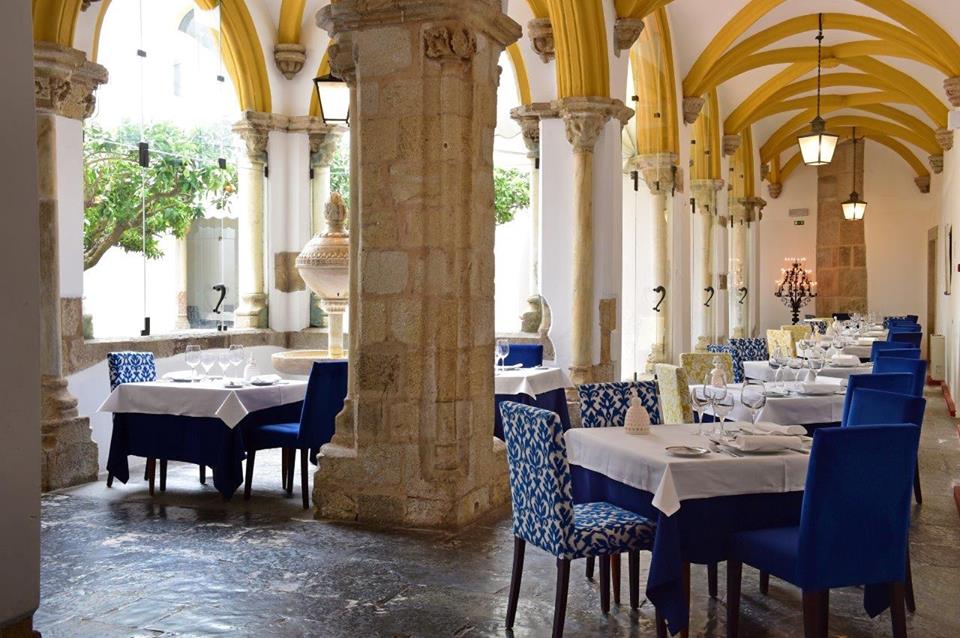 Pousada Convento de Évora. Image source
Which of these hotels in the Alentejo would you stay in?