7 essential Portugal foodie experiences
February 21st 2017
Portugal's culinary scene is hotting up year-on-year. With hundreds of miles of coastline, pastures and farming land as far as the eye can see, and rows of vines sweeping across the country, there's produce aplenty for rich and varied gastronomy. These Portugal foodie experiences connect you with some of the country's quintessential (and scrumptious) flavours, and give you some tips on where to find them.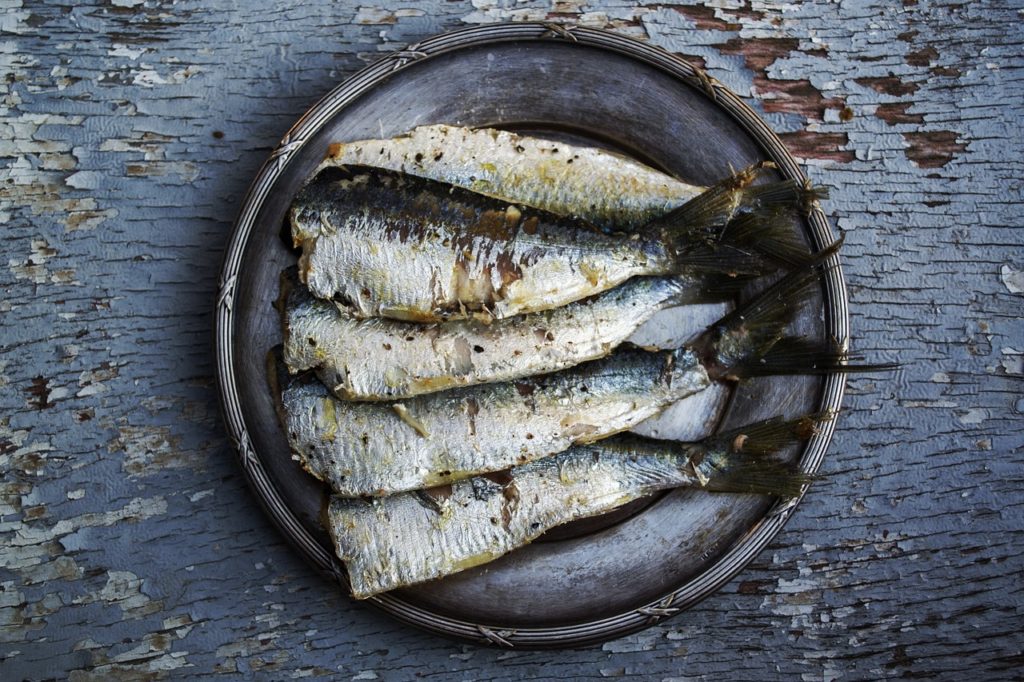 1. Seafood in the Algarve
The Algarve's culture centres predominantly around the coastline, so it's no surprise that its culinary scene is awash with delicious, fresh-from-the-water seafood. A good place to start is in the town's fish markets – among the most famous are those in the east at Loulé and Olhão. Here you can get your bearings on the fish fare and see the kinds of things you might find in restaurants.
Sardines are one of the most famous sea dishes here. You'll often find locals in small towns or villages setting up little barbecues outside their front doors and grilling sardines on them for their lunches. Octopus is also common, mostly in the eastern Algarve, and meatier fish like sea bass can be found on menus across the region.
The people of the Algarve love to celebrate their connection with the ocean, and often hold festivals to that effect. Sardine festivals are common in towns all over the Algarve, and every year in mid-August Olhão holds a seafood festival where you can find all these ocean flavours cooked to perfection.
2. Pork in Bragança
The little-visited region of Trás-os-Montes – the city of Bragança and its surrounding villages – might not be on (or even very near to) the tourist trail, but that's not to say it doesn't have its own distinctive culture and customs. In terms of food you'll find a lot of pork here, in many shapes and forms, as the rearing of pigs is seen as somewhat of an art form.
The livestock is carefully looked after through the year, and when the day comes to kill the animal it's like a ritual. Not a scrap goes to waste, not even to the dogs, and families gather large groups – 20 or more – people together to feast on pork steaks, sausages, chorizo, and much more.
To sample some of it yourself as you travel around the region, stop by any traditional countryside restaurant and you'll find good pork on the menu. When up in Montesinho Natural Park, we recommend swinging by Restaurante "O Careto" for lunch, a country inn style place that cooks meat and fish on coals and where you'll find many of the locals dining out.
3. Pastéis de Belém in Lisbon
The Lisbon bakery that started producing Portugal's infamous Pastéis de Belém first ignited its fires back in 1837. While the recipe for these delicious cakes is recreated across the country, the original make-up, taken from the Mosteiro dos Jerónimos, remains a secret, which means these are the one-and-only, original real deal.
Visit the bakery to try these sweet treats for yourself, but don't expect to be the only one there. As the pastries are mentioned in almost every guidebook, there is usually a queue of travellers waiting outside the door to try these bites of heaven. So come expecting to wait a while, but have faith that the effort is well worth it.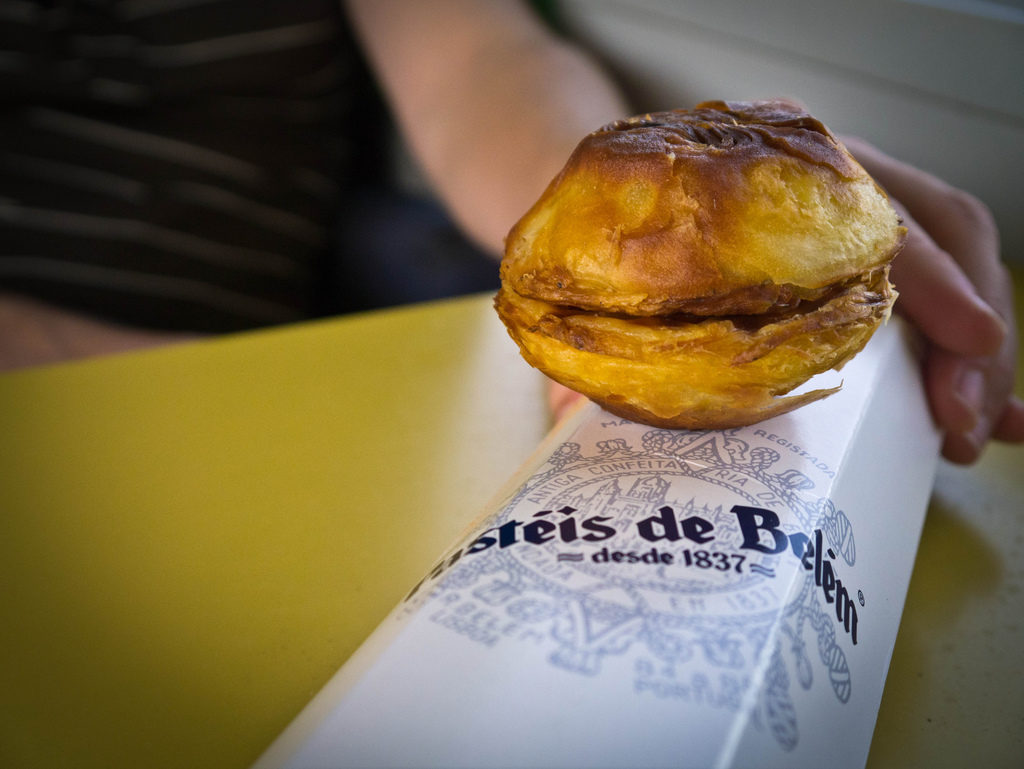 Pastéis de Belém, stacked one on top of the other ready for takeout, in Lisbon. Image source
4. Pork and clams in the Alentejo
Portugal's carne de porco a alentejana is one of the more unusual combinations of food to originate in this country, but pork and clams has become a signature dish here. As pork is so popular in the Alentejo, the country's central region, its thought to have been created here, but on the flipside clams are one of those classic Algarve ingredients so it's also found across the south too.
The dish is usually cooked up in a stew and served with fried potato cubes. If you stumble on a restaurant that makes cataplana – a stew cooked in a large, lidded round pot of the same name – also look out for the pork and clams combination. These traditional cooking tools give you the real Portuguese experience.
5. Francesinha in Porto
Vegetarians, avert your eyes. Calorie counters, there's no place for you here. Porto's Francesinha sandwich is the epitome of all things meaty, fatty, and disgracefully delicious. We want one on standby for every hangover from now on.
Its construction is simple: from the bottom, you have bread, cheese, bacon, steak, chorizo, cheese, and your other bit of bread. As if that weren't enough, the sandwich is then covered in more cheese, whacked under a grill until it's all melted, and drowned in a pool of spicy tomato sauce. This sandwich is coronary failure waiting to happen, but one of those things you have to try at least a bite of at least once.
There are slight variations on ingredients between cafés that serve Francesinha, but nearly all of them are absolutely humongous. If possible, share one with a friend to avoid gut-busting pain and a bad case of the meat sweats.
6. Suckling pig in Mealhada
The small town of Mealhada, just north if Coimbra, might seem fairly unremarkable to a passerby, but there's one very good reason why you should visit for a Portugal foodie experience. Suckling pig is the infamous dish here, locally known as leitão assado da bairrada. The town became famous for this style of succulent cooking in the 1940s, and has gained momentum ever since for being a piggy mecca.
Pedro Dos Leitões is the restaurant in which the tradition started, so stop here if you can grab a spot at one of the busy tables. The pork will come crisp on the outside, juicy and tender on the inside, a lip-smackingly tasty dish for any meat lover.
7. Bacalhau, anywhere
Portugal's salted cod dish – bacalhau – isn't to everyone's tastes, but you should try it at least once. You'll see bacalhau in every supermarket around the country, either in fillets or more commonly in large, dried sheets at the fish counter, and on many menus at Portuguese restaurants. When dried, the fish is soaked in water for two days to re-hydrate it and turn it back into a fillet ready for cooking.
Some find the salty taste a little overwhelming, but as there are hundreds of ways of preparing bacalhau you're bound to find one that suits your taste buds. One of our favourites is bacalhau com natas, where the cod is shredded and baked in cream with potatoes and onions before being topped with cheese. You'll also find bolinhos de bacalhau, bite-sized fishcakes, at most deli counters and the savoury section at bakeries. These are good to pick up if you want a quick try of bacalhau without having to order it in a full dish at a restaurant.
Which of these Portugal foodie experiences would you try?
One response to "7 essential Portugal foodie experiences"