GKM diaries: How our travel journal went from wild idea to worldwide seller (Part 3)
Author: Emma Higgins | February 16th 2017
This post is the third and final in a behind-the-scenes series about our print travel journal A Year in the UK & Ireland, which is out now. Read part one here and part two here. 
Selling A Year in the UK & Ireland has been the most difficult part of my journey with this book. I'm not a natural salesperson, so figuring out how to market the journal to the right people and convince them to buy it has been a huge learning curve, one that I'm still getting to grips with now. When the books landed in my house in towers of boxes it was overwhelming, but I was ready to sink my teeth into the challenge.
The first few days were satisfying because I had to get all the pre-orders in the post, so it felt like the book was flying off the shelves. There was also a flurry of new orders now that the journal had been released, so we hit the ground running from the launch date, which was at the end of March 2016.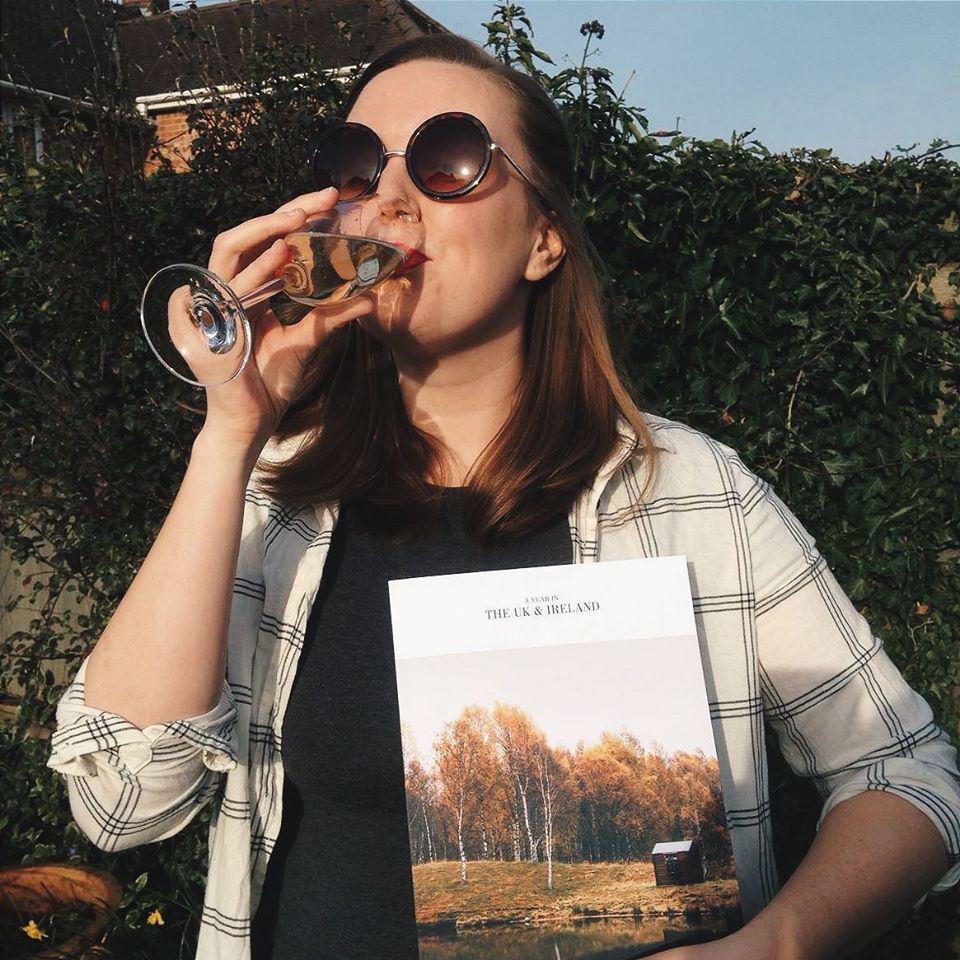 Emma celebrating on the launch day of A Year in the UK & Ireland
You might think we have a third party company sending out A Year in the UK & Ireland, but when I'm at home it's just me, individually packaging each book and marching down to the post office. When I'm away, it's my mum. Without her, most of you wouldn't have your copies now. I'm eternally grateful for every minute she offers to help bring this dream to life.
It's a humble, admittedly slightly archaic operation, but one that's worked for us so far. I love the book, but what I love even more is the sheer joy I find in receiving an order, popping downstairs to put it in a brown cardboard envelope, and going to chat to Shirley or Elaine at our local post office and telling them where in the world I'm sending it today. Yes I love the book, but I love waving goodbye to each copy even more, knowing that my stories are going to reach people across the world.
That said, there have been days, sometimes even weeks, when we don't get any sales. These can be pretty dark periods for me as it's so difficult not to take a lack of sales personally when it's a project you've poured your heart, soul, and bank account into.
But you can't take it personally, because that would slowly crush you. I've sat here so many time, at my laptop, telling myself that it's nothing to do with me. That I just haven't reached the right person to buy this book today. That I just need to pick myself up and try again tomorrow. And on and on and on it goes. And when it goes on for too many consecutive days at a time, it feels like you're falling deeper down a black hole and it's a little heartbreaking.
But then you get a sale out the blue, and that one sale pulls you out of the hole and tops up your hope. You've reached someone today who wants your book, well done you. So you try and figure out why, and you try to recreate that and direct it towards some other people who might also want your book. You write for websites that share your audience and hope some of them might like it too. You email indie mag shops to see if they'll take a few, and you propose to talk at a trade show where, if you're lucky, you might shift a few copies afterwards. It's as laborious as it sounds, perhaps even more, but I won't stop until they're all gone.
Sometimes I question why on earth I did it all in the first place, and then I talk to a friend about it and that always revives my energy. As I'm so close to the project and it's become my everyday, I often forget what an achievement it is and my friends are the ones who remind me. I don't mean to sound conceited in saying that, but to help myself carry on I have to remember that not everyone has the balls to write a book, spend all their money printing it, and send it out into the world.
As an entrepreneur it's so important to recognise and believe in your achievements, because if you don't then no one else will. In this case, no one will buy the book if I don't believe it's worth buying. My minuscule inner saboteur frequently tells me it's not, but that little devil must be squashed. So some days I take a step back and speak to myself: "Look at everything you've done. Girl, that's something to be proud of." That practice re-centres me when I need it the most.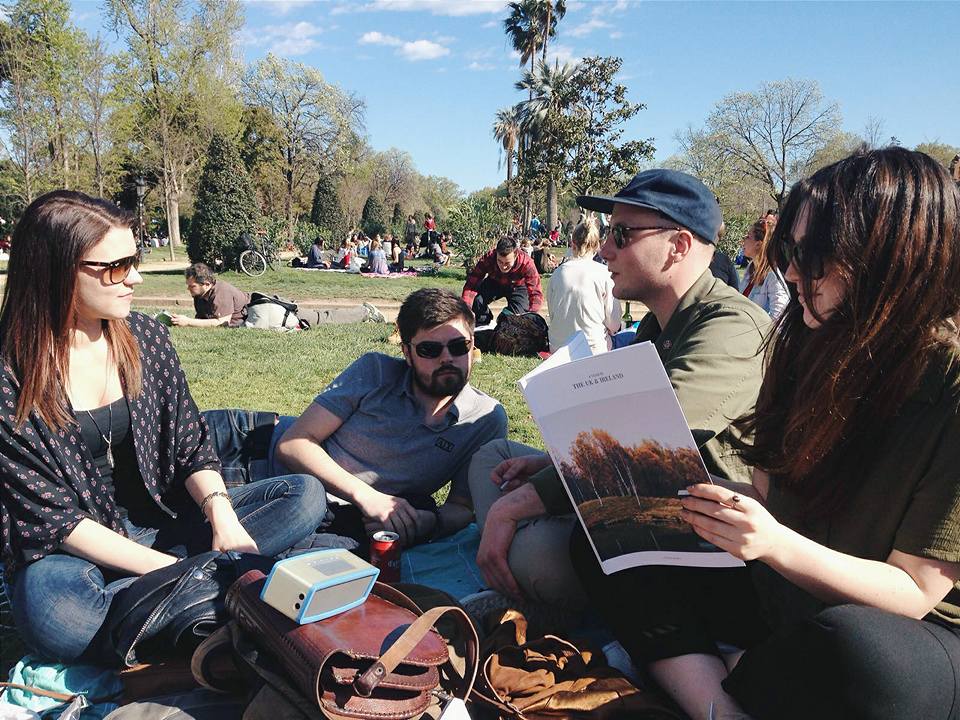 Some readers in Barcelona flicking through the journal
To date, we've shipped A Year in the UK & Ireland to ten different countries. Most copies go to the USA and UK, but we've also got readers in Spain, Portugal, Belgium, Canada, Germany, Australia, and we've even had one order from Tokyo. Sometimes, just for the craic, I feel like emailing that person and saying "Did you know you're the only person in Japan to own this book?"
As painstaking as I've made the process sound, it's not put me off creating a second issue. I'm currently working my way around the far west of Europe pulling together A Year in Portugal, putting into practice all the lessons I've learnt from this UK and Ireland edition. I'm so excited to get these Portugal tales out into the world, not only because the pictures will have a lot more blue sky in them, but also because I always save the best stories for the print journals. We're proud of what we put on this website, but what we put on paper is the very best of what we've found on our yearly journeys.
We've even got our next location brewing up in our minds – but one thing at a time, folks. For now I hope those of you who have the book are inspired to go on your own adventures across the wild British Isles. Go hiking, go sea kayaking, go to a food festival, go to the very far corners and stand on the edge of those clifftops. Know that as you work your way through those stories you're not only reading a collection of intrepid travel tales, but by doing so you're also supporting my lifelong dream. And for that, to you, I will always be grateful.
A Year in the UK & Ireland is out now and available to purchase

here

.