7 Reasons Why Travel Planning Should Start with a Map
I always begin the travel planning process with a map.
If I'm thinking of travelling in the UK, I'll refer to my grandfather's complete collection of paper OS maps, and if it's elsewhere in the world, I'll turn to Google. My technique for travel planning with maps starts with tracing my eyes across a region or country as a whole, then I zoom into more specific areas and see what's around. I make a mental note of national parks, lakes, mountains, and cities. I imagine what other places I could couple up with my original idea based on neighbouring countries. I let my mind wander off into the land of travel possibilities I find only when looking at a map.
// Related post: How to Use Instagram to Plan Your Travels //
Everyone has their own preferences when it comes to the first stages of travel planning, but I'm here to fight for Team Map. They're ideal for the inspiration stage – when you're not sure where you want to go, or looking to discover something new. Once you've picked some options, you can use Instagram or Pinterest to inspire yourself further with pictures, or nail down the details with guidebooks and blog posts. But until then, real geography is the most useful and inspiring tool available – here's why…
1. The whole world is before you
There's something special about spreading out a paper map on a table – it's like a world of possibilites unlocks right before your eyes. The online equivalent is zooming out on Google maps to survey your kingdom, dragging the page around to see what you find. The map geek in me gets a kick out of that feeling: there's so much to see, so much to do, so many places to explore. Maps are a visual representation of that feeling – I've personally not been able to replicate it anywhere else.
2. Maps give you a sense of a country's physical makeup
Presuming that you have basic maps skills (blobs of dark green are large or national parks, and those blue puddles are lakes…) looking at a map develops your geographical understanding of a country. This aids travel planning because it shows you built-up regions, areas of natural beauty, and parts that are virtually deserted (which isn't necessarily a bad thing). From here, make a list of potential highlights and Google them to find out what there is to see in each – you may well find some hidden gems this way.
3. Maps help you get your bearings
In terms of easing your travel experience and keeping you safe, having a visualisation of a country's mapped space in your mind is a useful tool, to know what else is close by or when you're venturing into areas you should avoid. OK – none of us are going to remember what a map looks like right down to the coordinates, but it's good to keep a note of north/south/east/west in your mind.
4. Maps are best for route planning
When you're further into travel planning and have picked your destination, a map will help you decide the journey you want to take through it. This stage is even more satisfying if you have a paper map and can physically trace your finger across it, marking with a pen your chosen itinerary and imagining every stop along the way. Even dropping pins into Google maps is rather exciting.
Creating that route on a map will help you stay organised and keep a picture of the journey in your mind. I recommend that you stray from it every now and then, of course, but having a route on a map to go back to will keep you on track with what you originally planned to see – especially useful if time is limited.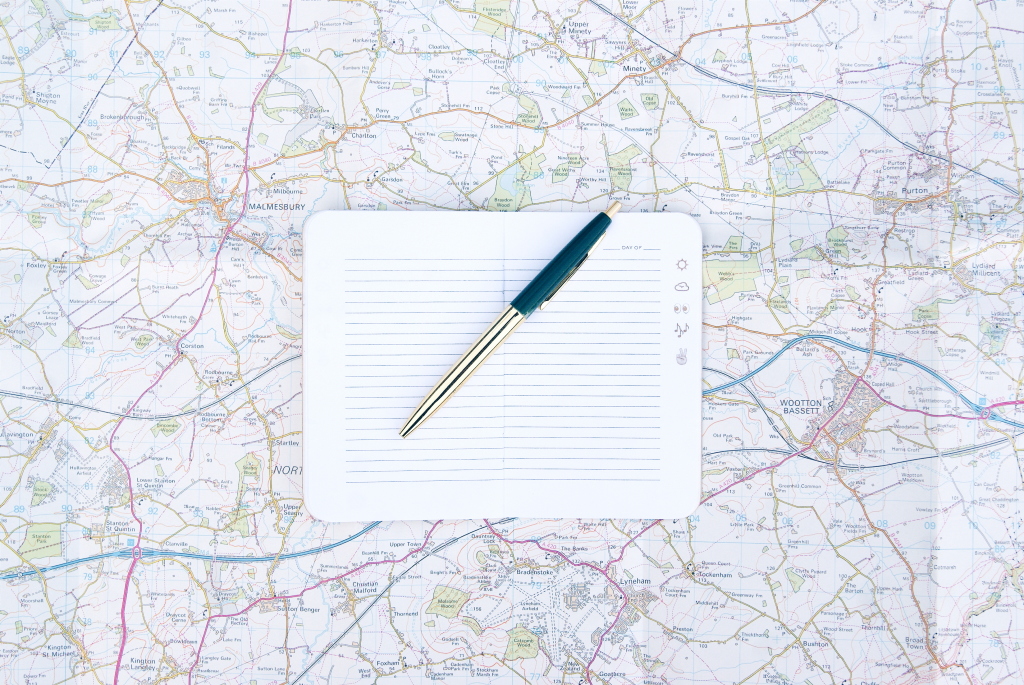 5. Maps are an education
You can learn so much from a map. Not only where countries and cities are and what's around them, but also general map reading skills, which can help greatly in sticky situations or when technology fails you.
Maps give us an eye into the world in a geographical sense, and help us to understand why the world is the way it is from the point of view of its layout. They take us back to our roots, giving us a sense of travelling the globe before the modern world took over and made everything that little bit less adventurous. In that sense, I recommended travelling with only a paper map (like I recently did on my wild camping trip) at least once in your life – it's a game-changer.
6. Maps can help you save money
From a practical point of view, maps help travel planning when you're looking for a convenient airport to fly into or potential cheap bus or train route to take. While the capital of a country might be the most obvious place to fly into, there might be a cheaper option close-by.
Take Austria, for example – depending on where you are flying from, a flight to nearby Munich or Bratislava then taking onward ground transport could be cheaper than flying directly to Vienna. A glance at a map will give you these ideas.
7. Maps fuel curiosity
Travel planning using just the thoughts in your own head limits you, and searching for new places on the internet can be troublesome and time-consuming. Using a map to decide where to travel to next is an exciting way to discover new lands. Take a look around the world – you've probably thought about travelling to Thailand before, but how about Malaysia? It's nextdoor. Peru is no doubt on your radar, but Bolivia is right below it and packed with just as much beauty.
Maps offer a birds-eye view so you can really take it all in, broadening your perspective on the world – quite literally.
Do you use maps when travel planning?
If not, what would you use for the first stages instead?
Want to receive updates about future travel planning tips, and more? Hit the blue button below to sign up for my once-a-month (and only once-a-month!) newsletter
3 responses to "7 Reasons Why Travel Planning Should Start with a Map"