Unique Accommodation Ireland: Gypsy Caravans in Wicklow
It was morning, and light was just starting to peep through the tiny gaps in my curtains. I was curled up in my duvet, awake enough to know I should be getting up but too cosy to care. I had no intention of going back to sleep, but shut my eyes for a little bit longer to savour five more minutes of relaxation.
Then I heard a neigh closeby – my alarm clock.
I scrambled out of bed, opened the curtains, and was met with the sight of brilliant green hills, and a dozen brown, white, and black horses ambling across the field just metres away from me. Welcome to rural Ireland.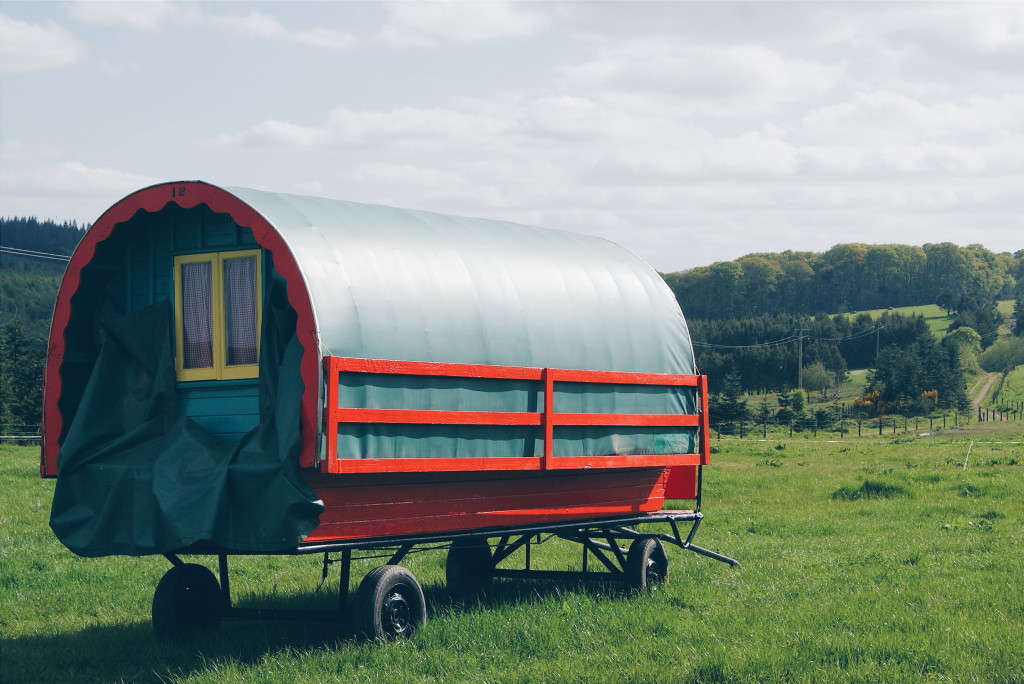 Clissmann Horse Caravans is a small family business that has been running in County Wicklow since 1969, and I was staying in one of their gypsy caravans. The business was founded on horse caravan holidays, whereby visitors are given their own caravan and horse to take around the county, but they have recently expanded to also offer glamping. The Clissmann team have renovated one of their beautiful wagons to include sleeping space for four, a kitchen, dining area, and storage – a unique Irish experience.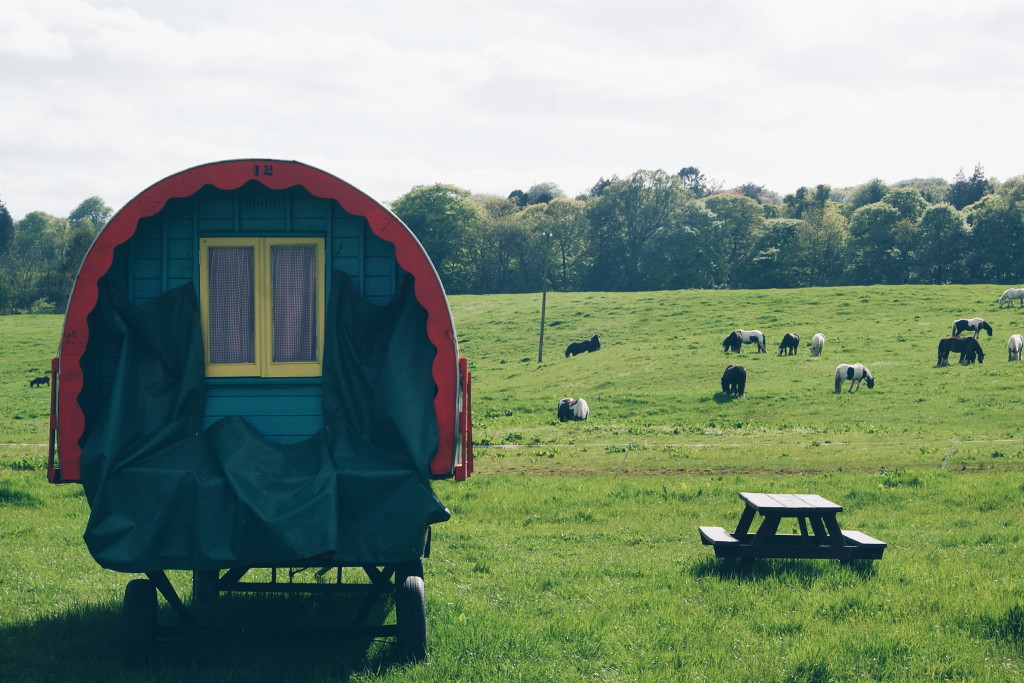 I spent a lot of time with Neasa during my stay, daughter of the couple who founded the business. Neasa runs the camp's day-to-day agenda, and told me all about the kind of people that stay and holiday here.
"We've had people come year after year for decades – some even come back and have the same horse take them around," Neasa told me.  She had endless stories of excited visitors who had been saving up for their horse caravan trips, those who had been dreaming of coming for years. As my own Ireland trip continued around the rest of the country, I told the people I met along the way about Clissmann Horse Caravans, and many had already heard of them and always longed to go.
Now I've experienced gypsy caravan life, I don't blame them. In the mornings I made cups of tea using the whistling kettle and little gas stove in my caravan, and warmed my hands around the mug as I sat on the outside seats, watching the horses in the field. In the evenings I lit the caravan's traditional gas lamps, piled my bed with the blankets provided and settled in for a night with my book. It's the kind of accommodation so special that it becomes one of the best parts of your holiday – a far cry from generic hotel rooms.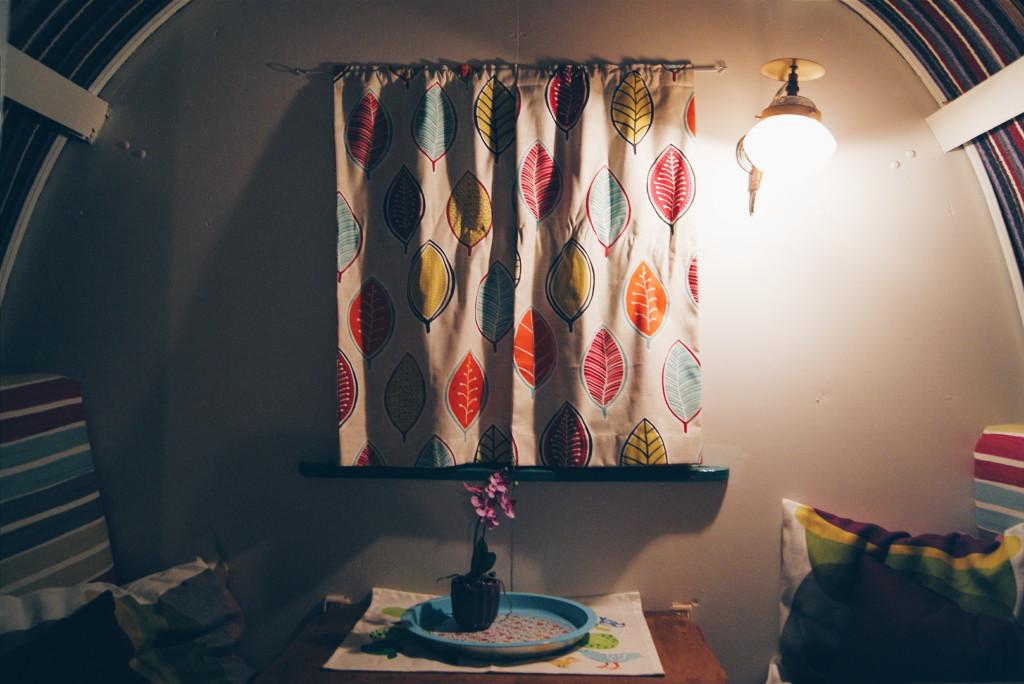 The caravan was colourful, well thought-out, and more spacious than you'd think – the team have really worked hard to think of everything you could need.
"It was fun to be able to really deck these out," Neasa explained. "We have to keep the other horse caravans very basic so that they stay as light as possible for the horses to pull, but with these we could get creative." Kitchenware is provided – cups, mugs, bowls, cutlery – as well as extra touches like a cafetiere and hot water bottles.  They've even lined the inside walls with carpet to keep the caravans snug and warm.
The glamping caravans are parked up in the field next to the horses, and it's a very short walk to the shower and toilet block, and a communal room with maps, extra kitchen facilities, and where the team are hoping to have a permanent internet connection – for now only mobile WiFi is available. Having only started the glamping at the beginning of May 2015, things are still being developed, but I had no problems and Neasa was always on-hand to make sure I had everything I needed.
Glamping at Clissmann's is open for business from the end of April to the end of September, and for my experience and all the things I had available to me, I think €90 a night is extremely reasonable.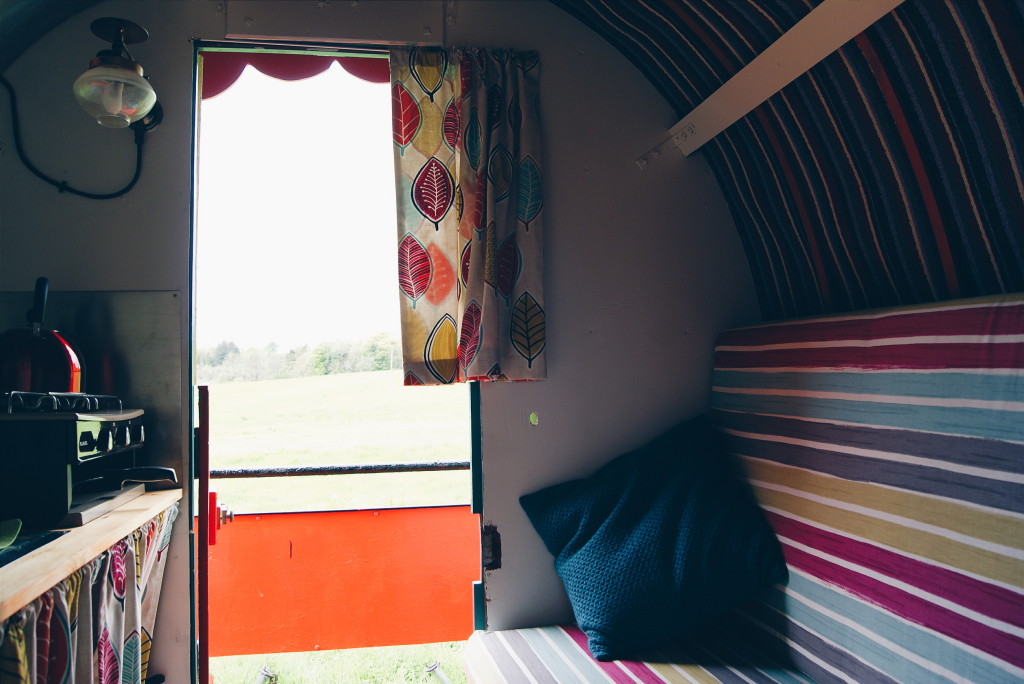 Nicknamed 'The Garden of Ireland', County Wicklow is a beautiful area to explore: hills of endless green spotted with bright yellow-flowering gorse. The region boasts the Wicklow Way, a 129km walking trail that cuts through Wicklow Mountains National Park – which is right on your doorstep if you're staying in one of these gypsy caravans.
I spent a lot of my time hiking in Wicklow, and while I ventured around the county I actually came across a few of the holidaying horse caravans from Clissmann's – one on the road and the others parked up and relaxing, the horses wandering about, happily munching on fresh grass.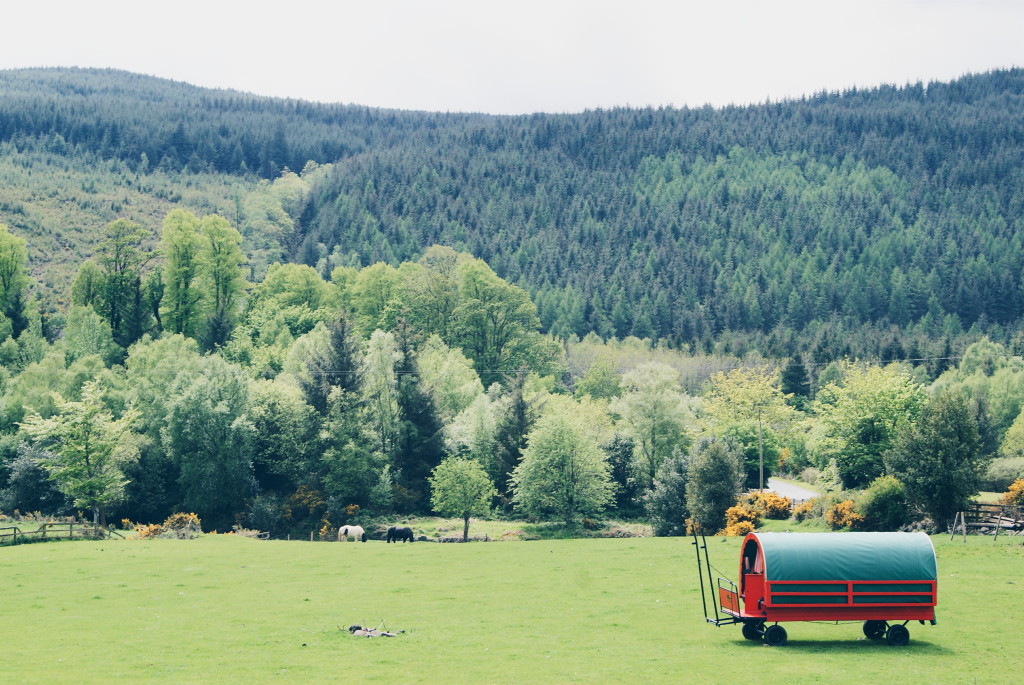 A stay at in one of Clissmann's Horse Caravans is an unforgettable travel experience – it's one of those things I'll look back on and consider myself lucky to have been able to do. This business has managed to turn a disappearing part of Irish history and culture into something accessible and affordable for travellers, set in one of the most naturally breathtaking areas of the country. It is a place for relaxation and solitude, the perfect getaway in Ireland.
Would you love to stay in a gypsy caravan?
Have you stayed in any other unique accommodation in Ireland?
Tell me in the comments below!
Want to hear more about my travels in Ireland? Hit the blue button below to sign up for my newsletter and get updates straight to your inbox, just once a month…
5 responses to "Unique Accommodation Ireland: Gypsy Caravans in Wicklow"