Ireland Travel: A Weekend in Belfast and Co. Antrim
Belfast and County Antrim have for decades be high on the list for travellers in Northern Ireland. The country's capital has suffered with a bad reputation in the past due to its rocky background, but in recent years Belfast has undergone a revival. This city today is an intriguing mix of modern and traditional, where you can learn about some of the most pivotal moments in Ireland's history but also discover the rising stars of the UK's music or arts scenes.
County Antrim opens up west of the city, and is one of the most rugged parts of Northern Ireland. Centuries of the Atlantic Ocean pounding against the shores have created a coastline like no other, where jagged headlands stretch out to sea and sheer cliff faces loom over the waves. Inland, the Glens of Antrim – a group of nine glens undulating across the landscape – offer more spectacular scenery.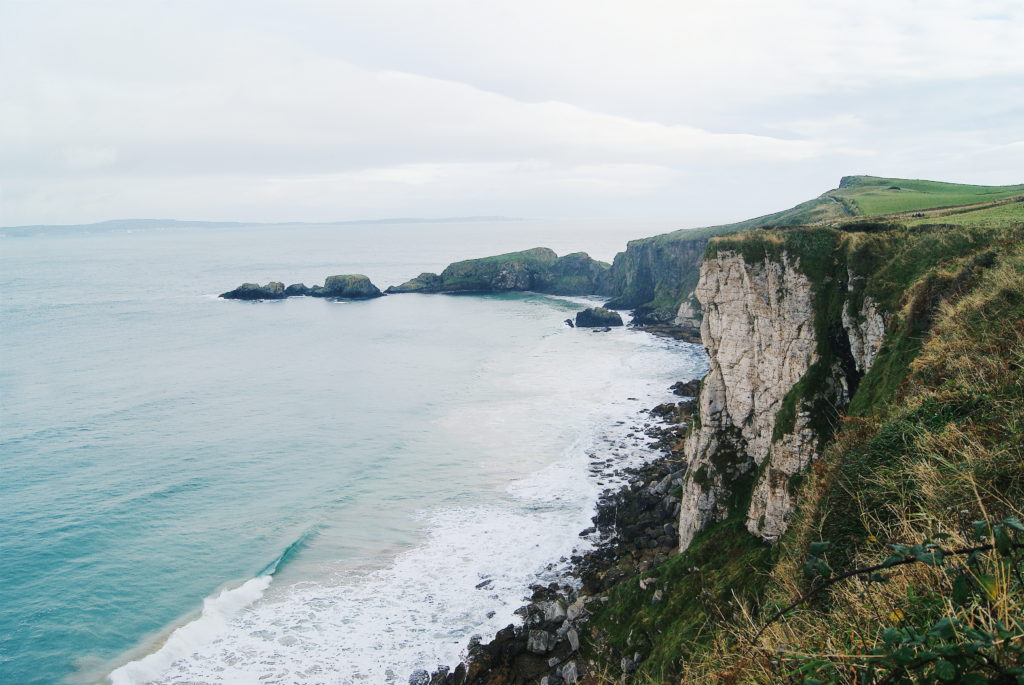 The coast near Carrick-a-Rede, Co. Antrim
This weekend in Belfast and Co. Antrim guide will take you through the must-visits in this beautiful and beguiling part of Northern Ireland.
Day 1: Belfast
Spend your first day getting to know Belfast. This is a city of many layers: a political undertone is still evident here but scores of young people give Belfast a modern, fresh vibe. It might not get quite the same dazzling reviews as nearby Dublin, but for curious travellers looking for something new (and a pint that won't cost you an arm and a leg), Belfast is where it's at.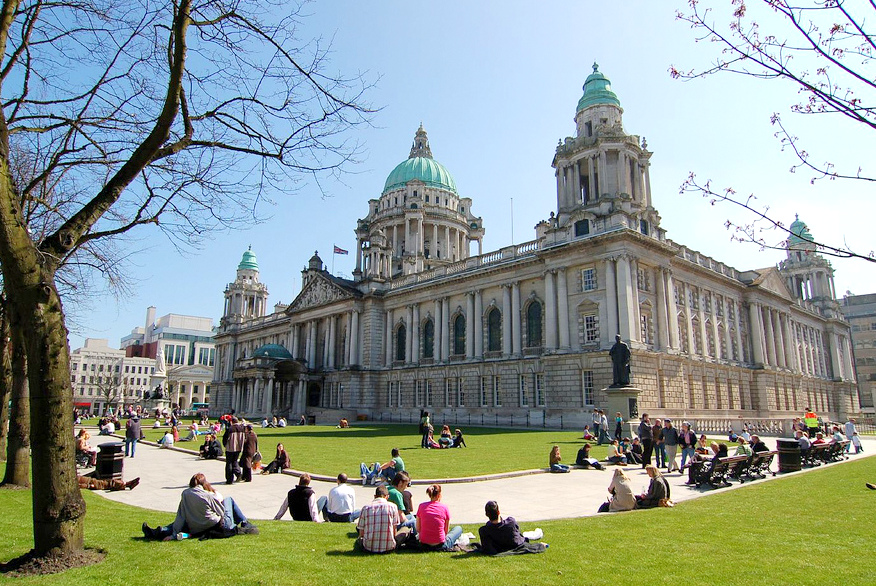 City Hall, Belfast. Image source
The weather here may dictate your choice of activity, but there's something interesting in Belfast come rain or shine. If the heavens open, head to St George's Market. Named time and time again as one of the UK's best markets, St George's is an electrifying mix of food and drink, antiques and local crafts, and occasionally some live music playing in the middle of it all.
We loved St George's so much it became the focal story for our Belfast section in our print journal, A Year in the UK & Ireland.  Meander around the stalls for a couple of hours, perusing the unique gifts and picking at things to eat, from Guinness cheese to curries or vegan desserts. The market is open Friday, Saturday, and Sunday.
Crumlin Road Gaol, the city's Victorian-era prison, is another of Belfast's best indoor activities. The prison was opened in 1846 and decommissioned in 1996, and over the 150 year of operation it has seen some of the most turbulent stories to come out of Northern Ireland's capital. Take a guided tour of the prison to step through its fascinating history and understand more about the 25,000 prisoners who passed through the facility. Adult admission costs £9 and the prison is open seven days a week (excl. Christmas Day, Boxing Day, and New Year's Day).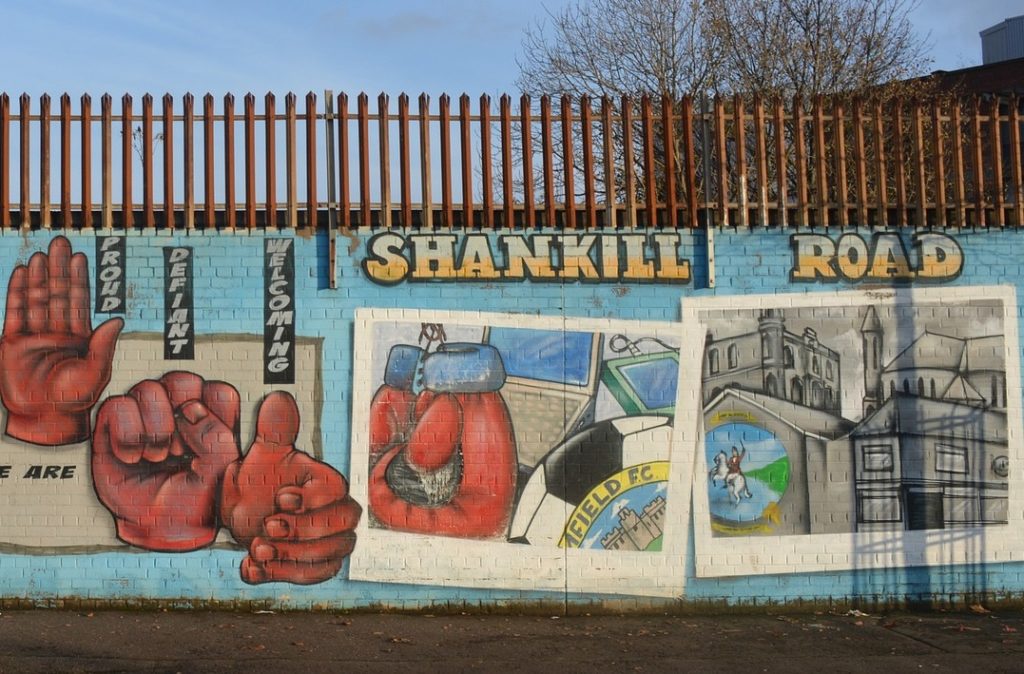 If luck's on your side and the sun is shining, don't miss taking a look at Belfast's vast network of murals. It's one of the more cliché things to do in Belfast, but this is undoubtedly the best place to look if you want to understand more about the city's history. There are murals all across town from different sides of the political spectrum – loyalists/unionists and republicans/nationalists each have their own spreads in various parts of the city. The murals are best seen with a local guide who can talk your through their significance; take a Black Cab Tour, one of the most iconic ways to learn about the murals.
For lunch in Belfast, try Established Coffee, often praised for having the best coffee in the city. They also serve a creative menu of open-top sandwiches or healthy salad bowls, and delicious brunches at the weekends. Alternatively, try The National Grand Café for brunch or lunch, which also has a solid offering of sandwiches, soups, salads, and brunch deliciousness.
In the evening venture to one of Belfast's best pubs and catch some live music. The John Hewitt is a Belfast staple and where many locals would recommend going. Here you can try from a wide range of beers and watch some live music almost every night of the week – admission is free. Places like The Dirty Onion (music every day) and The Duke of York (music Thursday to Sundays) are also sure-fire hits for plenty of craic.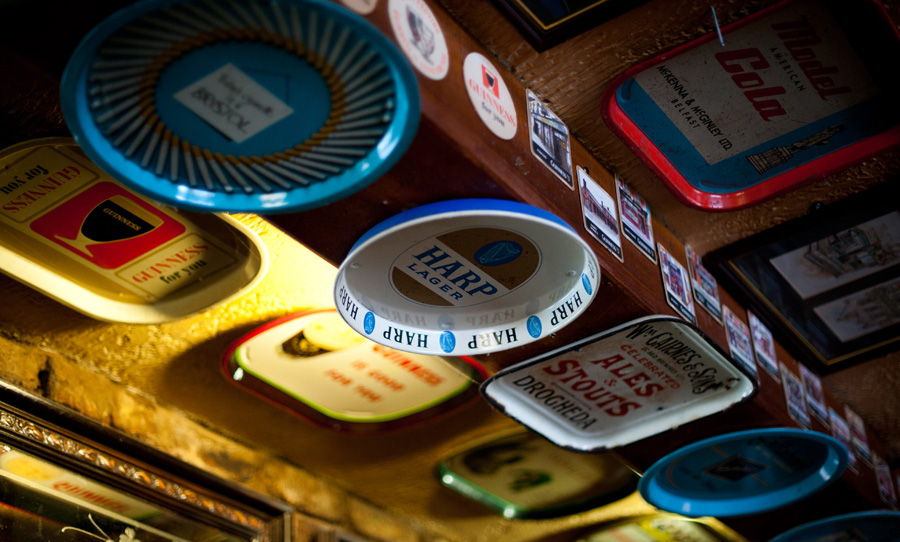 The Duke of York. Image source
Day 2: Into Co. Antrim
On day two, head out into the countryside. You have a couple of options here: visit the coastline, or head into the glens. Both will connect you with the county's scenic beauty, the only difference being that the northern coastline, especially towards the Giant's Causeway, may be slightly busier with more visitors than the glens.
If you're a Game of Thrones fan, make sure you stop off at The Dark Hedges on your way out. This row of trees (a row smaller lengthwise than you might picture them to be in real life) were the filming location for the King's Road in the popular HBO series. That said, they are nonetheless beautiful and a convenient stop-off on your journey west.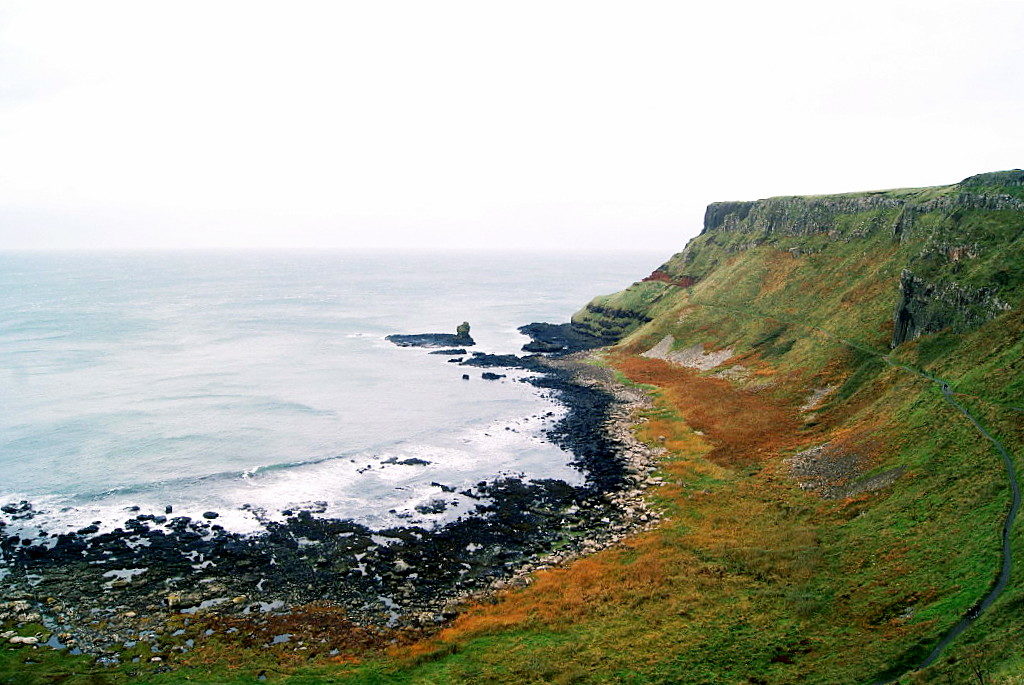 Those keen to see some of Co. Antrim's more famous scenery should head towards the north coast, and there are a few different things you can do here. Hikers should take on parts of the Causeway Coast Way, a walking route that follows the shoreline from Portstewart to Ballycastle (or vice versa). In total it's a 33-mile linear route, but even when time is limited it's worth you doing a few miles if the weather permits as it's an ideal way to witness some of the coastline's most jaw-dropping views.
The trail passes by the Giant's Causeway and Carrick-a-Rede Rope Bridge, two places that could make for suitable start or end points if you do choose to hike it. Regardless of your mode of transport, these two infamous sights should not be missed in this area. The Giant's Causeway is one of the UK's geological marvels – here, a network of around 40,000 hexagonal basalt columns creates the curious landscape that you can walk across. Nearby, Carrick-a-Rede Rope Bridge links the mainland to a tiny island off the coast once used for salmon fishing. The bridge is 20m long and 30m above the sea below, and although crossing it is a nerve-wracking experience it's worth it for the personal sense victory.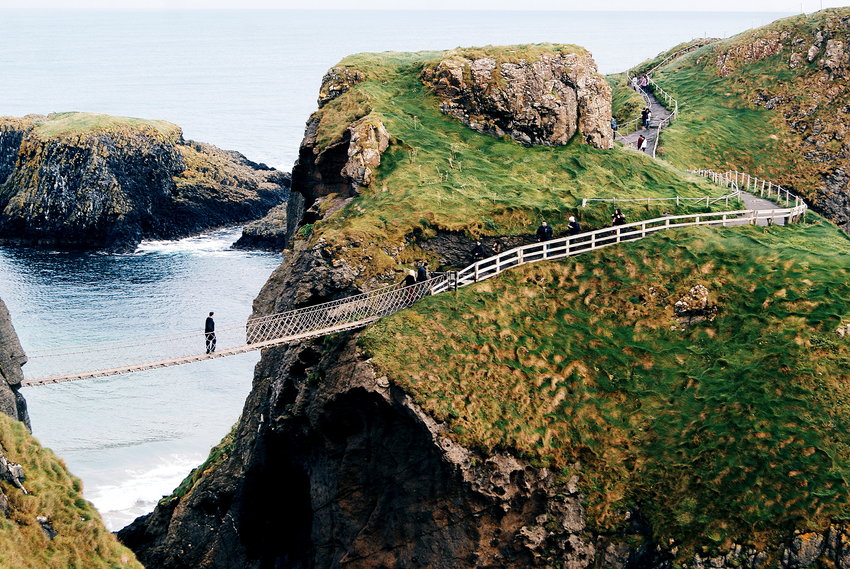 Carrick-a-Rede Rope Bridge, Co. Antrim
// More inspiration: For our travel journal, A Year in the UK & Ireland, we walked half of the Causeway Coast Way, visiting both the Giant's Causeway and Carrick-a-Rede along the way. You can read more about the adventure in the publication, available here. //
If neither of those take your fancy, consider heading out the Rathlin Island, which is a couple of miles from the mainland, a dozen or so from Scotland, and the only inhabited offshore island in Northern Ireland. A humble community of 75 people live here, who are far outnumbered by the amount of seabirds that call Rathlin home.
This is the largest seabird colony in Northern Ireland, where you can see thousands of puffins between April and July, or guillemots and gannets in the summer months. You may even see seals here. Boats to Rathlin Island run all year round (although less frequently in the dead of winter), taking either 25 or 45 minutes, and tickets are £12.00 return.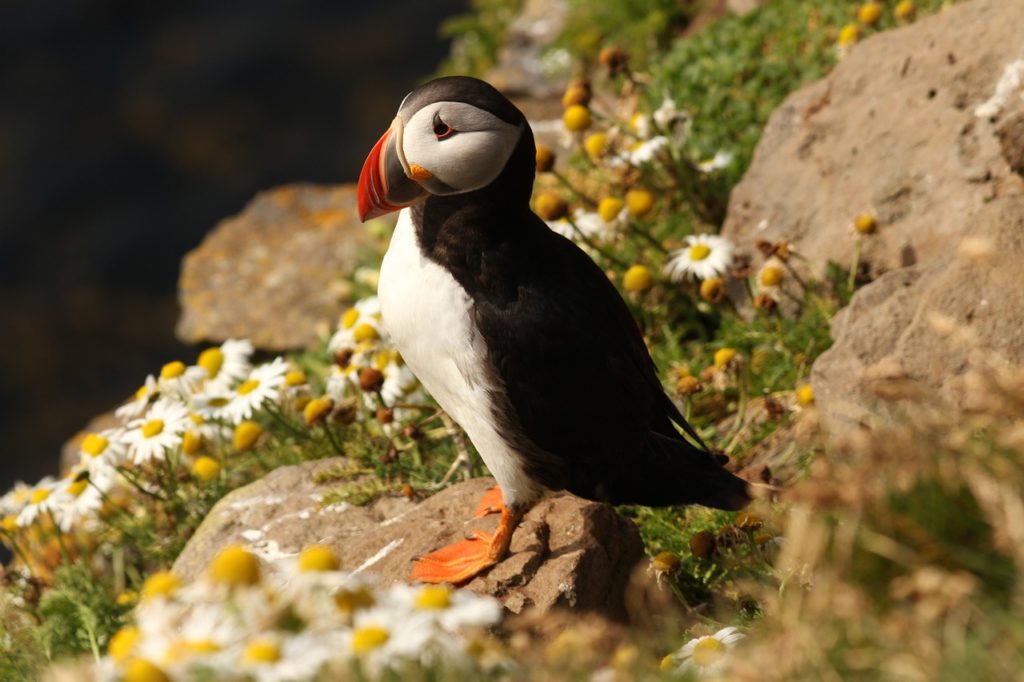 If you'd rather the Glens of Antrim, a whole day of adventure is also possible here. Slightly further south of the Causeway Coast (and thus closer to Belfast if you're coming from here and pushed for time), The Glens are a playground for outdoor adventurers, with great spreads of undisturbed countryside at your disposal.
The Causeway Coast may have its own walking path but so does The Glens – the Moyle Way. Passing through five of the glens over 26 miles between Ballycastle and Waterfoot, this covers a substantial part of the region and is your go-to if you want to go hiking in Northern Ireland's Glens. The walk is easy to break up into smaller sections if you just have a few hours to hike, but the path is linear so take this into account when calculating your trekking time.
One of the most beautiful parts of The Glens that the Moyle Way passes through is Glenariff Forest Park. The three-mile Waterfall Walkway here is one of the best things to do, taking you through the park's most stunning scenery and past three tumbling waterfalls.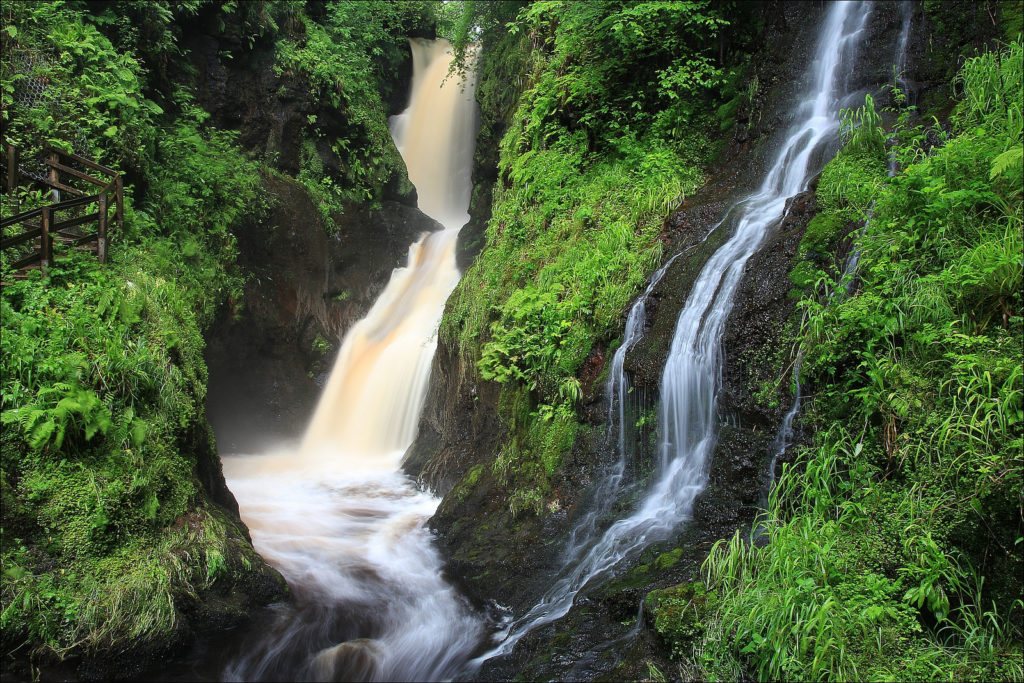 Glenariff Forest Park, Image source
If you'd rather explore on two wheels, there's a Glens of Antrim cycle route suitable for more seasoned riders. This challenging trail spans 46 miles and typically takes 3-4 hours, making it ideal for a day trip from Belfast. The first section of the route is hardest, with a steep incline up on the Antrim plateau, but once you get past that the scenery opens up and there are downhill parts to the coastal villages of Cushendall and Cushendun.
If you have a little time after your outdoor escapades in County Antrim, warm the cockles of your heart at The Old Bushmills Distillery. This is the oldest working distillery in Ireland and an essential experience for anyone in the area. Take a distillery tour (last call at 3:30pm in winter, 4pm in summer) to learn more about one of Ireland's favourite drinks and the fascinating science that goes into making it.
Where to stay in Belfast and Co. Antrim
Belfast is a little thin on the ground for small, independent hotels, but Harper's Boutique B&B has recently changed that. It's only been been open a couple of years, but the simple but elegant design and friendly hosts makes for a peaceful stay and the hotel already comes highly recommended.
In County Antrim, family-run B&B rule the school. Stay in Strandeen B&B in Portstewart for a luxury experience by the sea, or Cottesmore B&B in Bushmills, run by fantastically welcoming hosts and a convenient five-minute walk from the distillery.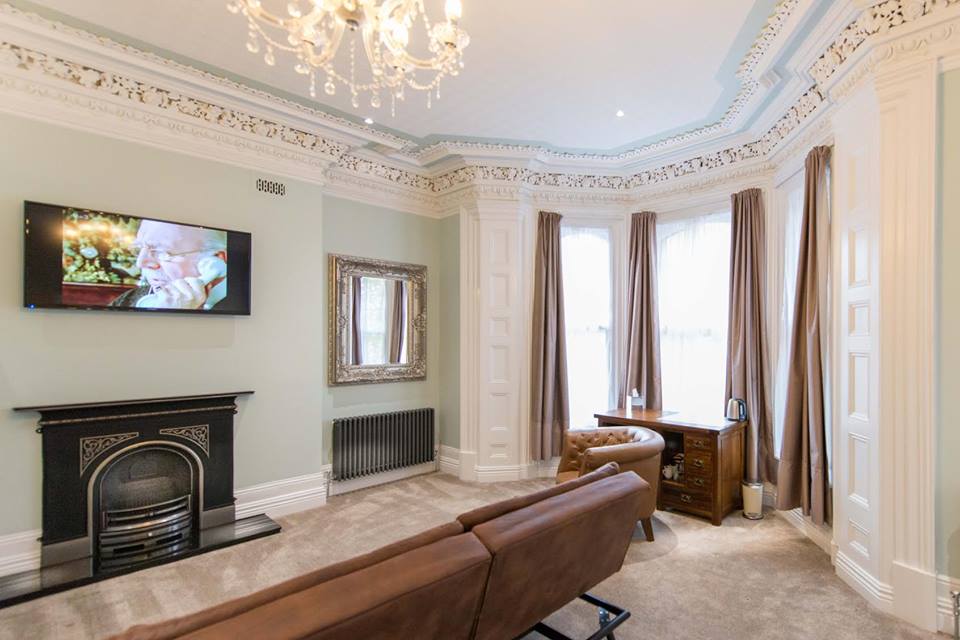 Harper's Boutique B&B, Belfast. Image source
What would you do over a weekend in Belfast or Co. Antrim?