Photo journal: Portuguese street artist Vhils
In the last two decades street art has become a common form of urban expression. There are over 22 million photos on Instagram tagged with #streetart. There are tours in cities all over the world solely based around the craft. Banksy has become a household name.
Most pieces familiar to us are drawn with stencils or spray-painted onto walls, but have you ever seen something etched directly into the side of a building? Enter Vhils, one of Portugal's most prolific urban artists.
Vhils, also know as Alexandre Farto, has been working since the early 2000s. Revered as being one of the most innovative artists in the industry, Vhils' technique is unlike many others. With tools in-hand, he carves sections out of walls to create his work, carefully manipulating the building's existing materials to shape his message. His influences come from growing up in suburban Lisbon:
"Vhils grew up in Seixal, an industrialised suburb across the river from Lisbon, the capital of Portugal, and was deeply influenced by the transformations brought on by the intensive urban development the country underwent in the 1980s and 1990s. He was particularly inspired by the way city walls absorb the social and historical changes that take place around them. Applying his original methods of creative destruction, Vhils digs into the surface layers of our material culture like a contemporary urban archaeologist, exposing what lies beyond the superficiality of things, restoring meaning and beauty to the discarded dimensions buried beneath."
His work has been described as groundbreaking, and is scattered across the globe. Vhils' pieces are thought to be deeply profound expressions of the individual's relationship with the city environment they inhabit, a condition that connects humans living in cities the world over. His process of removal – of taking away part of the street as opposed to adding to it or covering it up – is his trademark,  but he works with a variety of materials to bring his ideas into reality.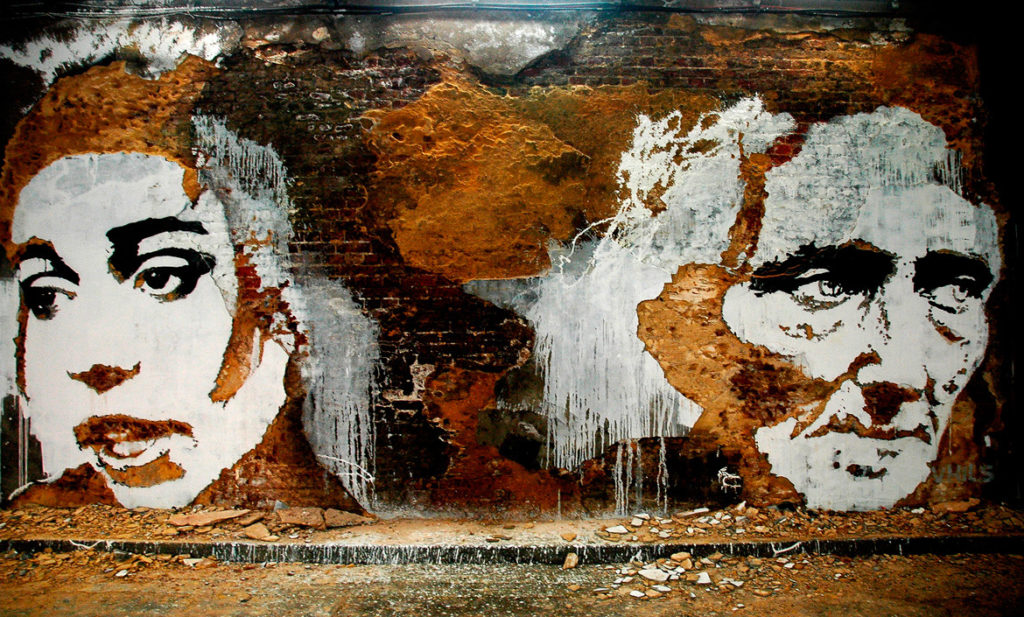 All extracts and photos republished with permission of vhils.com
This photo journal is part of our Friday photos feature, whereby we release a gallery every other Friday at 3pm to get you through the last hours of work before the weekend. Want notifications straight to your inbox?
Sign up here
.