Every-Day Explorer Podcast Ep. 6: Wild Swimming 101 – take the plunge to widen your world
Wild swimming is nothing new. People have been taking a dip in lakes and rivers across the world for thousands of years. And yet, for most of us it seems more normal to swim in a designated, chlorinated, heated pool, often inside and full of other people.
Somewhere along the line health and safety reared its ugly head and deemed natural bodies of water unsuitable for swimming. This episode of the Every-Day Explorer Podcast is here to tell you otherwise, helped along by wild swimming pro, Elsa Hammond.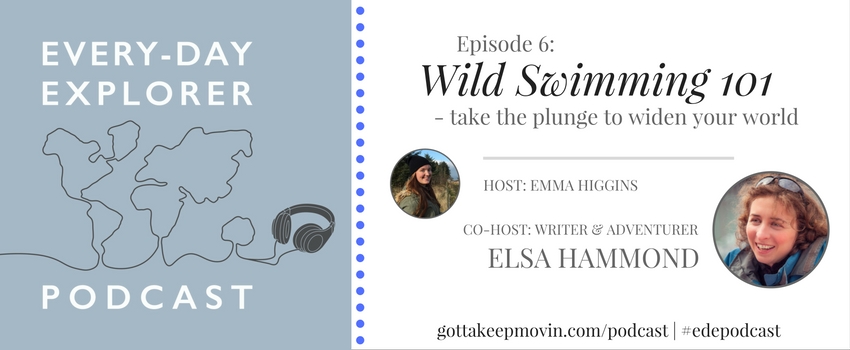 An award-winning travel writer, Elsa Hammond has unicycled across England, spent 51 days rowing alone on the Pacific Ocean, and co-authored The Wild Guide to Southern and Eastern England. She lives in Oxford, and is busy finishing her PhD in Romantic and Victorian poetry. Alongside this, she swims in Oxford's rivers all year round, writes poetry, and speaks and writes about her experiences "alone on a wide, wide sea".
It's clear when speaking to Elsa how passionate she is about cold water swimming. She recounts tales of swims she had across the world with fondness, and argues an excellent case for why you should take to the water too. Inspired by how Elsa spoke about wild swimming in this episode, we too have started diving into lakes here in Portugal more often, and doing so has helped us discover extraordinary things.
The reason why we wanted to include wild swimming in this series is because the practice of finding somewhere natural to take a dip offers a unique way of exploring the world around you – especially if you've never tried wild swimming before. New spaces open up, and you begin to find yourself trawling maps for patches of blue and skimming through internet forums to find advice from other swimmers. Wild swimming pushes us to connect with nature. By finding places to go for a swim we often stumble on undisturbed, quiet little pockets of paradise, away from the crowds and chlorine of a public pool.
If it's never even crossed your mind to try wild swimming as a way to discover more of your local area, we dare you to listen to this podcast and not be tempted by it. Elsa has inspired us to go out for a wild swim whenever we can, and we're sure this episode will do the same for you.

More inspiration:
In this episode of the Every-Day Explorer Podcast, we chat about the time Elsa took our founder Emma swimming in the Thames in Oxford – back in February when the water was a brisk five degrees. This wild swimming post talks more about what it was like to go wild swimming for the first time (and in winter!) and shares advice on how you can take the plunge too:
Wild Swimming in England: a First-Timer's Experience
Has this episode of the Every-Day Explorer Podcast inspired you to go wild swimming?