Cooking Class in Porto: An Evening with Taste Porto
Author: Emma Higgins  //  In collaboration with: Taste Porto  //  June 2nd 2016
As a keen cook, there's nothing more exciting to me that stepping up to a table laid out with ingredients – spices measured out in individual dishes, vegetables piled on plates, and mounds of flour in bowls. With these things before me, it's difficult to resist the urge to sling on the nearest apron and brainstorm flavour pairings. When I'm not writing, I'm cooking. And when I'm not cooking, I'm asleep and dreaming about food.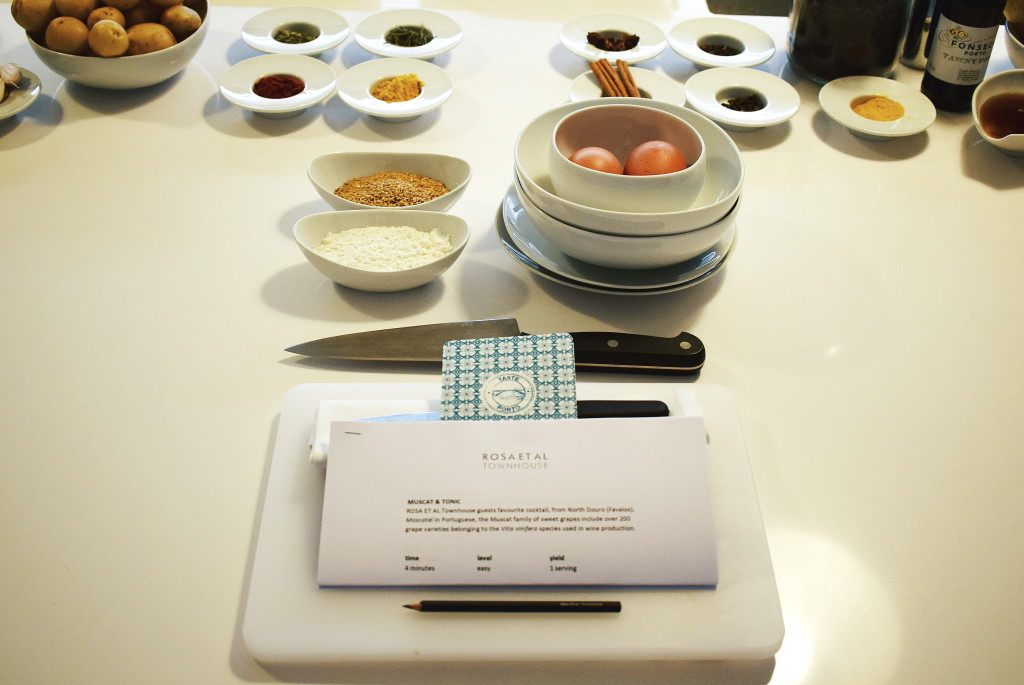 When I arrived in the kitchen at Rosa Et Al Townhouse in Porto for my cooking class with Taste Porto, my eyes widened with delight at produce elegantly arranged in the kitchen. But tonight, I could leave the brainstorming at the door. I was here to learn from a passionate cook named Patricia, who was going to teach me, and three other people, some Portuguese cooking with a modern twist.
In the corner I spied wine glasses alongside appetisers of olives and finely sliced meat. Sharp knives were arranged perfectly in-line with a chopping board in front of me. On top was a recipe sheet on which I had already spotted the word 'cocktail'.
I was so ready for this.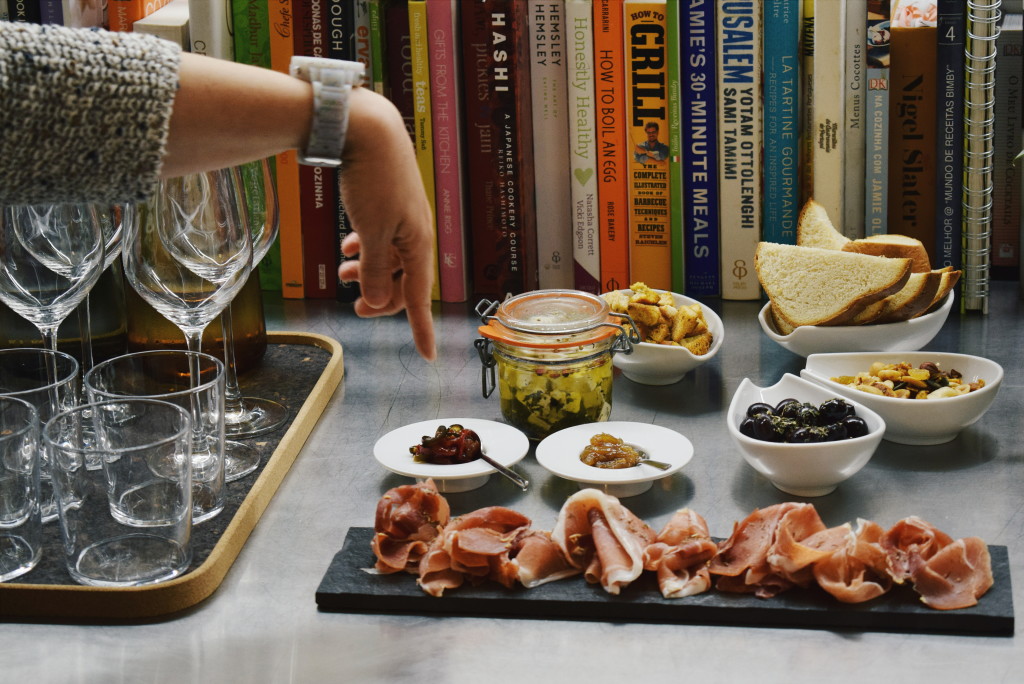 Patricia explaining the appetisers to us. These were available for us to pick at throughout the evening
Like any good dinner party, the evening started with the cocktails. Moscatel is a Portuguese sweet wine from the Douro region, and for our concoction we were mixing this with tonic and a blend of spices to give it an alternative edge. Let's call it something akin to a Portuguese gin and tonic.
While the mix of coriander seed, pepper, thyme, and aniseed was left to infuse with the Moscatel, we began by preparing the dessert: a poached pear in Lapsang Souchoung tea. Throughout the class, Patricia not only taught us cooking techniques, but also tips for organising your time during a dinner party and what order to make things in – it's key to get going with dessert first.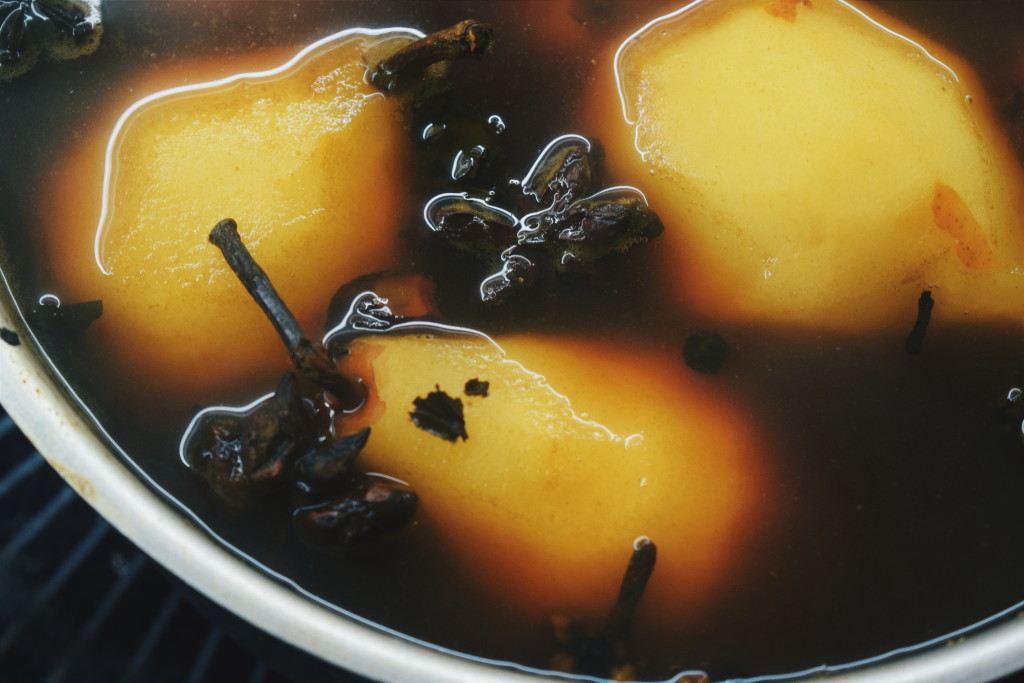 Drunken pears in Lapsang Souchong tea
Patricia dished out duties to each member of our group, and soon a heady smell of tea, cinnamon, star anise, and Port filled the room. We peeled pears and dunked them in the exotic mixture, and transferred the pan onto the stove to simmer for a while.
Second pudding (yes, there was a second pudding) also needed to be prepared: a Pão de Ló de Ovar. This cake is made of a very fluffy sponge and when finished it almost feels like it's not cooked all the way through. The soft-on-the-outside-gooey-on-the-inside texture makes it ideal with a coffee after a meal, or even for breakfast. We prepared and baked the mixture, and set the cakes aside for later.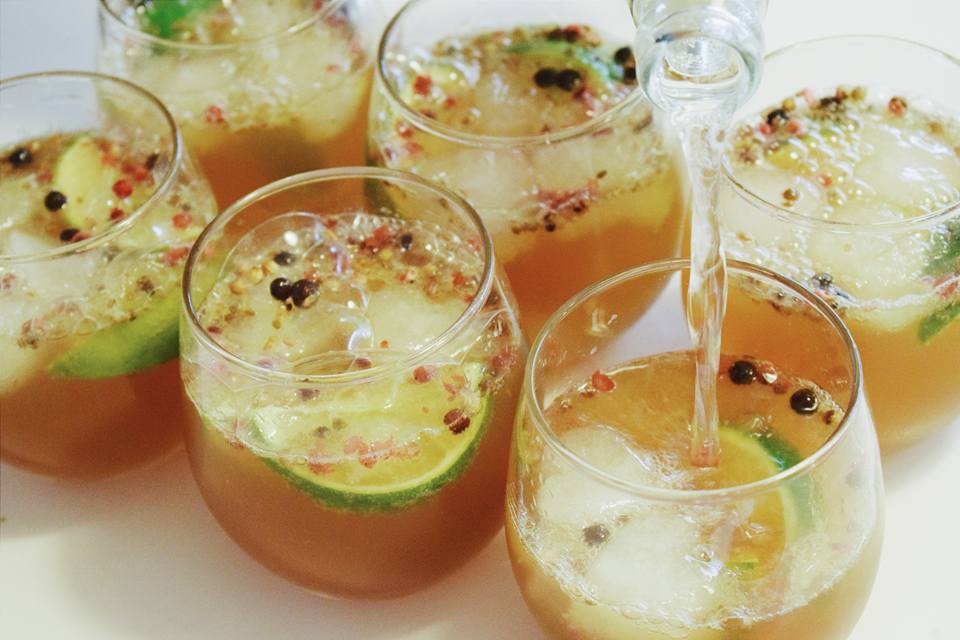 Our delicious cocktails being prepared
Having been left to mingle for 20 minutes or so, it was time to divert our attention back to the cocktails. Ice, lime juice, and tonic were added to the now spiced blend of Moscatel, and we chinked glasses before taking our first swig. The drink was sweet, aromatic, and refreshing, unlike any cocktail I'd tasted before. It felt like the perfect inviting drink to kick off a dinner party – homey and unique. The kind that makes you feel relaxed in old or new company.
With the cocktails warming our insides, we began preparing the starter – Gaspacho Alentejano. Having tried many but never found a gaspacho to die for, I was intrigued to test out a recipe and learn how to tweak it to my own liking. As we began to chop vegetables, Patricia explained the difference between this and Spanish gazpacho – the Alentejo version isn't ground as smoothly, giving it more texture.
As with all the recipes we learnt, there were unusual ingredients in the gaspacho. The standard tomatoes, pepper, and cucumber were thrown in, then apples and strawberries were added. As we mixed in each ingredient, we stopped to taste the gaspacho at each stage to help us identify the difference between the more garlicy, savoury version, and the sweeter final product once the fruits were added.
We stood around the kitchen eating our gaspacho with chunky slices of homemade bread. It was by far the best gaspacho I'd ever tried, a recipe I shall be clinging on to for the future.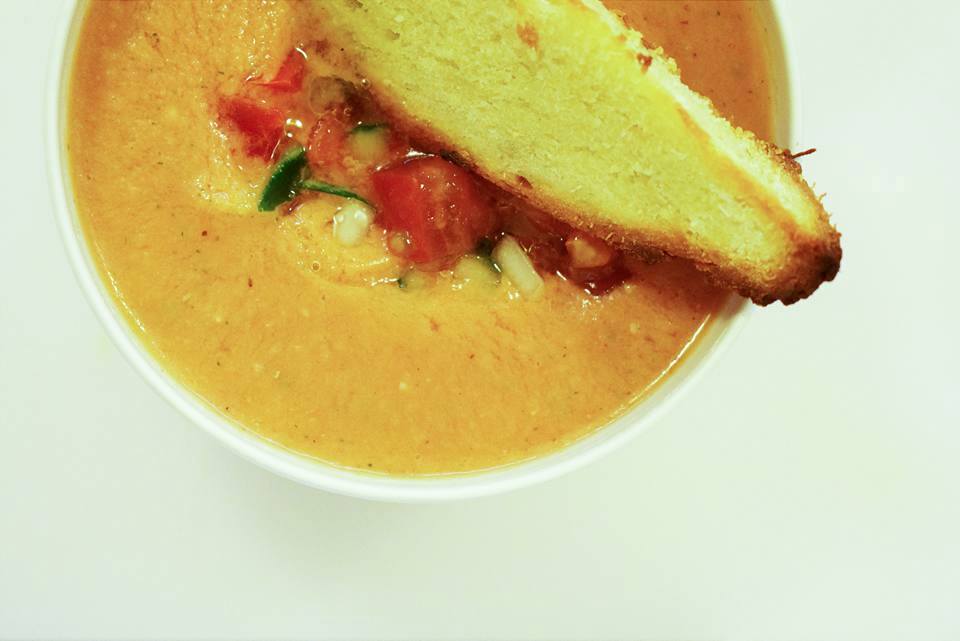 It was time to move onto the main course. Before taking this class I had an inclination that the main dish would be bacalhau – Portuguese salted cod – so I was excited to see a linseed crusted version on it our menu. It's something so classic in Portuguese cuisine that learning how to cook it yourself is like a rite of passage.
In every supermarket I've visited here I've noticed large, flat sheets of dried cod piled next to the fish counter. Patricia enlightened me as to how these turn into the thick, fleshy fillets served in restaurants: "You soak the dried cod in water for two days, changing the water regularly." It's certainly an investment of time, but the finished product justifies the dedication.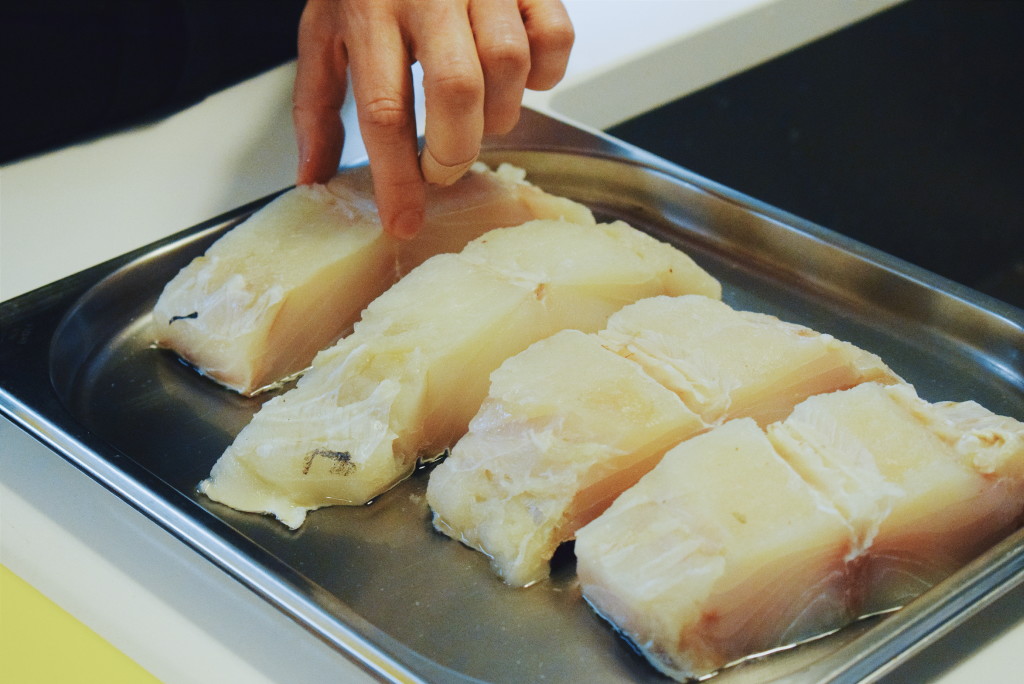 Our uncooked bacalhau fillets
We removed the bones from our cod cuts, and rolled each piece in egg, then rice flour, and finished off with linseed. Of course, Patricia made it look easy, but by the time I'd reached the flour stage I could feel the cod falling apart in my hands. Fortunately, when I looked around to the other cooks they too were battling with cod slithering out of their hands. Our tongues stuck out in concentration.
Patricia saved our feeble but valiant efforts, and we lined the fillets up on a tray to be baked alongside potatoes roasted with garlic, paprika, saffron and rosemary. The smells coming from the oven in a just a few short minutes were salty with a hint of spice, and made my stomach rumble in anticipation.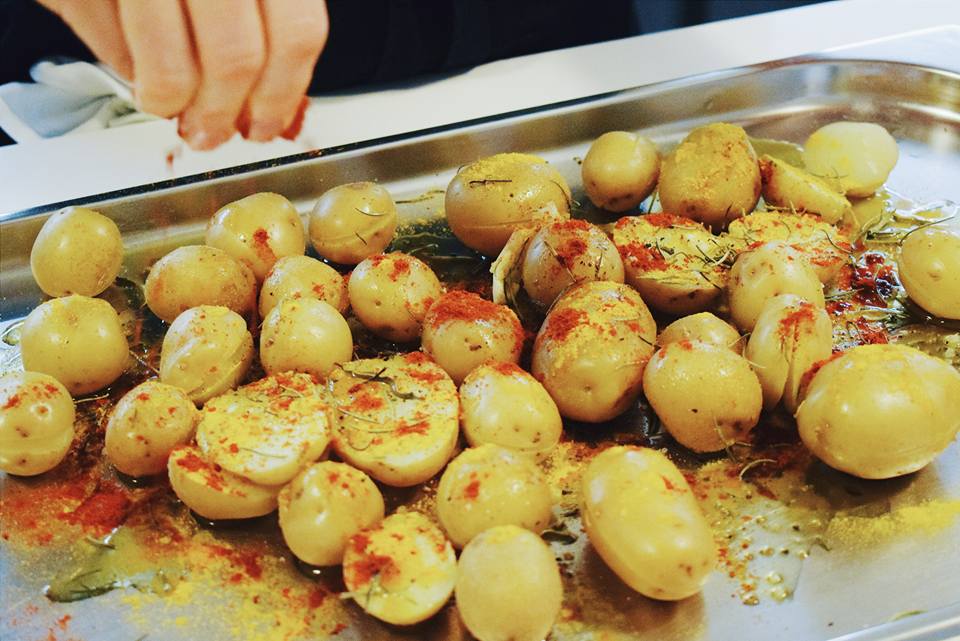 We poured glasses of wine and began to plate up. "Every plate should tell a story," explained Patricia, who then showed us an example. A scattering of breadcrumbs formed sand, potatoes represented rocks, pickles were draped over to mimic seaweed, and our fish was laid on top to create a picture of the coast. We each plated up for another person, then finally tucked in.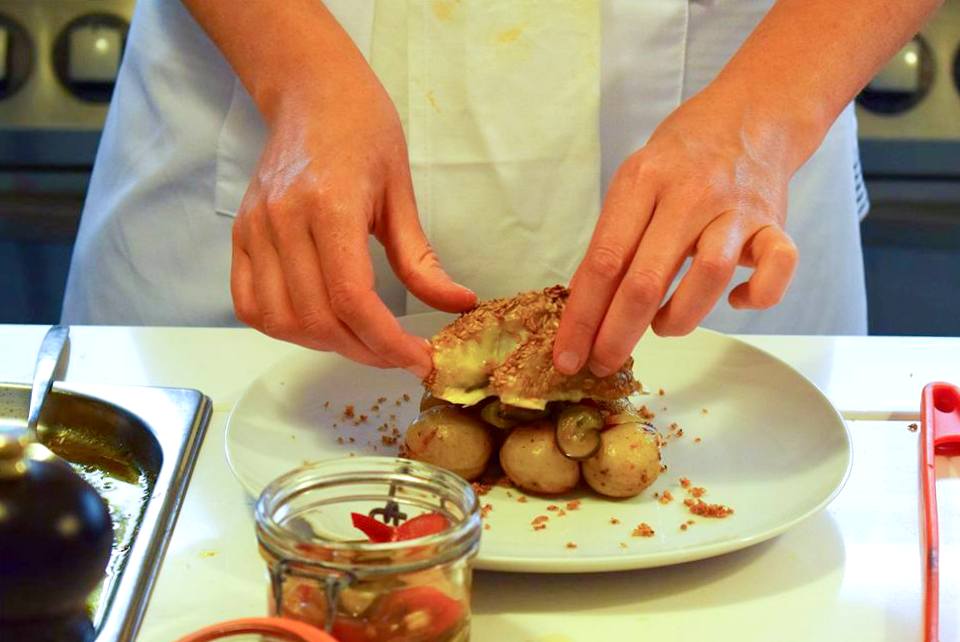 The cod crust crunched as I bit down, and the meat inside fell apart like butter. The potatoes were rich and drenched in a herby oil fragrant with the taste of rosemary. I couldn't dream of a better dish to have with a glass of crisp white wine, and it tasted even better because we'd cooked it ourselves.
We then plated up the pears with greek yoghurt and a nut crumb, and drizzled them with honey that had a flowery perfume. The pears gave way the second you put pressure on them with a spoon, and they tasted earthy and pungent with the heavy taste of Chinese black tea.
The evening finished with second pudding, our Pão de Ló de Ovar. Patricia cut into the shrivelled cakes, which she had left to cool in the parchment paper they were baked it. The liquid centre oozed out the middle as we opened it up, as Patricia explained it should do. Depsite being full from all the previous courses, we each had a small slice. Its light texture and eggy taste were the perfect way to top off the evening's feasting.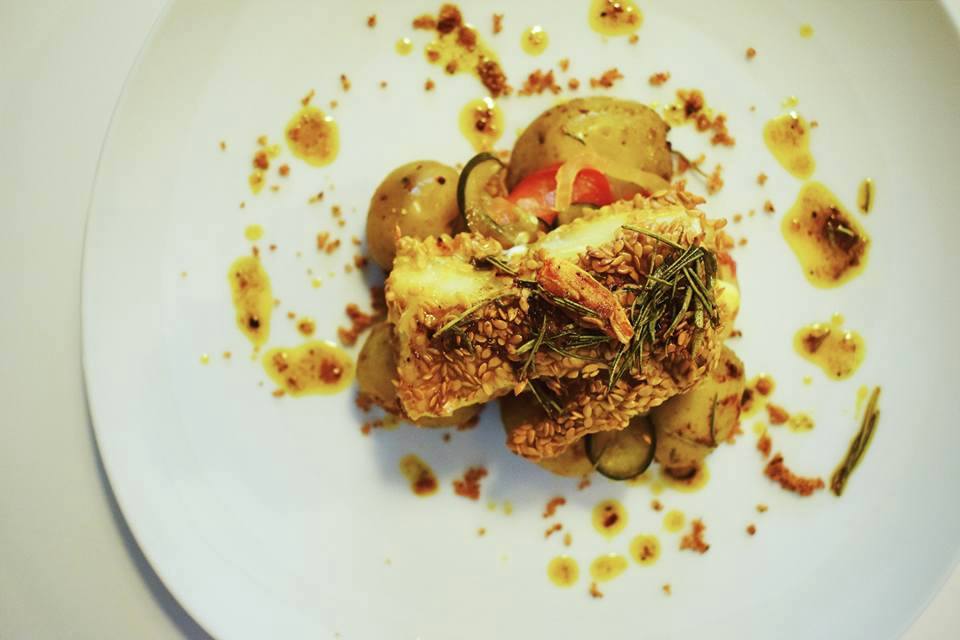 I left the class that night feeling like I'd found new recipes, and perhaps a couple of new friends. We were five passionate cooks sharing our love of food, a characteristic that is quick to bind people together.
This was one of the most unique evenings I spent in Porto, something that taught me things I could take around the world with me. I walked out of Rosa Et Al, and on the walk home I dreamt up the dinner parties I'd be throwing back home.
Taste Porto run cooking classes every Thursday and Sunday at 6pm, hosted by Rosa et al Townhouse.
Each lasts around 3.5 hours and includes a maximum of eight people per class.
Taste Porto also run a food tour around the city, which is ideal to pair with this cooking experience.
Would you try this cooking class in Porto?
7 responses to "Cooking Class in Porto: An Evening with Taste Porto"