Discover Islay: The Single Malt Whisky Wonderland
When I arrived on the Scottish island of Islay, I didn't know a thing about making whisky – but that's not the case for many people who come here. For decades, whisky fanatics have travelled across the world to reach this remote Heridean island because (despite only being around 240 square miles in size) it's home to no less than eight distilleries. Each of these creates its own blend of signature single malt, producing millions of litres of whisky each year, sold across the world.
This rich heritage makes Islay one of the best places in Scotland to learn about the production of the legendary aqua vitae, especially for the entirely uninitiated, like me. Many people who live on Islay are fierce whisky devotees, happy to give out recommendations about the best distillery tours to go on and how to organise your time here.
The presence of the distilleries creates an intriguing, but loveable, way of life on Islay. You'll often find groups of tourers wandering on foot between the distilleries, and days are strategically planned out between drivers and drinkers. For locals, life is peaceful and quiet – as you would imagine on any island off the coast of Scotland – and revolves around the distinct and unique culture the distilleries provide. Islay's landscape is wild and rugged, which makes you wonder if anyone or anything would be here at all if not for these prolific Scotch producers.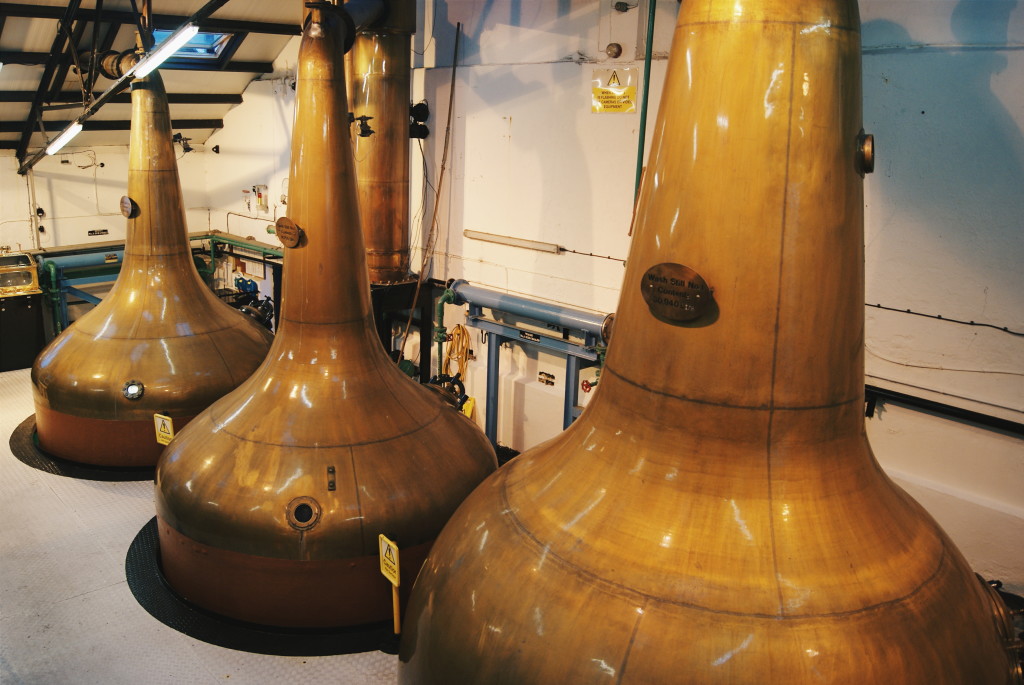 The Stillhouse at Bowmore Distillery
Visiting Bowmore Distillery
As I was staying in the village of Bowmore and a stone's throw away from the distillery of the same name, it was a natural choice for me to take a tour here. Running since 1779 and thus boasting the title of first recorded distillery on Islay, Bowmore Distillery produces smoky single malts using the island's bountiful supply of peat.
Our tour group was led through the distillery, from the Malt Barns – a three-floor building where 14 tonnes of barley per level is spread out across the floor and turned by hand to control its germination – to the Stillhouse where staff meticulously check spirit levels, and the No. 1 Vaults, the oldest maturation warehouse in Scotland, where the finished product is left to age in weathered casks for years.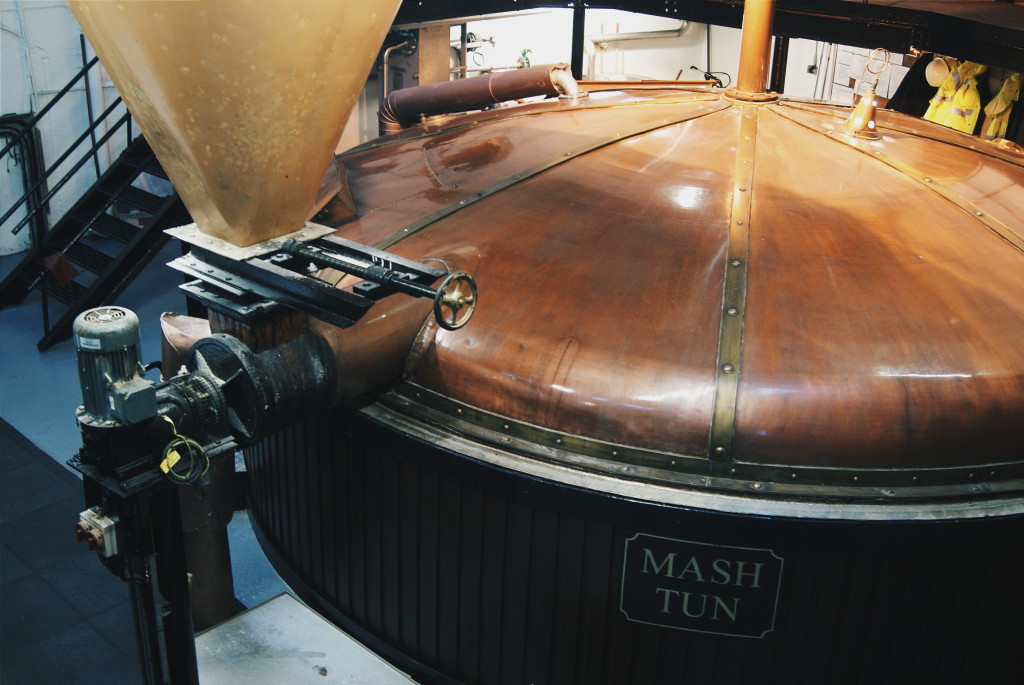 The Mash Tun at Bowmore Distillery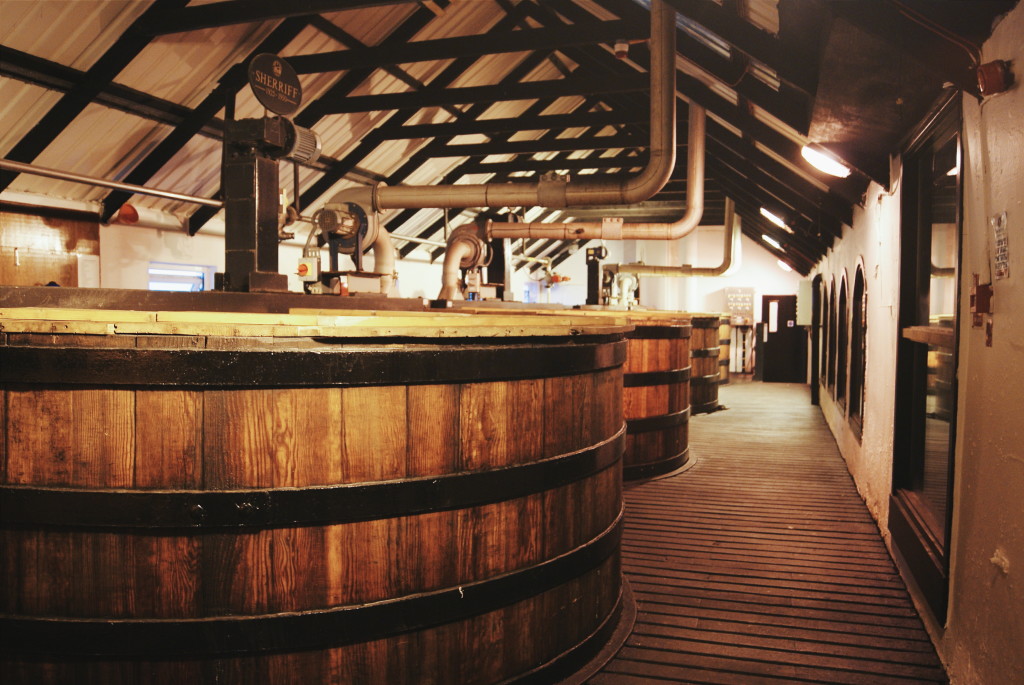 The Tun Room at Bowmore, where yeast is added to the mixture
We passed through hot and cold, from humid rooms with a distinctly yeasty smell and bubbling liquid in giant vats, to cold, dark hideaways in the presence of the silent and still final stage of the process.
I was baffled by the calibre of people on the tour with me. While our guide rattled off precise temperatures and alcohol levels at various stages, nods rippled through the group. Some people were making notes as they went round, others asked our guide questions in a barely recognisable language, filled with what I can only presume were distilling terms. Although I was clearly a fledgling by comparison, our guide was happily on-hand to answer questions and clarify the process; no query was outside her expert knowledge.
I got chatting to a couple of my fellow tourers in the bar afterwards while we sipped on our complimentary glass of Bowmore 12 Year Old. The smooth, amber liquid trickled down my throat as I learnt most of the group were from Montana. For a minute, I thought it seemed like a long way to come just for whisky, but in hindsight I can see that this was like a pilgrimage for them. Like beach bums flocking to Thailand for crystal sands or animal lovers venturing to the plains of Africa, single malt aficionados are called to Islay, and here they thrive.
Other Distilleries on Islay
Many visitors opt for multiple distillery tours while on Islay as it's interesting to see how the process differs between each of them. Laphroaig, Lagavulin and Ardbeg are three distilleries with a walking path running between them, creating a convenient day out in Islay's southeast.
I popped into Laphroaig as I was driving around the area and took a stroll through their informative and well-presented exhibition. Among the stories about the distillery's beginnings and production of it's much-loved blend, the tale of Bessie Williamson stands out. Bessie came to Islay in the 1930s as a secretary for Laphroaig, but her passion and determination led to her becoming one of the first female whisky distillers in the industry. Her story, among others, brings this exhibition to life and I highly recommended popping in to learn more about the 200-year-old business.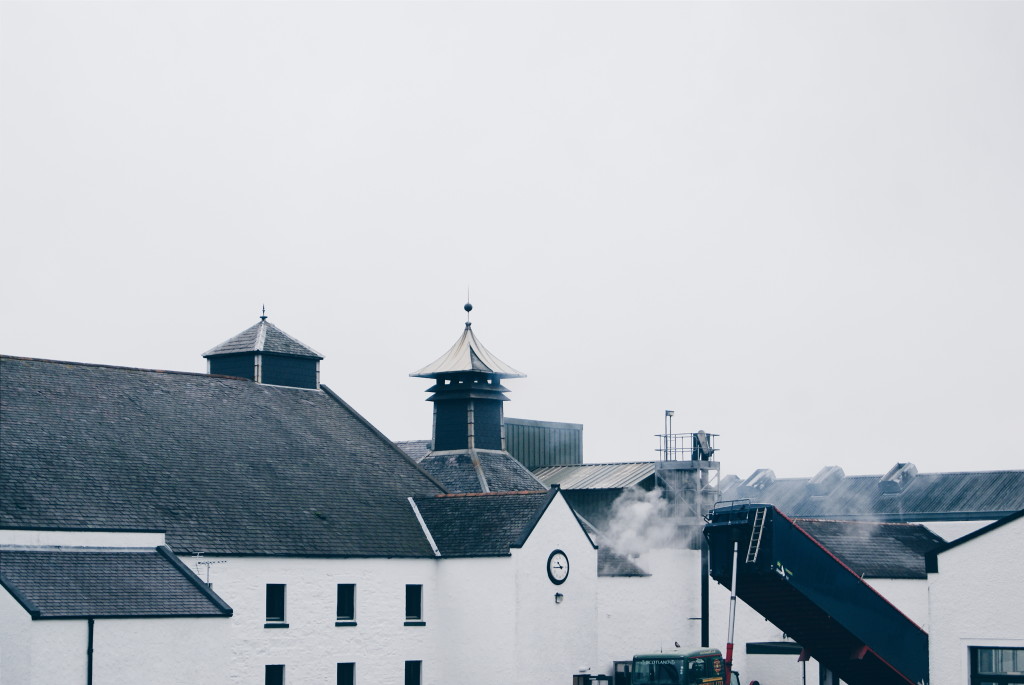 Laphroaig Distillery
There's no end to how much you can learn about whisky on Islay. With so many distilleries in such a small part of Scotland, there are only a handful of other places on earth where you can hop between single malt producers and explore their production in such depth. Set against the backdrop of the barren landscape – scenery as pure as the nectar it produces – a tour of Islay's distilleries is an essential experience for anyone interested in Scotland's favourite tipple.
Have you had a chance to discover Islay?
Which whisky distillery would you like to visit here?
2 responses to "Discover Islay: The Single Malt Whisky Wonderland"