Porto day trips: visit Braga, an old-meets-new city
August 27th 2017
When you visit Braga, keep your eyes trained to the skies. Above the busy pavements and the store shopfronts, the tops of the buildings decorate the skyline. This northern city – the third largest in Portugal – is littered with ornate architecture from across the ages, shown off spectacularly by open squares across the centre of town. These landmarks are testament to Braga's importance in history; it is one of the oldest cities in Portugal (the 12th century cathedral is, in fact, the oldest in the country), located along an important Roman road and one of the Camiños de Santiago pilgrimages.

Praça da República, Braga
However, it's not all history here. The Universidade de Minho has injected young life into Braga, and when you're not admiring its ancient monuments, you'll notice the streets are filled with fresh faces. Just an hour away on a train that costs just €3.15 each way (or high speed 40-minute trains at €12 each way), Braga makes for one of the easiest and most affordable Porto day trips. Follow this Braga guide to pack your day full of its best sights.
Morning
Get your bearings over the course of the morning. The train station is one the west side of town, so head east towards the city centre, where you'll find a cluster of pedestrian streets perfect for wandering through. You'll of course want to make the Sé de Braga, the city's cathedral, one of your first stops. The facade was created during its inception, but features throughout the cathedral were added as the centuries went by.
The Kings Chapel holds tombs from Dom Henrique and Dona Teresa, parents of Portugal's first king; the guilded organ in the main chapel dates back to the 18th century; and the Museum of Sacred Art upstairs hosts pieces from various points in time, including clothing from the 16th-18th centuries, and an ivory casket dating back to the 10th century. Admission to the cathedral is free, and it's open every day.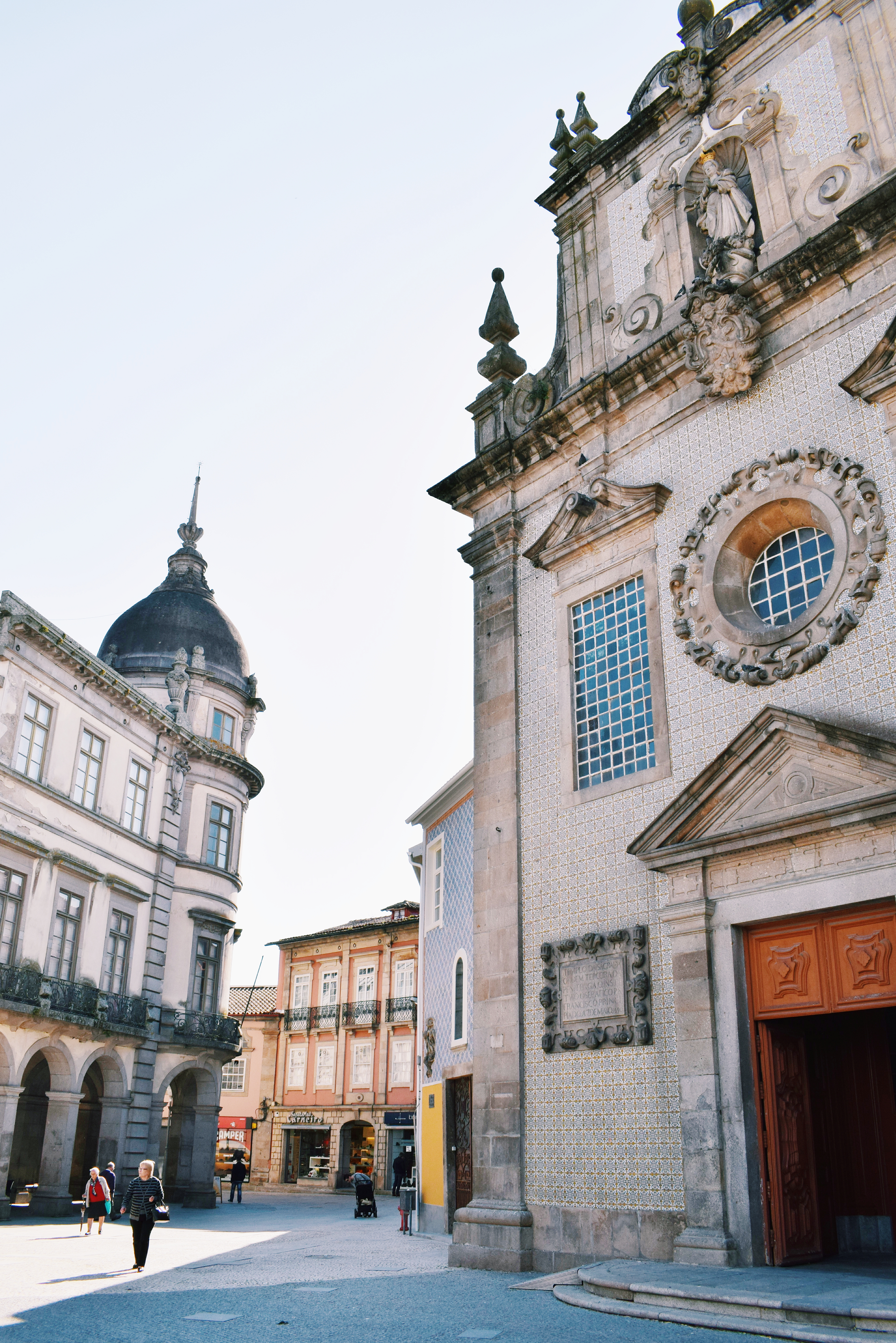 Wander on to Praça da República, the city's main square where locals of all generations congregate. This is a prime spot for people watching if you want to get to know the faces of Braga, and there is also a beautiful fountain here worth lingering at for a while. Take a turn around the park – Jardim da Avenida Central – marvelling up at the Convento dos Congregados on its south side.
Head down Avenida da Liberdade, turning at Rua Raio to reach Palácio do Raio – a striking 18th-century palace covered inside and out in blue and white tiles. The building houses a collection of artwork, from sculpture to paintings, owned by the Santa Casa da Misericórdia de Braga (Holy House of Mercy) and in the last few years it has been heavily resorted to its former glory – a must if you're interested in baroque architecture.
Venture back towards the centre of town and stroll down Largo do Paço, which then turns into Rua Dom Diogo de Sousa. Stylish cafes line this road, giving you plenty of options to choose from for lunch. Casinha is a top spot if you're looking for something healthy – come here for salads, soups, or a bowl of granola and fruit. There are also plenty of cakes if you're feeling naughty too.
Alternatively, just down the road is Pastéis de Chaves, which has a large range of cheap and delicious bagels and also, as the name suggests, chaves pastries. These are classic Portuguese delights baked with very thin layers of filo pastry – traditionally they have meat inside, but at Pastéis de Chaves you can try sweet or savoury versions.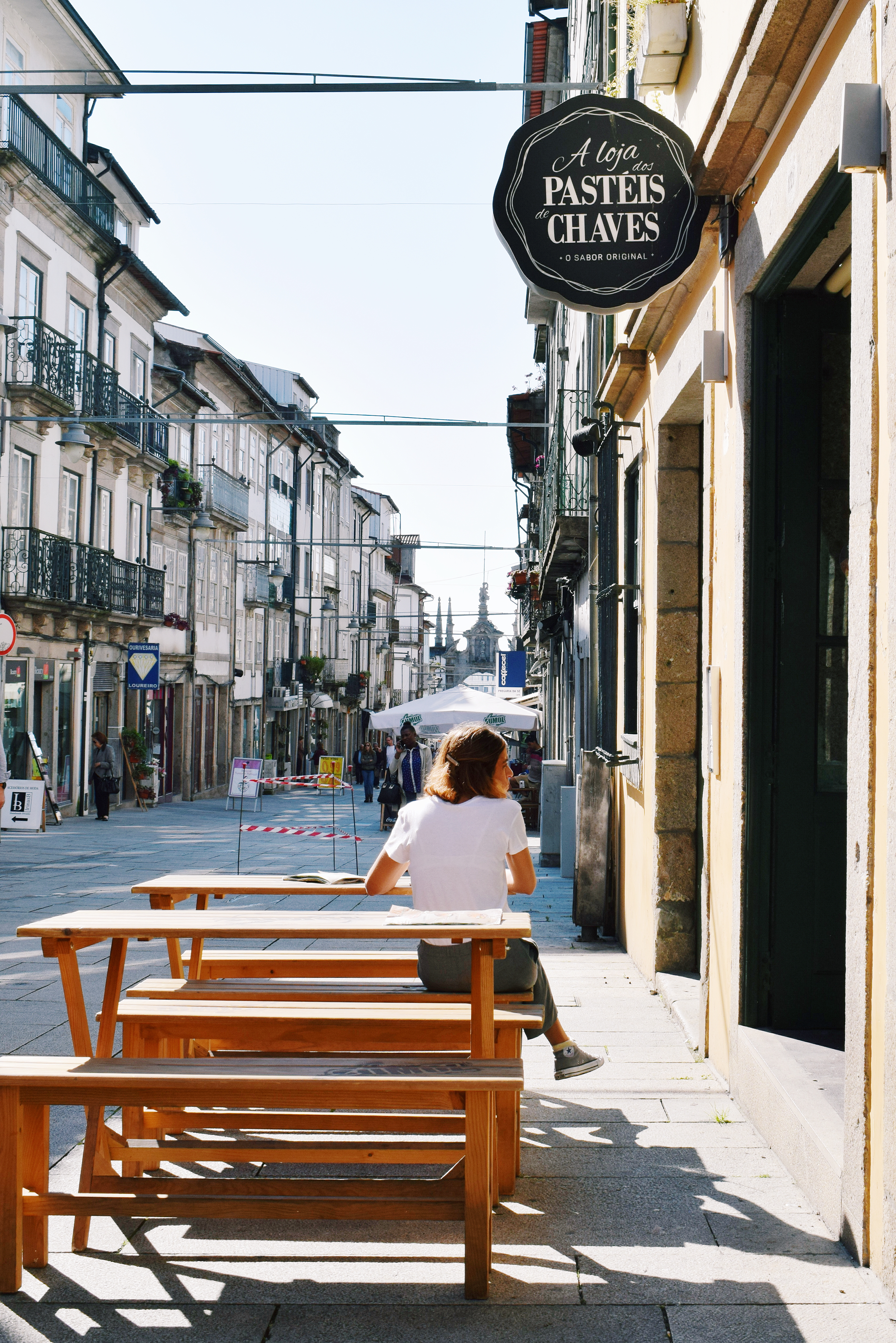 Afternoon
Even if you're not usually the museum type, the Museu de Imagem in Braga is worth stopping by. It's just a few minutes' walk from Pastéis de Chaves, on the other side of the Arco da Porta Nova, so a convenient pleace to visit after lunch.
Housing a collection of cameras through the ages and stunning photography, the museum showcases works from Portugal and all over the world. There are also old photos of Braga here so you can see what the city was like in times gone by. Admission is free, and the museum in closed on Mondays.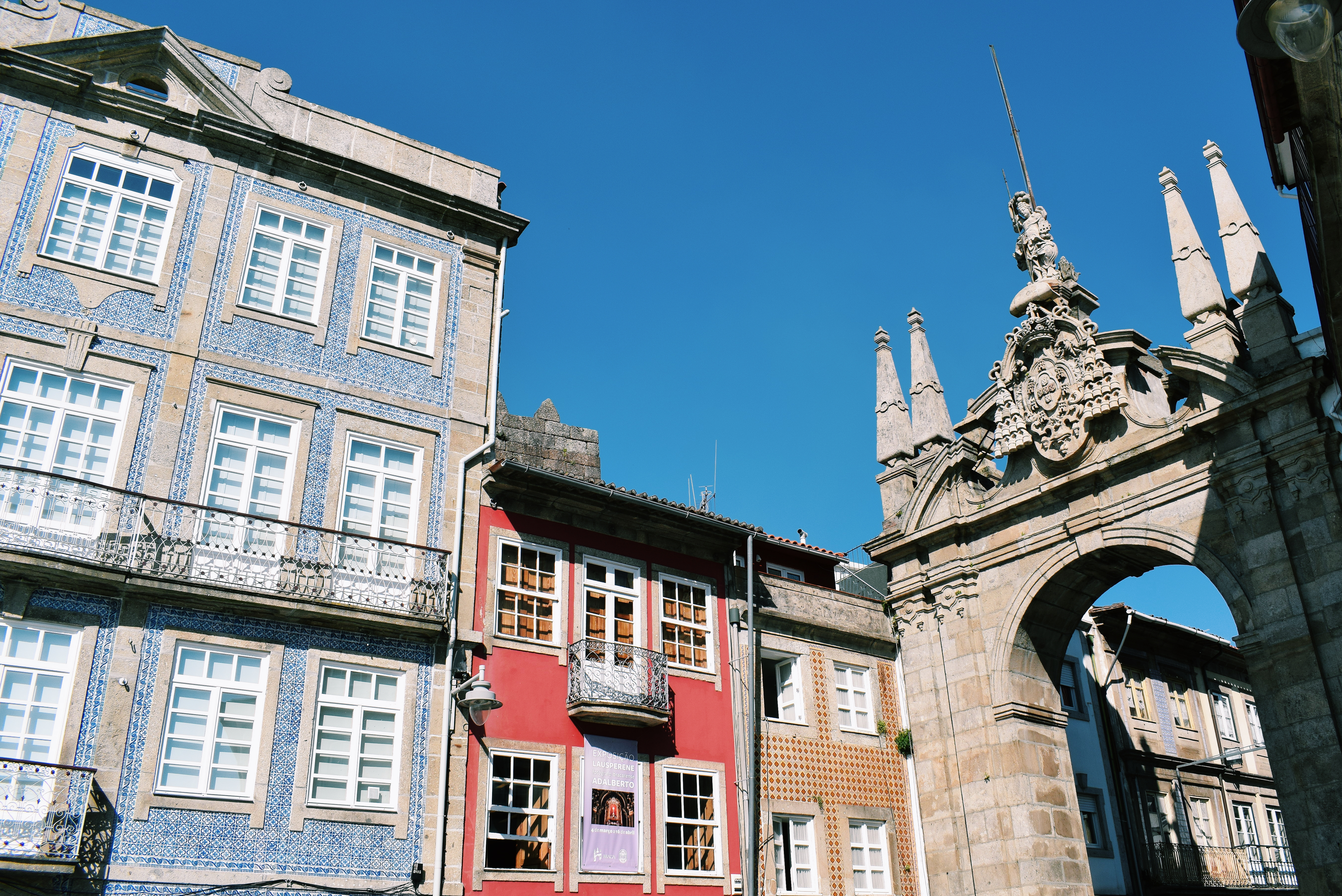 Braga's Arco da Porta Nova – the Museu de Imagem is in this red building
Start wandering back east, stopping at Mercado da Saudade, a fascinating store in Braga that sells only Portuguese products. Pause here to browse through artisan cured meats and cheeses, regional liqueurs, honey and jams, plus homewares such as textiles, cork products, and jewellery.
Stroll back through the centre towards Praça da República and visit Livraria Centésima Página, a gorgeous bookstore with a garden and terrace. This is one of the most peaceful places in Braga, and even if you don't understand Portuguese so can't pick up any good reads (although there are a few English books here), the ornate style of this building and the atmosphere inside is worth experiencing. Pull up a seat outside and order a late afternoon coffee.
Evening
The last train back to Porto is at 11.30pm, giving you opportunity to spend an evening here too. Sit on the terrace at Champanheria de Janes, a champagne bar where you can try fizz-infused cocktails (or a simple straight-up glass too) plus pick at some tapas before dinner. Boa Boca and Félix Taberna are two good restaurant options for Portuguese cuisine – the former is modern and stylish, the latter is a little more rustic but both champion outstanding flavours. If you like all things vintage, head to Retrokitchen to be surrounded by cool oddities – plus they will feed you very well with home-cooked food before your train home.
Would you visit Braga on a day trip from Porto?
What would you most like to do from this guide?