Wales: A Weekend in the Brecon Beacons Itinerary
Characterised by vibrant green vistas in summer, rugged brown scenery in autumn, and snowy wonderlands in winter, the Brecon Beacons is one of the most outstanding parts of south Wales. Hills and valleys dominate the land, accented with waterfalls, underground worlds, and an abundance of flora and fauna. The wild make-up of this national park creates a stunning playground for outdoor adventurers – it would take a lifetime to unveil all its untamed beauty.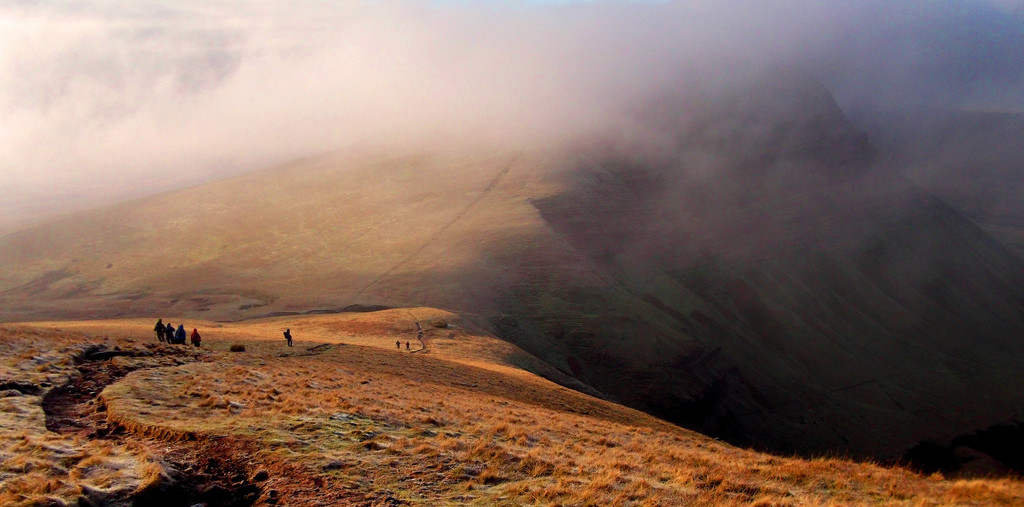 Image via Flickr by Les Haines
The Brecon Beacons became one of Britain's first national parks in 1957. It was deemed worthy of protection not only for its natural highlights but also its links with human history. Hundreds of pre-historic sites are littered across the park, signifying our presence here for thousands of years. This blend of nature and humanity is what makes this region so distinctive.
The Brecon Beacons was one of our last stops on our year in the UK and Ireland, and we're already dying to go back. The park covers over 500 square miles, so a weekend in the Brecon Beacons will be busy and you may find yourself braving the elements (for that reason, don't forget your travel insurance!) You won't be able to see it all, of course, but two days is a sufficient amount of time to see some spectacular highlights. Pick and choose your preferred activities from this itinerary to cover the must-see sights.
Day 1 – Llanthony, the Beacons Way, and Good Day Out
Tucked away at the foot of the Black Mountains, Llanthony Valley is an ideal spot in which to kick off your weekend in the Brecon Beacons. Towering hills slope downwards to create the vast open plateau, inside which hedgerows divide the fields to form a patchwork landscape. Often cited for its magical, other-worldly atmosphere, this area has a real pastural feel and is a good location for catching your first sight of the rustic side to this national park.
Horses can often be found roaming in and around Llanthony. Go pony trekking with Trevelog Farm to discover the the valley on horseback. This family-friendly company welcomes riders of all abilities, and takes you along the miles of bridleways that criss-cross through the region. Interestingly, horse riding is so popular in this area that Llanthony is home to Britain's only rodeo.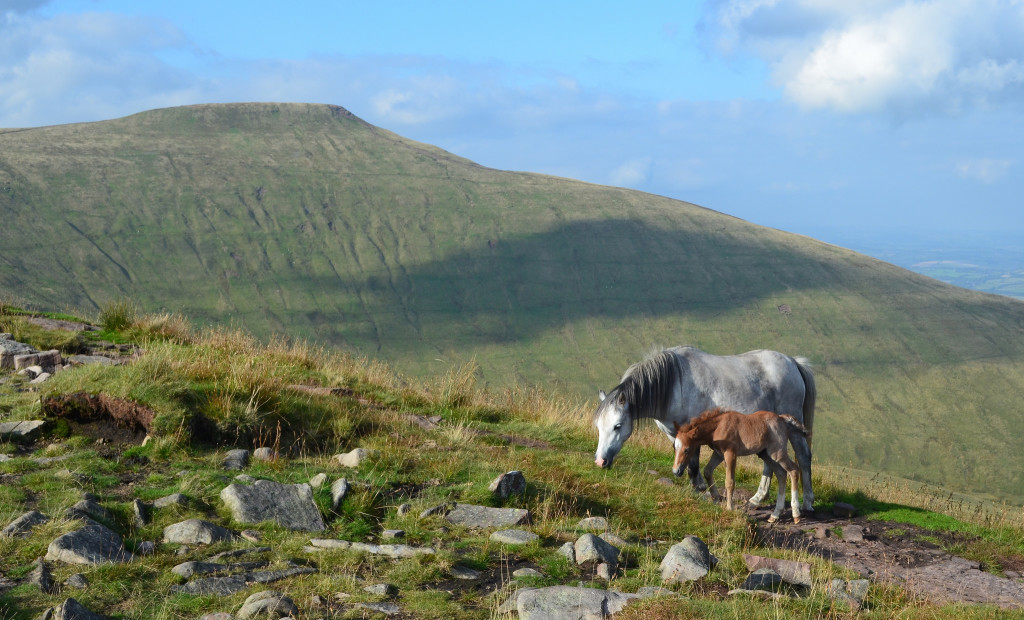 Image via Flickr by Nick
The show-stopper of the valley is without doubt the ruins of Llanthony Priory, a 12th century structure that never fails to draw in the eye. The pillars of stone and curved arches make excellent focal points for photography, and when the sun shines they dramatically cast shadows across the surrounding blanket of greenery. Take a peaceful wander beside the remnants of the priory, and stop here for a picnic lunch if the weather permits.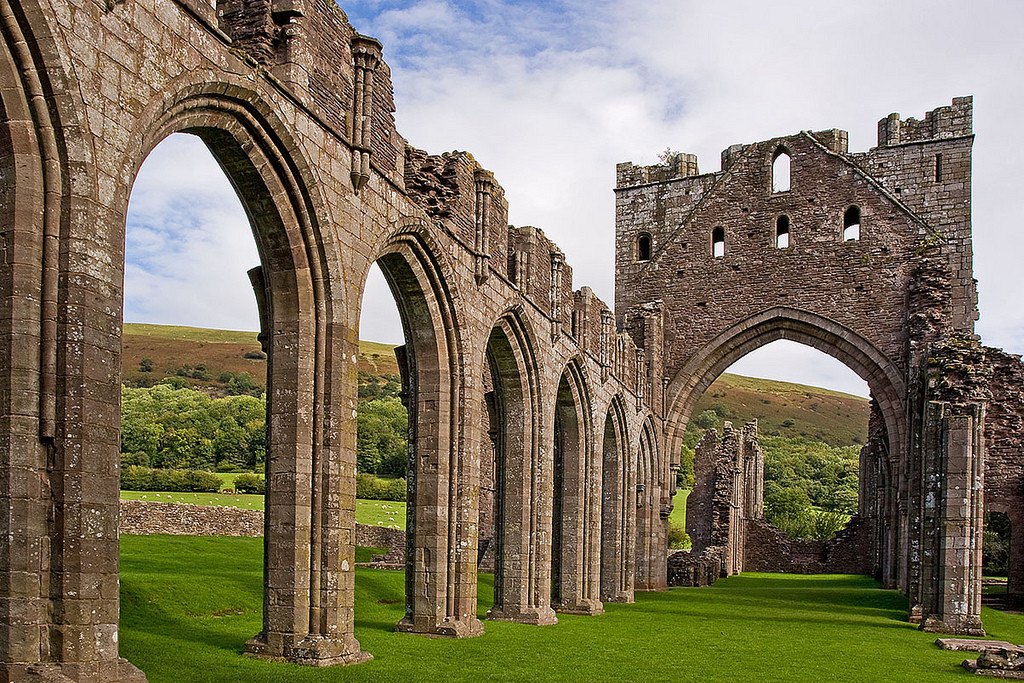 Image via Flickr by David Evans
There are many easy strolls you can take around Llanthony Valley, but more challenging options here are abound for experienced walkers. Stretching 95 miles across the national parks, the Beacons Way is the holy grail of hikes in the region, and passes through Llanthony before heading west.
Although you'd be hard pushed to complete the entire thing in one weekend, while you're in the area you could take a stab at day one, which finishes in Llanthony, or day two, which starts there. If you intend to pick up parts of the Beacons Way in other areas of the park over the course of your weekend, note that some sections are not thoroughly waymarked. You will need OS Explorer Maps OL12 and OL13 for route information.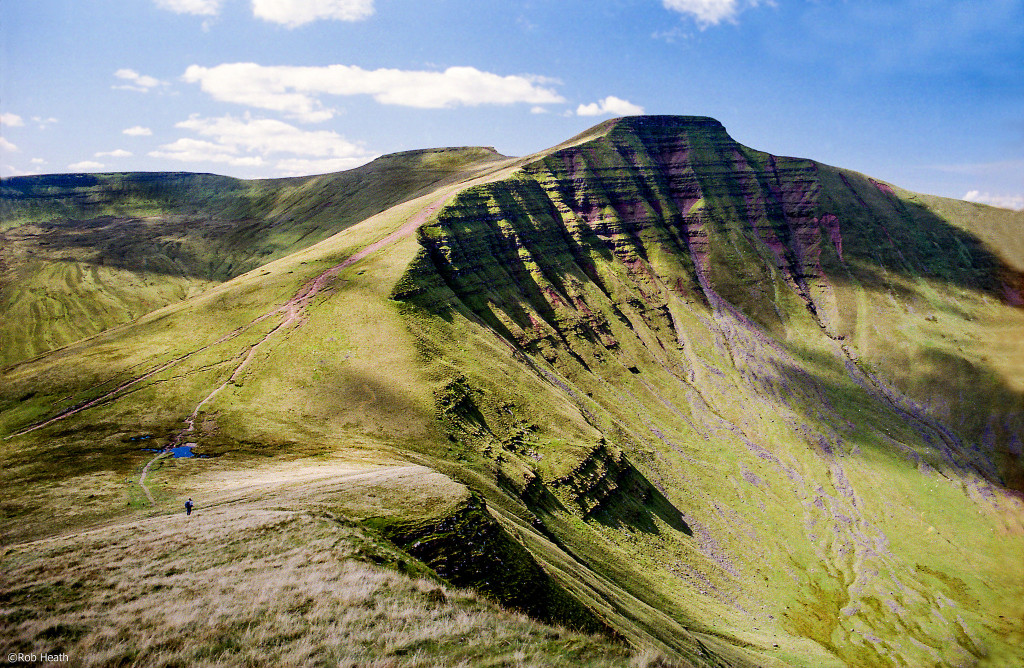 Image via Flickr by Robert J Heath
For a guided tour around the Brecon Beacons, take a look at what's on offer from Good Day Out. This small, local company operates a range of experiences in the park, from sheep trekking to red kite photography days, landscape safaris and lambing in the spring. Thrill seekers should take a look at their canyoning and gorge walking small group experience, or channel your inner Bear Grylls with a bushcraft, survival and foraging training day.
Without doubt one of the most fascinating experiences Good Day Out offers is their Stargazing and Astro Photography Experience, an ideal evening activities to polish off your first day. The Brecon Beacons is of one of only three Dark Sky Reserves in Britain, a place where the night sky is protected to conserve the jaw-dropping views. This tour is led by a professional astronomer, who guides you through the constellations with top telescopes and cameras.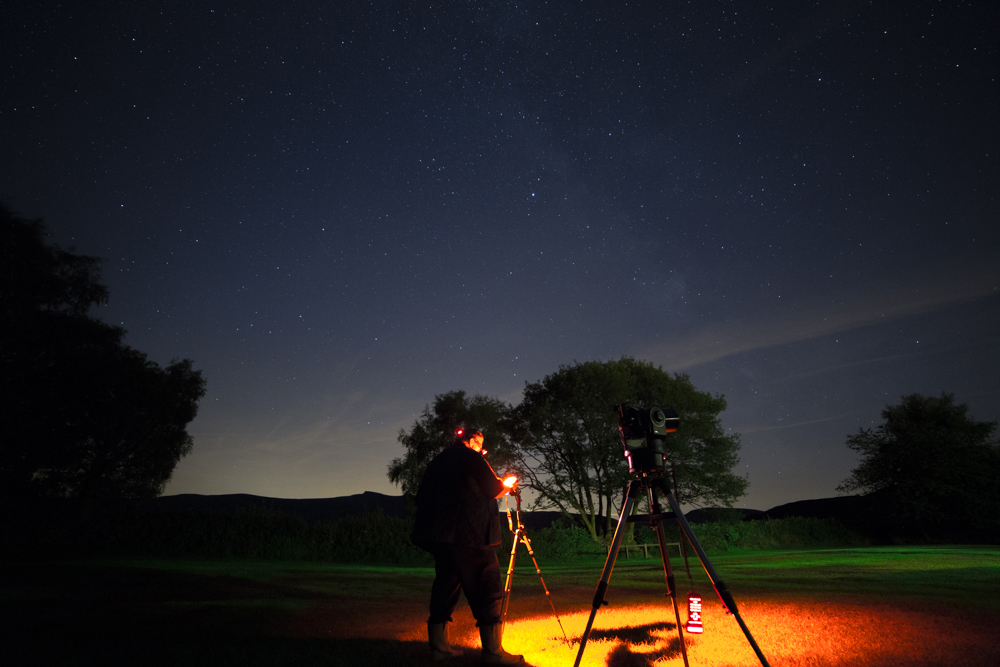 A stargazing evening in the Brecon Beacons with Good Day Out
Day 2 – Hay-on-Wye, Caves, and Waterfall Country
Begin your morning in Hay-on-Wye, otherwise known as the Town of Books. With no less than twenty bookshops and world-famous annual literary festival, this is paradise for the avid bookworm. Potter around the village's streets, diving into stores and leafing through rare finds and orange-bound Penguin classics. Pull up a chair in cosy Richard Booth's Bookshop, and stop by Shepherds Ice Cream Parlour for something sweet.
Head west after Hay-on-Wye, towards the Dan-yr-Ogof National Showcaves Centre for Wales. The Brecon Beacons is home to some of the most important cave systems in Europe, and at this centre you can discover the park's most famous caverns. This particular groups of caves sprawls for over ten miles underground, offering ample opportunity for both beginner and experienced cave explorers alike.
Wander along the safe pathways that burrow through the caves, and gawp at the magnificent stalactite and stalagmite formations. Learn more about the cave dwellers that resided here thousands of years ago. If you're an experienced caver and caving club member, a further network is accessible beyond these showcaves.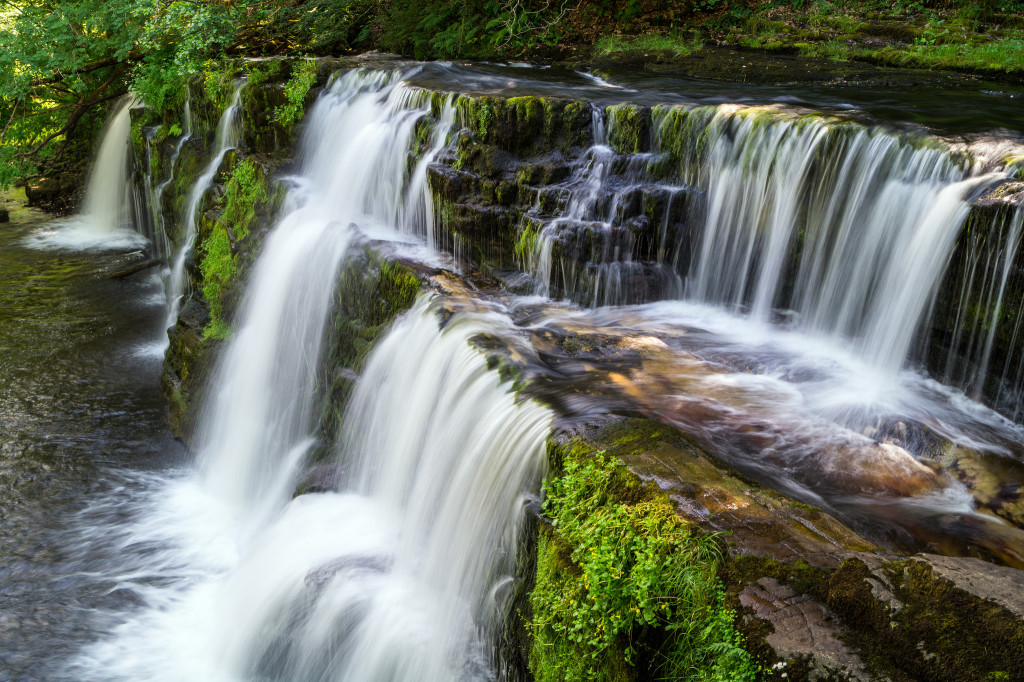 Image via Flickr by Phil Dolby
Further southwest in the Brecon Beacons is Waterfall Country. Spend your final afternoon strolling through the woodlands in this area to find the spots where multiple rivers tumble over the park's unique geological formations to create beautiful cascades. On hot days in the summer, bring your swimwear and take a dip in the falls and pools.
This area is also noted for its rich biodiversity, playing host to various species of wildlife and one of the most prolific examples of ash woodland. These walking trails in Waterfall Country will lead you to the best spots in the region, including to the remains of an old gunpowder works.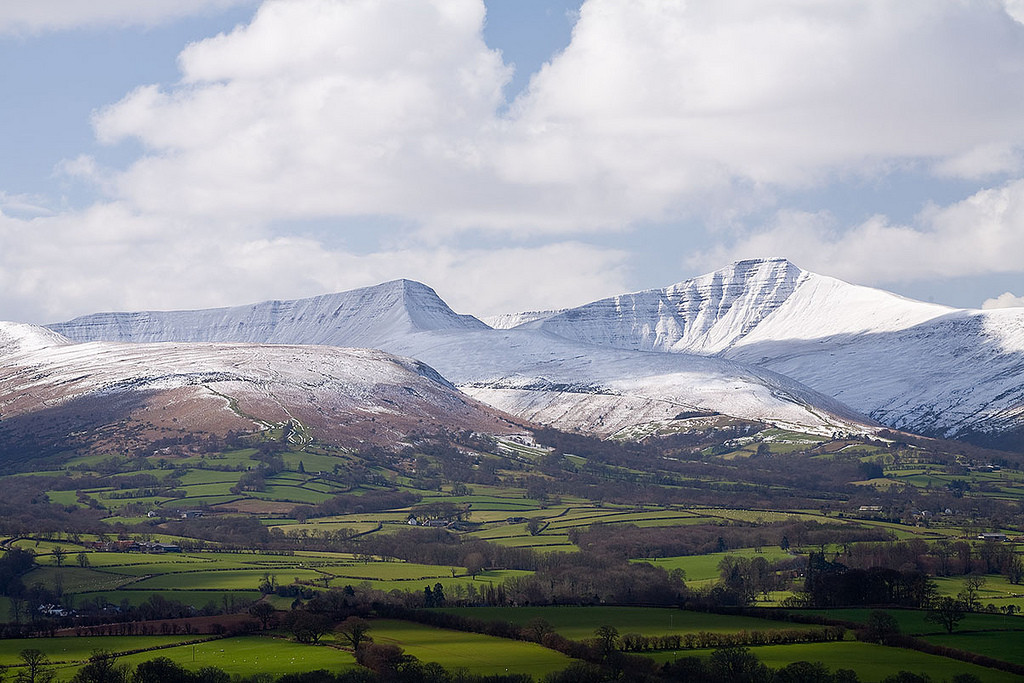 Image via Flickr by David Evans
Where to stay in the Brecon Beacons
There are plenty of hotels in the Brecon Beacons that will suit any needs and budget. The Bear in Hay-on-Wye is one of the most beautiful boutique B&Bs here, and puts you in prime position for following this itinerary. If you want to be closer to the centre of the park, newly-renovated Tŷ Helyg is a modern B&B set up in an 18th century townhouse in the village of Brecon. Warm hospitality is mixed with stylish, cosy rooms here.
For something a little different, book this Black Mountains Yurt or Wye Glamping, both of which offer a luxurious, and unique way to stay in the Brecon Beacons.
Have you spent a weekend in the Brecon Beacons?
What would you most like to do from this itinerary?