Driving Through Iberia: Sagres to Sintra
This is the second in a multi-post series about my Spain and Portugal road trip. If you haven't read it already, you can find the first part here. 
As light emerged on that second day, so did the bleary-eyed campers, our neighbours for one night on that beach in Portugal. Stoves were lit, coffee put on, and the tinkering of pots, pans, mugs, and spoons begun, alongside other morning necessities. However, Cara and I had other intentions. Packing our gear into Bluebell, our car, we left the beach early, driving through the corridor of seasoned nomads on our way out.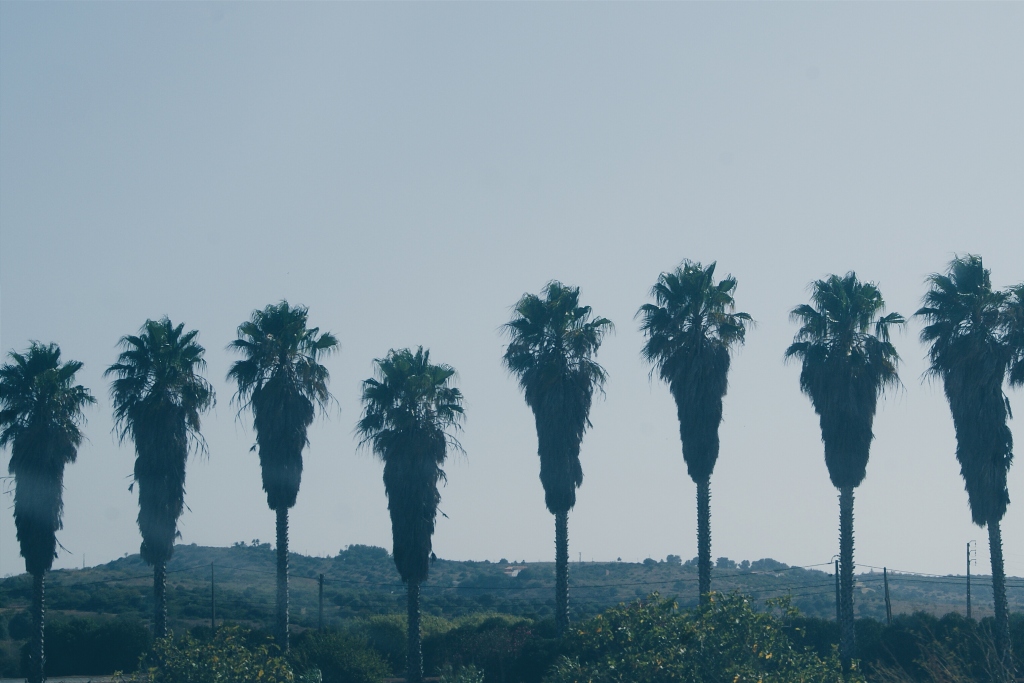 Our mission was to rectify yesterday's failed attempt of the Caves at Benagil, but not before we stopped off at the most southwestern point in Europe. Tucked at the bottom right-hand corner of Portugal is Cabo de São Vicente, and the usual suspects of the southern Portuguese coast. Cliffs accompanied by terrifying drops, driving winds, stones and pebbles crushed by footfall into the dust, and irregular patches of dry faded red and grey-green grass. If it weren't for the title of 'most southwestern point in Europe', no one would have much reason to come here. At the tip of coast stands a lighthouse, but at a modest 24m in height in a continent filled with some of the world's most impressive architectural giants, this too will not outwardly impress.
With that said, there is something in the air at Cabo de São Vicente. On first sight it may seem quite unremarkable, but boasting its unique geographical title, perception changes – as if the very particles in that scene have risen up, scrambled, and realigned themselves in the very same position, only to have created something more beautiful, alluring, and fascinating to the human eye. All because of that title. There must have been 100 people at the cape on that day we visited, milling around in groups, taking strolls towards the edge of the cliffs with trepidation, and looking out onto the Atlantic.
This was the end of the world for ancient inhabitants. The sun sank into the horizon, extinguished in the sea, and many believed that nothing lay beyond. We know now, of course, that some 6,000km straight ahead are the Americas, and when visiting the cape one or two Europeans can usually be seen staring out across the waters and whimsically dreaming of the land on the other side. I may have been one of them for a moment; my ceaseless need for exploration predictably called out for shores beyond my immediate reach. This marked the moment I was under Cabo de São Vicente's spell. She might not be the prettiest girl in the school yard, but she knows how to seduce.
A few businesses have cashed in on Cabo de São Vicente, but not an alarming number quite yet. Along the road leading up to the lighthouse, a row of stalls are set up selling postcards and jewellery, but probably the most visited attraction at the cape is a small stand selling bratwurst. Cara and I were quite easily persuaded into participating in the gimmick they've created (even though I failed to see why this was neither Portuguese nor American themed, but German) and split one of their 'Letzte Bratwurst vor Amerika', also know as the 'Last Hot Dog Before America'.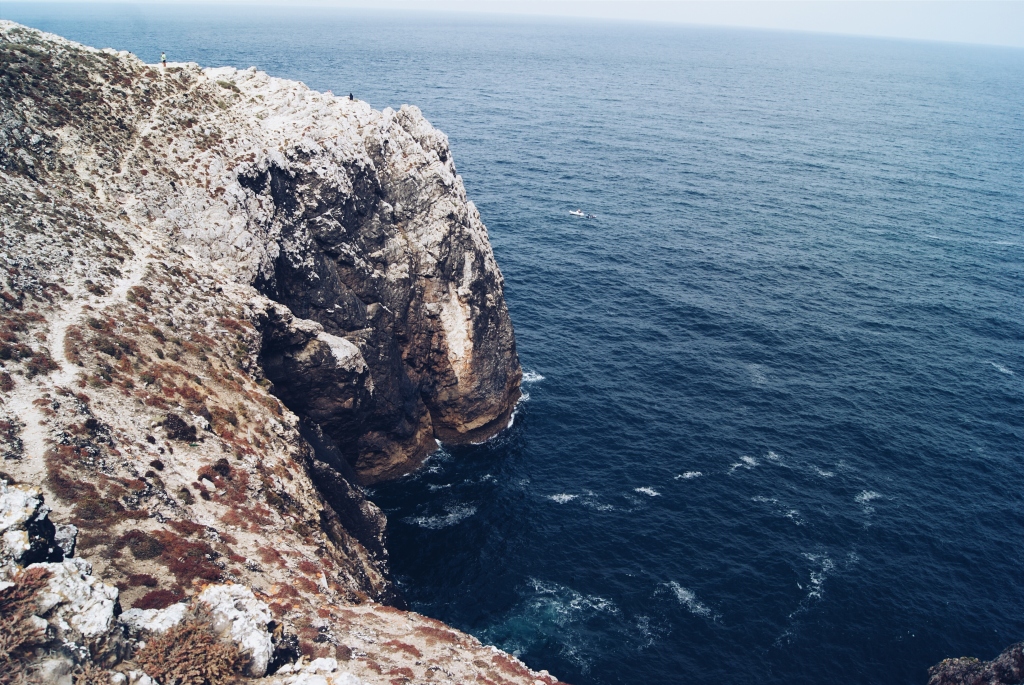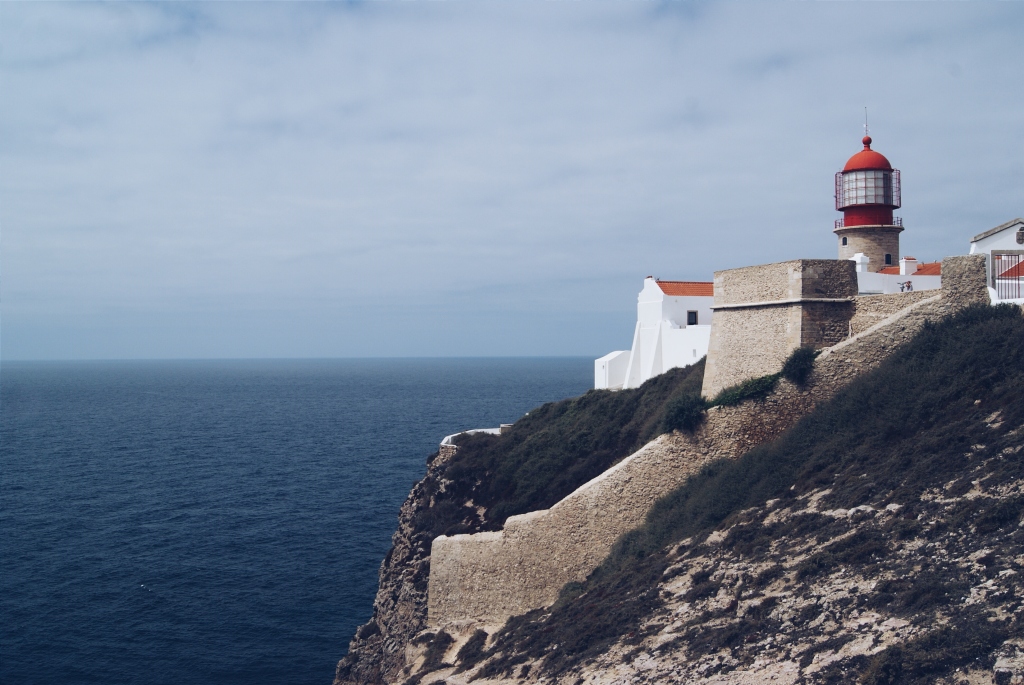 Retracing our steps to the east, it was time to head back to Benagil to visit its infamous caves that line the coast here. We were standing on the beach waiting for our guide to arrive when a tanned boatman tore around the corner of the cliffs to the ocean in front of us, pulling in millimetres away from the rocks before shifting his boat into reverse and expertly gliding it right to our feet. To weave their way in, out, and around the caves, these guides have to be masters of the speedboat, and having watched a few while I was waiting on the shore I determined that this chap was among the most skilled. With trust in our captain, we hopped on and jetted away.
For the next hour, our boat sliced its way through the ocean, dipping and diving into a dozen or so caves. Some had open doorways, through which we easily drifted. The entrances to others looked impassable, but thanks to the nifty wheel work of our guide, we unveiled vast caverns and burrowed into hidden grottos. A number were dark and dripping, roofed to create eerie, uninhabitable spaces. 'Sometimes in the winter, the strong waves go up the walls,' our guide mentioned, 'even up to the top.' This explained the more bubble-like appearance of some of these caves, perfectly blasted into spheres by the ocean.
Other caverns had gaping holes in their ceilings, where weakened rock had plummeted to the waters below. The larger of these allowed sunlight to pour into the otherwise murky depths, illuminating the striped tones of the rocks and designing a heavenly scene for visitors. Smaller windows created spotlights to shed rays onto the cave's gloomier corners. One crater was even shaped like a heart; our guide mentioned that this has made it a popular engagement location for both tourists and locals.
For more on the caves and a deeper look into our boat trip, take a peek at the video below (and watch out for some questionable boat cornering from our guide).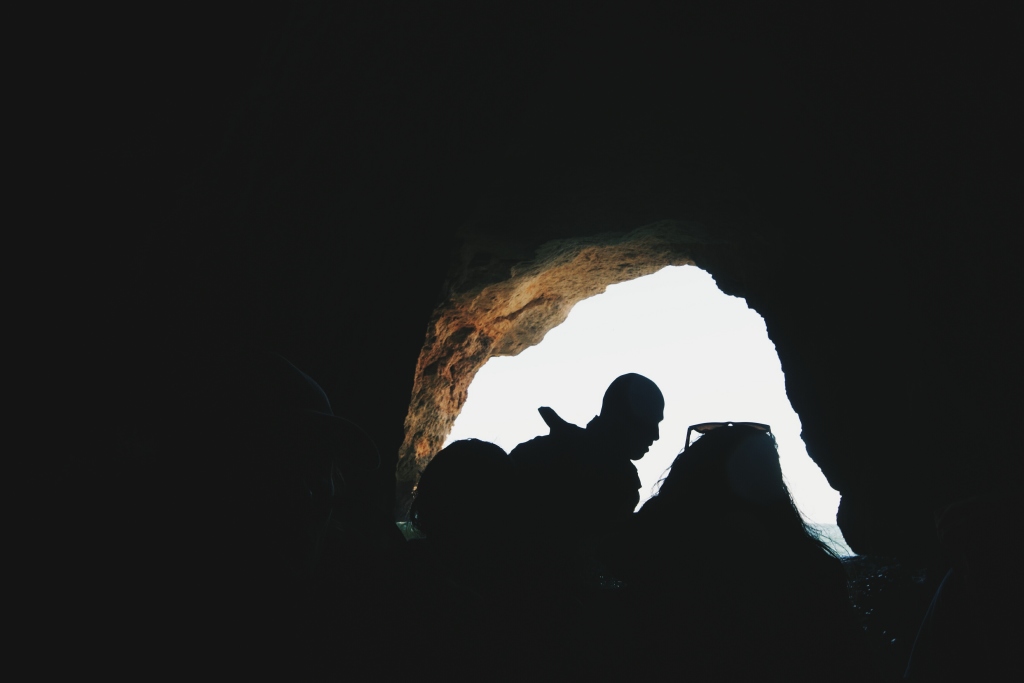 Having scratched our Benagil itch, we ventured north towards Lisbon. It was never our intention to spend too much time in cities on this road trip, so our main objective for our short stop-off in the capital was simple – find some really, really good food. This lead us to LX Factory. Based in an old industrial estate for thread and fabric production, where the lanes were once busy with workers and hungry manufacturing giants, LX Factory exudes cool from every crack between the stones in its cobbled streets.
In 2008, the abandoned complex was turned into one of Lisbon's finest creative spaces, a home for art and design in all forms; paintings and sculptures, interior design, and celebrations of literary masterpiece. Discarded and locked away under Lisbon's bridge where tourists presume there is nothing of note, regulars at LX Factory are among Lisbon's creatives; dressed  in trendy apparel, coffee in hand from the independent roasters around the corner, on the phone to their business partner talking about the hip start-up they just launched.
Arriving at LX Factory late in the evening, Cara and I had a reduced number of options for dinner. In hindsight, that's a twist of fate I can be grateful for as we may not have chosen Cantina Lx had more options been available. The restaurant upholds a simple yet well thought-out design, which embraces the building's warehouse past but also propels it into the modern world of run-down living room charm meets communal eatery meets contemporary fine dining.
Cantina Lx's dim lighting and quiet hum of patrons lulled us easily inside, and we settled in for an evening of indulgence. Ordering duck and lamb, we watched as our food was fired in the open oven just a few feet away, which only heightened anticipation to a gruelling level. Falling apart almost before it even got to my mouth, the lamb was powerfully flavoured, rich like home-cooked roasts back in England and sweet like caramel. With wine throughout and dessert to follow (try the lemon meringue pie – you won't regret it), we slunk home in a delirious state of satisfaction.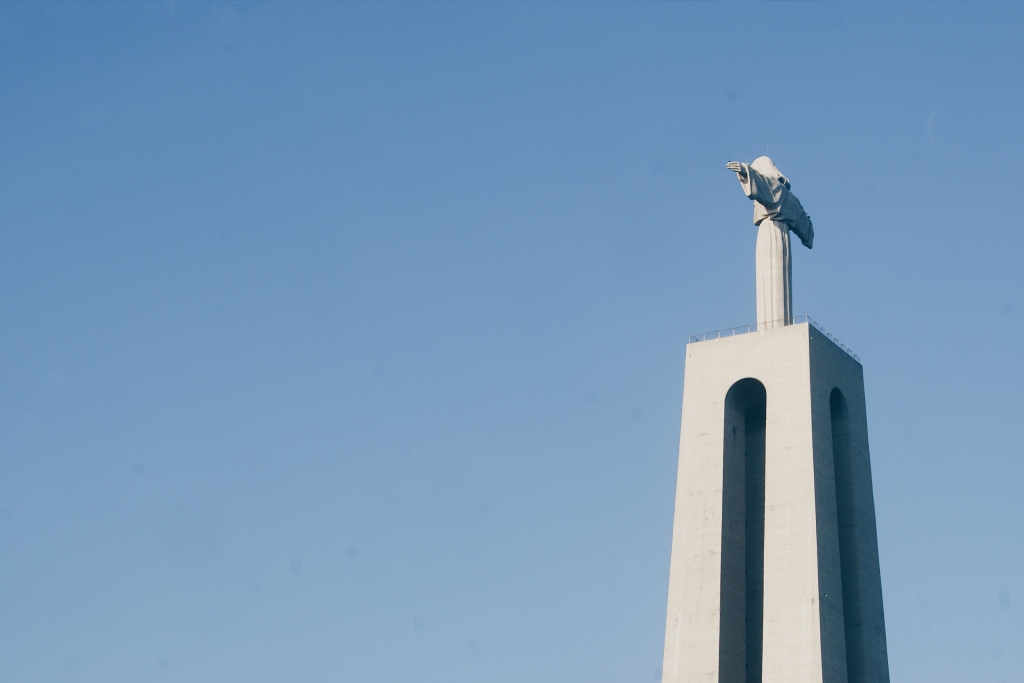 A handful of hours later we walked among castles and fortresses, a contrast to the contemporary setting from the night before. Sintra was our destination, a cluster of history up in the hills around 30km west of Lisbon. In the mid-19th century an abandoned monastery sat atop the Sierra of Sintra. Taking a liking to the structure – which included a chapel, guest house, and bell tower – King Fernando II acquired the monastery in 1838 and commenced its renaissance. A great period of restoration began; rooms were turned into grand halls, new wings were built, and a little colour was flushed back into the monastery's cheeks.
Being a bit of a romantic, King Fernando took inspiration from the castles of Germany, an influence that remains evident today – turrets soar and flourishes protrude from each curve and corner. Painted a deep crimson to note the old monastery and a mustard ochre to signify the newer buildings, the Palácio da Pena came of age 25 years later. After some restoration work in 1994, the palace today remains as polished and striking as it ever was.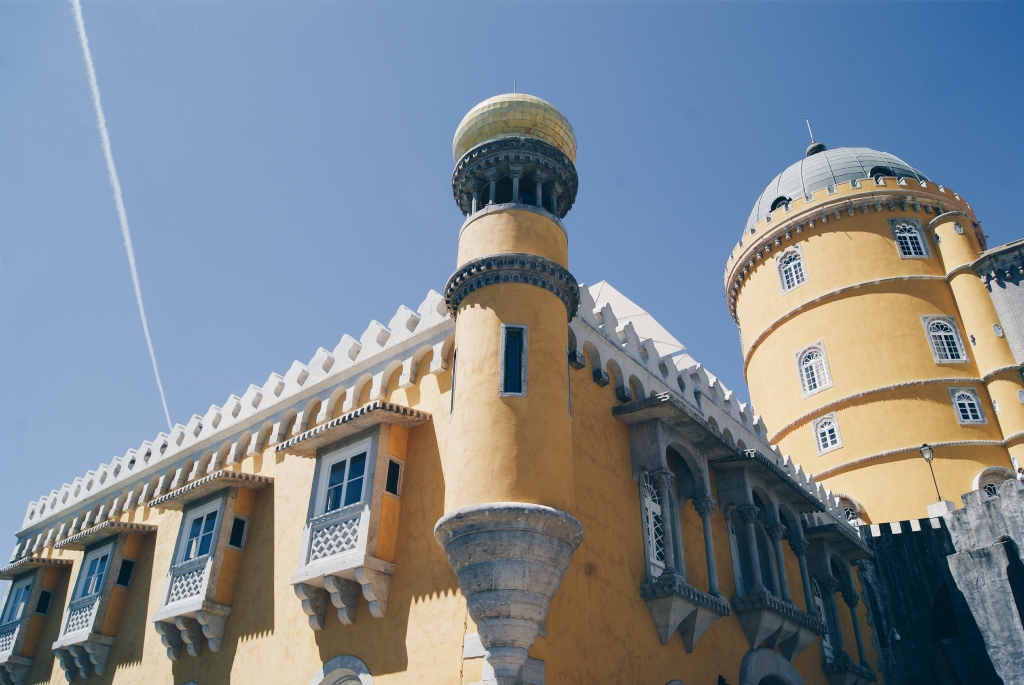 Sintra is the name given to the entire town perched on this hills in this part of Portugal. Palácio da Pena is just one of the numerous enchanting attractions alongside many other castles and gardens. The area is dotted with expansive vantage points, and looking out from one in any given direction offers vast views of towns and settlements, rocky hills, carpets of dense forest, and the sapphire ocean beyond. It is a space for perspective, where you can roam unplugged among nature and tiptoe through history. I imagined lords hurrying through gateways on official business and ladies wearing hooped dresses that brushed against the walls of the palace's thin passageways; their heads down, palms gently met, and in quiet conversation.
Standing on one of the old monastery's platforms and taking in the kind of deep breath that only a fantastic view can give you, Portugal spread out across the land below my feet. Even more of this beautiful country lay ahead of us. Cara and I stayed for a still quiet moment before our thoughts turned to the next step, and we were pulled further north.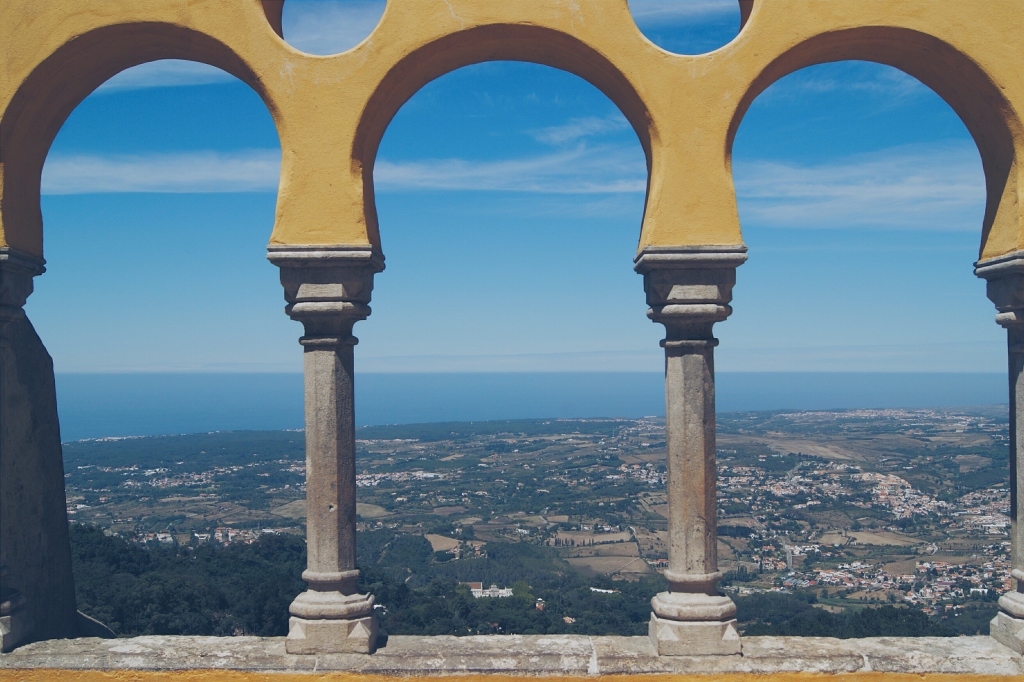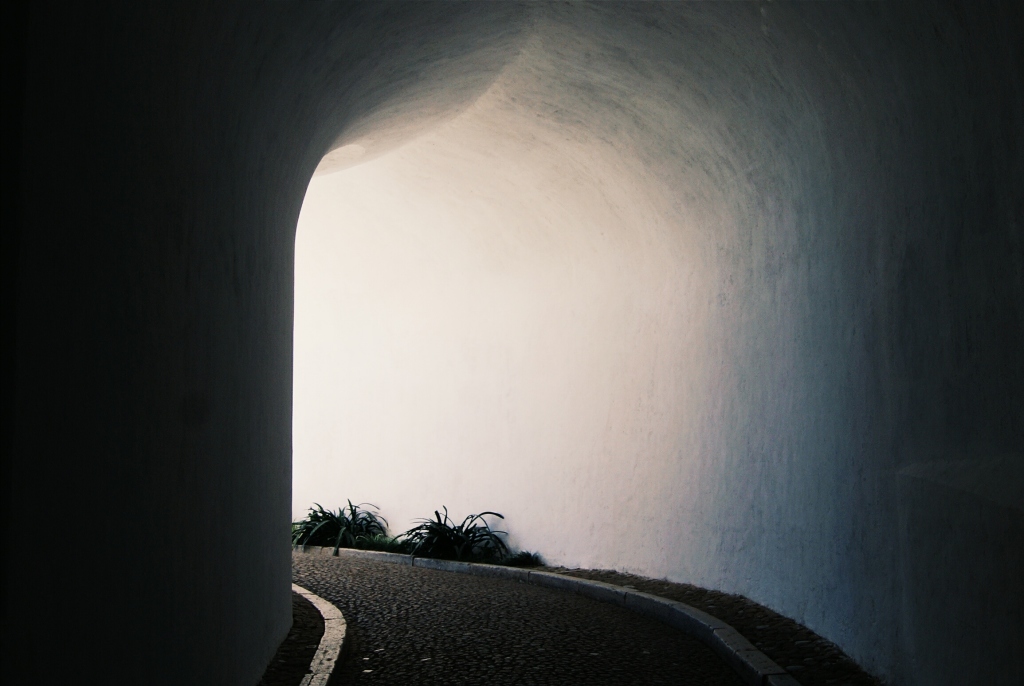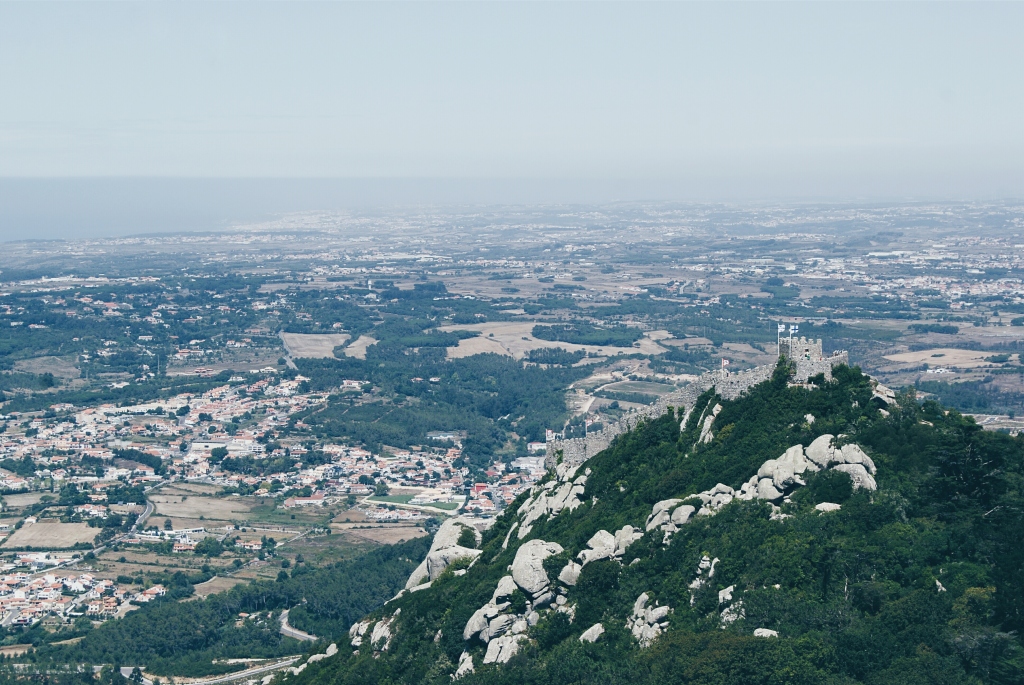 Keep your eyes peeled for the next road trip instalment. For convenient updates, check out my Facebook page or get notifications right to your inbox (plus other exclusive good stuff!) by subscribing.
3 responses to "Driving Through Iberia: Sagres to Sintra"