Where to stay in Guimarães: luxury and design at Casa do Juncal
April 13th 2017
With roots dating back to the 12th century, Guimarães is known for being the birthplace of Portugal, but no hotel in this historical town could be further from medieval than Casa do Juncal. With just six modern and effortlessly stylish rooms, located in a traditional property within Guimarães' UNESCO-certified old town, this hotel radiates exclusivity from the moment you walk in. And once you curl up in your king size bed with pure cotton sheets after a long day of exploring, you feel even more wrapped up in luxury.
I'm greeted by the hotel's host, Mário Gomes, on arrival. As we go through the check-in process he offers me a glass of wine or port, a proposal he extends to all his guests to help them relax and settle in. Guimarães is an hour or so drive from Portugal's Douro region, enabling Mário's drink selection to be stocked with signature tipples from the local area. I decide to stick to water after my long journey, but eye up the bar for later – run on an honesty basis, I could help myself at any time.
Mário takes me up to Suite J, a two-level room with living area and bathroom on the lower floor, and sleeping quarters on the mezzanine upstairs. The late afternoon light pours in through the two sets of double doors on the other side of the room, throwing light over the sofa and copper table. I step towards the windows and look down on Juncal Square, also alive with sunshine. The rays reflect brightly off the blue and white tiles that cover the building opposite.
I turn around and my attention is caught by the emerald green bathroom. This explosion of colour against the minimal white walls across the rest of my suite shows the keen eye for design found throughout Casa do Juncal. The hotel undeniably champions a clean, Scandi-style make-up, but with a touch of classic southern European soul.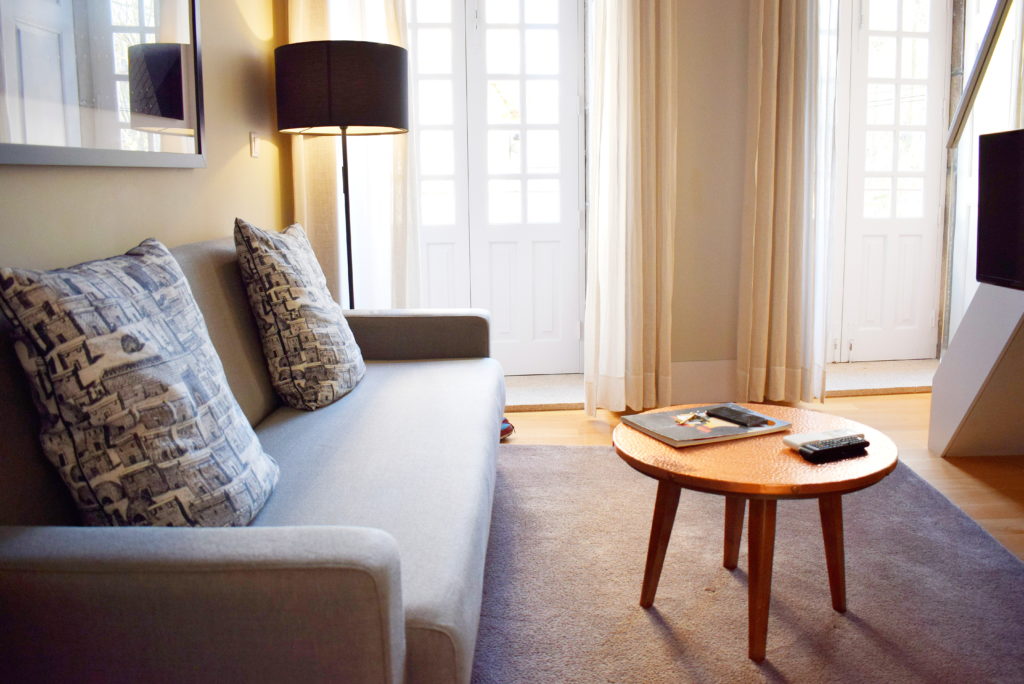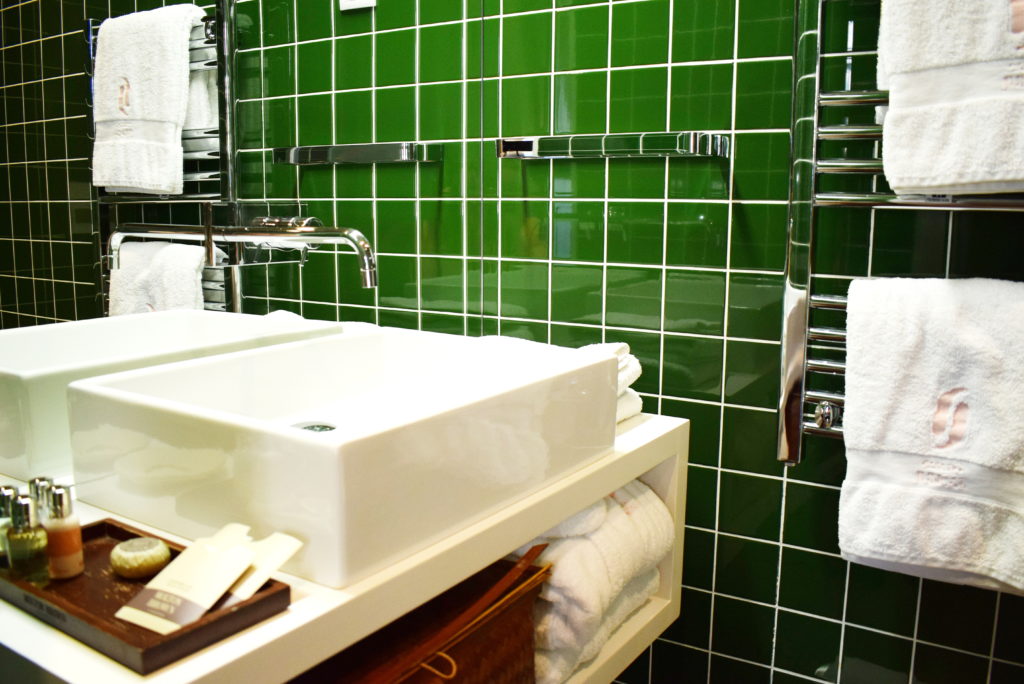 After a good half hour under the waterfall shower, my stomach is rumbling. Downstairs I find Mário again, and he gives me tips on where to eat across the city. Guimarães is small, but there are plenty of restaurants here and all of them are walkable from Casa do Juncal. Mario makes eight or so crosses over the map, pointing out both typical Portuguese fare or more unusual restaurants for me to try. I step out into the cool, dark night with his recommendations in-hand.
// Related: Day trips from Porto – visit Guimarães, birthplace of Portugal
Lanterns illuminate the old town's quiet streets, revealing the dark stone buildings and making Guimarães feel like a Harry Potter film set. Craving an evening of picking through small plates, I head towards Tapas e Manias, a small restaurant in Praça de São Tiago where only two other people are dining. I feast on crispy chicken strips and black pork, olives, bread, crumbly cheese and to finish a torta de Guimarães, a typical pastry from the region, served here with ice cream. The house wine is a hearty red from the Douro, poured generously, and I drink to Mário's excellent tip-off.
Back at the hotel I find sanctuary, a peaceful place to lay my head. Drifting off, I note how quiet it is outside. I don't stir until I hear the distant peal of church bells the next morning.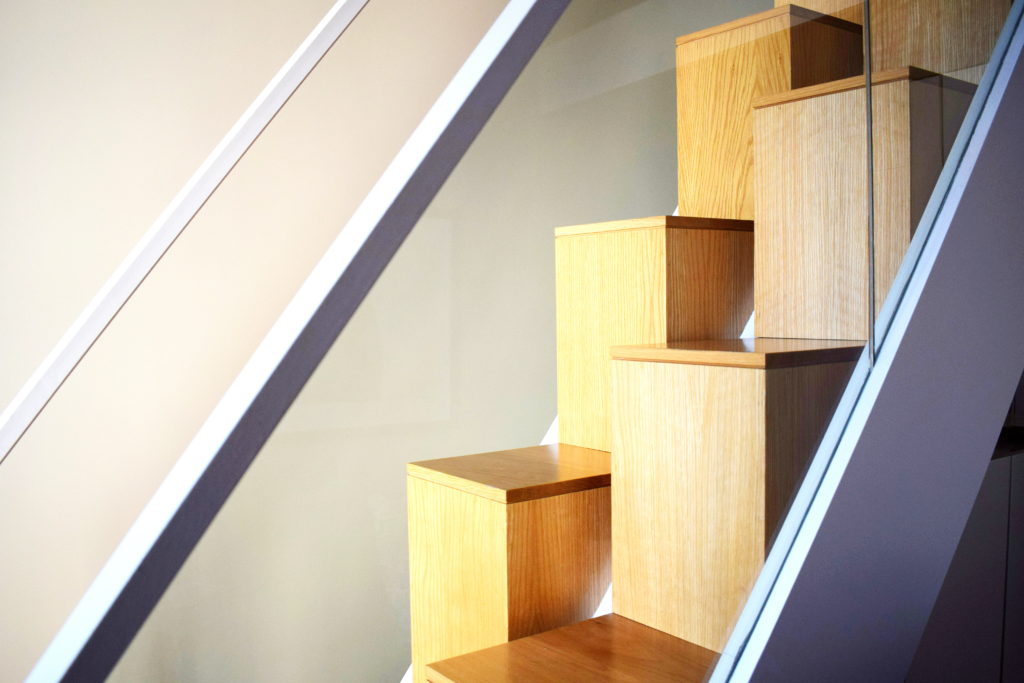 The staircase in my room – confusing at first but you get used to it quickly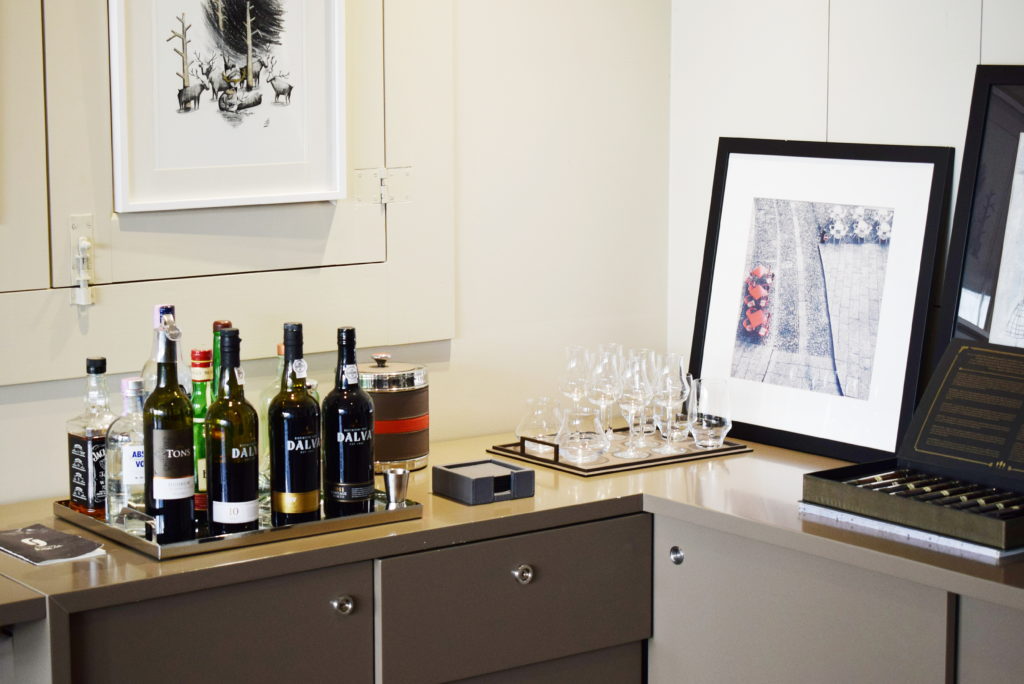 I come down to a meticulously laid table right in front of the glass doors overlooking the hotel's garden. Cats lollop around on the walls and drape themselves over the outside furniture, catching patches of the morning sun as it works its way across the lawn. Breakfast at Casa do Juncal is ordered by choosing from a list presented to you the previous day. It takes will power on my first encounter with the breakfast menu not to check every box.
While I in fact didn't fill the breakfast menu, I certainly realise I'd checked enough boxes once the dishes start to come out. Plates of eggs and bacon, sausages and mushrooms, fruit, bread, and a jug of fresh orange juice fill my table, all prepared minutes before the breakfast chef in the kitchen next door. She comes over with a coffee jug and pours me a fresh brew; the smell alone wakes me up and after a few reviving sips I dive in to my indulgent meal.
Before long, the mushrooms are gone, the sausages are gone, the eggs, bacon, and half the fruit too. In a vain attempt to stop the top button on my trousers going as well, I reluctantly throw in the towel. Despite feeling fit to burst, I vow to do it all again the following morning, and I do, subbing the cooked elements for pancakes and maple syrup this time. You'll never regret a hearty Casa do Juncal breakfast, that I can promise you.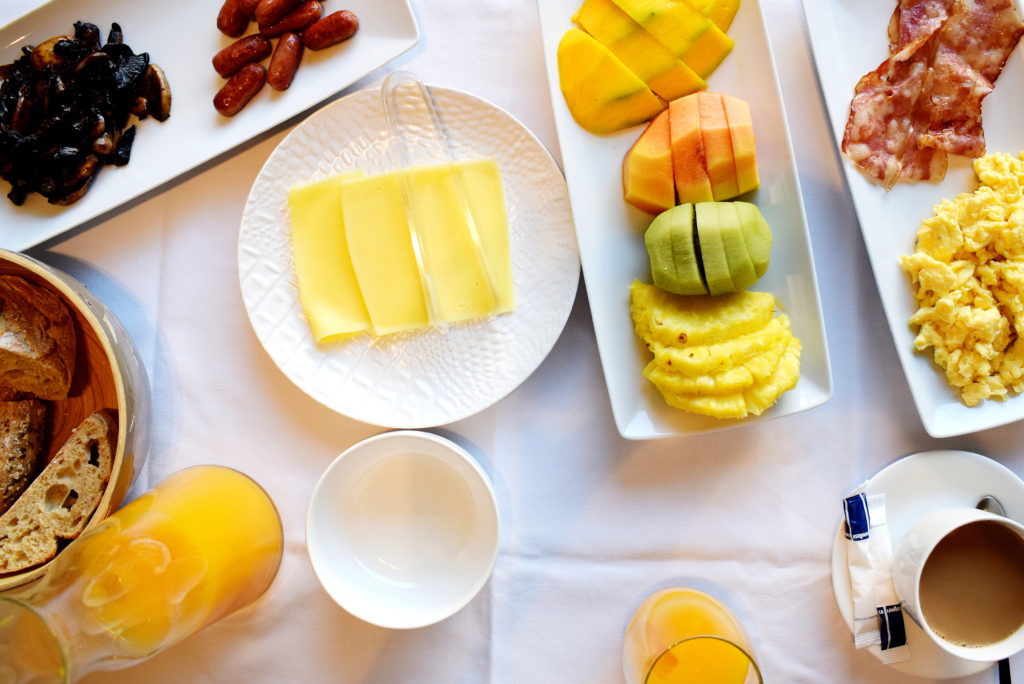 Perfectly located, with well thought out design and welcoming, knowledgeable, and generous hosts, Casa do Juncal is without doubt one of the best place to stay in Guimarães. The beauty and style of this hotel complements the surroundings perfectly, bringing that ideal balance of old meets new to your adventures in this century-old city. The attention to detail alone is fit for a king, but the remarkable hospitality of its hosts puts Casa do Juncal a cut above the rest.
Would you stay at Casa do Juncal?
Do you have other tips for where to stay in Guimarães?