Warsaw's Pop-Up River Bars
By the time I was ducking my head to walk under unfinished bridges, dodging rubble in construction sites, and watching my flip-flopped feet sink into the piles of grey dust by the side of a main road, I was beyond confused. I shouted ahead to our leader, 'WHERE ARE YOU TAKING US?' She turned her head, waved her hand in the vague direction of right ahead, and said 'It's not so far', before diving back into the conversation with her neighbour I had interrupted.
Stefania, my AirBnB host, was a Warsaw expert, so although I had my doubts as to when this bar she was taking us to would actually appear, I did trust her. The two Hungarian girls who made up the rest of our group seemed to willfully follow her without question, so eventually I had to do the same. I couldn't figure out how a bar could be anywhere near where we were, trudging along the pavementless side of a four-lane main road running through a deserted part of Warsaw. At least I thought it was deserted.
As we came through to a clearing, I started to hear the music, and saw groups of people from other directions strolling the same way as us. As the river came into view, I looked down the bank and saw locals atop painted pallets on wheels, which were grouped into chairs and tables . Behind these sat a bar, and another to the left, with a make-shift terrace above it. Now that walk through a seemingly unhappening part of Warsaw all seemed worth it.
Warsaw's Coolest Best-Kept Secret
We were at Warsaw's Bulwar (which means 'boulevard' in English and is pronounced 'bul-var'), the casual name given to the collection of pop-up bars you'll find in this part of Warsaw during the summer months. The spot I just described is Cud Nad Wisla, the first in a line of multiple bars that stretch along the banks of the River Vistula. Further along we walked through some fake sand beaches set up for volleyball, and found more hang-outs, this time with wooden decking and the chairs to match. Some were colourful, others went for a sleek black-and-wood look, and all were filled with locals. Here, there are no tourists in sight – just the coolest kids in Warsaw kicking back and looking for a good time.
Stefania explained to me that Bulvar has only been running for the last couple of summers. The city had the same kind of project running about 10 years ago, but there was too much crime so it was swiftly shut down. Now, Bulvar resurrected feels very safe, and the area is well regulated by police when needed.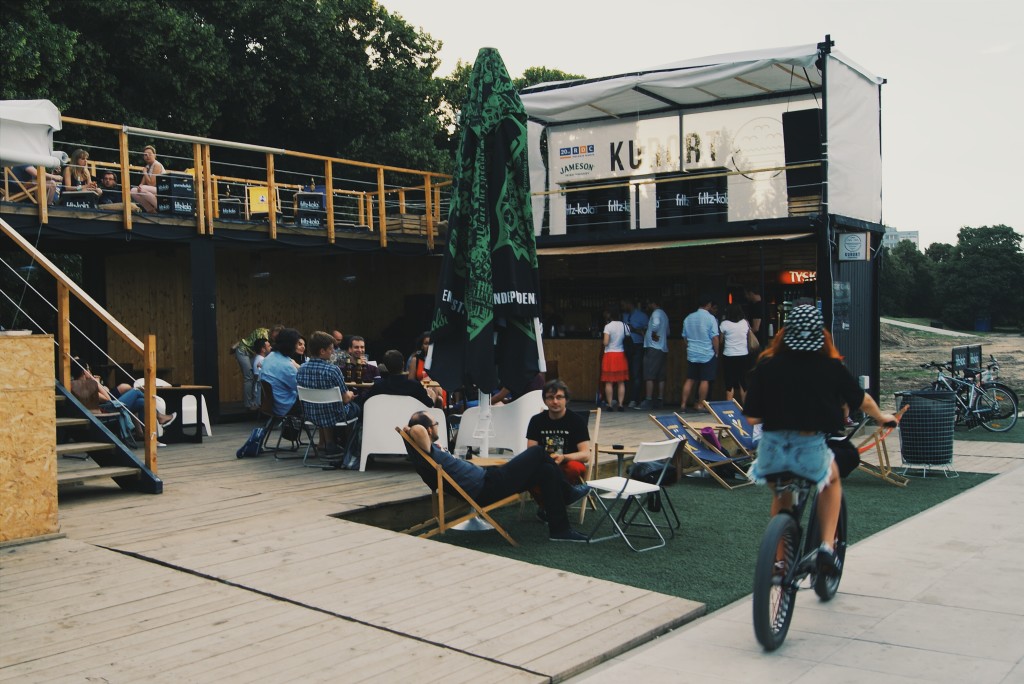 Bulwar is a place where locals come to relax and enjoy a change of scenery. The drinks are a little pricey for Warsaw, but affordable. Food is served in some of the bars, but there is also one or two food trucks parked up, a trend that is becoming increasingly popular in Warsaw. That's as complicated as this set-up gets; such is the beauty of the pop-up.
From Bulwar, you can also see areas of beaches (real this time) over the river where even more locals hang out, making fires in the sand and drinking store-bought beers, with that National Stadium towering behind. When I met another local in Warsaw, she mentioned that these beaches are her favourite evening spot in the city, which seemed to be the case for a lot of Warsaw locals. For a city that doesn't have much of a reputation for being cutting edge, this part of Warsaw certainly says otherwise.
How to Get to Bulwar
We had walked to Bulwar from my host's house, but you should be able to reach it by public transport along that main road. You'll find the bars on the west back of the Vistula, north of most Lazienkowski bridge, south of most Poniatowskiego bridge. If you ask the staff at you hotel where to find the bars by the river, they'll be able to show you the way.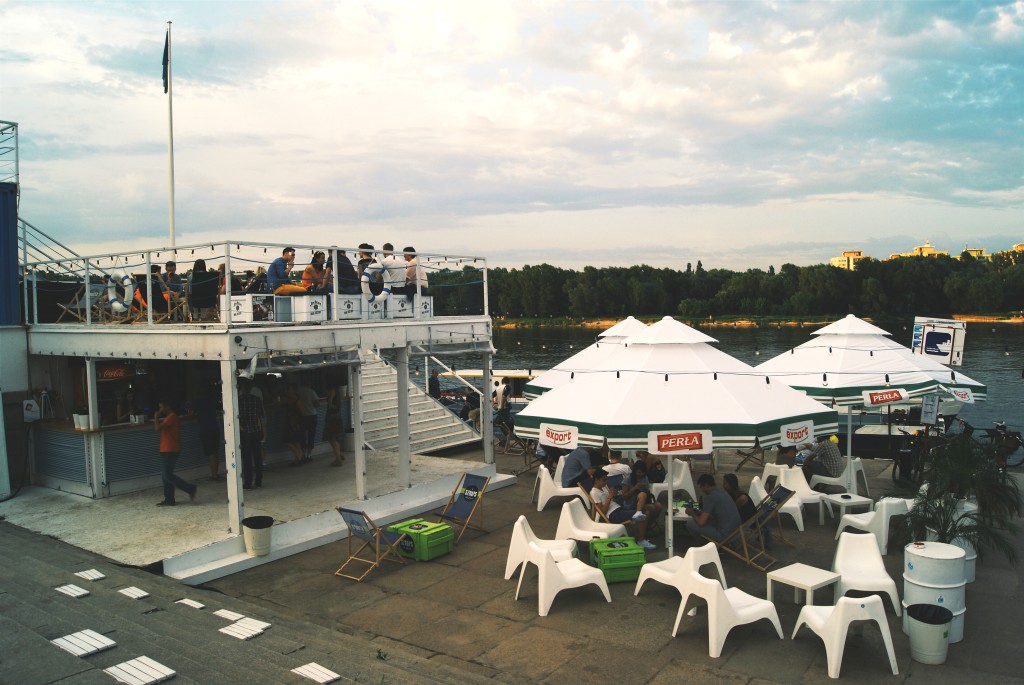 Have you been anywhere like this before on your travels?
Would you like to visit Bulwar?
8 responses to "Warsaw's Pop-Up River Bars"