Travel Guide: 14 Best UK Beach Breaks
Oh we do like to be beside the seaside, us Brits. We've been flocking to the coast for our holidays for over 100 years, and while the old tradition of seaside vacations is floundering, that's certainly not because the scenery is any less beautiful. The cliffs still soar, the ocean still churns, and the ice cream tastes as delicious as ever.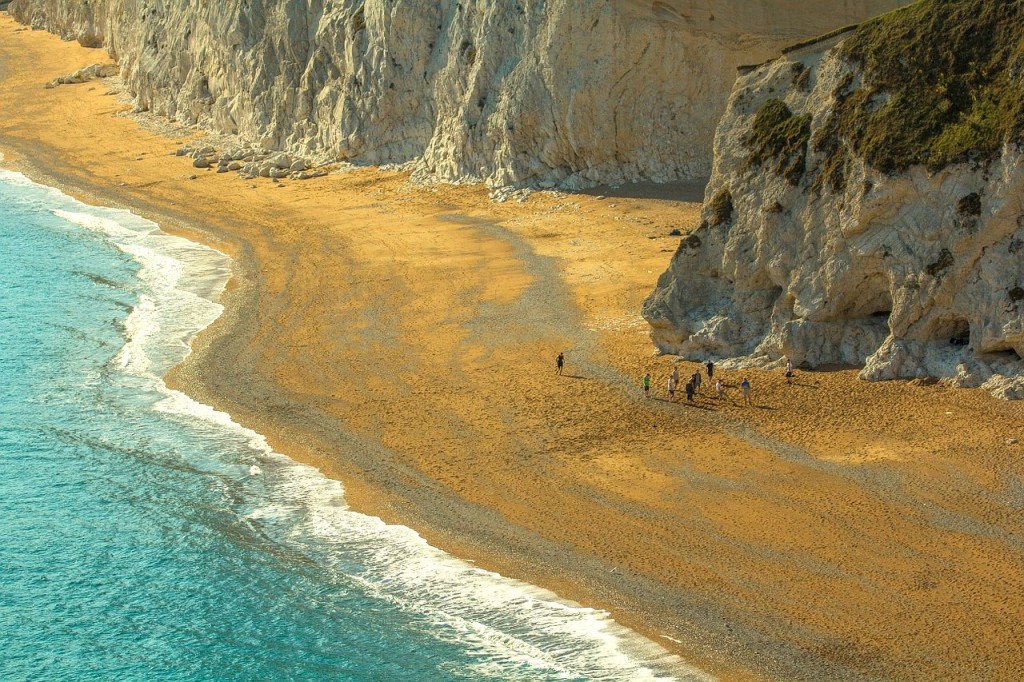 These best UK beach breaks offer some inspiration for your next shore-side trip. Some are old favourites, others are rising stars, and one or two are so remote they can only be reached by ferry or foot.
How many have you ticked off your list?
1. Suffolk
Home to rows of multi-coloured beach huts and one of the most innovative pier restoration projects in the UK, Southwold in Suffolk feels like a quintessential British seaside escape. Here you can play wacky arcade games, stroll along the boardwalk with candy floss in-hand, and lay back on the spotless sands. Despite its flawless beauty, very few people visit Southwold (or Suffolk, for that matter) so even in the height of summer the beach isn't overwhelmingly heaving.
One of the most popular things to do in Southwold is to take a walk over to the neighbouring village of Walberswick. This route takes you through Southwold Harbour (cross the river either by walking down to the bridge, or hop in a row boat with a local) and into fields. Stop off for a pint at The Anchor in Walberswick before ambling back.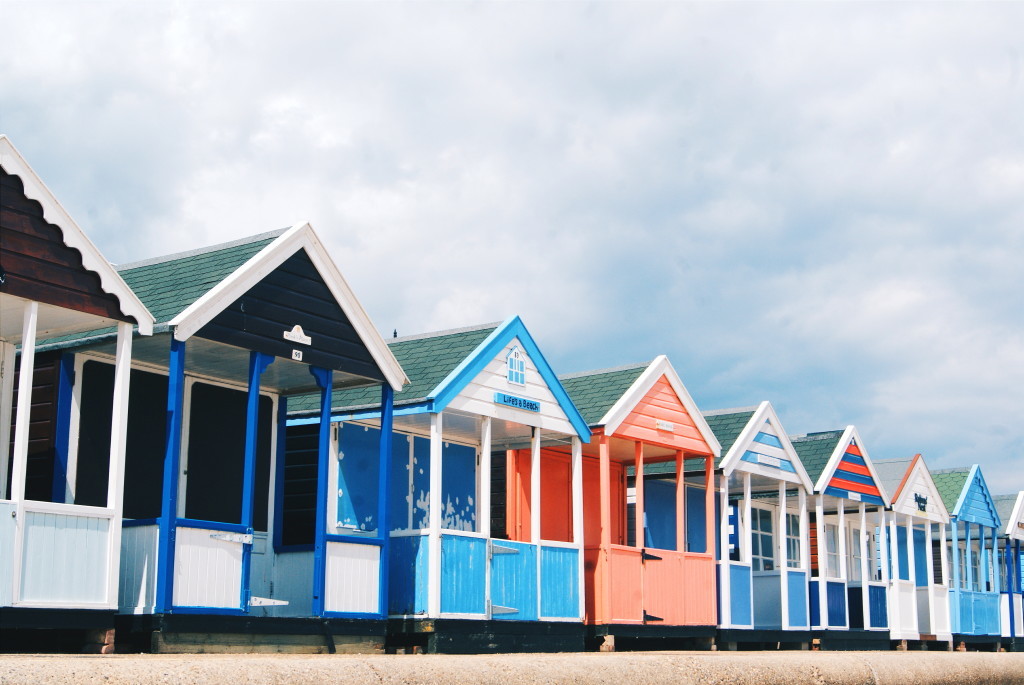 Southwold, Suffolk
2. Sandwood Bay
If you can brave the cold, or fancy yourself lucky enough to be in the far Highlands on a sunny day, there are few better beaches to visit than Sandwood Bay. This spot is frequently praised for being one of the most impressive beaches in Britain, and as it's so far out the way (only reachable via a four-mile path from a nearby hamlet) you'll see nothing like the tourist-crammed shores of down south.
While you're up in this area, also don't miss the beaches near Tongue, in particular Skinnet Beach. Here the sands shine white and you can look out to rolling hills in the distance.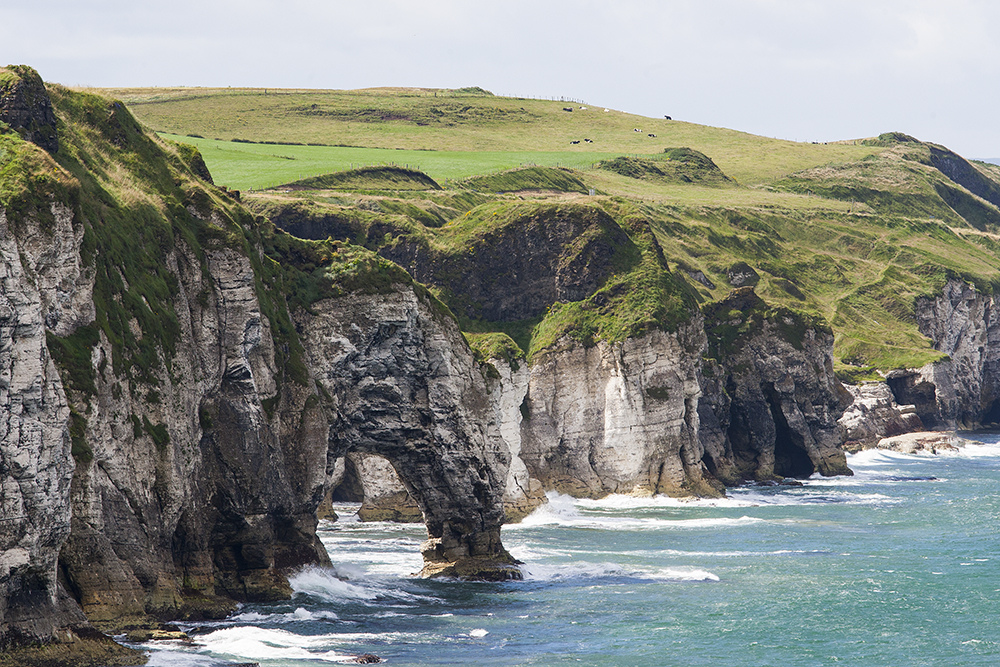 Dunluce Sea Arch, Co. Antrim. Photo by Greg Clarke
3. Antrim
With vast stretches of dramatic cliff and rock formations, Northern Ireland's Antrim is home to some of the most arresting scenery in Britain. We can personally vouch for its beauty – we've walked part of the Causeway Coast Way ourselves.
Venture to White Park Bay to enjoy three miles of unspoilt sands, or Whiterocks Beach near Portrush to gawp up at the limestone cliffs that have been carved by the Atlantic. It's worth taking a stroll along both these coastlines, as there are concealed arches and hideaways all along the shores.
4. Anglesey
Wales' largest island is home to stunning beaches all around its circumference, making it one of the best places in Wales for a beach break. Many visitors flock northwards, to the likes of Lligwy Beach and Cemaes Bay, or to the southeast to romantic Llanddwyn Island (which our own Kate and Will have been known to visit).
Here at GKM we're rather enamoured with the southwest, in particular the patches of coast near Rhoscolyn and Rhosneigr. Head to Borth Wen Beach on Holyhead near Rhoscolyn and explore the soft sands and rock pools. Go further south to beaches Traeth Crigyll and Traeth Llydan at Rhosneigr, and try your hand at some watersports.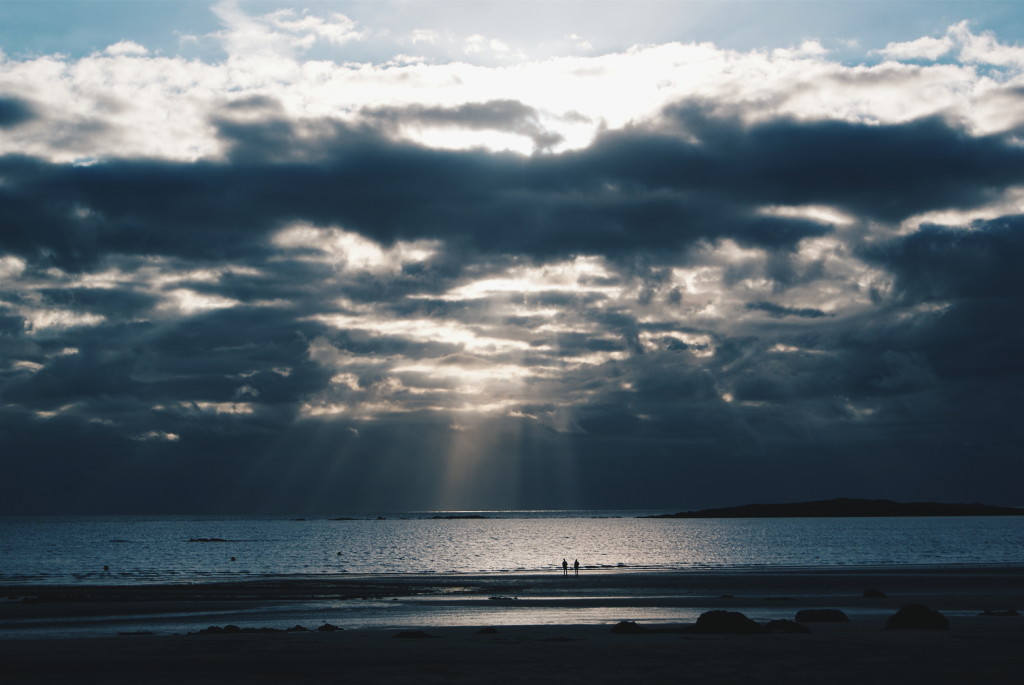 South Anglesey
5. North Norfolk
The North Norfolk Coast is dotted with dozens of beautiful beaches to linger on, but one of the most unique is the stretch of sand near Burnham Overy Staithe. This tiny village is set back from the coastline, but a path runs for about a mile from its main street out over the marshes and towards the shore. Keep your eyes peeled as you wander along here – a wealth of birdlife and flora can be spotted in the undergrowth. If you're here at dusk you might even catch sight of a starling murmuration.
Just before it reaches the ocean, the trail runs over giant dunes. Only once standing on top of these can you see the massive flats of sands that lay beyond – a striking reveal for one of the best beaches in Norfolk.
6. Dorset
Adored by British people across generations, Dorset is among the best UK beach breaks hall of fame. Large parts of this region's shores are known as the Jurassic Coast, a World Heritage Site that was inaugurated onto the list in 2001 due to its geological formations that show 185 million years of the earth's history.
There are beaches abound in Dorset. Lulworth Cove is an old favourite, as is nearby Durdle Door, which is characterised by a rocky archway that protrudes out to sea. Also don't miss the shingle stretches of Chesil Beach, which run for 17 miles.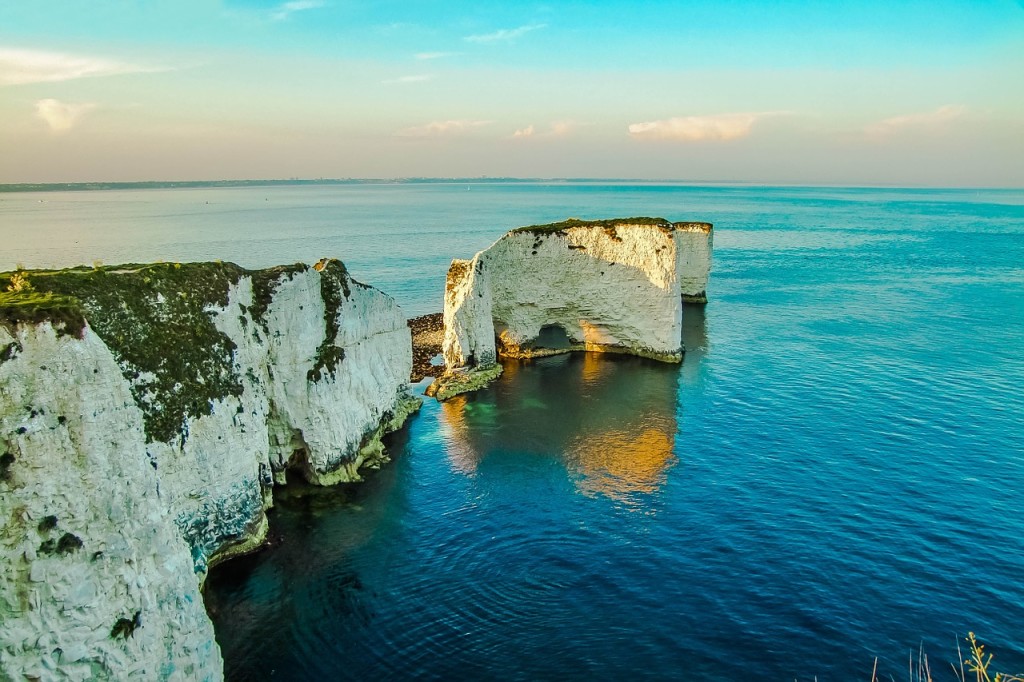 Old Harry Rocks, Dorset
7. Gower Peninsula
A hop, skip, and a jump from the city of Swansea, the Gower Peninsula is an accessible spot for UK beach breaks. This became the UK's first Area of Outstanding Natural Beauty back in 1956, and it's still evident today why this was the region to begin that coveted title.
Beaches like Llangennith – popular for surfing – and Rhossili Bay have won awards for their beauty, making them a good place to start. Walk the path that runs from Rhossili to Mewslade Bay, about two miles, to drink in some of the best views the peninsula has to offer. Stop by Three Cliffs Bay for even more sweeping vistas.
8. Angus
A region so drastically overlooked that many British people don't even know where it is, Angus in Scotland isn't often associated with UK beach breaks. But if peace and quiet is what you're looking for, there are few better places than here to find it.
Deserted beaches run northwards from Dundee and along here you can easily walk between towns by way of the shore. Don't miss Montrose Beach and Lunan Bay, two spots that were once considered the best beaches in Scotland. Stop by Montrose Basin to spot wildfowl (most notably some 80,000 pink-footed geese in winter) and St Cyrus National Nature Reserve slightly further north to stand on inland cliffs and towering dunes.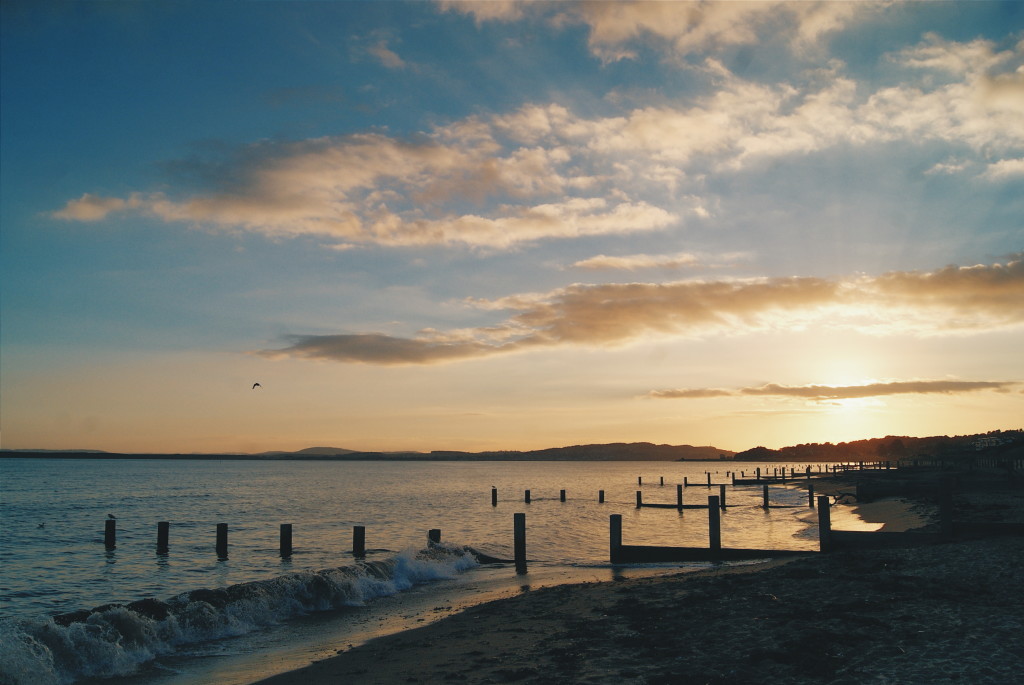 Monifieth Beach, Angus
9. Cornwall
Miles and miles of beaches skirt the coast of Cornwall, an area which has been treasured by holidaying beach bums for decades. Polzeath is one of the largest and most popular, but crowds come as part of the package. Alternatives include the beach next to the fishing town of Looe, the pebbled shores of Marazion Beach, where you can catch views of St Michael's Mound out to sea, Lusty Glaze Beach, or Gwithian Towans Beach. This list could go on forever…
10. Kent
The white cliffs of Dover have become an icon for Britain, inking Kent firmly on the map as one of the country's most recognisable shorelines. The bulbous curve of coast to the very far east of the county – known as the Isle of Thanet although it is no longer an island – plays host to some of the most beloved beaches in the region.
Walk between the chalky white stacks that rise from the sands at Botany Bay, stop by nearby Broadstairs for ice creams, and head to Margate to experience a retro British seaside resort. Although Margate has suffered with decline over the last few decades, the installation of the Turner Contemporary gallery has given the town a breath of fresh air.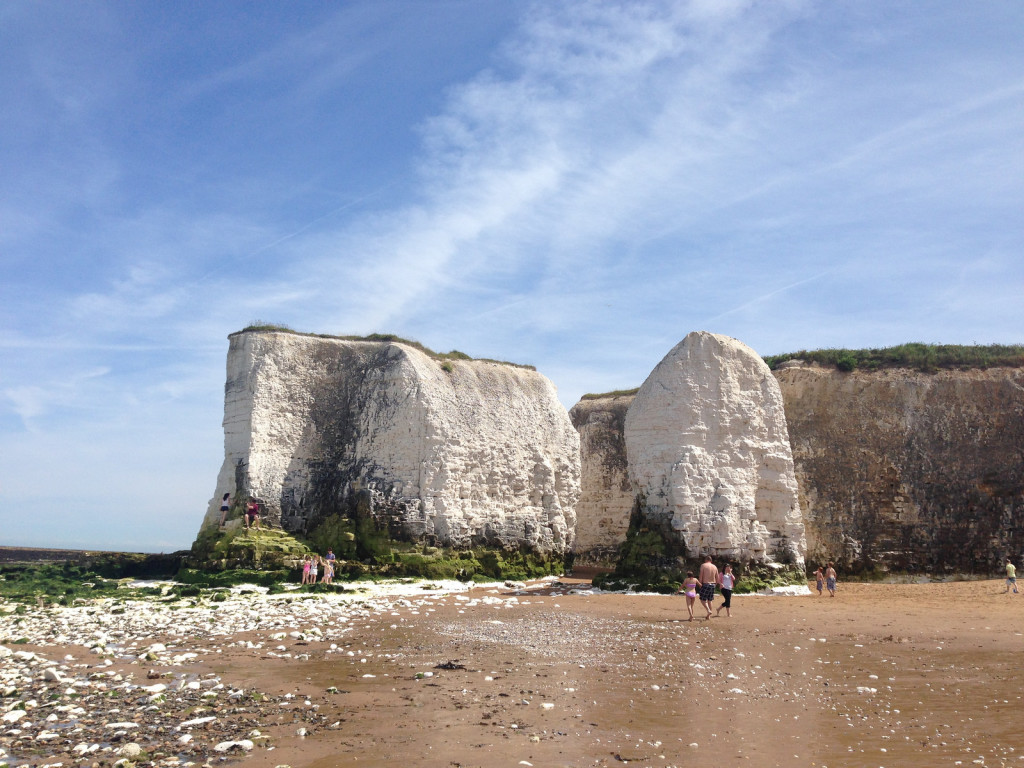 Botany Bay, Kent. Photo by GanMed64
11. County Down
A unique blend of mountain and coastline, County Down is a hidden gem for UK beach breaks. It's not often you hear of people (aside from locals) hopping over to this part of Northern Ireland with their bucket and spade , but the solitude makes for an even better trip.
Head to Murlough National Nature Reserve, one of the county's best coastal areas, to walk among sand dunes that have been here for thousands of years. If you're into wildlife, there are over 600 species of butterflies flitting around and ample opportunity for birdwatching too.
12. Pembrokeshire
Pembrokeshire National Park in Wales loops around the southwest corner of the country, boasting nearly 200 miles of coastline to explore. There are over 50 beaches here, from humongous sand flats to secluded coves, and as the area is a protected they are some of Britain's cleanest.
We've strolled across Pembrokeshire's northern beaches, around Newport Sands and Fishguard Bay, but we often catch ourselves dreaming of spots like Barafundle Bay, which ranks highly as one of the best beaches in the UK. Walk the long-distance Pembrokeshire Coastal Path to stumble on a beach that suits you.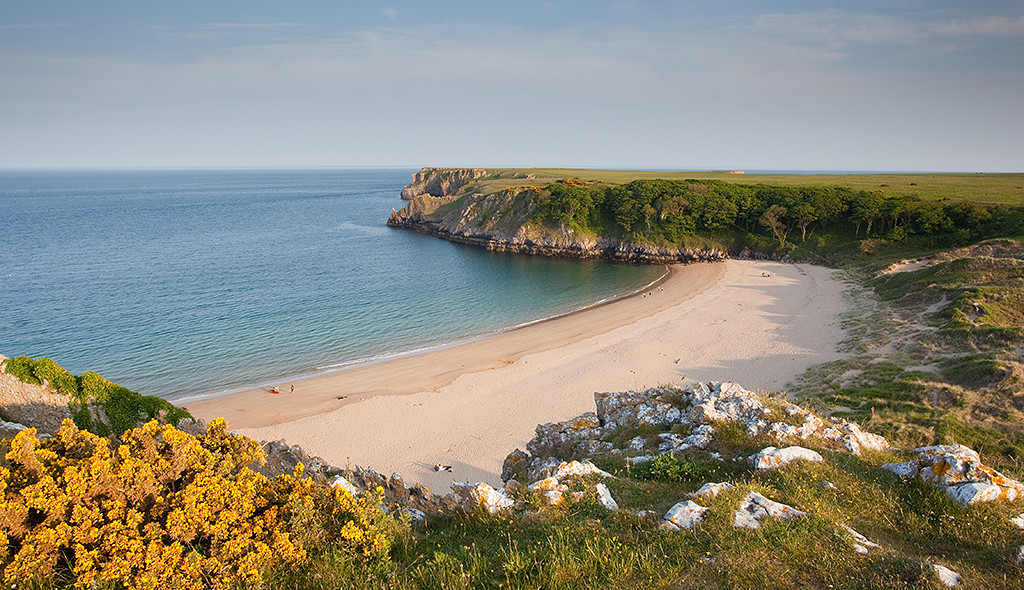 Barafundle Bay, Pembrokeshire. Photo by David Evans
13. Orkney
Although there are beautiful beaches abound in the Hebrides and Shetlands, the patches of sands in Orkney are some of the most breathtaking. These are for the wild at heart; quite a few can only be reached by foot, but the seclusion of Orkney is by far its finest quality.
Hop on and off ferries from island to island to explore the shores. Say hello to seals on Sanday, dig your toes into the white sands of Grobust Beach on Westray, or when the tide is low walk out to The Brough of Birsay, an uninhabited tidal isle off the mainland.
14. North Yorkshire
Home to the coast of North York Moors National Park, North Yorkshire has a lot of bragging rights when it comes to beaches. Robin Hood's Bay and Runswick Bay are among the showstoppers here, both of which are reached by clambering down steep paths, and five-mile Filey is another sure bet for blissful beach days.
There are a number of good surfing and windsurfing spots in North Yorkshire (it's safe to say the North Sea hauls in enough wind…) and in the region you can spot wildlife such as moorland birds and even four species of whales.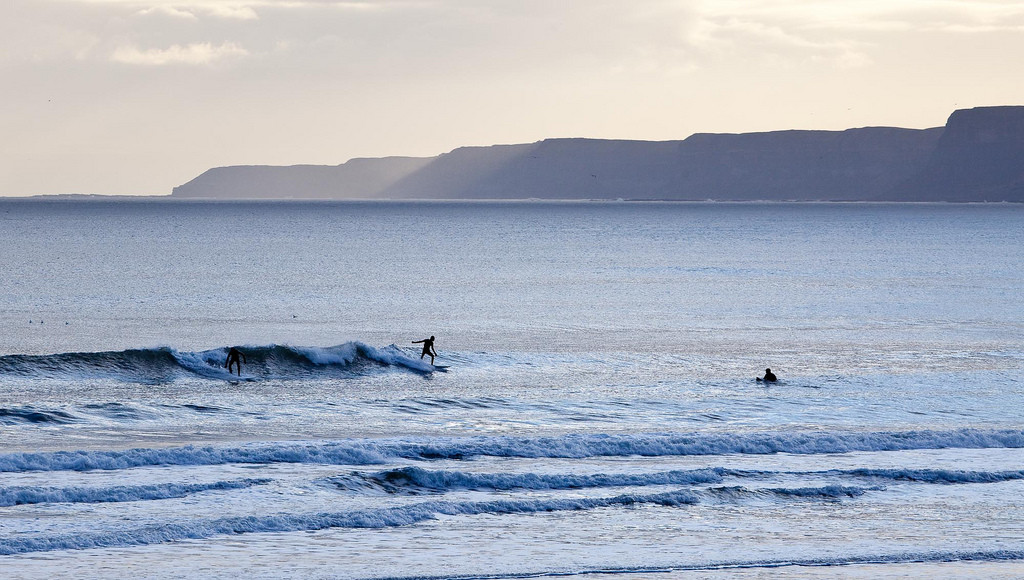 Surfing off the coast of North Yorkshire. Photo by alh1
What would you add to this list of best UK beach breaks?
Which of these would you most like to visit?