Trás-os-Montes: Portugal's forgotten province
Author: Emma Higgins  |  March 20th 2017
The restaurant smells like smoke and meat, a thick scent radiating from the open coal-fired oven in the corner. Dark, chunky wooden tables – the kind that would not look out of place at a medieval inn – line the walls with white table cloths thrown over them. On the other side of the restaurant a group of three middle-aged men sit picking from plates, their animated Portuguese cuts low and deep through the room.
I sit with Anabela, João, and David, three natives from the surrounding region. Over lunch, they tell stories of living in this part of Portugal – Trás-os-Montes, 'behind the mountains', the far northeastern corner of the country. I learn about the food – the long traditions of eating pig and ox – the lasting connection this part of Portugal has with Spain, and the unique winter festivals held in the villages across Trás-os-Montes each year.
As David tells me about his participation in the Festa dos Rapazes (Festival of the Boys), a rite of passage where men dress up in colourful costumes and wreak havoc, he speaks with great pride. Looking dead into my eyes, he describes assembling his costume: "When I put on this mask, I feel like a man."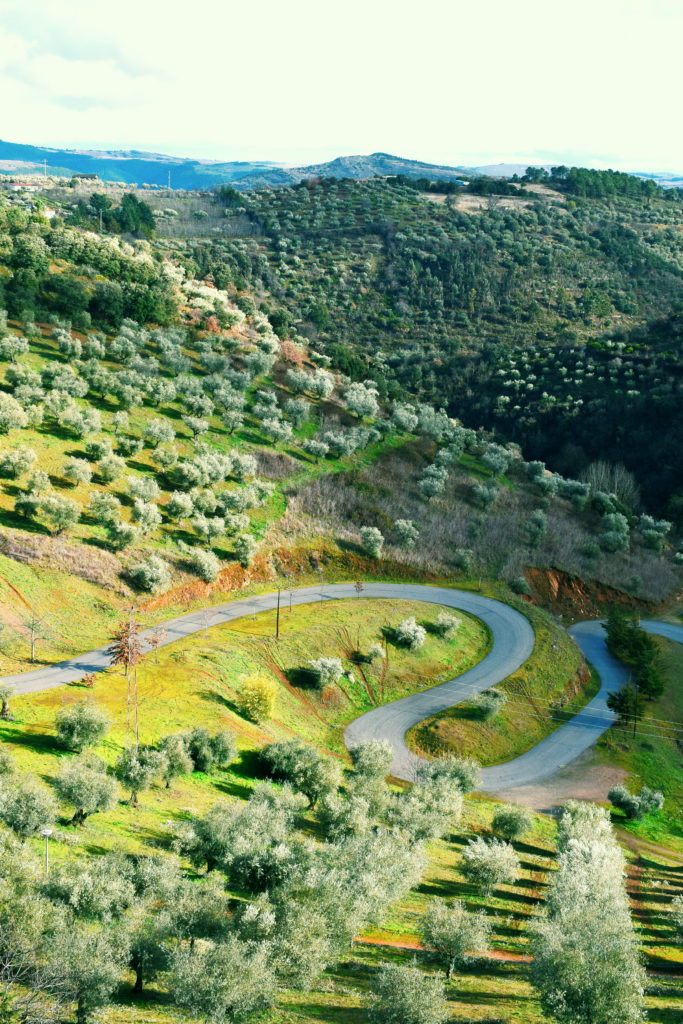 Cut off from the rest of Portugal until as recently as the 1990s, Trás-os-Montes is unlike any other place you'll visit in the country. As the people of this highland, rural province were so isolated from other parts of Portugal – for some time villages were without roads to the larger cities, and others still have no public transport – they adapted their own ways to survive. This brought forth a distinct culture, and a breed of strong, hardy, honourable people.
The region is split into two parts: the northern section is Terra Fria on the border with Spain, which includes the Parque Natural de Montesinho, and the southern is Terra Quente, which sits tight with Portugal's famed Douro region. Bragança is the area's primary city, a small but captivating stronghold centred around a walled old town and castle with roots dating back to the 12th century. A scattering of villages is dispersed around Bragança, but it is specifically the community of Rio do Onor (thirty minutes by car northeast of the city) that brings me here.
Half in Spain and half in Portugal, Rio de Onor's geographical make-up alone is interesting. You might have heard about the rocky relationship these countries have had over the centuries, but here the two live in harmony, and locals barely see the distinction between them. "We identify more with Spain than we do with other parts of Portugal," Anabela tells me.
As I walk around the village with her, she switches fluidly between Portuguese and Spanish as she talks to different people. When we walk over to the Spanish side I barely notice the border, nor would I have had it not been for Anabela pointing out the stone pillar covered in moss to the side of the road. The marker has merged in with the mounds behind it, a token gesture the significance of which has been long forgotten by the locals.
The stone pillar marking the border between Spain and Portugal
Nearly all of the houses in Rio de Onor follow the same format; stables underneath and an apartment above. Fewer people own livestock than before so many of these lower sections have been converted into living spaces, but the traditional stonework on the outside remains the same as it has for centuries.
We stop to chat to Mariano, a proud spokesperson for the village and Portuguese resident who has lived here all his life. He tells us of the days before Rio de Onor was connected to the rest of Trás-os-Montes, and how the village created its own set of rules and customs to live by. Each home was given responsibilities, such as farming their allocated plot of land or keeping the path outside their house clean, and if these were not fulfilled they were given penalties to be paid in litres of wine. While the people of Rio de Onor no longer live in this way, it is an integral part of their past and makes this part of Portugal so special.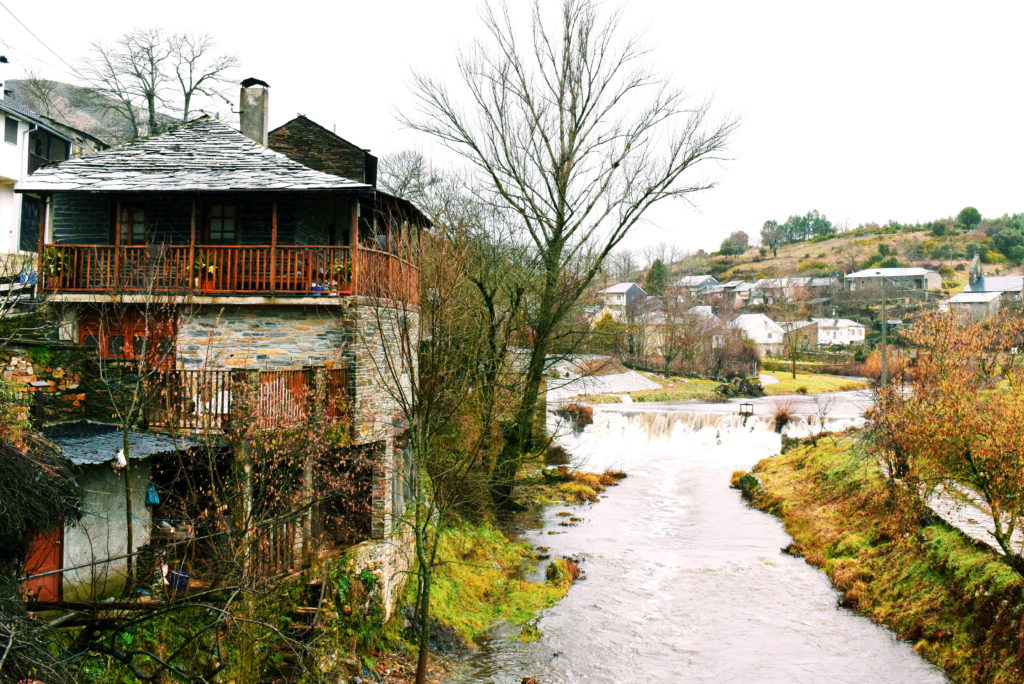 Rio de Onor. Portugal is in the foreground, and the houses in the background are part of Spain
As I've travelled through other parts of the country since visiting Trás-os-Montes, I've realised that people either speak of the region with great affection, or with no regard at all. Many Portuguese, even northerners from the Porto area, have never set foot here. Those that have hold respect and admiration for the people of Trás-os-Montes, for their sense of unity. To survive without support from larger cities, these people had to pull together. By consequence this has formed a powerful bond and a profound love of their land.
These feelings are made clear as I sit talking to David, João, and Anabela. There is a story behind every dish we eat, and I am told these with passion and vigour. They each wax lyrical about their prized village traditions, some of which are completely specific to particular communities. I'm asked again and again when I will return to see more of Trás-os-Montes and learn more about why it's Portugal's best province. The more I hear the more I am convinced that there is a lifetime of adventure here, and that my two days in Trás-os-Montes just aren't enough.
Have you visited Trás-os-Montes?
Does this sound like anywhere else in the world you've been to?
6 responses to "Trás-os-Montes: Portugal's forgotten province"