Portuguese recipe: Wine and garlic pork (Carne de vinha d'alhos)
Author: Emma Higgins  |  June 11th 2017
Pork is a popular meat in Portugal, and there are many ways the people cook and prepare it here. Roasted pork loin, spicy chorizo, sucking pig cooked on a spit – you name it, the Portuguese have tried it.
I came across this wine and garlic pork – otherwise known as carne de vinha d'alhos – when searching online for something different to try in my own kitchen. I've made other pork recipes countless times but wanted to find something typically Portuguese with a unique flavour. Plus, anything that marinates for three days has to be delicious, right?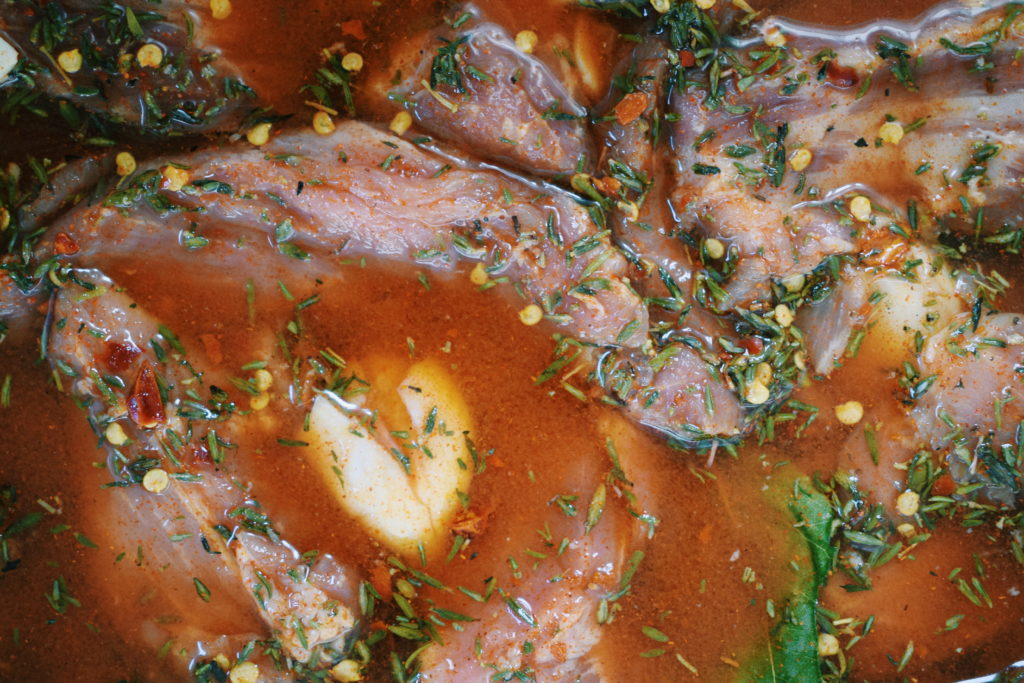 This recipe traditionally comes from Madeira and is prepared around Christmas time. That said, having made this a few times now I don't think it needs to be tied to the festive season – it can be enjoyed any time of the year. As it's quite rich and hearty it might be more satisfying in the winter months, but it's so tasty I know I'll be making it all year round.
Wine and garlic pork is also referred to as 'pickled pork' in English-speaking countries, a nickname that gives you a clue as to what this dish tastes like; tangy from the wine and vinegar it's soaked in, but also slightly spiced and herby at the same time.
// Related: 6 delicious and drool-worthy Portuguese dishes
The Portuguese cook carne de vinha d'alhos in a big pot and serve it with bread or rice, but to add a healthy element and put a modern twist on it, I've created a dish that puts sliced greens, crushed new potatoes, crispy shallots, toasted pine nuts, and a chorizo and sage oil alongside the succulent pork pieces.
It's up to you what kind of pork cut you want to use. I go for a shoulder with the fat trimmed off, but I've also seen recipes with pork leg or loins. As it's marinated for so long, I feel you don't have to overthink the cut of meat too much – the flavour is powerful regardless. You could even adapt this recipe with pork chops, if you wanted to.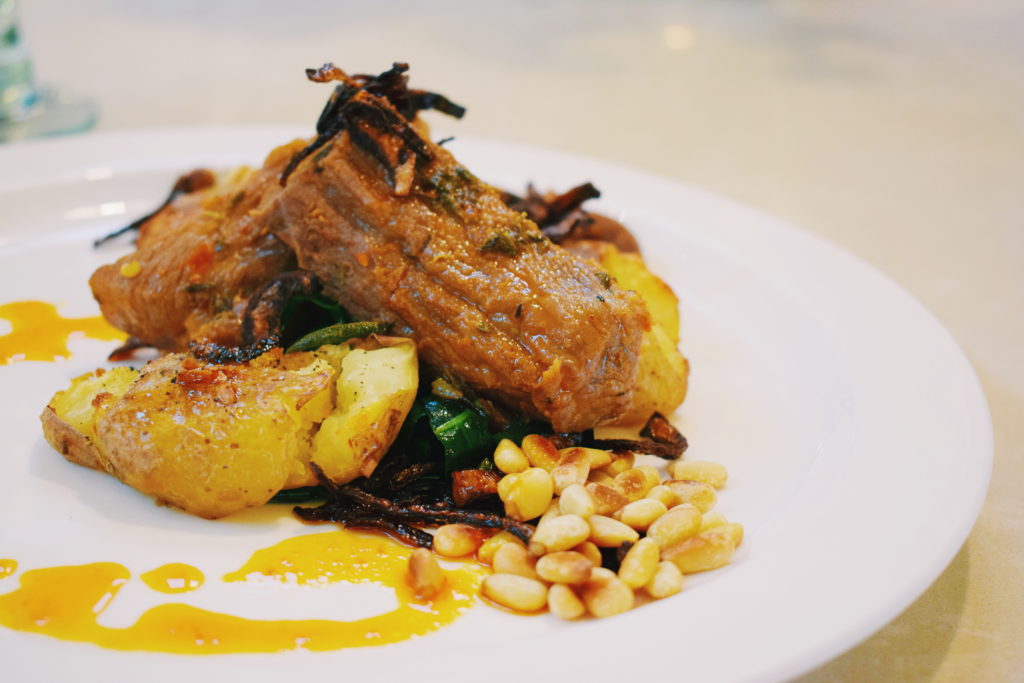 Once you get the hang of this recipe it's a simple one to reproduce for dinner parties and larger groups of people. The pork packs a serious punch of flavour with minimal effort from the cook's point of view, and all the sides are easy to put together too. Enjoy with a glass of Douro red wine.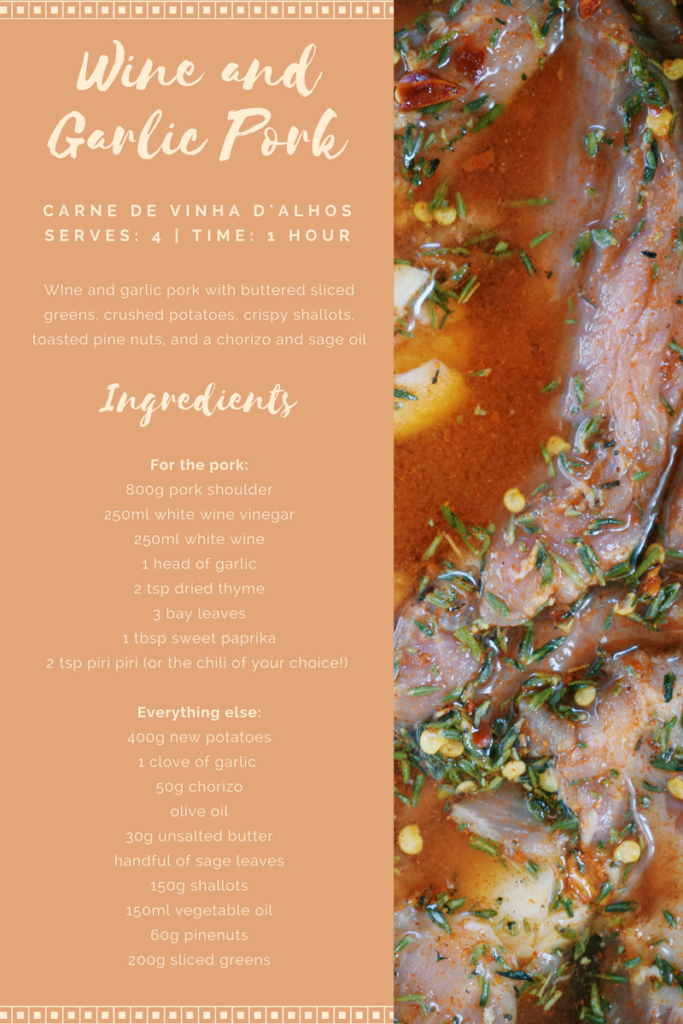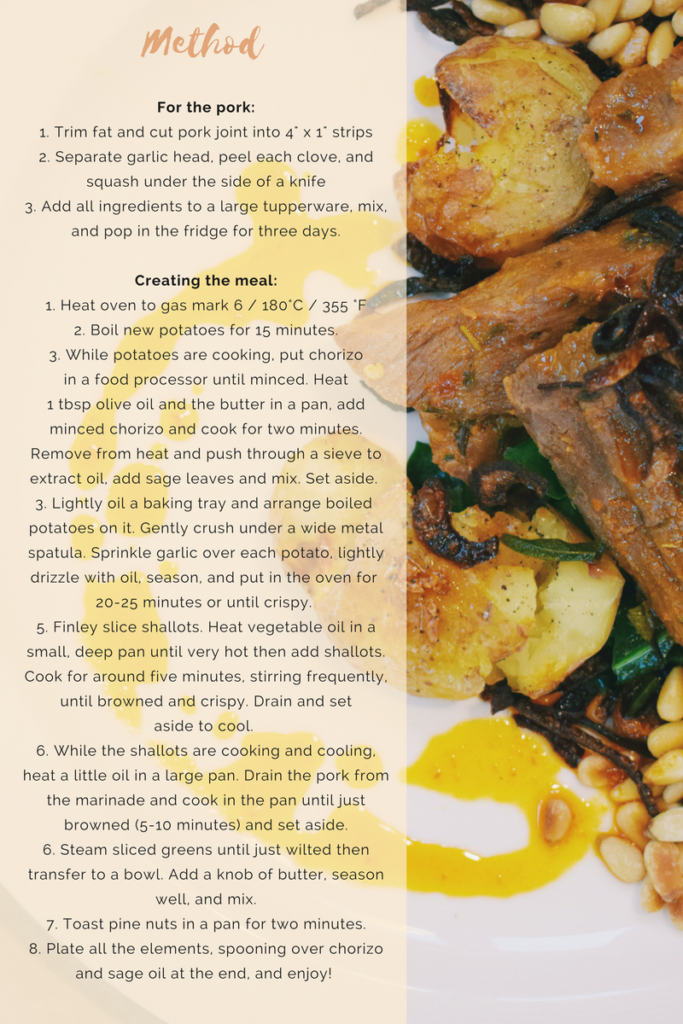 Would you try this wine and garlic Portuguese pork?