Portugal itinerary: a weekend in Évora in the Alentejo
November 16th 2016
Located 85 miles east of Lisbon, in the heart of Portugal's rustic Alentejo region, Évora is a one-of-a-kind city. They call it the 'Museum City', because a historical landmark is around every corner. Roman remains are scattered across the walled city centre, some of the most well-preserved in Portugal, and in the Middle Ages this was the meeting place for Portugal's kings. Taking a stroll here transports you on a journey through Portugal over the last 2,000 years.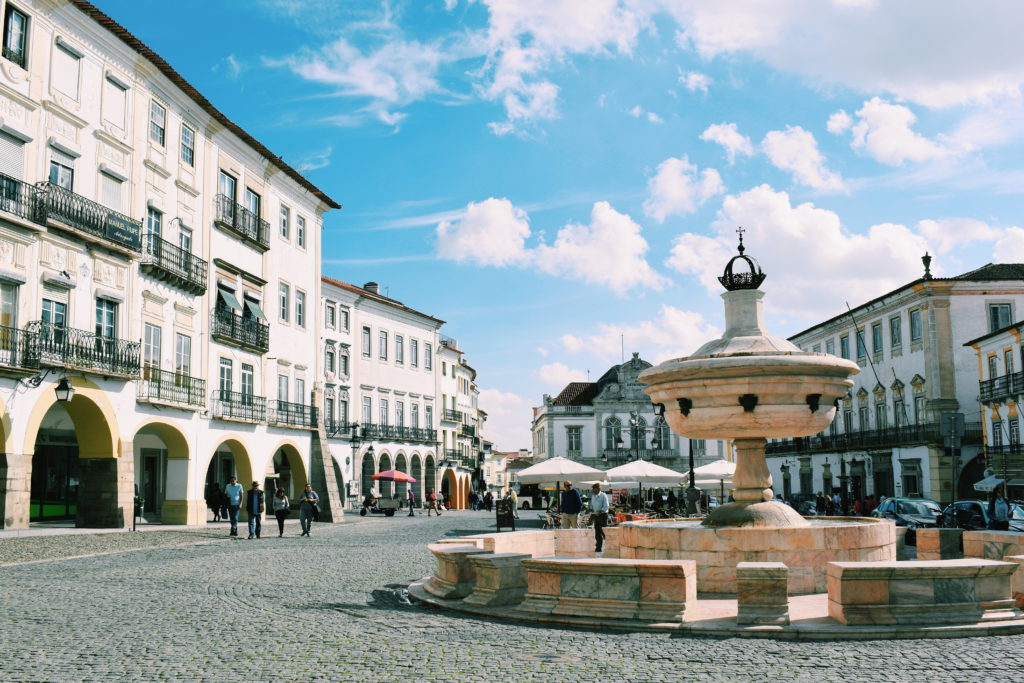 If you don't believe us, you can ask UNESCO. Évora's city centre was named a World Heritage Site in 1986 because of its unique make-up. If you've ever wandered through as particularly European-looking part of Brazil, chances are that was influenced by the architecture of Évora. There is no place else quite like it in Portugal, and it's a must-visit for anyone in this part of the country.
Évora today is a blend of old and new. While the backdrop is decidedly historical, the city is filled with young people due to its highly-regarded university. As the Alentejo is a hotbed for agriculture and wine production, there's all sorts of delicious food and drink to be sampled here – pork or lamb stews, hearty soups, rich red wines – and lots of quality restaurants putting modern twists on century-old recipes.
The weekend in Évora guide takes you through some of the very best things to do here.
Day 1: Get to know the city centre
Spend your first day in Évora getting your bearings of the historical city centre. A map might make the section inside the city walls look large, but in reality it takes merely a few minutes to walk from one end to the other. With that in mind, explore at a leisurely pace as you have plenty of time to see everything.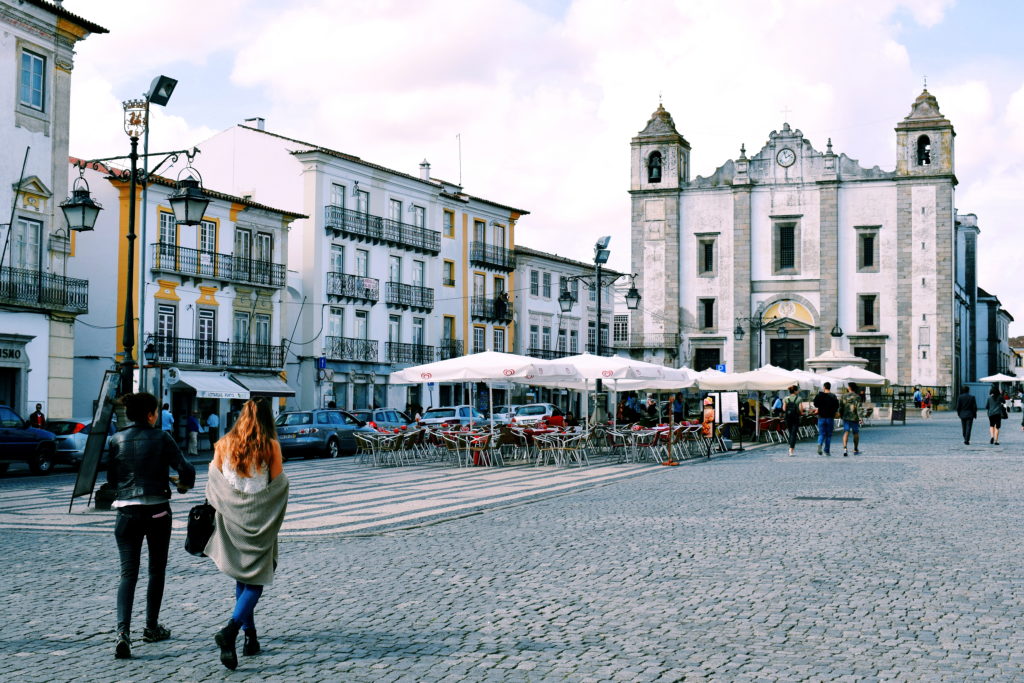 Start in Praça do Giraldo, the old town's main square and epicentre. In summer, café chairs are laid out across the square, making it a pleasant place to sit and have a coffee or glass of wine while you watch Évora life go on around you. This square is thought to be well preserved, looking similar to the way it did back at its inception in the 15th century. Take note of the arches that line the praça (great for photography), the baroque fountain, and Santo Antão Church, which stands tall and proud over one end of the square.
Make your way northeast, towards Évora's Roman Temple. This monument played a pivotal role in Évora's inauguration into the UNESCO World Heritage list because it's one of the best preserved roman ruins in this part of Europe. Wander around the temple, which was built is the 1st century AD, and gaze up at its pillars. Imagine the activity that has gone on around here for the last two thousand years. The Jardim Diana, immediately next to the temple, makes for a good place to sit down and admire the ruins.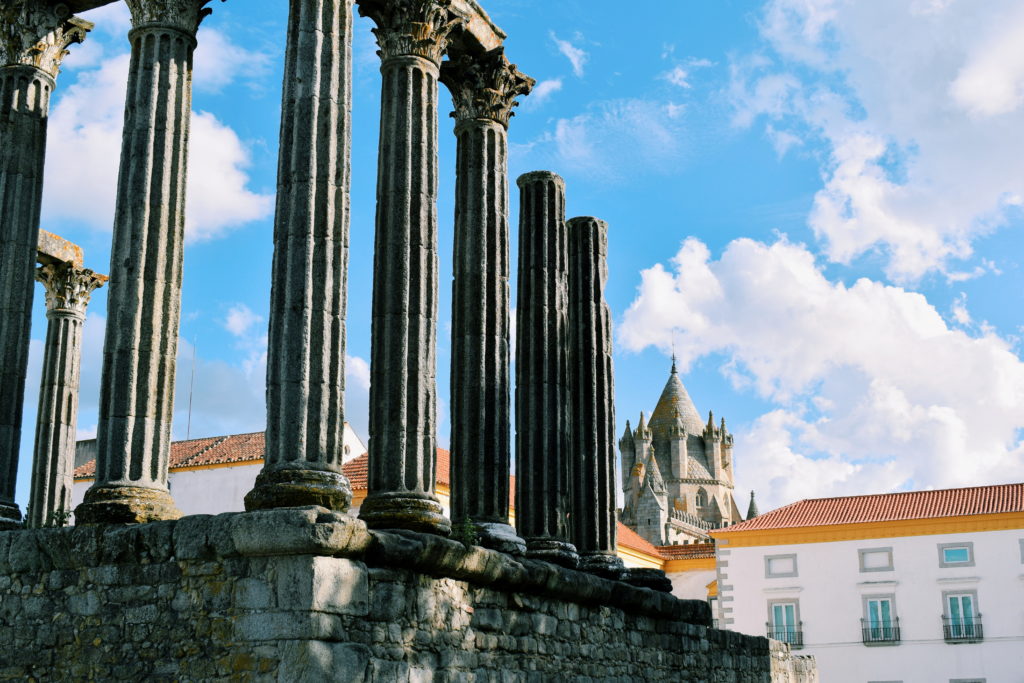 Head towards the Paço de São Miguel, one of the most beautiful parts of Évora. Once a palace during the Middle Ages, this gorgeous set of buildings is now coated in white paint, which makes for a dazzling sight up against a deep blue Alentejo sky. This is a place of calm, where you might pass only a handful of people. On the very edge of the palace you can find beautiful views over the Évora University rooftops and to the sprawling countryside beyond. Don't miss a stop-off at Cafetaria Páteo de São Miguel, the palace's modern café with more jaw-dropping views. Have lunch on the patio here, or just a coffee and pastel de nata.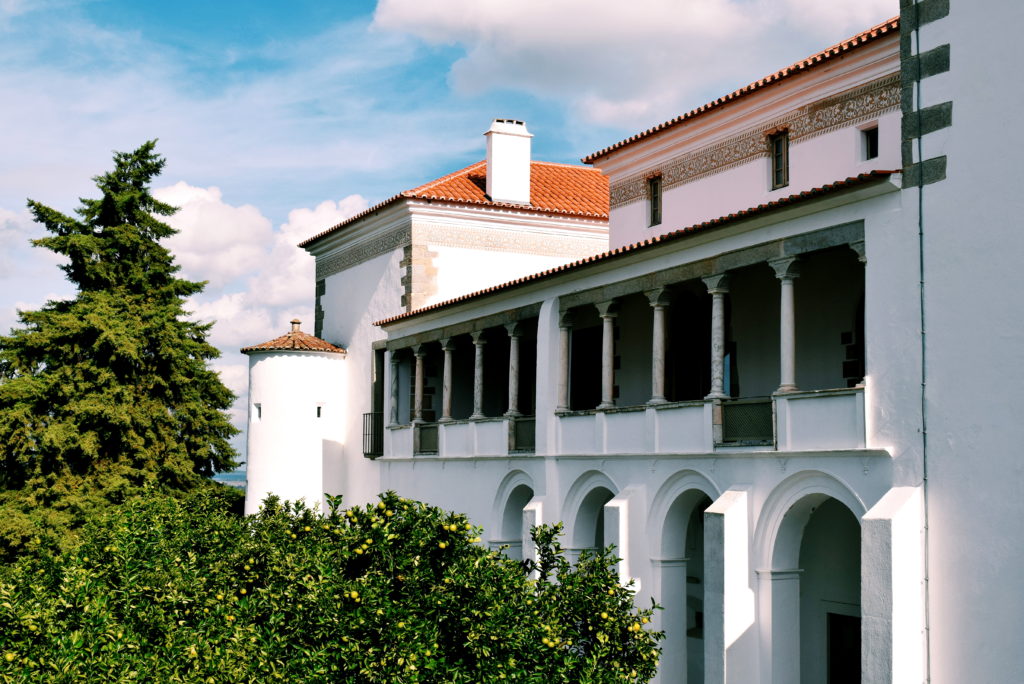 Take a stroll to the other side of the walled city. One of Évora's most famous attractions is the Capela dos Ossos – Chapel of Bones. With walls covered in skulls and femurs, this eerie and somewhat sobering chapel was built in the 17th century as a reminder of the natural transition between life and death. Despite the morbid overtones, this is something not to be missed in Évora. Entrance costs three euros.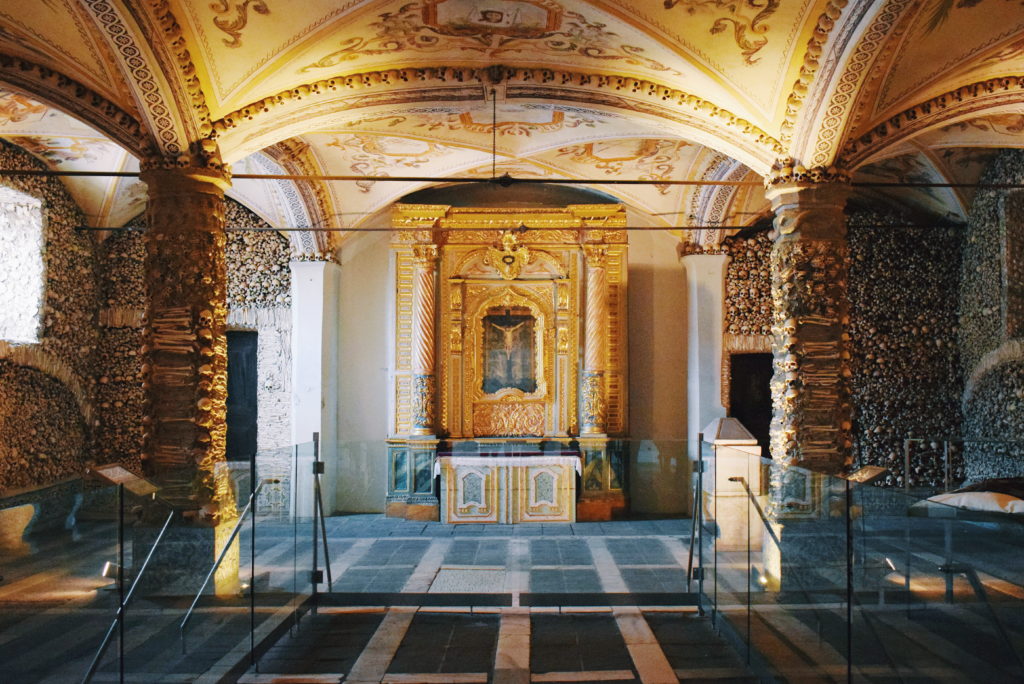 Next to the Capela dos Ossos are the Évora Public Gardens, which are small but there are a few things to see here. The King Manuel Palace is the show-stopper of the park, a vision in white of arches and balconies built in the 16th century. There are also remains of the medieval wall here, dating back to the 14th century. These features show off the park as a crossroads between the ages, a place where you can sit and take it all in.
When dinner time comes around, head to Origens. Priding themselves on strictly serving local food and drink (and they really mean it – for starters, no beer or soft drinks are on the menu), this is one of the best restaurants in Évora in which to try dishes from the surrounding region. There are just a handful of tables here and the kitchen is open, so you can watch the masterful chefs put together your food. The staff are extra friendly and always on-hand to answer questions about sourcing and wine pairings.
A meal for two of mains, dessert, and a bottle of wine costs around €60 (excl. tip), which for the quality we found extremely reasonable. For after dinner drinks, walk over to WINETIME93, where you can sample from a giant menu of wines starting at around €2 a glass.
Day 2: Beyond Évora
Spend your second day getting to know the area surrounding Évora. The Alentejo is largely made up of agricultural land and vineyards, which means there's a slow-paced, traditional way of life everywhere you go. This is one of the most authentic parts of Portugal, unchanged for years, perhaps even centuries.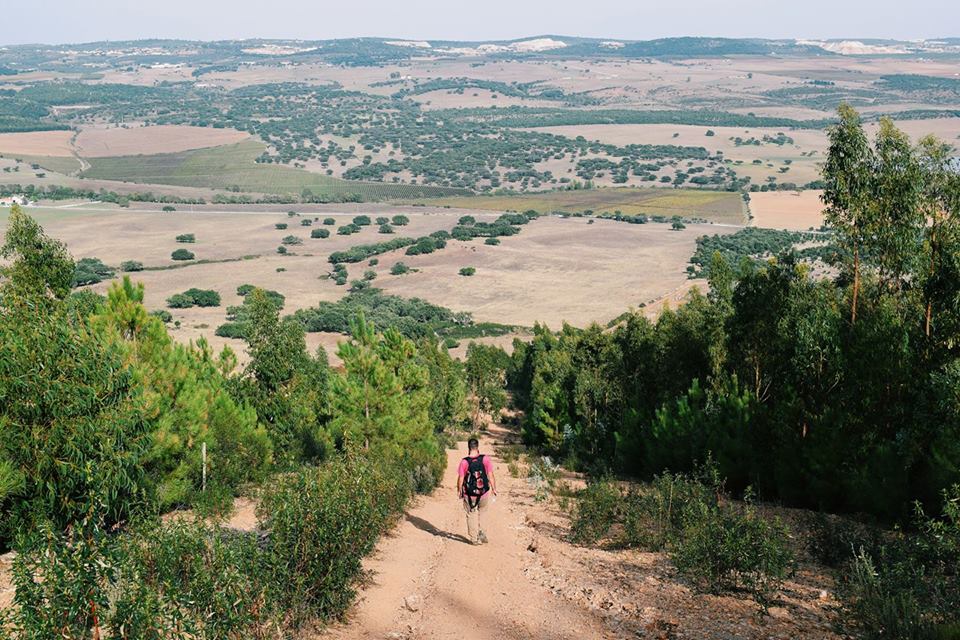 The Serra D'Ossa is small mountain range just northeast of Évora and one of the best places to go hiking in the Alentejo. There are walking paths all across this group of hills, some are an easy amble while others demand you take on more punishing ascents. A couple of the routes including in the Transalentejo, a system of eleven hikes in the region, can be completed here.
If you're up for a challenging trek, consider the 'Fantastic Serra D'Ossa' walk, which takes you across the tops of the hills near Évora. This 17km trail takes six or seven hours if tackled in its entirety, and it should be mentioned that it's a track of relentless ups and downs that take a lot of physical fitness to accomplish. Although it's hard, the views from the tops of the hills, from which you can see rows and rows of vines and a number of the area's marble quarries, make it well worth the exhaustion.
Speaking of marble, this part of the Alentejo is famous for it and known as the 'Zone of Marble'. The pretty towns of Estremoz and Vila Viçosa, around an hour's drive from Évora are home to many marble structures and buildings, and make for good stop-offs to learn more about marble production here.
When driving along the roads near Évora you'll likely come across one of the quarries, where humongous blocks of marble are piled on top of each other to create colossal, shimmering walls. There are a couple of tours that will take you to the quarries and even right down into their bellies so you can learn more about the process. See the Shades of Marble website for more details.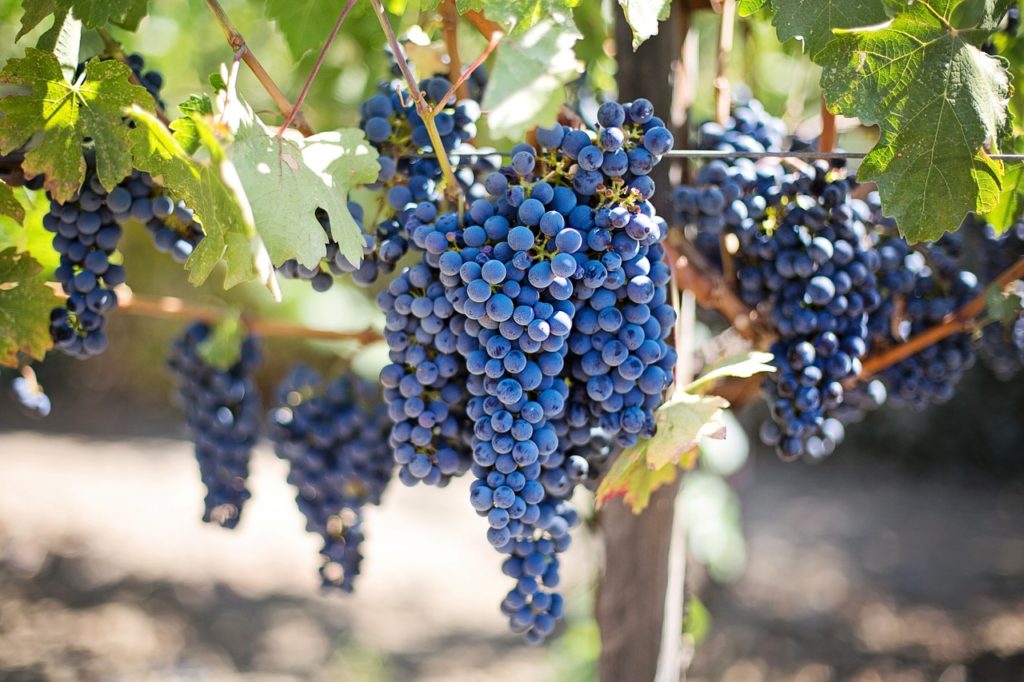 A trip to the Alentejo wouldn't be complete without sampling the local wines. The region plays host to some of Portugal's primary vineyards, and many of them are a short hop from the centre of Évora. Visit Dona Dorinda, just a few miles north of the city, to learn about organic wine production. Herdade da Calada, slightly further north still, provides an all-round wine experience, in a picturesque setting. If you like deep red wines, the Alentejo is the place to be as it prides itself on producing some of the best Portugal has to offer.
Where to stay in Évora
Évora is full of beautiful places to stay, but because you're deep in the countryside just a ten-minute drive from the centre, it's worth booking yourself in a rural retreat to get the best of both worlds. We highly recommend Ecorkhotel and Imani Country House, which are both a short drive west of the city walls and provide quality service in unique settings.
If you do want to stay in the centre, in Évora you'll also find a fantastic pousada – one of Portugal's historical buildings that's been turned into a hotel. Pousada Convento de Évora was originally a convent and is now a luxurious bolthole with excellent facilities located immediately next to the Roman Temple ruins.
What would you most like to see over a weekend in Évora?