Portugal Hotel Review: Monte Falperras, Alentejo
Author: Emma Higgins  //  August 18th 2016
Travelling to Portugal soon? You need our print journal A Year in Portugal, filled with outstanding travel narratives and photography. Find out more
During the summer months in Portugal's Alentejo, it feels like the air doesn't move. This region – which spans across almost a third of the country and is famous for wine, beaches, and a pace of life that hasn't altered for decades – can hit temperatures of around 47 °C in peak times of year, particularly across its inland towns.
I experienced a balmy 38 °C during my visit here in early June, and even then I couldn't get over the heat, the kind that hung motionless in the treacle-like air as if suspended in jelly. I reached Monte Falperras, my hotel near the town of Mourão in the far eastern Alentejo, after a long drive from the Setúbal Peninsula on the other side of the country. When I saw the hotel's swimming pool, I breathed an audible puff of relief.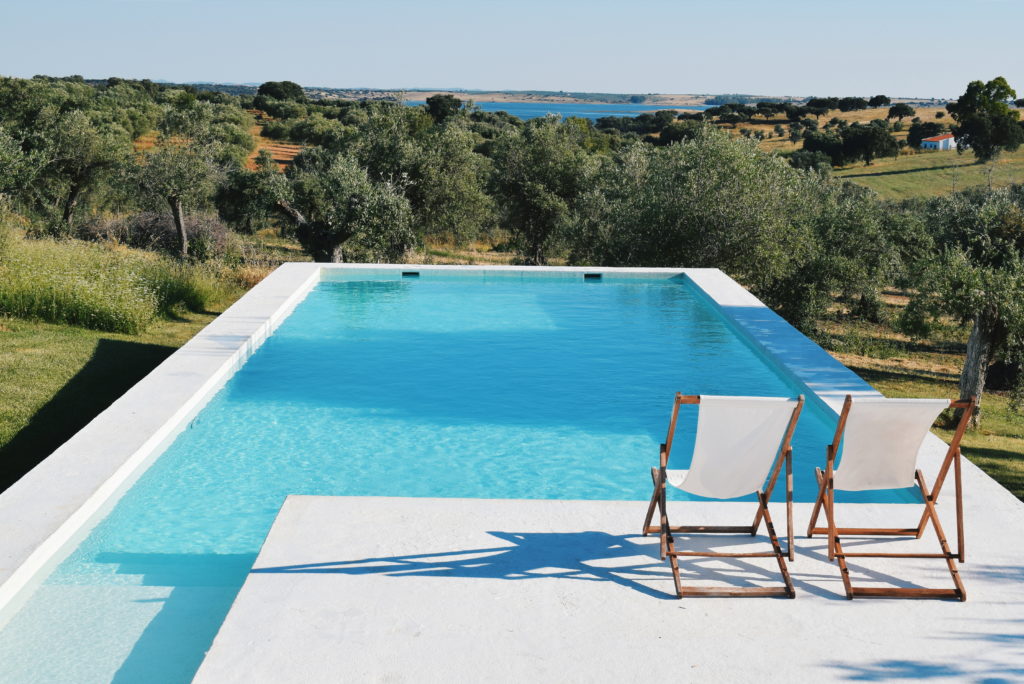 Standing alone in a sea of olive and cork trees, Monte Falperras is a rural retreat next to Portugal's man-made Alqueva Lake. You can see the shores of the lake from the hotel, and behind you Spain is just five miles away. Only six double rooms spread out across the hotel's one-story building, with the theme of white and stone running throughout the property to evoke elegance and exclusivity.
There are endless spaces to relax here: on your room's private porch, on a lounging space on the terrace, inside on a white leather sofa next to the exposed slate walls, or on a deck chair next to the pool. During my two-night stay there were a couple of other guests, but the calm of this space moved each of us to quietly potter around like nuns in an abbey. We exchanged smiles and hellos at breakfast, but the atmosphere of Monte Falperras naturally swayed us towards privacy and seclusion.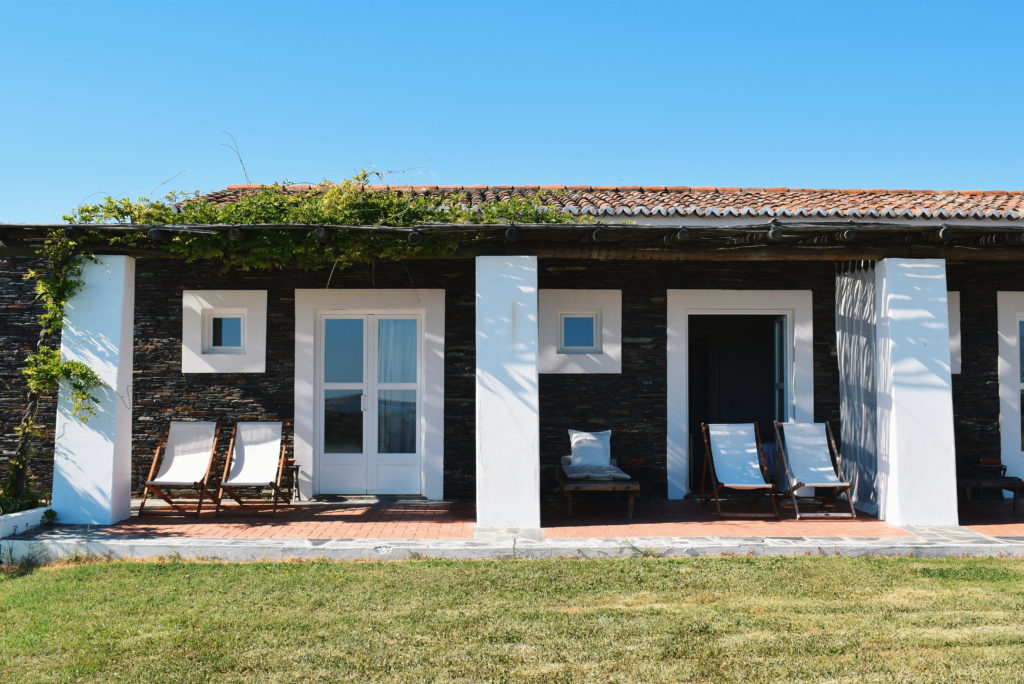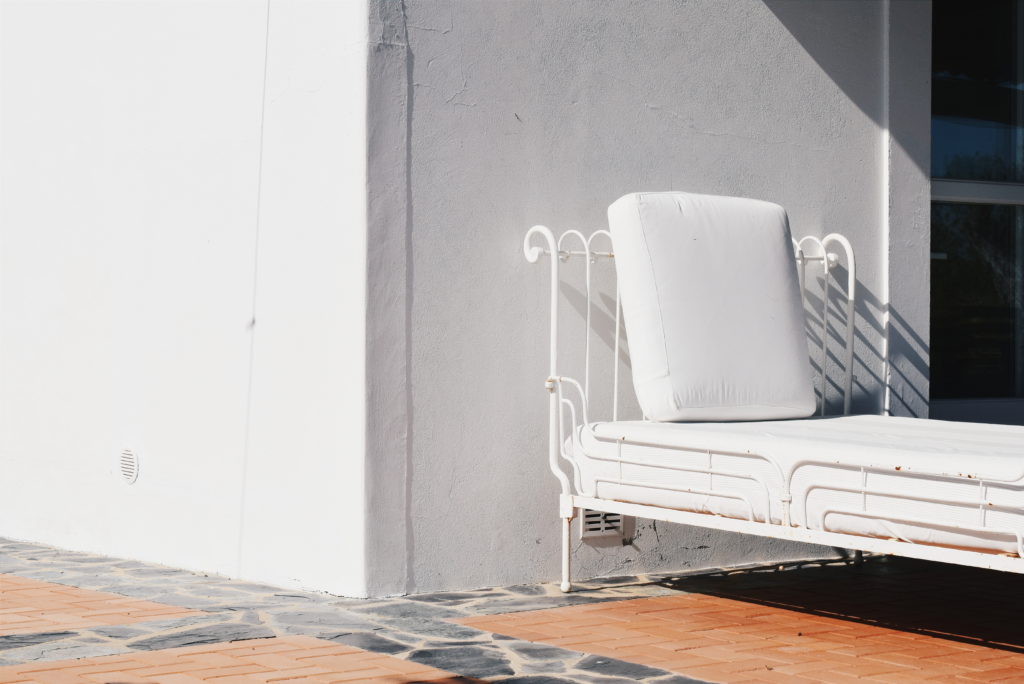 Despite the overwhelmingly sleepy feeling in the surrounding area, scratch beneath the surface and you'll find an abundance of things to see and do. The region is popular for bird watching, and on any given day you can spot storks gliding through air and eagles wheeling overhead. Float lazily atop the Alqueva Lake – the largest artificial lake in Europe – on a kayak or canoe trip, spending a night camping out on the shores.
If you do happen to be here at night, cast your eyes to the heavens to find a blanket of pitch black studded with millions of stars. Alqueva is the world's first Starlight Tourism Destination, blessed on average with more than 280 clear nights per year. Take a photography tour of the area to learn how to capture the night sky.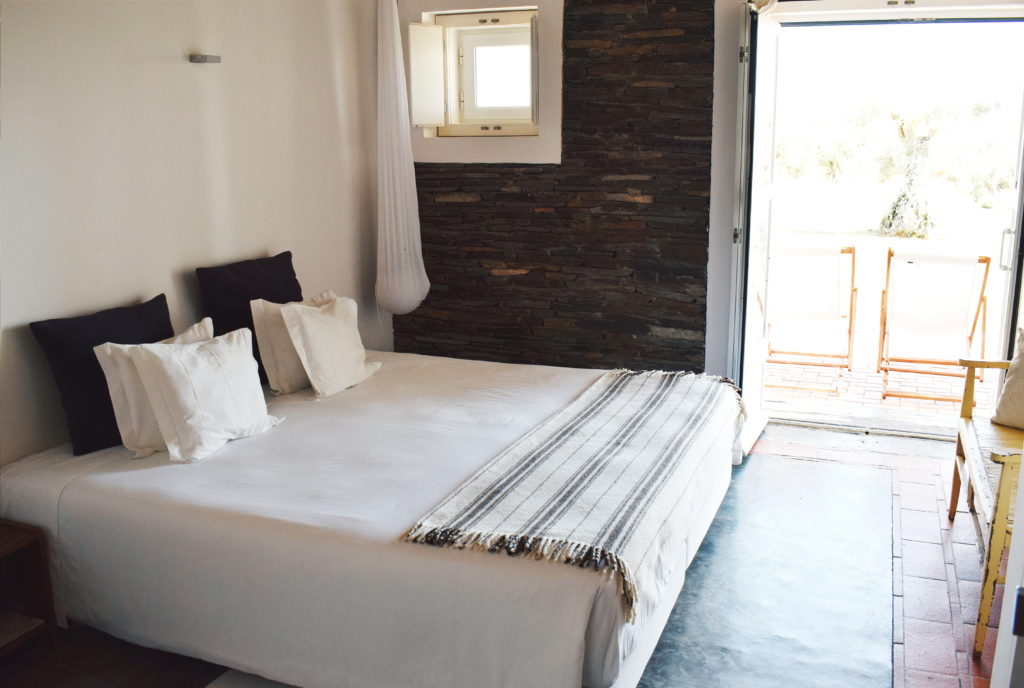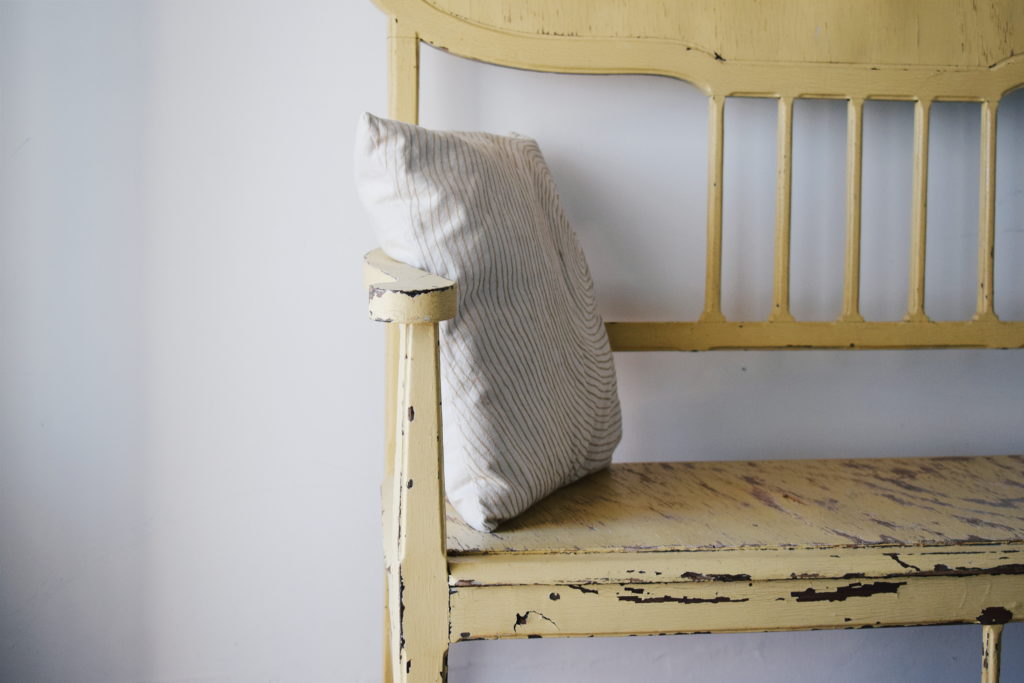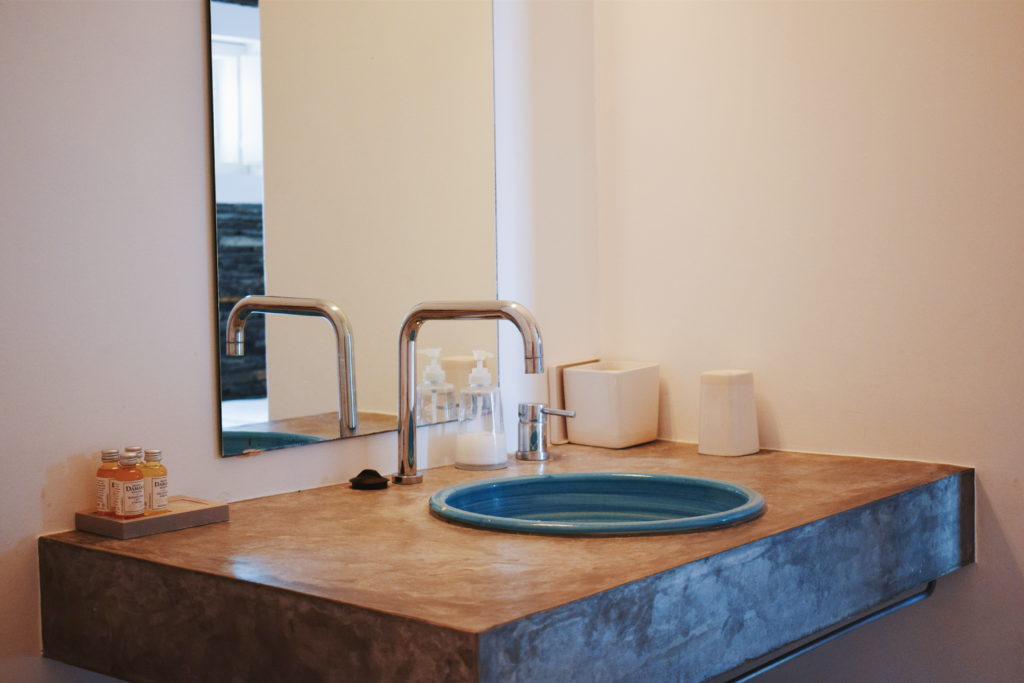 Thankfully my room fell cool in the evenings, helped along by the quietest air conditioning unit I've ever known. My bed, piled high with cushions, was centred on a smooth concrete and tiled floor that felt like silk on my bare feet. Two deck chairs and a rustic lounger furnished my private patio, separated from the others next door by thin, white curtains that floated in any breeze that managed to penetrate the air.
Breakfast was served in the dining room each morning, but guests were welcome to take it out to the terrace to dine al fresco. Neatly-arranged plates of fruit sat alongside ramekins of jam, slices of cheese and meat rolled up into cylinders, and an orange cake so light and zesty it was tempting to only feast on that and strong coffee. A warm and friendly Portuguese lady topped up everything at regular intervals, and in her slowest Portuguese asked me if I was enjoying everything. In my soundest attempt of the language (which is elementary, at best), I told her that everything was delicious.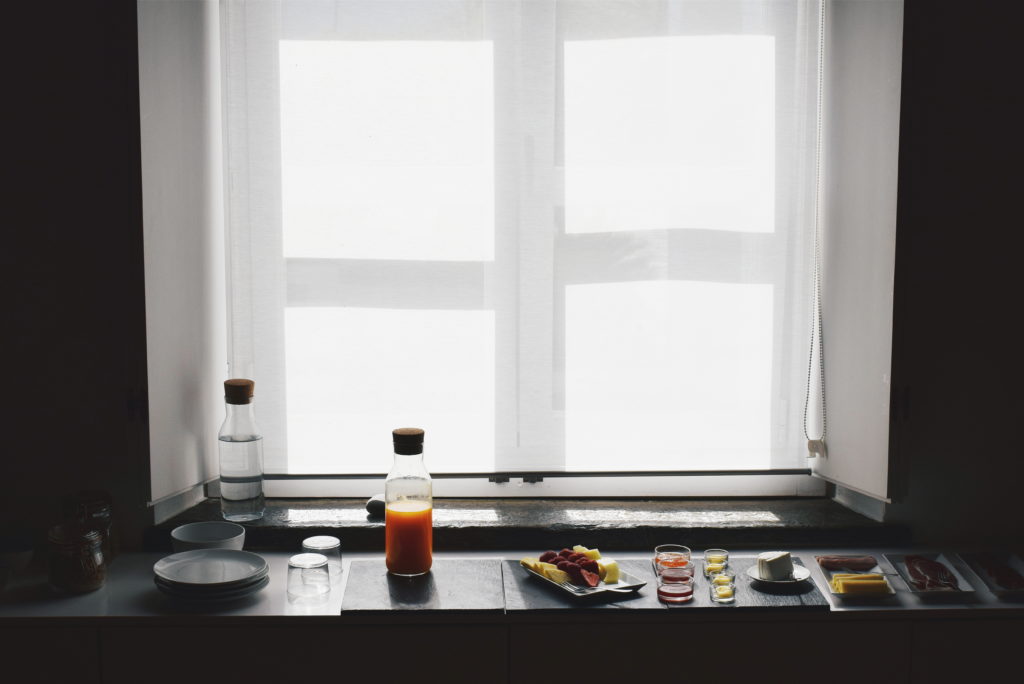 Based in one of Portugal's most unique regions, Monte Falperras is an escape in more ways than one. The hotel's isolation and rustic setting makes you feel like you're staying in a rural farmhouse, and because of the low guest numbers it's like you've stumbled on secret. Its contemporary style brings Monte Falperras into the realm of 21st century design hotel, but without swagger or pretension.
The property has mastered that balance of modern, well-thought-out simplicity, where the good things in life – a pleasant place to sit, a swim in blue waters, a friendly atmosphere – are prized above all else. And when I sat out on my patio in the evenings, reading and watching the sun turn the sky from blue to purple, yellow, orange, and finally a burning red, I found myself wanting for nothing more.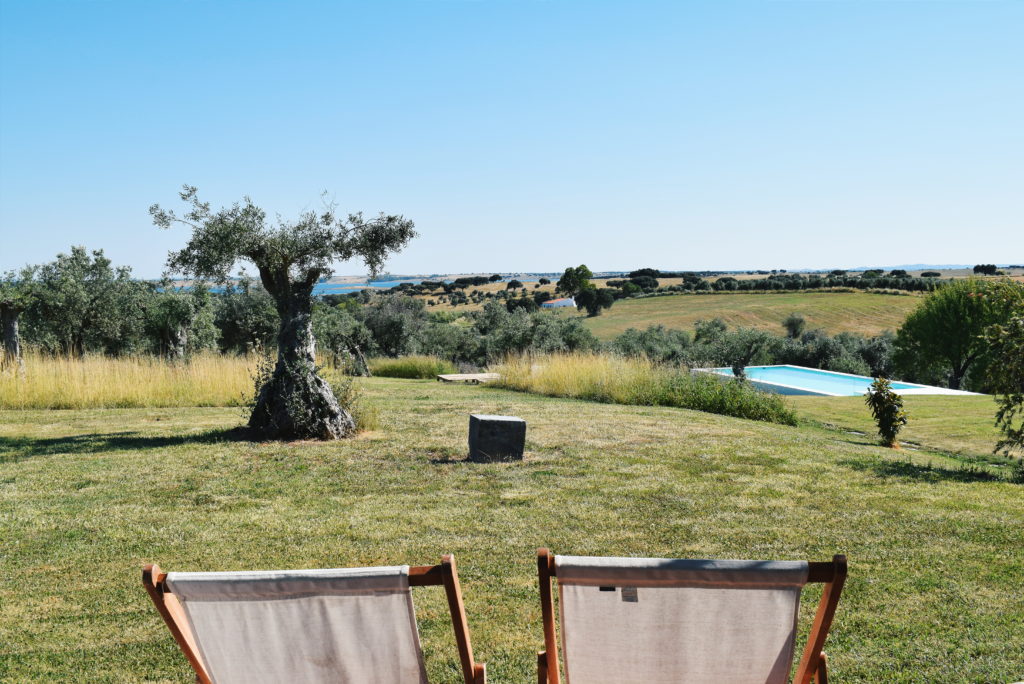 Would you stay at Monte Falperras?
Have you experienced a rural Portugal hotel like this?