Lisbon Days Trips: Discover the Setúbal Peninsula
Around 40km south of central Lisbon a headland protrudes west, out into the Atlantic Ocean. On top of the very end sits a lighthouse, which looks down a sheer cliff face into the waves below. Rustic villages fill the land that makes up this area, the kind of places where you're likely to get stuck behind a horse and cart on a windy, cobbled road.
If you travelled up the west coast back to the capital from this extremity, you'd find stretches of wild and untouched beaches. Venture along the southern shores and you'd be met with dramatic coastline and fishing towns, where people fry sardines for lunch with makeshift barbecues on the pavement outside their front doors.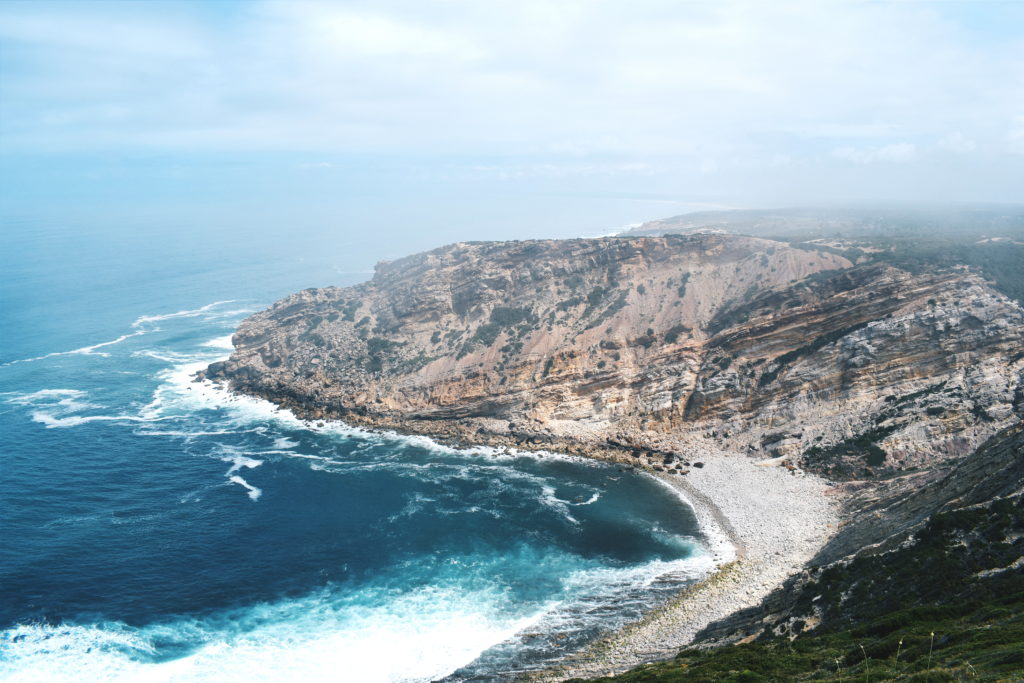 Setúbal Peninsula at Cabo Espichel
If you've been to Lisbon before, perhaps you've visited Sintra, a town and natural park filled with palaces and rolling hills directly west of Lisbon. Sintra is one of the most popular Lisbon day trips, which results in hordes of crowds and traffic jams. Comparatively few travellers in Lisbon head south, across the Rio Tejo and down to this alternative region, named the Setúbal Peninsula. The main highlights here include Cabo Espichel, Sesimbra, and Parque Natural da Arrábida.
Around an hour by car from the city's central districts, this area makes an ideal day out if you're looking for a quieter area surrounding Lisbon. With all its charm and jaw-dropping scenery, you'll wonder why more people don't visit this extraordinary part of Portugal.
Cabo Espichel
Begin a tour of the Setúbal Peninsula at its most western point: Cabo Espichel. The cliffs here are reason alone to visit: tall, mighty, and more often than not pounded by a vicious stirring of the Atlantic Ocean below. A path runs around the top of the cliffs, where the brave can look down and feel the magnitude of the scenery.
It is said that in the 13th century a local witnessed a vision of the Madonna here, and this cape has been of human interest ever since. Pilgrims would come here on holy quests, and in the 17th century a church – Santuário de Nossa Senhora do Cabo – was built, with rooms where the pilgrims could take refuge.
Although many parts have since been blocked off, this sanctuary and courtyard still stand today, along with a smaller 15th century chapel that sits metres from the cliff edge. Wander through the cloister's archways, which stretch out from either side of the church, and step inside the main building for a moment of peace. If it's a clear day, take a stroll to the nearby lighthouse, a hexagonal structure that was built at the end of the 18th century.
Sesimbra
Wind your way east, through rustic villages and towards the town of Sesimbra. Favoured by locals as a quick getaway destination, this beachy fishing town is flanked by cliffs and pretty cobbled streets burrow through its centre. Sesimbra can get crowded in the height of summer, when both Portuguese and foreigners flock to its shores, but the swell of people is easily tolerated for just a few hours.
Potter along Sesimbra's narrow, sloped streets to find somewhere to stop for lunch. Many traditional Portuguese restaurants, often specialising in fish or seafood, can be found here. Venture away from the beachfront restaurants for a quieter and often more authentic experience. Highly-rated Café Marisqueira O Rodinhas and Tasca Do Isaías both serve Portuguese seafood dishes – expect to wait for a table in peak hours.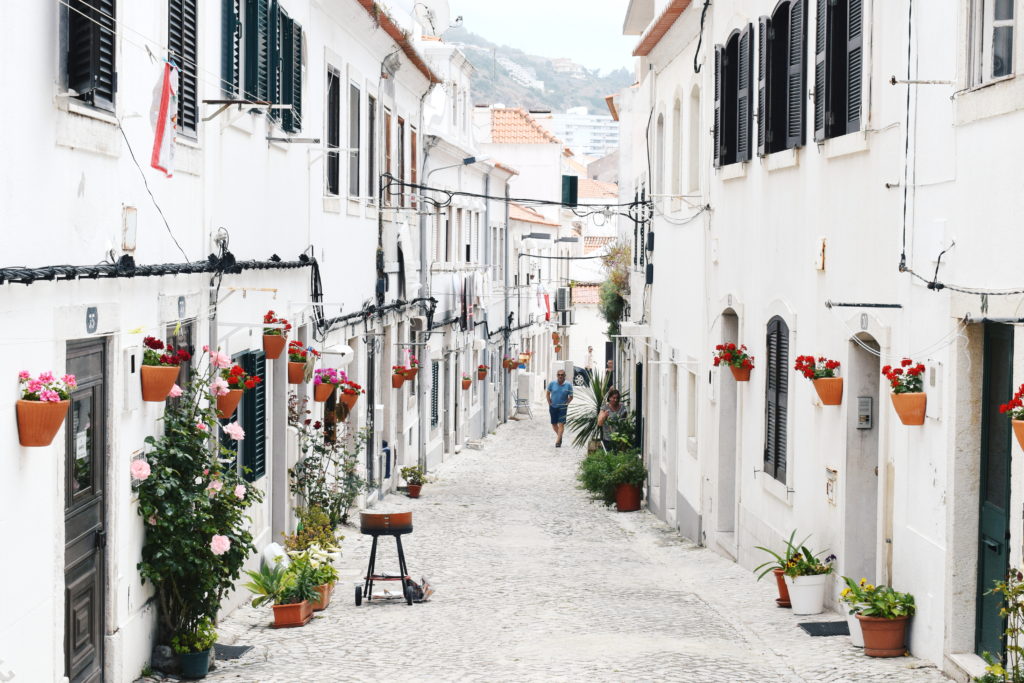 Sesimbra streets
On your way out of Sesimbra, don't forget to stop by the Castelo de Sesimbra, a castle and national monument. The landmark was built in the 13th century and sits way above the town, offering sweeping views over the bay and out to sea one way, and the towns and green forests that lie the other. Walk along the path that lines the walls for the full panoramic experience.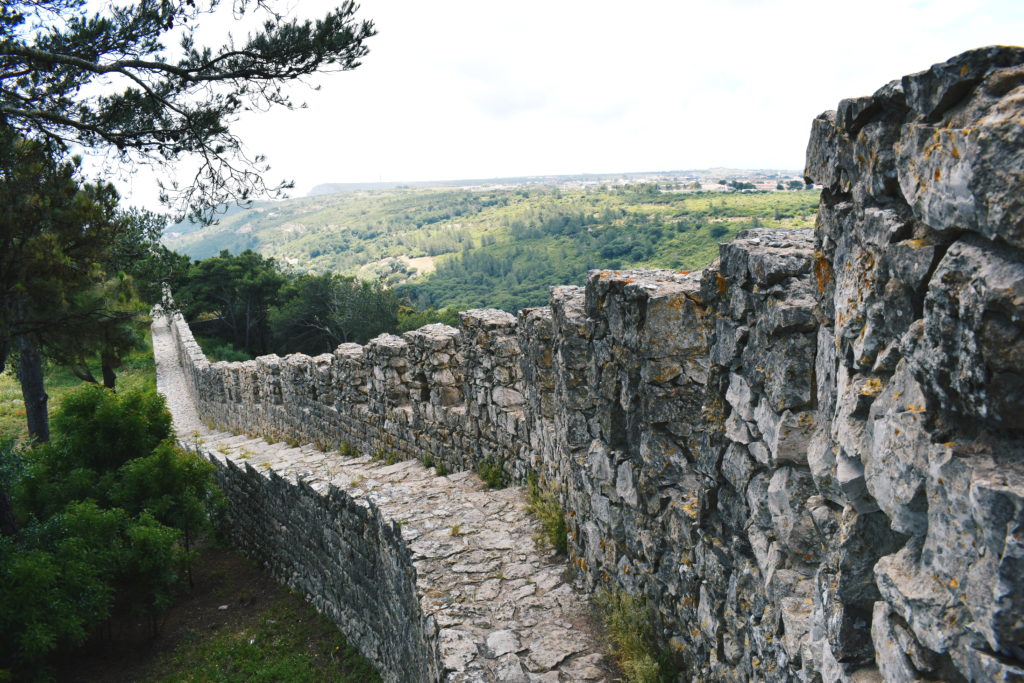 Walking the castle walls, Castelo de Sesimbra
Parque Natural da Arrábida
Comprised of sharply undulating hills and white sandy beaches, Parque Natural da Arrábida is without doubt the star of the show in the Setúbal Peninsula. The park is praised for its wealth of vegetation, most notably the Mediterranean maquis, a rare Portuguese scrubland plant and one of the main reasons why this area is protected.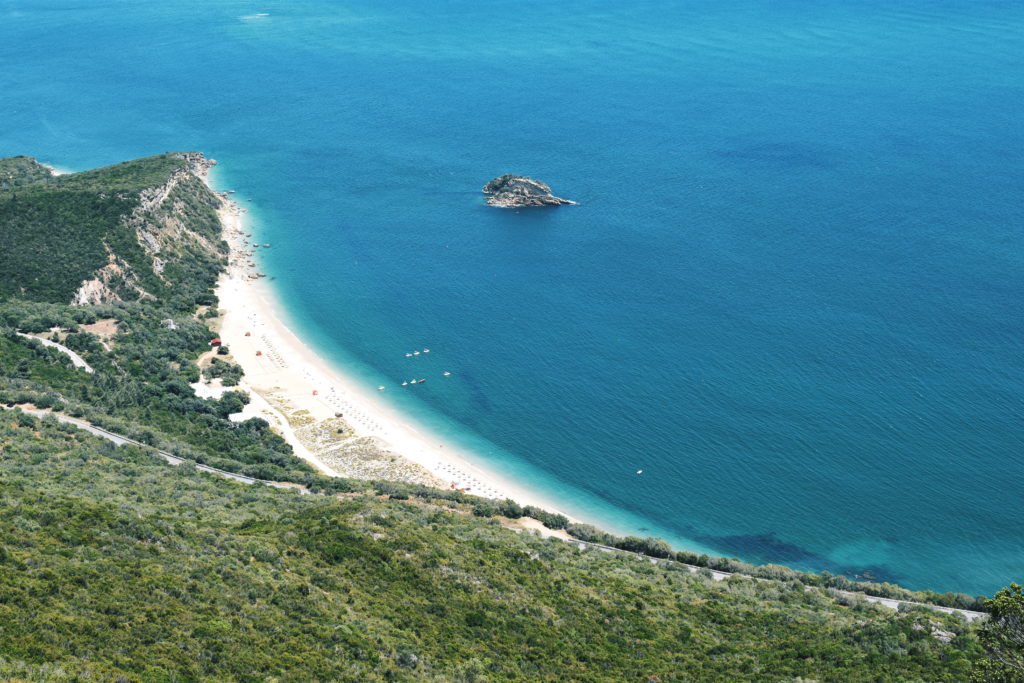 View from mountain rounds in Arrábida down to Portinho da Arrábida
Arrábida is best seen by car (it's almost impossible to visit without one, in fact) on a road trip along its mountainous highways. There are multiple places to stop along these tracks and drink in the spectacular views down to the coastline. The vista from the road down to Portinho da Arrábida is particularly special, where the blend of green park land, white sands, and deep blue sea hits its peak. Also look out for the convent that sits in the hills near here, just noticeable by the rooftops that peek out above the treetops.
After following the route east, cut back up through the park towards Azeitão, then continue north back to Lisbon.
The Setúbal Peninsula – how to get there
A car is advised, and almost essential, for getting the most out of the Setúbal Peninsula. It would be difficult to carry out this itinerary without one, as public transport around here does exist but departures can be infrequent. Without a car, the best way to get around is by bus – schedules from Lisbon to Sesimbra run hourly most days, and it takes just under an hour, costing a handful of euros.
Would you like to visit the Setúbal Peninsula?
Have you been on any great Lisbon day trips?