Ireland Guide: a Weekend in Wicklow Itinerary
County Wicklow is famously known as the Garden of Ireland, and it's easy to see why. Characterised by verdant rolling hills, yellow gorse dotted across the countryside, and a peaceful, quaint vibe throughout, to visit Wicklow is to step back in time and slow down with nature.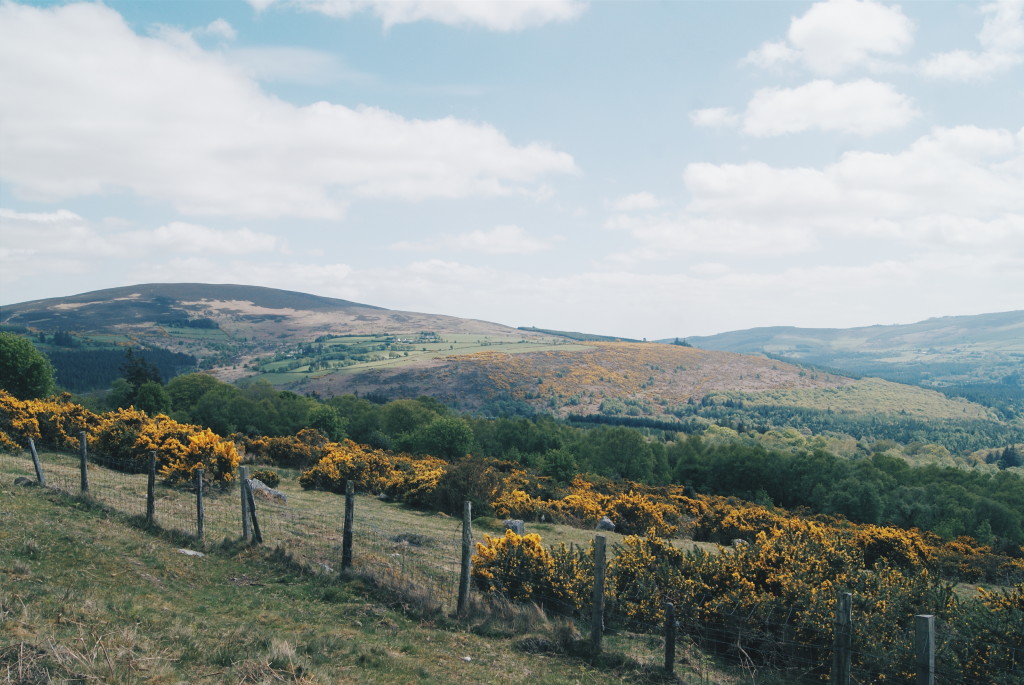 A short hop away from Dublin, you'd think Wicklow would be teeming with tourism, but only a patch or two of this scenic county sees visitors in droves – which is what makes is so special. Accessible but overlooked both at the same time, it's well worth lingering in Wicklow to discover all its charms. This weekend in Wicklow itinerary covers the county's main hotspots, and is full of ideas for a couple of day exploring this beautiful part of the Emerald Isle.
Day 1 – Wicklow Mountains, Powerscourt, and the valleys
Begin your weekend in Wicklow by driving from Dublin down through Wicklow Mountains National Park. This protected area – one of six in the country – is a stunning blend of peaks and valleys, and an apt introduction into rural life in Ireland. The R115 will take you down through the centre of the park, and you can hop on and off this all day to catch the best sights to the east and west.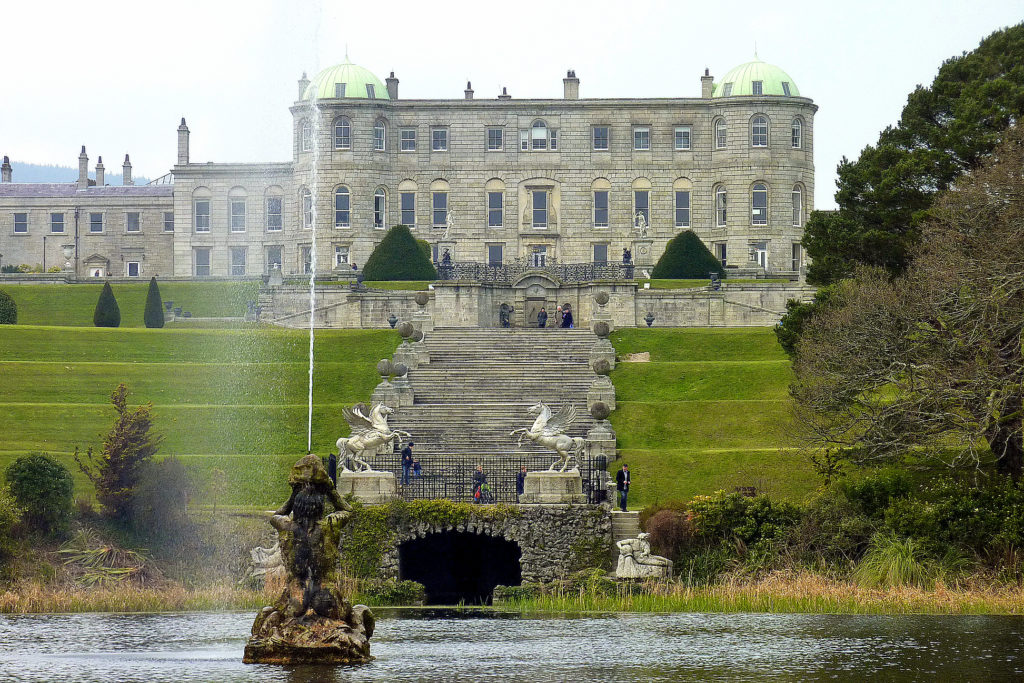 Powerscourt House. Image source
Powerscourt Gardens. Image source
Make a diversion to Powerscourt House & Gardens, around a 15-minute drive east of Glencree.  This 18th century mansion has been named as one of the most beautiful estates in Ireland and makes for a peaceful few hours of wandering. Meander around the spectacular gardens, which are home to hundreds of plants, have some tea in the estate's café, and pick up some Irish-made goods at the property's shops.
On your way continuing south, also don't miss Powerscourt Waterfall. This is Ireland's highest waterfall at 121m and is surrounded by woodland, plus facilities such as toilets, a kiosk, and picnic areas. Adult admission to the waterfall is €6.
Powerscourt Waterfall. Image source
Make your way back to the R115 still heading south. Eventually you'll reach Glendalough, one of Wicklow's most famous attractions and a popular day trip from Dublin. This valley is not only of particular beauty, it's also home to a UNESCO-recognised monastic site that shows signs of dating back to medieval times. The site's round tower is iconic to the region, and there are lots of walking trails around here so you can view it from down low and on high.
As Glendalough can get busy during peak times of year, consider an alternative – a walk around neighbouring Glenmalure. This is the longest glacial valley in Ireland and just over the hill from Glendalough. There are footpaths along the side of the hills here, from which you can take in magnificent views and be undisturbed for hours.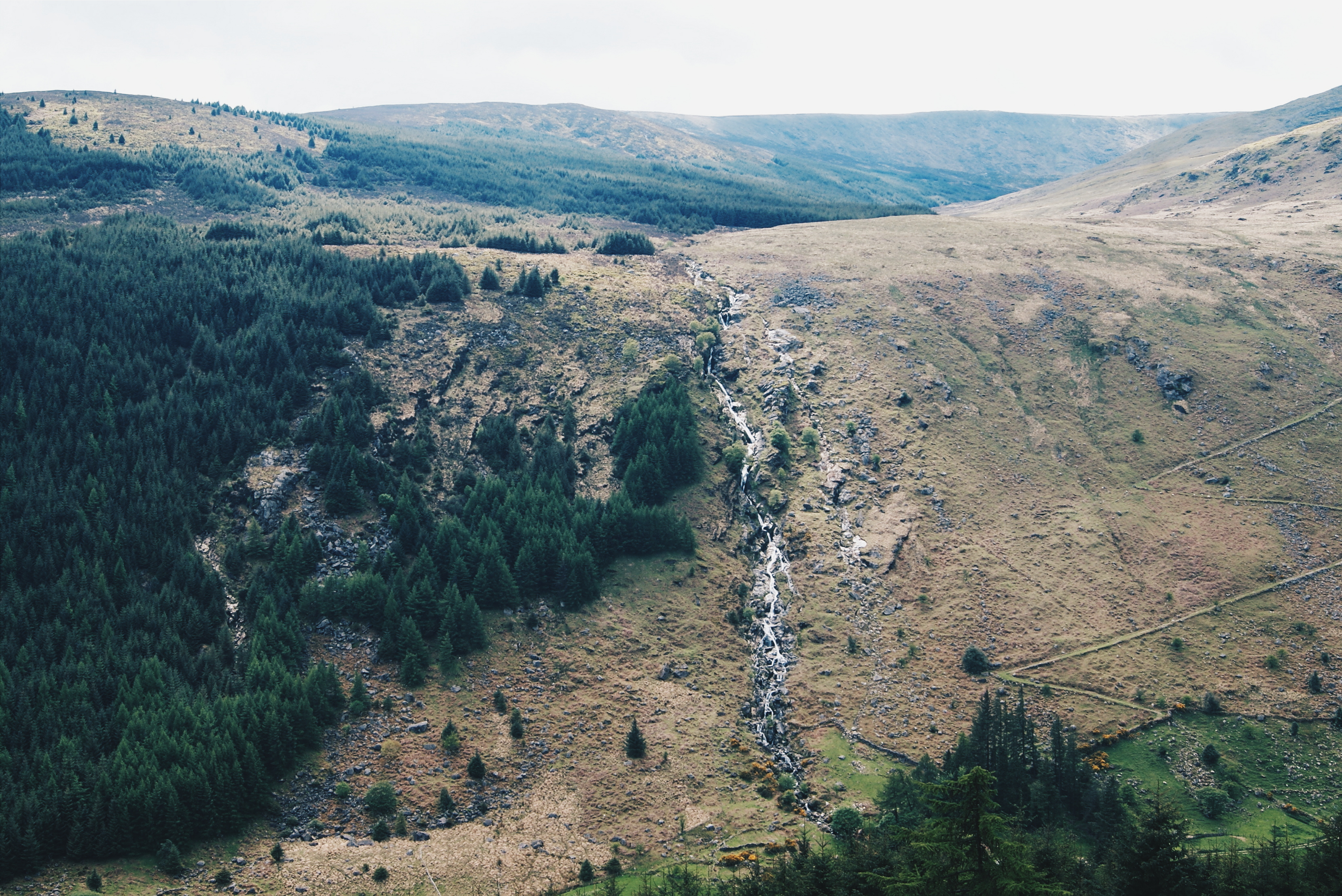 Views over the valley at Glenmalure
If hiking isn't your thing and you'd rather get round on two wheels, there are ample opportunities for biking in Wicklow. Biking.ie runs a range of rental, tours, lessons, and holidays in Wicklow around Ballinastoe Woods, each fully customisable to your needs. If you're travelling with a bike and would rather go it alone, the Ballinastoe Mountain Bike Trail is an accessible and scenery-studded route suitable for experienced riders.
Day 2 – Avoca, villages, and the coast
On your second day of your weekend in Wicklow, loop back up towards Dublin east of the national park and by way of the coast. In the morning, stop by the pretty village of Avoca to discover birthplace of one of Ireland's most famous companies, the Avoca Handweavers. The mill here, which is still working today, dates back to 1723 and is where many of Avoca's throws and blankets are still made today. Take a free tour of the mill to learn more, then stop by the café for a cuppa and browse around the shops.
Brittas Bay. Image source
Head northeast from here along rural roads to Brittas Bay, one of Wicklow's best beaches. The sands here stretch for over two miles, making it ideal for a stroll with your toes in the sand, and if you find the water to your liking rest assured the sea is Blue Flag approved. On a clear day (they do exist in Ireland, we promise) the view down across the bay from the top of the sand dunes is rather beautiful.
If you like golf, there are courses dotted all the way up the coast from here – such as the European Golf Club, Blainroe Golf Club, Wicklow Golf Club, and Druids Glen Golf Club. Alternatively, duck back inland to Roundwood, which at 238m above sea level is one of the highest village in Ireland. Although there's not an overwhelming amount of things to see and do here, a quick stop at the nearby Vartry Reservoir makes for a pleasant sight.
There's an easy walk marked around the reservoir, from which you can see the mountains in the distance and when the right light hits the water the reflections are magnificent. If you didn't manage to get your walking fix on the first day of your weekend in Wicklow, there's also a section of the Wicklow Way from Roundwood to Glendalough (around 12km, 4 hours), which can also pass through the village of Laragh, another of Wicklow's best.
View of Glendalough Lakes from the Wicklow Way. Image source
If you didn't manage to visit Powerscourt the previous day, head here on your way back up north. Otherwise, nip back to the coast to Ladies' Cove at Greystones. Situated in between the other beaches at Greystones, Ladies' Cove offers a peaceful piece of shore as a bit of respite from the tourists visiting from nearby Bray. If the weather permits, there is a cliff walk here between Bray and Greystones (or vice versa) of about 7km that offers beautiful views over the Irish Sea and jagged scenery – the perfect way to finish off your day.
Hotels and Accommodation in Wicklow
Treat yourself to a magical stay over your weekend in Wicklow in a gypsy wagon with Clissmann Horse Caravans. Based near Rathdrum, these traditional caravans are one of the most unique accommodation options in the county, and indeed in Ireland. The family that own this business have decked out the caravans to create a beautiful glamping experience, in a remote rural setting. If you have more time in Wicklow, also take a look at their horse caravan holidays, which take you around the country in one of the caravans with the help of a beautiful Irish Cob horse.
// A story of our experience of staying with the Clissmann's in one of their gypsy caravans is featured in our travel journal A Year in the UK & Ireland, which is out now //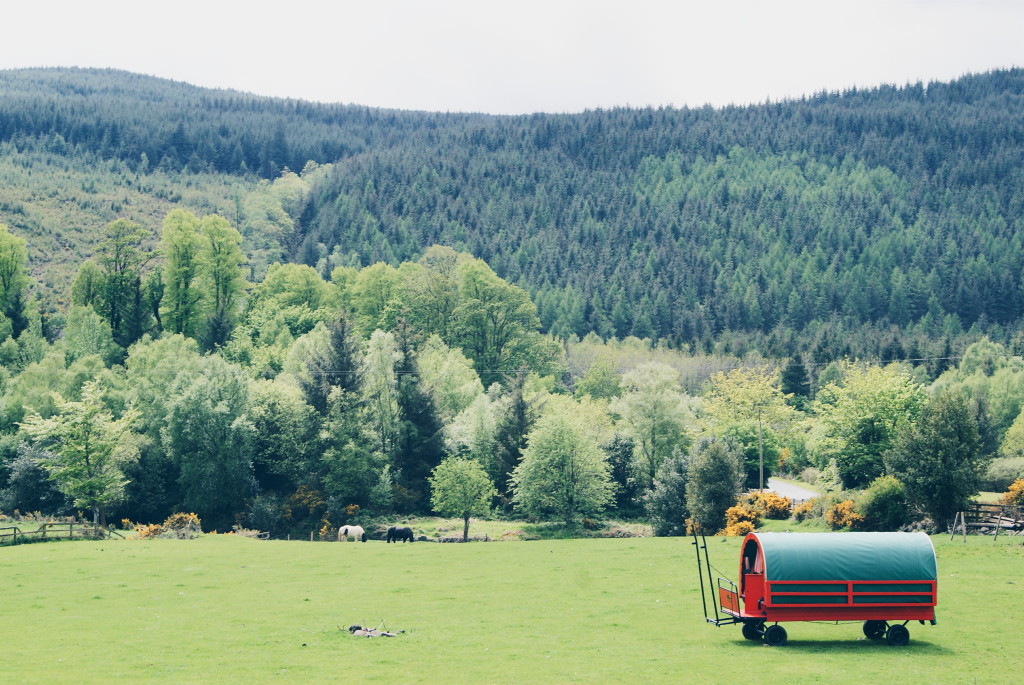 Alternatively, Wicklow is home to a number of outstanding B&Bs, which offer that classic home-away-from-home Irish hospitality. Abhainn Ri is located in far western Wicklow, near the village of Hollywood, and offers self catering cottages as well as five star farmhouse B&B accommodation. The B&B has a bright and fresh, charming feel and serves breakfast made with locally-sourced ingredients (most straight from the farm itself!). In nearby Blessington there's also Lakeview Lodge B&B, a chic B&B with luxurious decor and a boutique feel. With just a handful of room, this also makes for a homely, cosy stay. Both these properties come with gorgeous lake views.
What would you most like to do over a weekend in Wicklow?