Hotel Review: Quinta do Miguel, Portugal
Author: Emma Higgins  //  July 20th 2016
I pulled up to Quinta do Miguel with white dust in my trail from the rural tracks I'd been driving along for the last few miles. As I waited for the front gate to be opened, I revelled in the shade provided by the trees and hung my arm out the window of my hot car. There were no sounds – no dogs barking or faraway whooshes of cars on main roads – but the air was so thick I felt like I could almost hear the heat.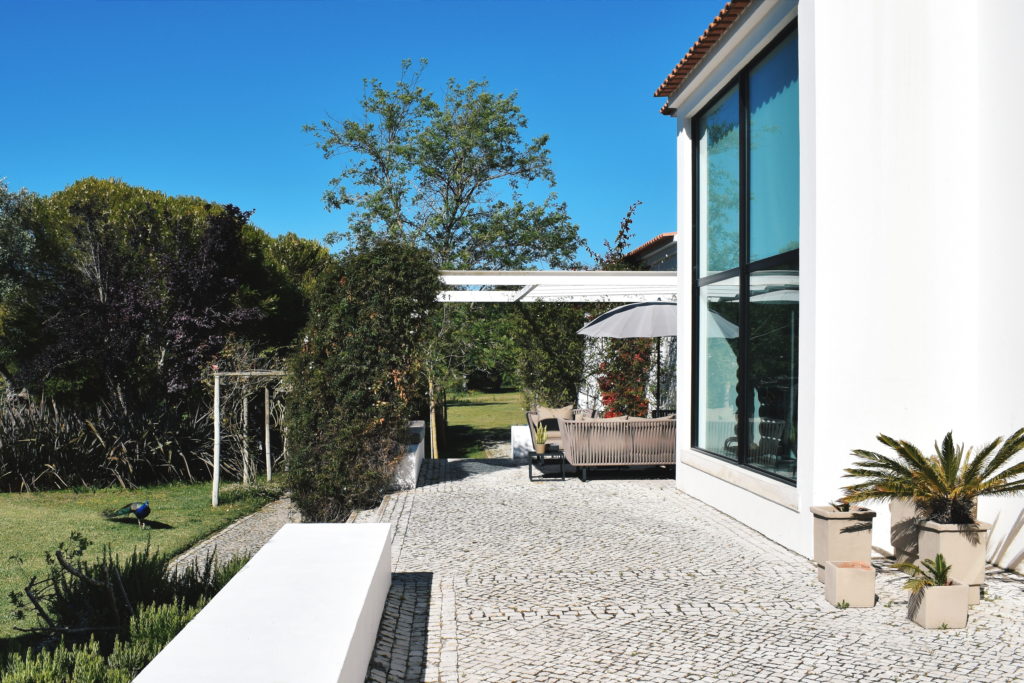 I pulled onto the driveway and was greeted by Susana, the hotel's owner. We strolled around the property's exterior, beside tall white walls and across lush grass that brushed over my feet, kissing coolness onto my toes. We passed the sunken hot tub, which a neighbouring tree had showered red petals all over. Giant, slate grey cushions were arranged on a wooden deck, next to another lounging area that was sectioned off with a thin white curtain that danced ever so slightly in the intermittent breeze.
Just before I stepped into my room, I caught sight of a peacock crossing the path behind me. His head bobbed around, supported by his cobalt blue neck, and his feathers were bunched up behind him – a vibrant train of iridescent colour that shimmered whenever the sun found it.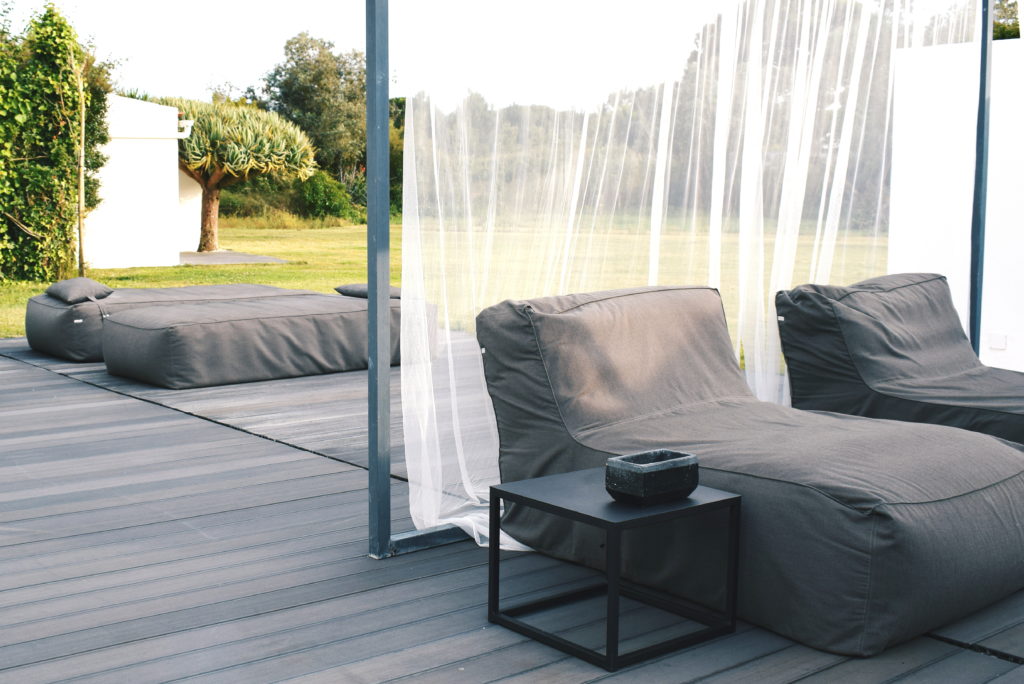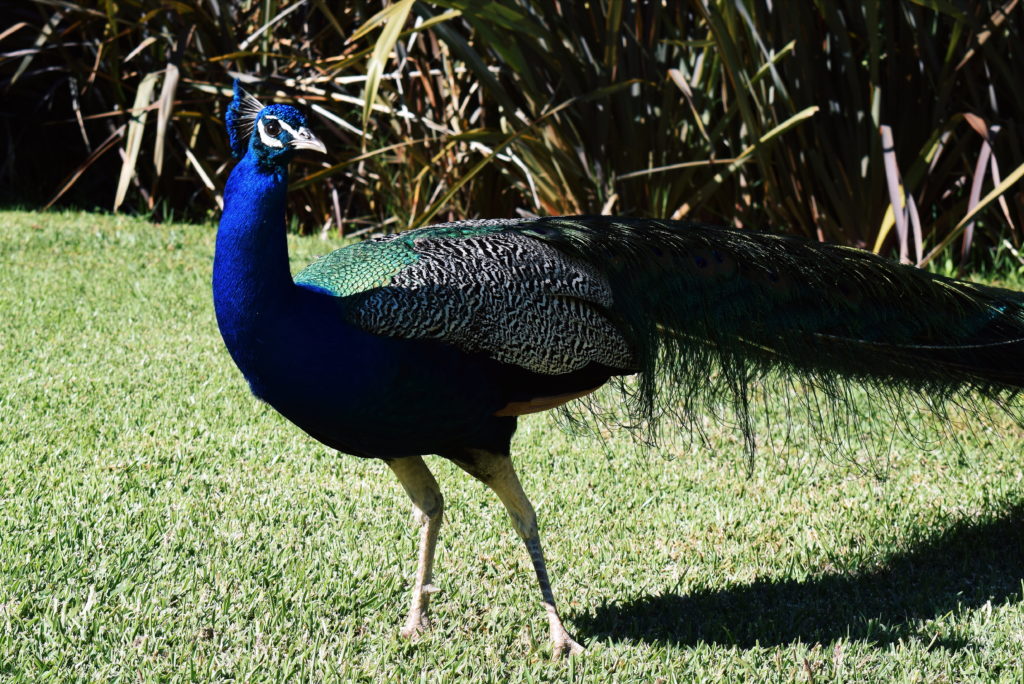 Located 50km south of Lisbon, in the depths of the rugged countryside just west of Portugal's Parque Natural de Arrábida, Quinta do Miguel is master of seclusion. The hotel is made up of seven rooms, spread out over two buildings on a property with an area of 12,000 square metres. There are a few studio rooms, as well as a luxury apartment and superior suites, each individually and stylishly designed. With a limited guest number and thoughtful, deliberate use of space, you can stay at Quinta do Miguel on a night when the hotel is full and yet not notice anyone else around.
I entered my room through a giant glass door that had bright pink flowers growing up the wall beside it. The room's feel was modern, luxurious, and minimalist: white sheets on plump pillows, an elegant lamp beside the bed, a humble wooden table and chairs, open wardrobe space, and a simple but fully-equipped kitchenette complete with a coffee machine.
I walked across the smooth concrete floors and around the corner to the bathroom, where a bathtub big enough for two sat alongside two waterfall showers. The huge glass doors flooded the room with light at the front and back, and a small terrace area with loungers offered more private outside space.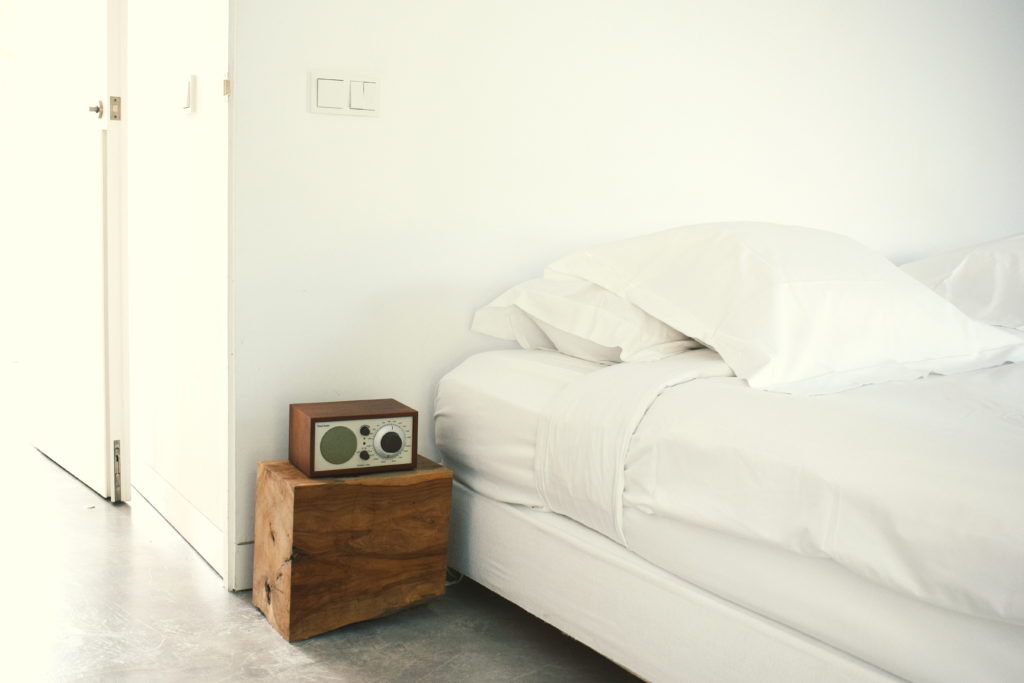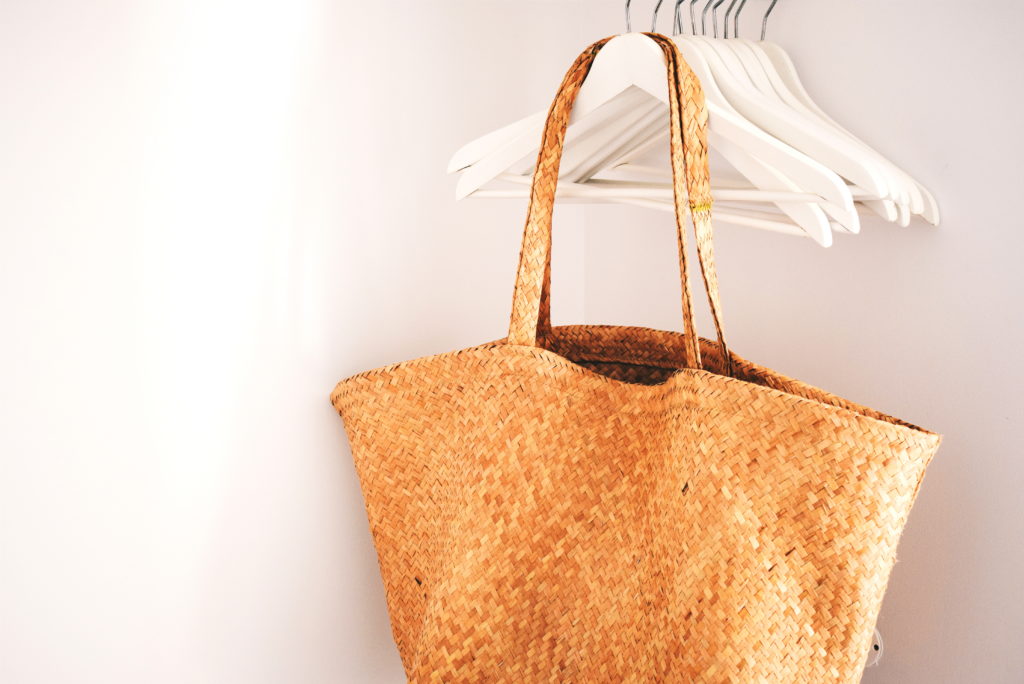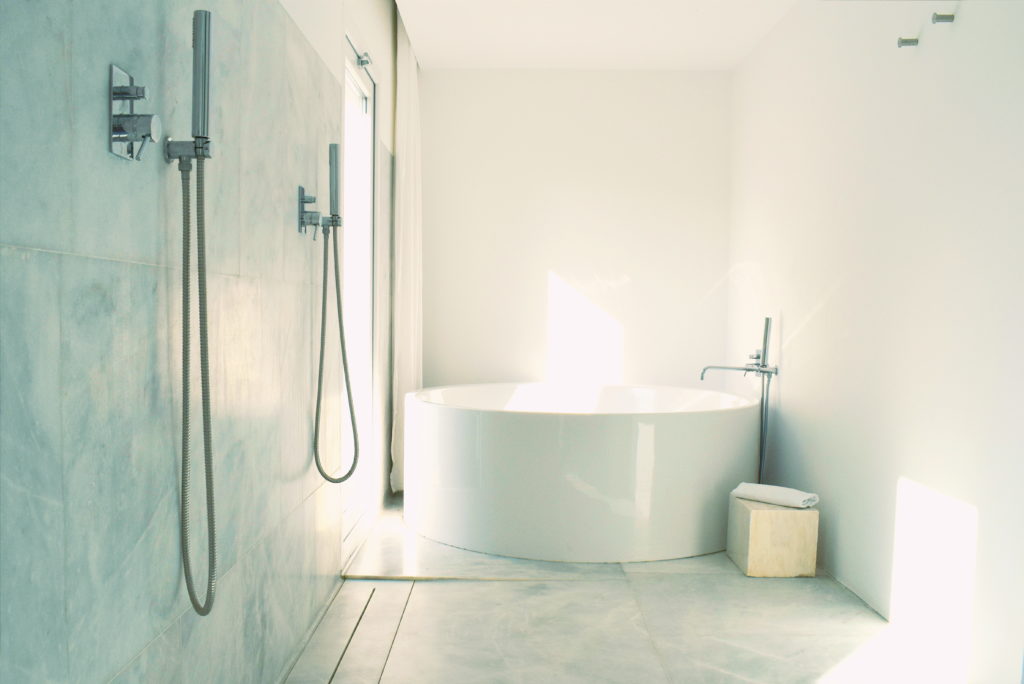 On first glance you could accuse the rooms of looking bare, but at Quinta do Miguel space is treasured. It's almost as if more thought has gone into what's left out of the rooms than what's put in, which is what makes it feel so contemporary and refined. Pictures aren't hung on the walls for picture's sake, and the white is the dominant colour across the property.
The swimming pool, jacuzzi, and gardens are spread out, with plants growing around them to create more intimacy. The pines that grow around Quinta do Miguel's borders make you forget where you are – and in that moment it doesn't matter. You wouldn't want to be anywhere else but here.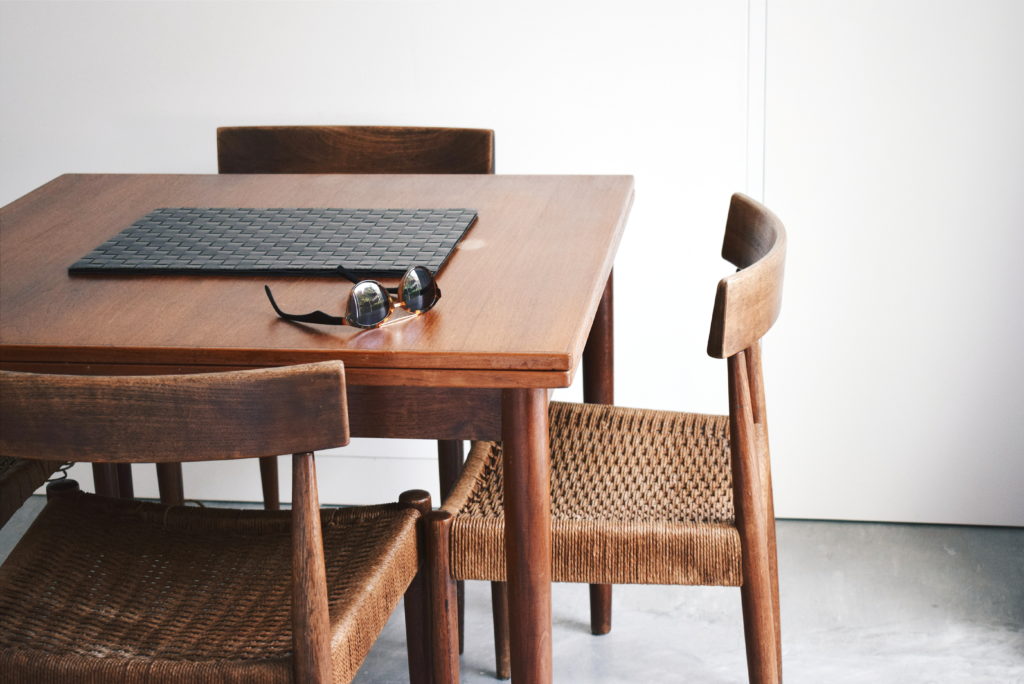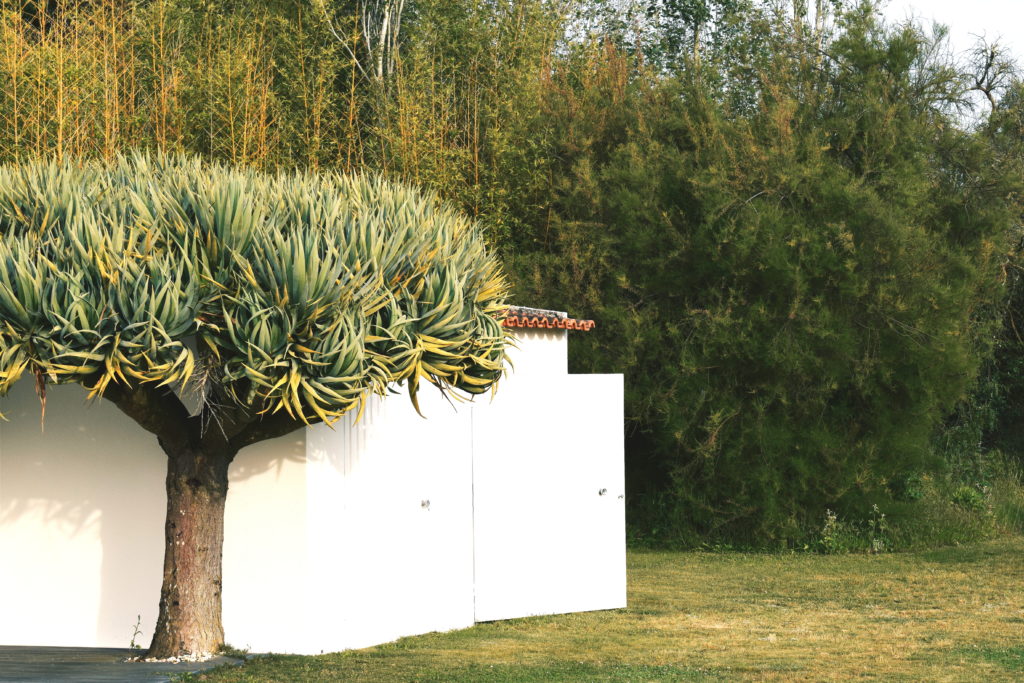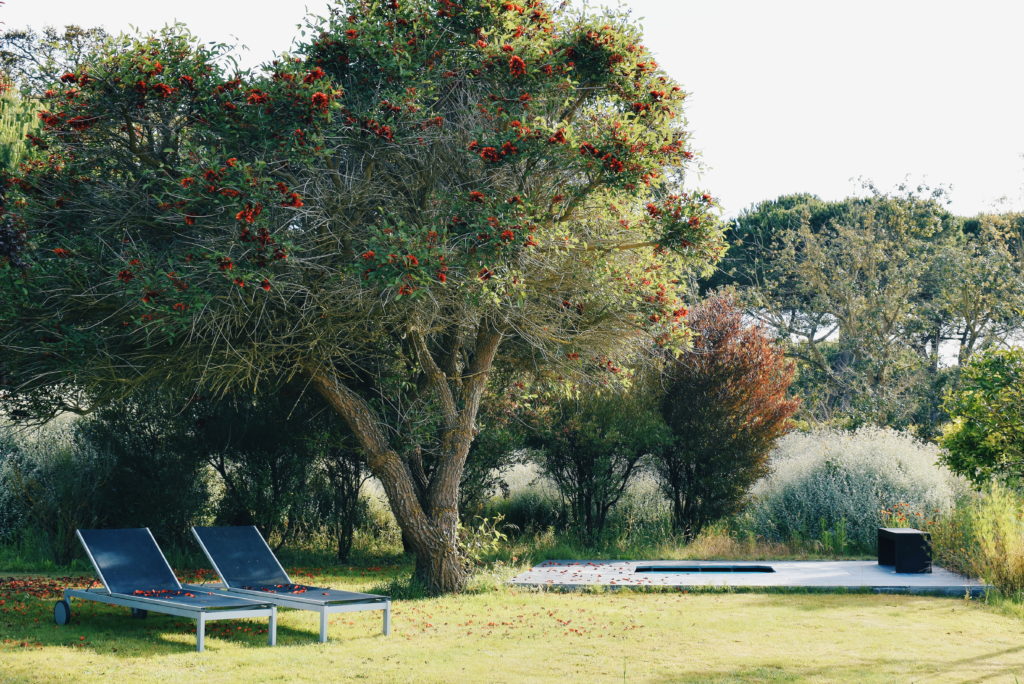 The sunken hot tub at Quinta do Miguel
Breakfast is served at whatever time you please, in your room or an outside space of your choosing. A box of goodies arrives: hot scones or pastries, fresh bread and pumpkin ginger jam, meat and cheese, glasses filled with strawberries and kiwis, yoghurt sprinkled with pomegranate seeds, bags of jasmine and mint tea and a varieties of coffee. Two bottles with tea cosy tops are filled with milk and orange juice. It was far too much for just me (like every good hotel breakfast should be) and each morning it was placed on my table my hands flitted around the spread not knowing what to choose first.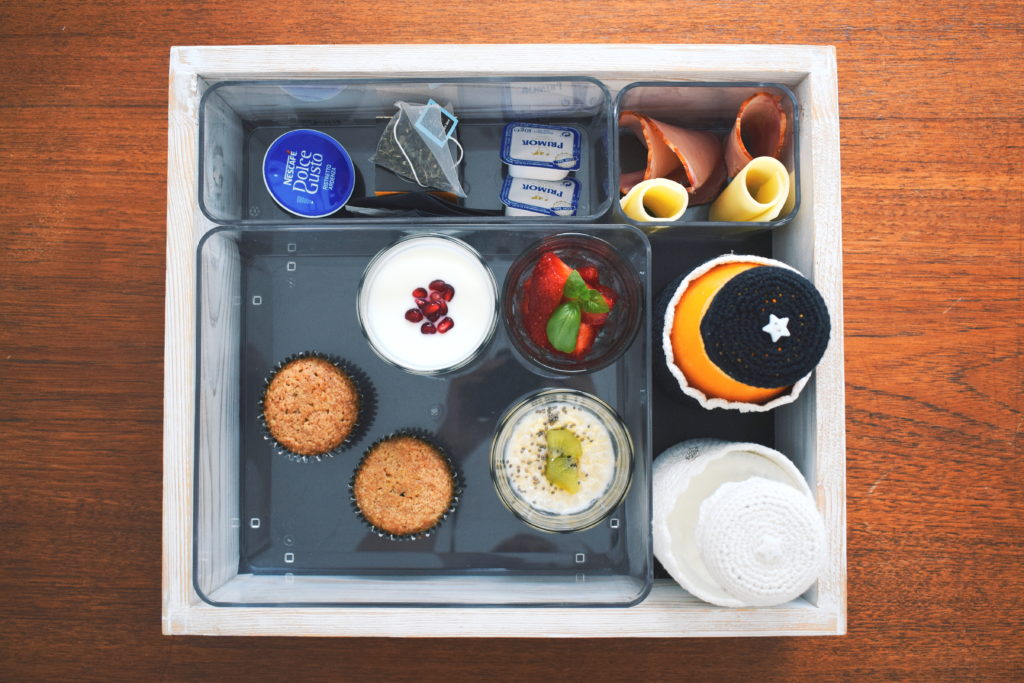 It's not just the outstanding facilities that make Quinta do Miguel special, but the people running it too. Susana, her husband Sergio, and their team of staff work tirelessly to create a quality hotel experience, finding the perfect balance between giving guests space to relax, but always being on-hand for anything you might need.
They've reimagined select parts of what it is to stay at a hotel. Check-ins are casual and unforced, and usually held over a drink on the terrace. Guests are not allocated certain sections here – the space is yours to explore and roam in, a practice that emphasises the evident relaxed atmosphere that's so masterfully created. Quinta do Miguel is a haven, just 40 minutes away from Portugal's bustling capital. It's where you want to come home to at night, and wake up in the morning.
If all that's not enough, the peacock, fanning his bright feathers in the early sunshine, is surely reason enough to stay.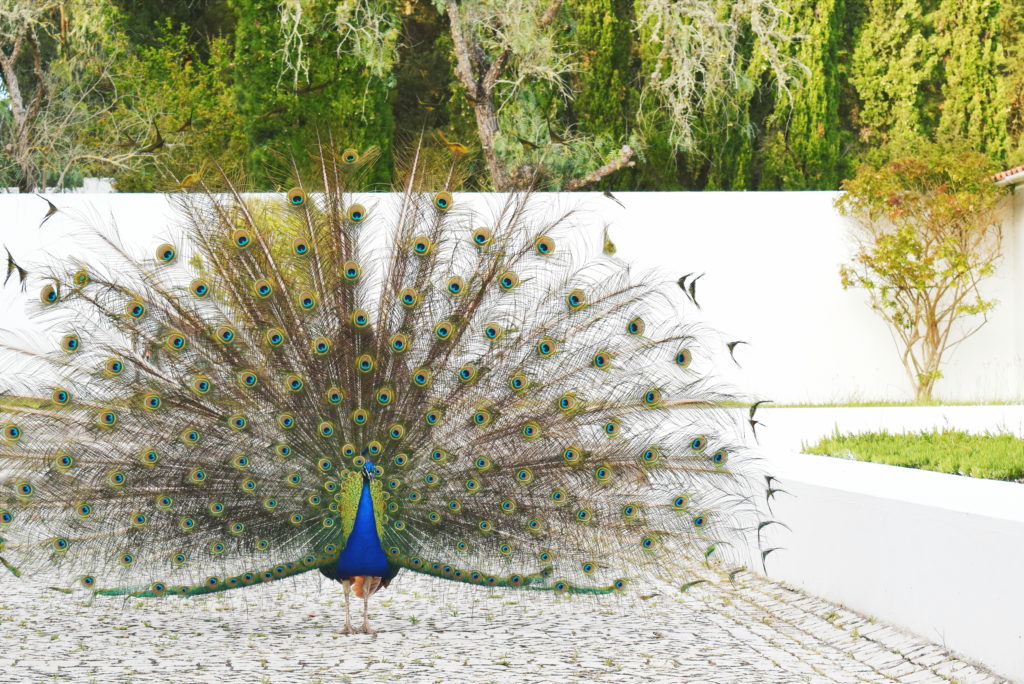 What do you think of Quinta do Miguel?
Would you stay somewhere like this?