Évora hotels: Imani Country House review
Our car rumbled along the dirt road approaching Imani Country House. When they say country, they really mean it; this hotel might be just 15 minutes' drive from the city of Évora, but the dense collection of cork trees we were navigating our way through now was anything but urban. Before we'd even reached Imani's gates we felt secluded. It was as if we were in on a secret, one revealed only to a chosen few.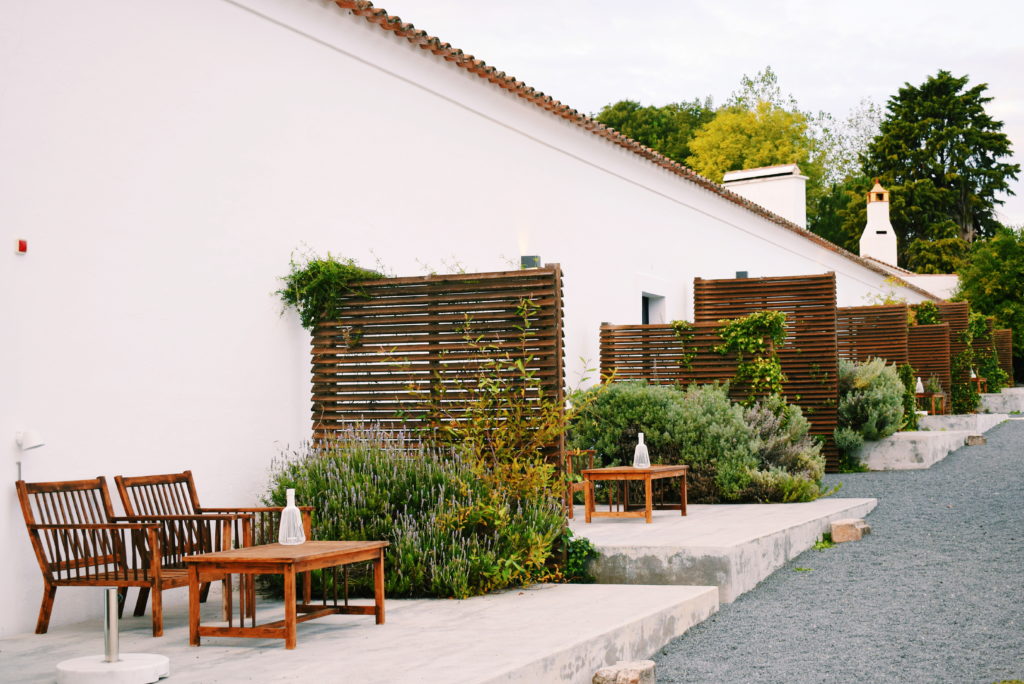 When approaching Imani for the first time, it's difficult to picture the hotel as the run-down farmhouse it once was. Over the last few years, the owners have transformed this property into one of the most decadent, sophisticated examples of rural tourism in Portugal. A long, narrow building makes up the rooms – just eight in total – most with their own terraces and all uniquely furnished with signature pieces. Alongside that is the owner's house, the restaurant and lounge, a wine shop, two pools, an outside bar and seating area, and orchards and gardens to wander through at your leisure.
We were shown to our room, a Superior Suite, by Cláudia, Imani's warm and accommodating receptionist. The suite was made up of two rooms, in the upper section of the building under a beamed ceiling. The giant bed drew my eye in immediately; white sheets against a dark over-sized headboard, with two wooden lamps either side.
A mirrored cabinet, with panels at odd angles, sat against the wall to the left, and a colourful, striped chest of drawers to the right, both unlike any furniture I'd come across before. Two armchairs were snug around a fireplace opposite the bed, and a window in between looked down over one of the pools and a sprawl of trees beyond. In the centre of the bathroom stood a large claw-footed bathtub, next to a petite sofa in a geometric print, art books on the shelves, and two deep, square marble sinks.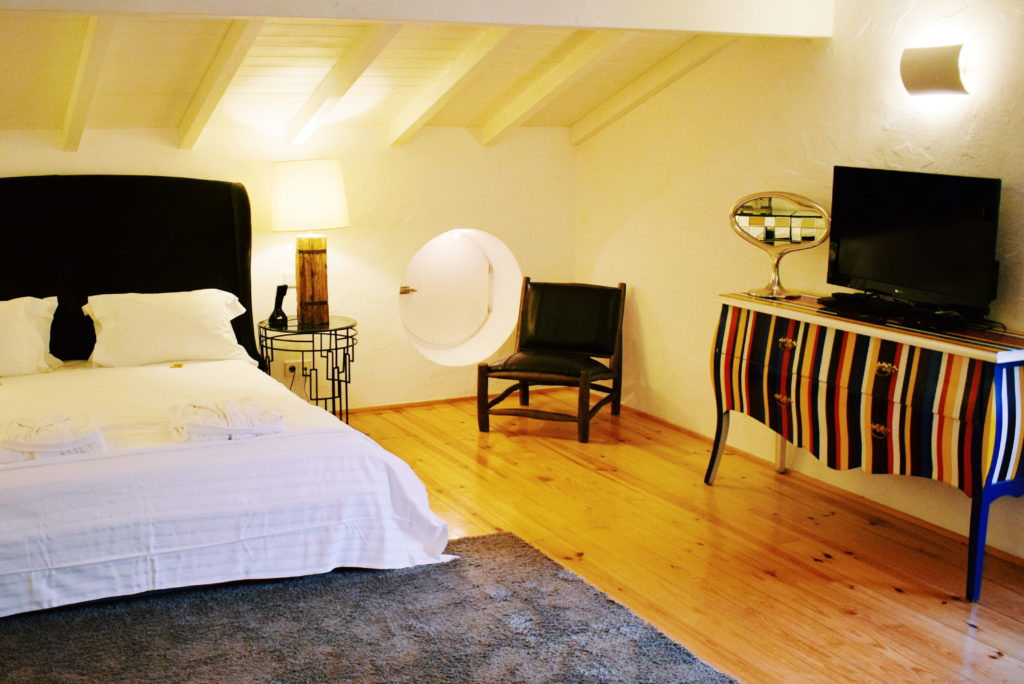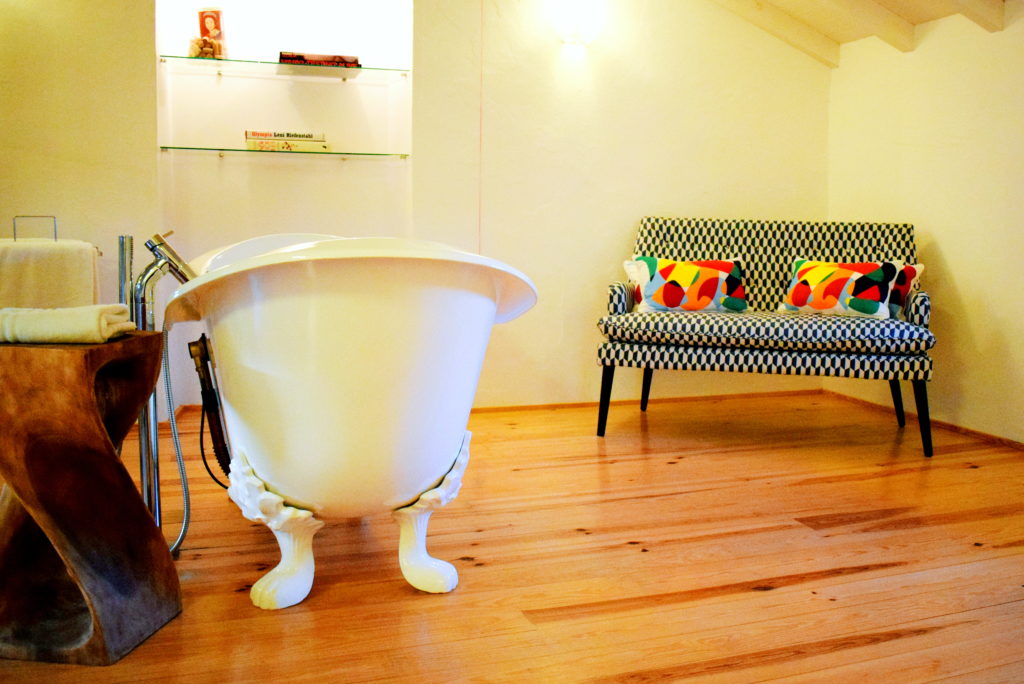 The detail was flawless. What Imani manages to pull off so well is adding just enough to give a strong sense of character, but not enough to overwhelm. The mismatched furniture concept can easily be overshot, but the designers here have found the exact right balance between quirky and minimal. The unusual pieces in the room are given enough space to shine, creating a distinctive atmosphere, one that's also cosy and inviting – the beautiful bed and bathtub alone establish the latter. The first thing I did was sit back on the bed and look around the take it all in, content and already feeling relaxed.
We took a wander outside, down the length of the building. Passing the terraces, which belong to the other rooms, we strolled under a walkway covered by trees. Birds flitted around above our heads at the sound of our steps on gravel as we advanced through the tunnel of foliage. Out on the other side we came to a path leading towards the second pool (complete with an unadulterated view of the countryside) and the open bar area. The service here works on an honesty, help-yourself basis, whereby guests write down whatever they've had and pay on check-out. I crossed the black and white tiled floor and pulled two beers from the fridge, which we drank in the peace and quiet while watching the evening draw in.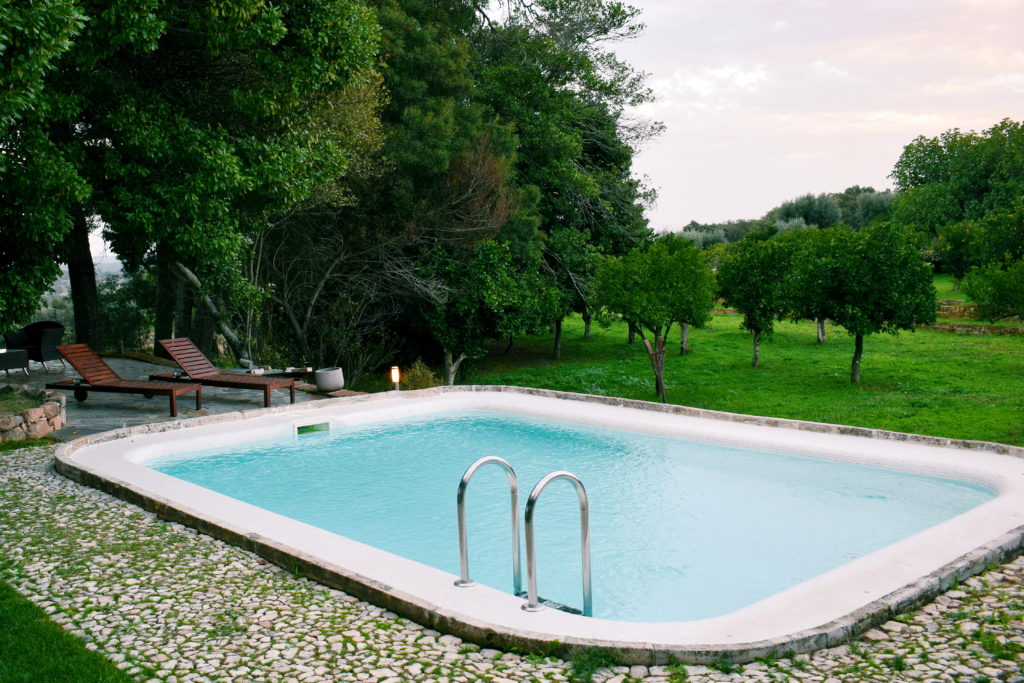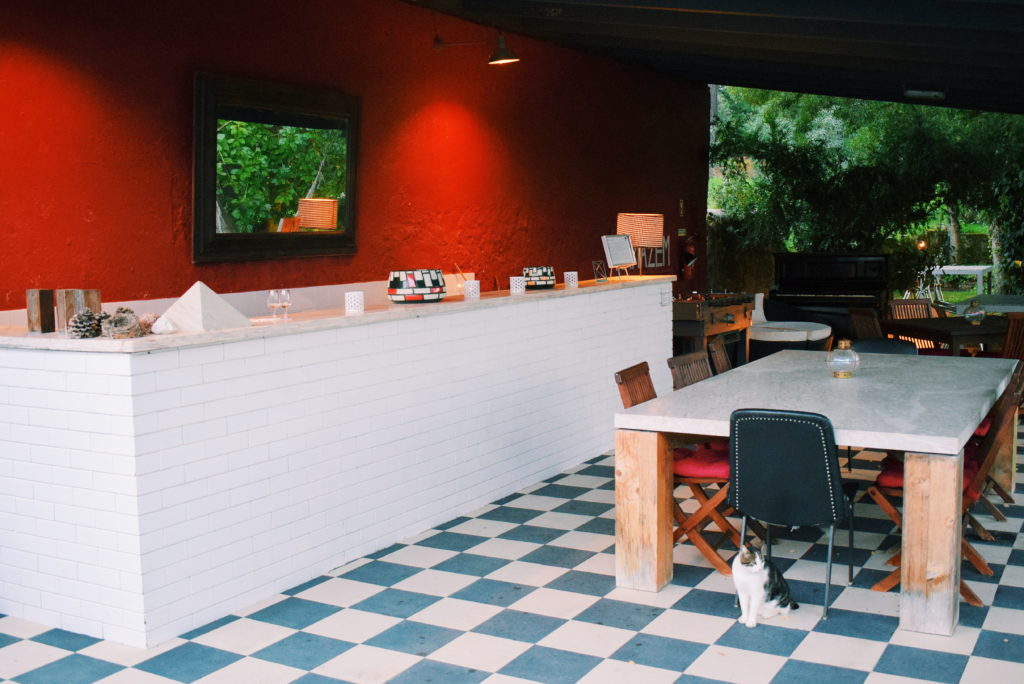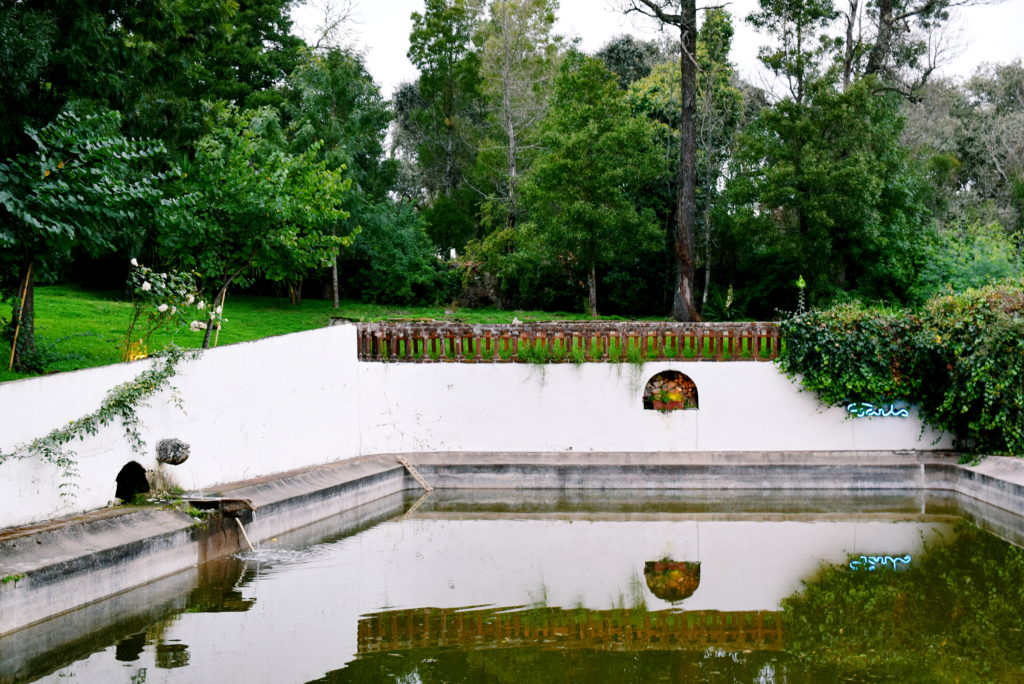 Entering the restaurant and lounge area next door is like stepping into a thrift shop. A collection of modern tables and chairs for dining leads through to an arrangement of sofas next to a fireplace, pool table, and cabinets of oddities. Anything from stacks of retro magazines to old film cameras and vintage toy cars can be perused in this lounge. We looked around closely with furrowed brows, transfixed by this assortment of rarities clearly gathered together over years of rummaging through antique shops.
Attached to this eccentric emporium is a wine store. The hotel works together with a local vineyard to produce their own brand of wine, and they also make oil using the olives from trees grown in the grounds. This focus on tradition and creation runs through to the dinner menu, which we sampled that evening. Blood sausage, bacalhau, and steak in Portuguese sauce all make an appearance on the small but rich menu, alongside carpaccio, breaded brie cheese, and pork tenderloin.
Each course came out at exactly the right moment, delicately laid out on the plates and full of flavour. Having both lived and worked in Portugal for a while, and thus sampled many local menus, my partner and I found Imani's food authentic and on-point, a solid example of refined Portuguese cooking. We were the only guests staying that night, so we indulgently dined in solitude while music gently played in the background.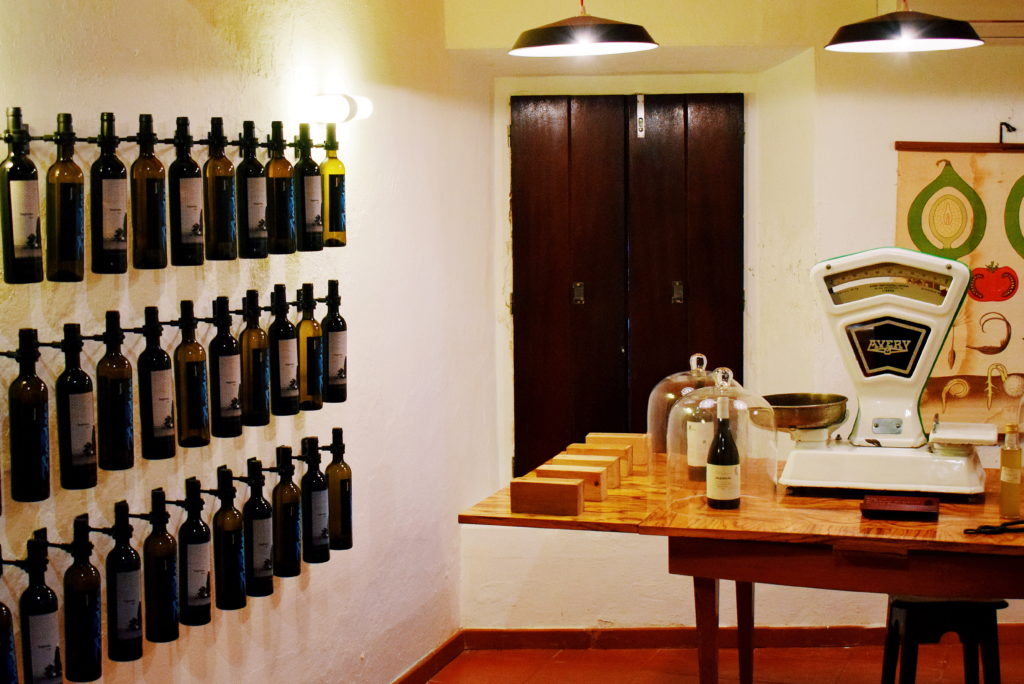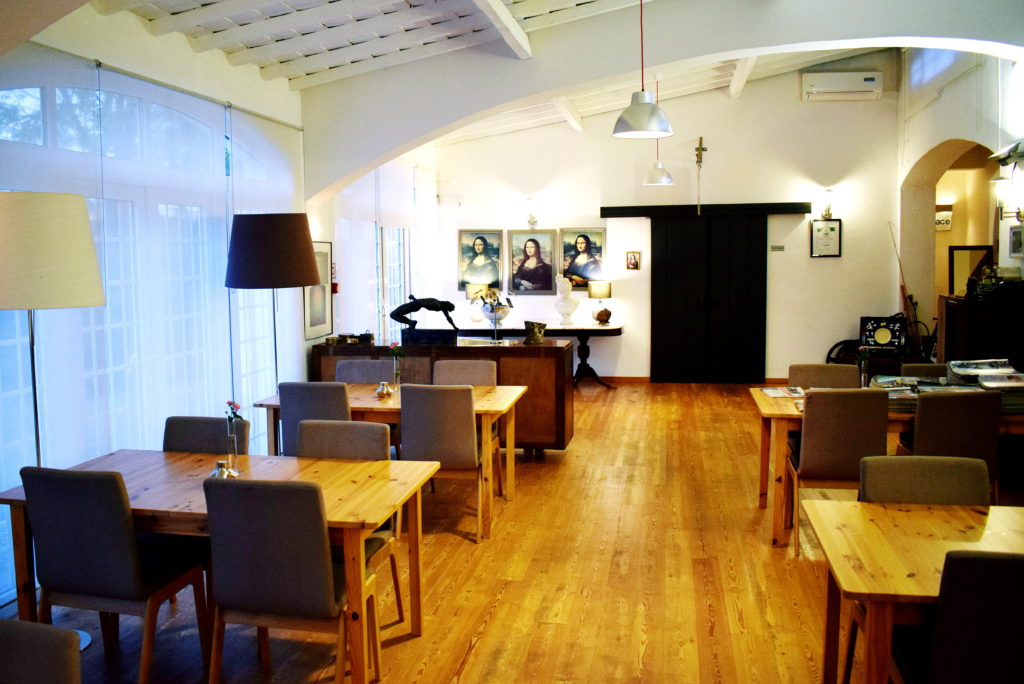 A restful night followed, wrapped up in the cosy gigantic bed that was hard to leave when morning came. But the previously evening's meal foreshadowed a delicious breakfast, one I was sure would be worth dragging myself from bed for. Served from 9am until noon – a testament to just how relaxed this hotel is – and laid out in the same restaurant area was the usual pequeno-almoço line-up: bread, meat and cheese, cereal, fruit and pastries. A smiling Portuguese lady (who claimed her English was 'not so good' despite far surpassing our Portuguese efforts) came out when we arrived and offered fresh orange juice plus eggs and bacon cooked to our liking. We feasted on three courses and pulled ourselves away, a little fatter, an hour or so later.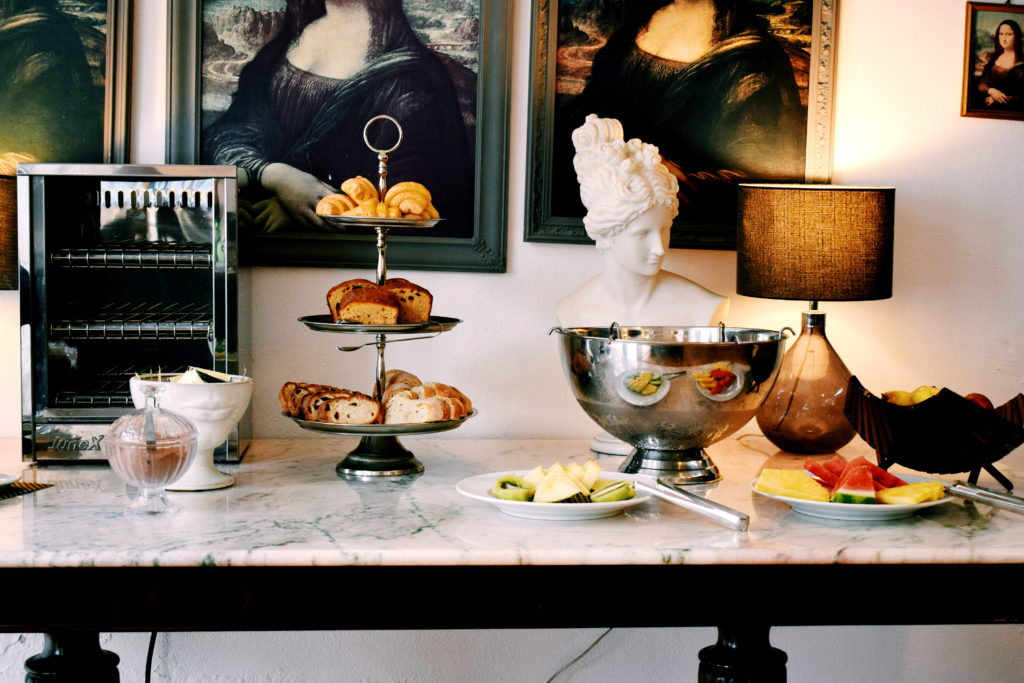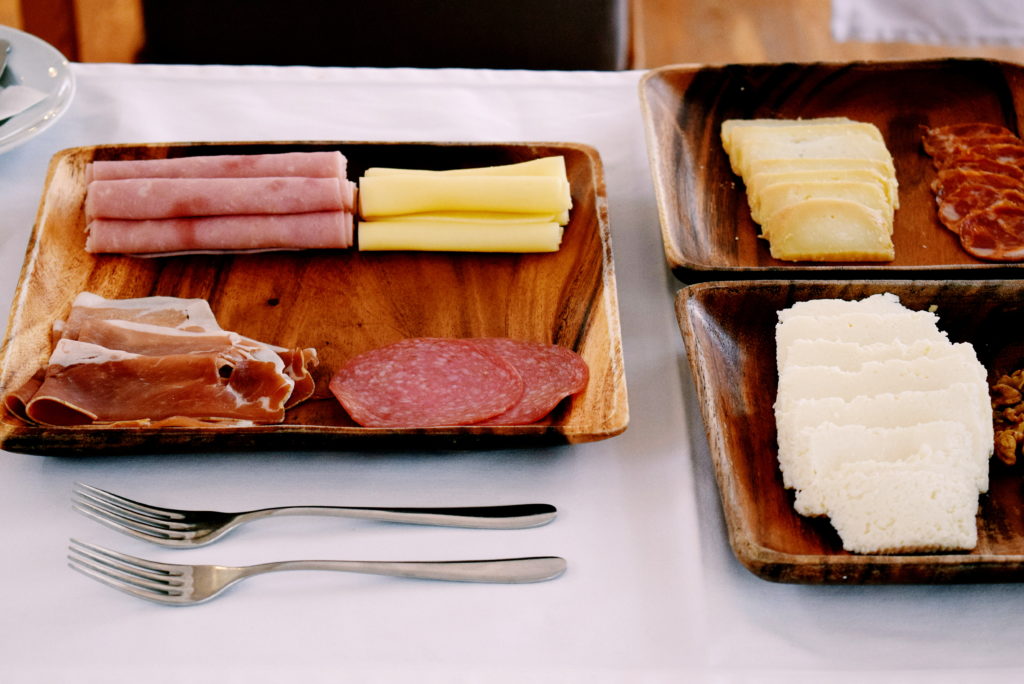 Upon leaving Imani, we were already plotting our return. We listed friends and family we couldn't wait to recommend it to. With a critical eye we strived, but failed, to find a fault. Imani is luxury without pretension, relaxed yet refined, and stylish minus the cold attitude that can often come with ultra-contemporary hotels. There is no rush here. Time is of no importance, suspending itself for as long as you stay. Imani is a divine escape from the world, and, put simply, I cannot wait to go back – the sooner the better.
Would you stay at Imani County House?
Have you stayed at any other Évora hotels?