Every-Day Explorer Podcast Ep. 9: Get into Photography for Immerisve Travel Experiences
We love taking photos here at GKM. We regularly go on photo walks, we get a thrill out of Instagram, and we care for our cameras as if they were our own children. Over the years, we've found that the more we've got into photography, the more we've developed a greater awareness when travelling. Being on the look-out for beautiful pictures has encouraged us to see things with new eyes – even then places we've lived in for years.
For this episode of the Every-Day Explorer Podcast, we chat to photographer Katrinka Sasha about how to pay more attention by becoming a shutter bug. Some of you may remember Katrinka from episode one of the podcast, where she talked about her adventures in daring destinations. We chat about this further from the perspective of photography, including her favourite places to shoot, some sage advice about how to get started, and why she loves to use film cameras.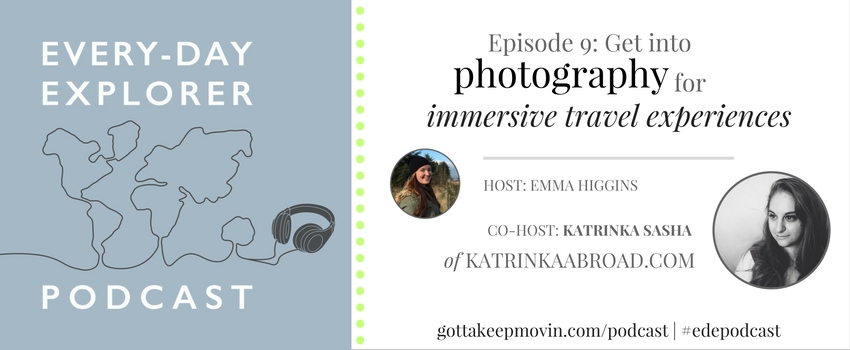 Through her website, KatrinkaAbroad.com, Katrinka documents her travel and posts stunning galleries of her photos. From Salvation Mountain in the USA to the changing faces of Istanbul – her current base – Katrinka tells beautiful stories through pictures and words, and we've met few people more passionate about pictures than her.
This conversation between Katrinka and our founder Emma, another avid photographer, talks about how looking at life through a lens can force you to notice things you would otherwise skim over. This applies to travel and venturing through new lands, but is also so relevant when talking about home. Going out for a walk through your city with a camera in-hand and the intention of capturing a story with it puts an entirely new spin on familiar surroundings.
Photography can quite literally open your eyes to new perspectives, and is a form of discovery in its own right. Be inspired by Katrinka and her life of photos in this fascinating episode of the Every-Day Explorer Podcast.

More inspiration:
As well as using it for flicking through beautiful photo galleries, we love to use Instagram to help us plan future trips. Millions of photo are uploaded onto Instagram every day, making it one of the world's most frequently updated resources for travel. People love to Instagram their morning coffee or Sunday walks, so why not tap into that and use the app to find cool things to see and do as you travel?
Read this post to find out more:
How to Use Instagram to Plan Your Travels
Have you been inspired by this episode of the Every-Day Explorer Podcast to take more photos?