Every-Day Explorer Podcast Ep. 7: How to Rock a City Break
When many of us want to get away for the weekend, we choose to escape on a city break. Spending a couple of days in an exciting new city is one of the best ways to squeeze in adventure around a hectic work and life schedule. In this episode of the Every-Day Explorer Podcast, we chat to travel blogger Hannah Kacary about how to organise a killer city break, from accommodation advice, to how to save money and balance your time between sightseeing and relaxing.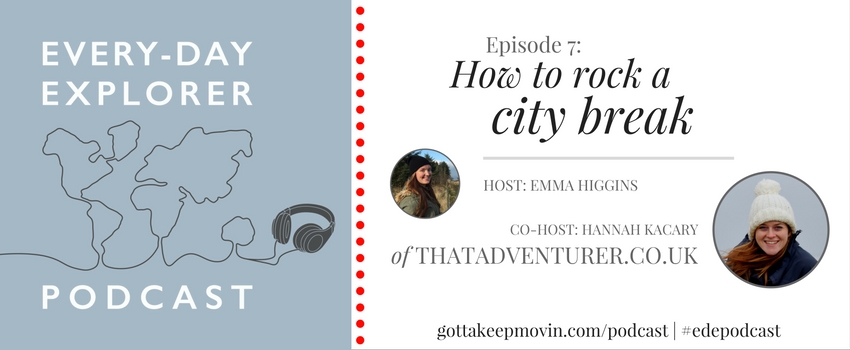 Since walking (read: being dragged) up Mount Vesuvius at the age of six, Hannah has loved adventure. She can't sit still for long which has its difficulties when you're working a 9-6 job five days a week! However, this has meant she's learnt to master the art of a weekend break and crams in as many as possible whilst stretching her annual leave as far as she can. Her website, That Adventurer, chronicles her escapades, and she details heaps of advice on quick and budget-friendly trips.
This experience makes Hannah ideal for this conversation about city breaks with our founder, Emma. The pair share stories about their own trips – mostly across European cities – and use them to offer you some advice on how to become a city break ninja yourself. Between them they've stayed in anything from humble hostels up to design hotels, perfected the art of foreign supermarket shopping and eating out for cheap, and know the hidden secrets of where to look online for the best tips in town.
Even if you're pretty apt at city breaking yourself, you're bound to find some new ideas in the jam-packed episode of the Every-Day Explorer Podcast.

More inspiration:
If you've listened to this episode, you will have learnt that we're always on the look-out for the unusual and offbeat when it comes to city breaks. There are of course unmissable sights in any city around the world, but when we zip away for the weekend we want to find something different and have a local experience.
As we travelled around the UK and Ireland last year, we began putting together alternative city guides, which are packed full of tips that you won't find in a standard guidebook. Since then, we've also started to created them for our current location, Portugal. Here are a few to whet you appetite:
Alternative Glasgow City Guide
Did you learn something new in this episode of the Every-Day Explorer Podcast?