Every-Day Explorer Podcast Ep. 4: Secret Adventures and How to Find the Outdoors in Big Cities
Today we're joined by Madoc Threipland, a keen traveller from London who founded a company named Secret Adventures. Designed to prove that the thrill of exploration is never too far away, Secret Adventures runs evening and weekend trips in London – anything from full moon swims to kayaking on the Thames.
We chat to Madoc about how he created the company, the kinds of experiences they've had so far, and the advice he's got to share to people who want to seek outdoor adventure in hectic urban spaces.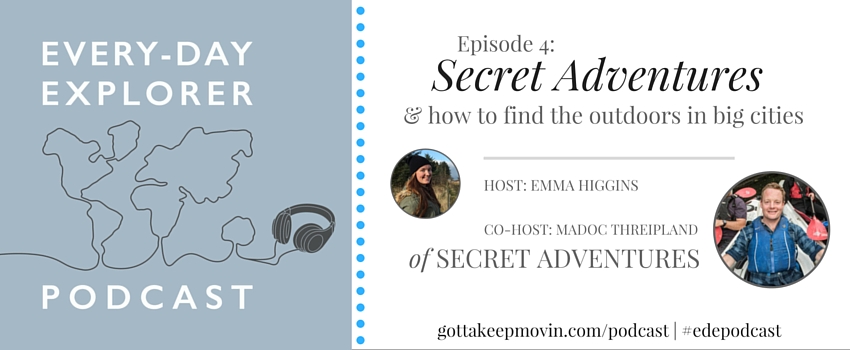 We found out about Secret Adventures through a couple of blog posts we stumbled upon online. When we heard about the project, we knew we wanted to get Madoc on this podcast because Secret Adventures represents everything this series is about – especially the fact that the adventures prove that you can get your travel thrills even in smokey cities and around a jam-packed work schedule.
And that's just one of the perks we've discovered about Secret Adventures. We actually went on one of their lido swim and camp fire evenings around the time we recorded this episode, so we could see what one of their nights is all about. It was a chilly February evening in London Fields, but there we were, a group of strangers all looking for something different, sat around a campfire discussing the perfect technique for toasting marshmallows. We were excited to meet people who crave adventure just like we do.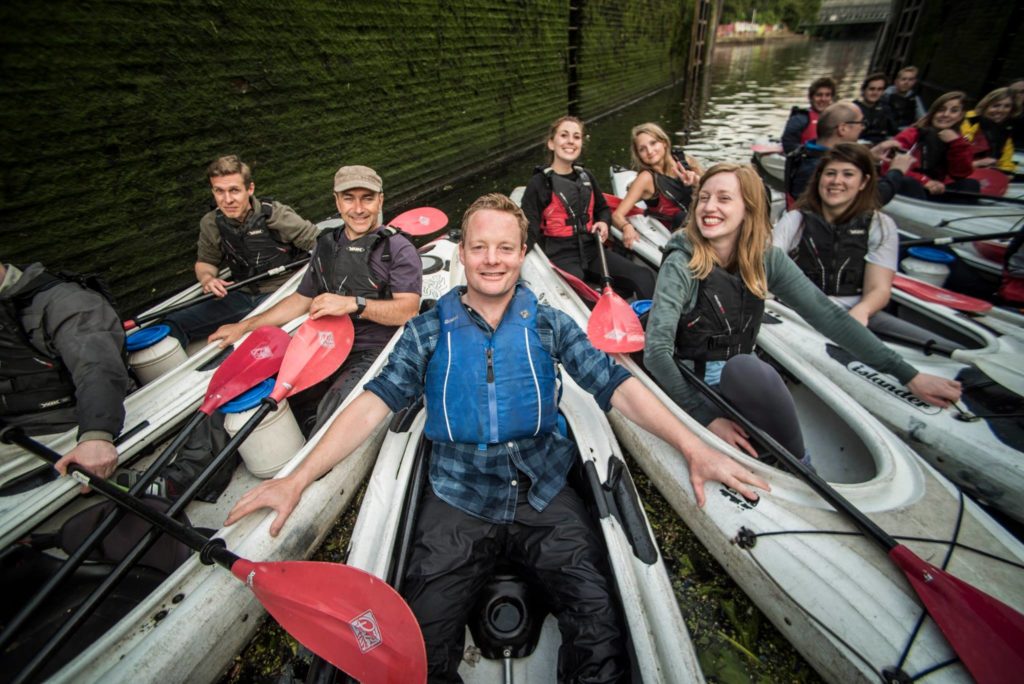 Madoc and a group of Secret Adventures kayakers
This episode of the Every-Day Explorer Podcast is great for those keen outdoor explorers who live and work in big cities. If you grew up in the countryside or you're used to having access open spaces, sometimes moving to a city can be claustrophobic and it can feel like adventure is too far away – this chat with Madoc proves otherwise. We're so impressed by the way he makes it look so easy to find little pockets of wonder in urban spaces, so there's a lot to learn from him.
Get ready to be inspired!

More inspiration:
In this episode, Madoc and I touch on some advice for those looking for the outdoors in big cities. To give you some more tips, we've written up this post:
5 Ways to Find Outdoor Adventure in Cities
It's all about pushing yourself to find those quirky spaces and reimagining what you can do in them. You'd be surprised how much you can find even in the most dense places, if you're willing to rethink what it is to have an outdoor adventure. And sometimes, the challenge of finding it in a big city is more rewarding that venturing to wide open spaces.
Where do you find outdoor adventure in your city?
Which part of this podcast episode has inspired you the most?