Driving Through Iberia: Porto to Madrid
This is the final post in a four-part series on driving through Spain and Portugal. If you haven't seen the others, make sure you catch up here to read the full story. 
Cara had been keeping a secret.
Leaning back in camping chairs in the surf town of Ericeira, Cara told me stories of family holidays in the USA. Theme parks were always an essential stop on these trips, and on countless occasions Cara's Dad was faced with a wide-eyed daughter tugging on his sleeve, begging him to take her on the kinds of roller coasters that make your stomach rattle around in your belly. As it turns out, Cara is a bit of a daredevil. It was this passion of Cara's that led to me being strapped to a zipline in the mountains of north-eastern Portugal, muttering curses at my travel companion under the noise of my heart thumping through my chest.
In the hills of Ribeira da Pena in Portugal is Pena Aventura, a rip-roaring activities park that Cara had researched months in advance. It's the kind of place where you can go off-road segwaying. What I was hanging from in mid-air was the Fantasticable, a zipline strung between two mountains, 1,538m in length and 150m off the ground. It takes 70 seconds to get from one end to the other, while your body is strapped in two places to the wire so that you're lying face down and it feels like you're flying over the valley.
I started shaking as we were taking the bus up to the start point. It was when the 12-year old girl in our group who had a GoPro strapped to her head giggled at my nerves that I knew I had to stop being so silly. Cara whizzed away before me and as the instructor got me ready for take-off, the same little girl offered some reassuring (and adorable) words: 'Fly like a bird!'
For me, anticipation itself is always worse than the anticipated event, and as the instructor released the catch that was holding me back, the floor beneath me started to run along like a conveyor belt and I was gliding into the valley – this wasn't so bad after all. Nerves disappeared, replaced with a wide grin and a proud sense of enjoyment. I didn't have any time to feel fear; the surroundings so magnificent that they quickly blew away any doubt. Here's a video to convey just how beautiful we're talking, filmed on my GoPro that I held tightly in my hands.
My pulse had just about resumed normal rate as we crossed the border back into Spain. Faces lit up with adrenaline, we cruised through the hills towards La Alberca, a scribble of streets in the mountains near Salamanca. On last count in 2012, the population of La Alberca was 1,192. As we pulled Bluebell up and parked her outside the village's small shop, it was like being in a safari park and we were the attraction. The crowd around the car harmlessly peered in and looked at our pale complexions with curiosity, nudged their neighbours and stealthily pointed our way. Cara spoke some of her fluent Spanish as we were paying up, and a face of acceptance and respect from the cashier initiated us into La Alberca living.
Our last night under the roof of a tent was spent at a small, peaceful campsite on the edge of the village, and the next morning we had coffee and pan con tomate for breakfast at one of La Alberca's cafes. Our footsteps echoed off the streets as we explored the village, treading lightly so as not to disturb the quiet that hung in the air. Cramped buildings with irregular rooftops line the alleys, creating a scene like that of a twisted fairytale. Wooden beams and chunks of stone make up La Alberca's buildings, but it looks like every home was individually designed; no two are identical, as if the village has expanded brick by brick as a new resident moves to town.
The narrow streets open up into a main square. Balconies run along the white and wood homes that line it on all sides, some decorated with colourful flowers that spill over the sides of their pots. Partnered with the sunshine that pours into the square, the dash of colour sets the scene alight. Saturday morning routines begun. Elderly residents in weathered suits walked through the square around us, running errands and checking in with the neighbours. Some stopped by the handful of stalls at the open-air market to collect bits and pieces. The dozen or so locals we watched pass through the square ambled with intention of usual weekend errands and a peaceful kind of bustle.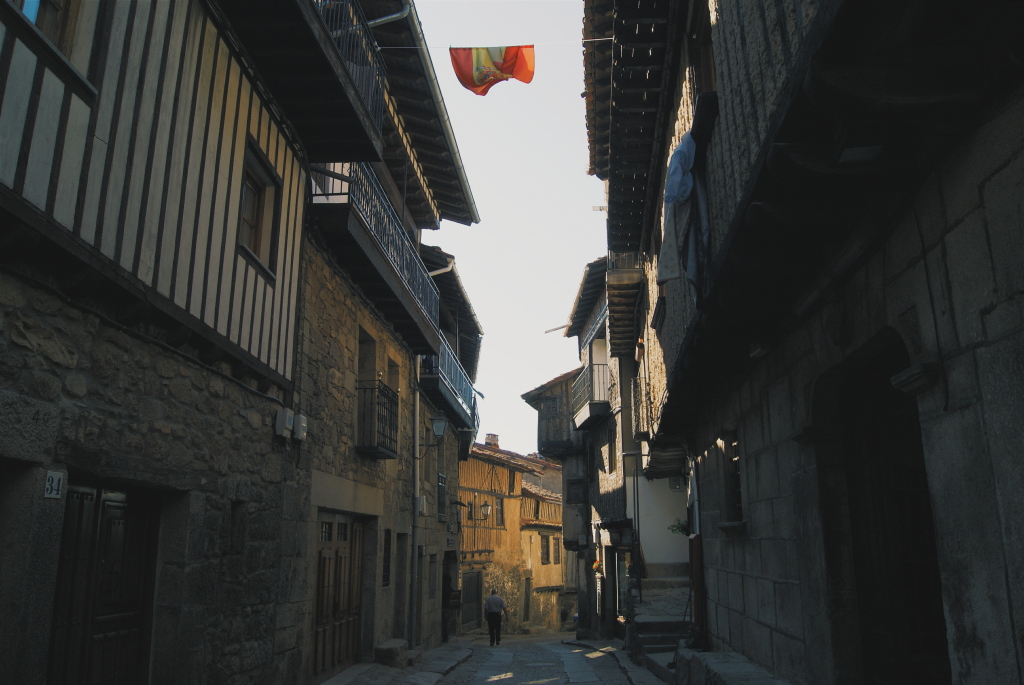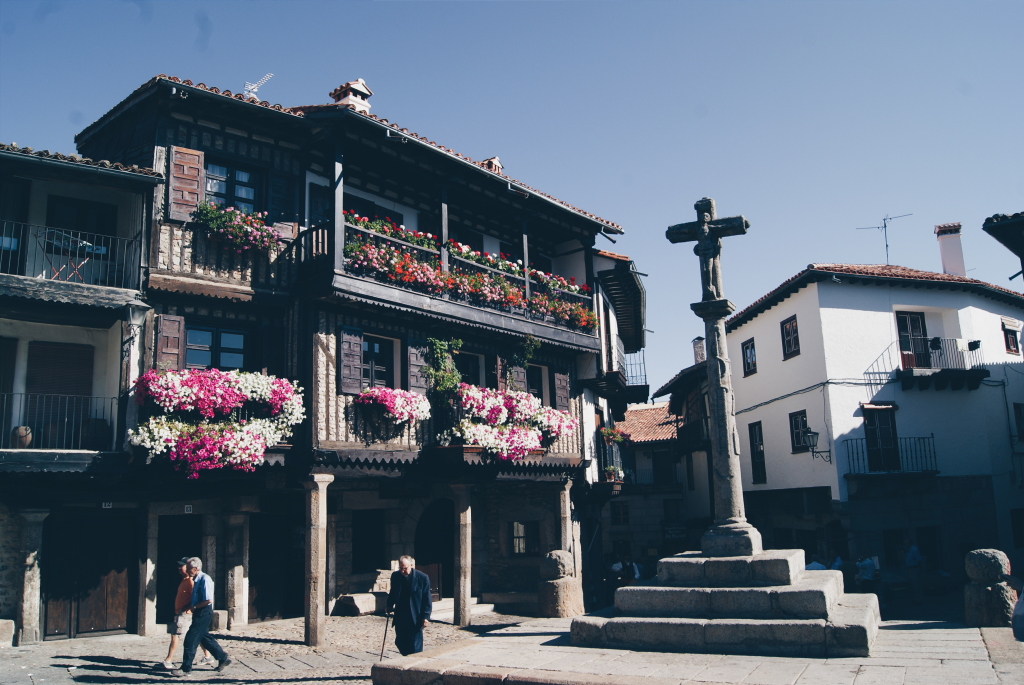 One establishment in La Alberca has made a significant splash. The region is particularly famous for producing some of the finest Jamón Ibérico in Spain, the kind you find being sheared straight off a dried pig's leg in bars across the country. Local baker Mariluz Lorenzo owns a shop in La Alberca packed to the rafters with pastries and chocolate, but perhaps her most famous product is her nougat, one flavour of which has incorporated the popular local product. That's right – ham nougat.
Magazine and newspaper clippings about the culinary oddity are laminated and hung from the walls or stuck to the front of the fridges. Cara and I perused the products, licking lips at the towers of donuts and furrowing brows at other unrecognisable creations. In the end we decided to buy some dark cherry chocolate dusted with gold flakes as a gift for Cara's family back down south, a decision made difficult by all the pink, white, fluffy slabs of sugary treats it sat nestled between.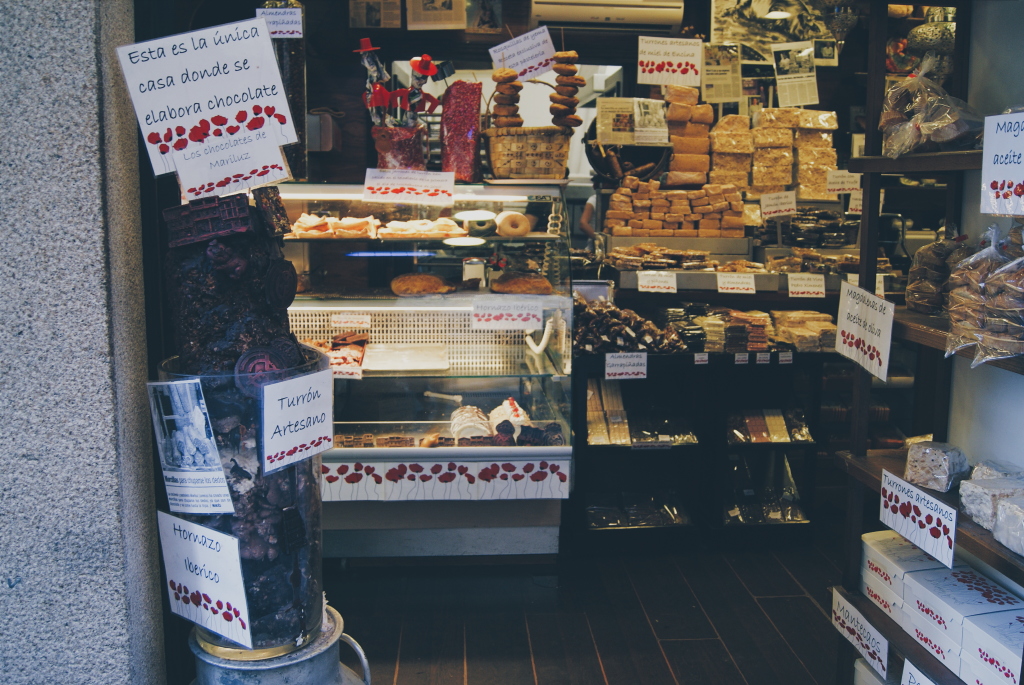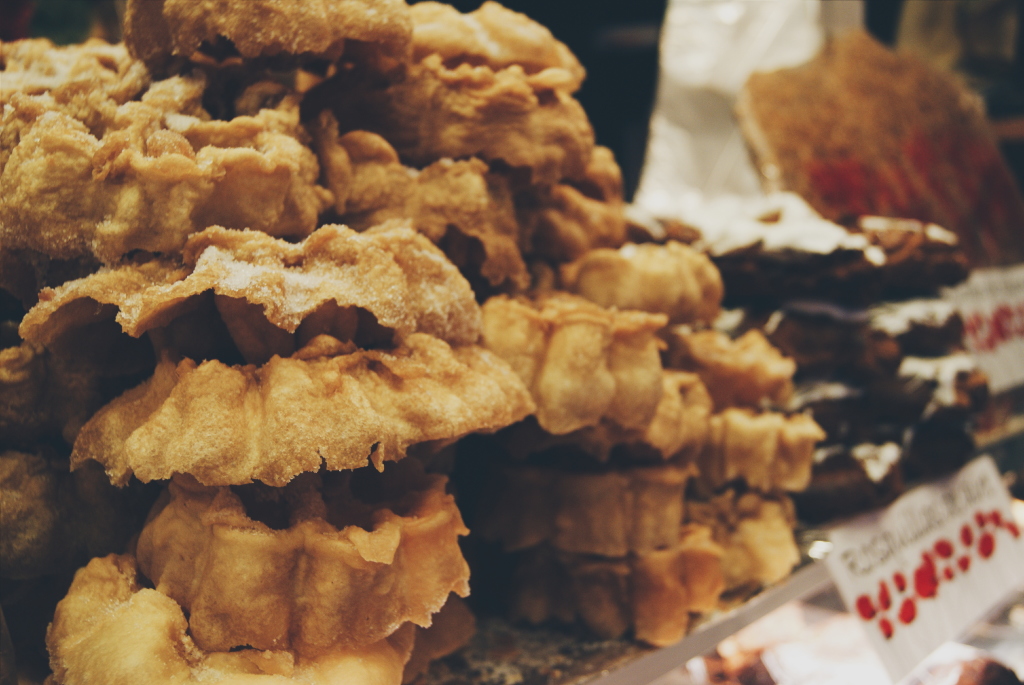 Listening to Ricky Gervais podcasts along the way, it felt odd to think that our drive to Madrid from La Alberca would be the final leg Cara and I would take together on this trip. The following day we wouldn't be setting off on a new adventure. Instead, we'd be parting ways.
Relaxing in one of Madrid's large square with expensive cocktails as a final treat, it was alien to be in this busy city after having experienced the still of small-town Portugal and Spain. Mighty Madrid felt even mightier than Lisbon or Porto. Dwarfed by its towering blocks, we meandered through the city centre and found a French restaurant for dinner. True to form, the only thing we had the intention of doing on that final night was eating well.
I don't think either Cara or I had anticipated quite how much we could fit into just a week of driving through Spain and Portugal. At breakfast in a small café of that final morning, we marked our paper map with the route and miles driven, struggling to pull every part of the trip out of our crowded memories. Across the bottom of The Algarve, venturing through caves and sleeping on beaches. Heading north to Lisbon to eat delicious local fare and strolling through castles in Sintra. Standing on the edge of Europe and pitching our tent among surfers in Ericeira. Falling hopelessly in love with Porto. Soaring through the sky in Ribeira da Pena, sleeping among mountains, and eventually finding ourselves here, in Madrid – seven days and 2,000km later.
Cara drove me to the airport the next morning, a little sombre. I put on The Chain by Fleetwood Mac for one last hurrah – it was our road trip song that was played each morning as we set off. Turning the volume down for a second to speak, I turned to Cara and said,
'So, northern Spain next year?'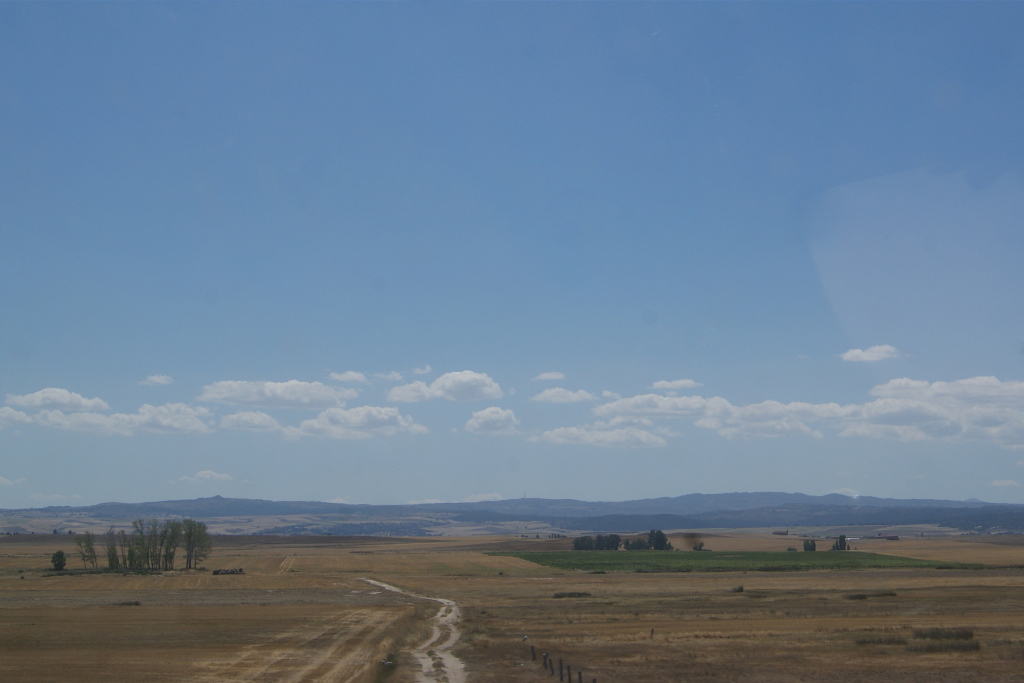 Have you ever been to this part of Spain or Portugal?
Burning question: Would you have taken on that zipline?!
2 responses to "Driving Through Iberia: Porto to Madrid"