Alentejo hotels: Ecorkhotel Suites and Spa
We arrive at Ecorkhotel to the gentle clanking of bells. The peaceful sound is coming from the necks of grazing livestock in the next field over. Ten minutes ago we were in the centre of Évora, a historic town that acts as the capital of the southern Alentejo, Portugal's rural central region. The grand churches and city walls seem much further away than ten minutes' drive, now that we are surrounded by fields, a sea of cork trees, and a small cluster of buildings – our accommodation for the night.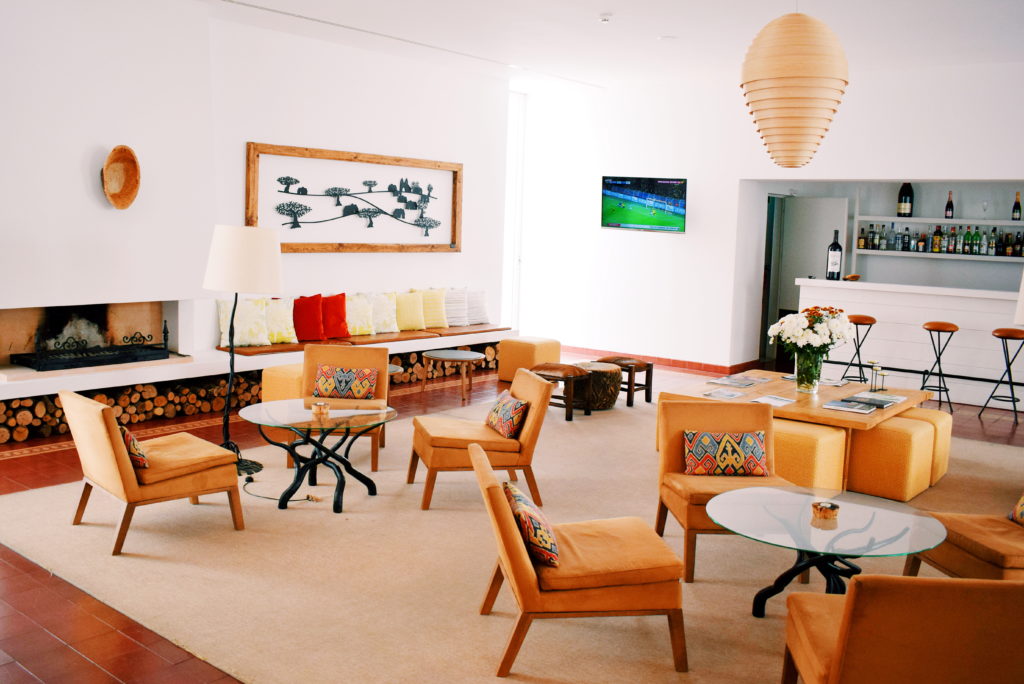 Ecorkhotel is 10km west of Évora and is a four-star property that prides itself on sustainability, innovative design, quality, and luxury. The hotel's main building is striking not only because of its angular, contemporary shape, but because it's covered in a three-inch layer of cork.
This product is a quintessential part of the Alentejo – an area home to the world's largest cork forest – so it seems apt that a hotel here should use the substance as an integral part of its make-up. Ecorkhotel's springy outer layer acts as thermal and acoustic insulation, making the building extremely eco-friendly. Add that to the geothermal energy and solar panels used to heat the main building, water sources, and swimming pool, and you have one of the finest examples of responsible tourism in this part of Portugal.
I brush my hands again the side of the building, feeling its velvety texture as we proceed to check in. The large main reception area is decked out with comfortable chairs in oaky tones, a fireplace, and a stocked bar. The staff welcome us with hands outstretched, and run through the available facilities – a swimming pool, spa and restaurant are all here to make for an indulgent stay.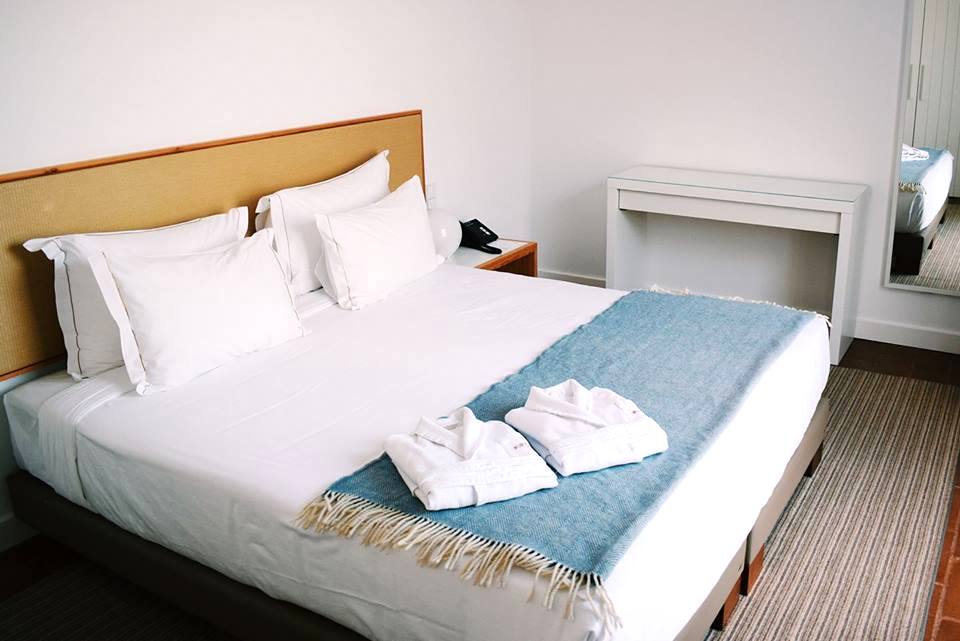 Our room, located in the group of 56 individual buildings arranged in a village, is minimal and sleek. A bedroom, small living area with a couch and desk, private terrace, and bathroom make up the classic suite, decorated in neutral shades with splashes of colour. The style, coupled with a quiet that enhances the feeling of being in the depths of the countryside, evokes placidity and still – like you're cut off from the world. That's quite true a sentiment when you discover the somewhat patchy, albeit free, WiFi (dodgy only in some of the rooms, not the main building), but that's a small glitch to forgive in an otherwise very accommodating room.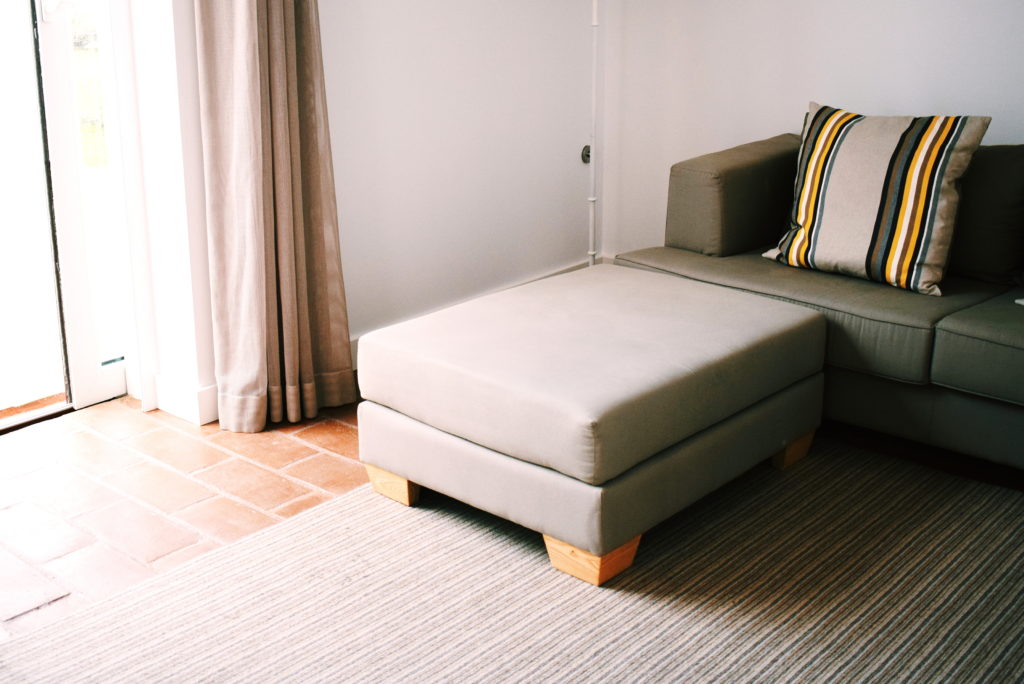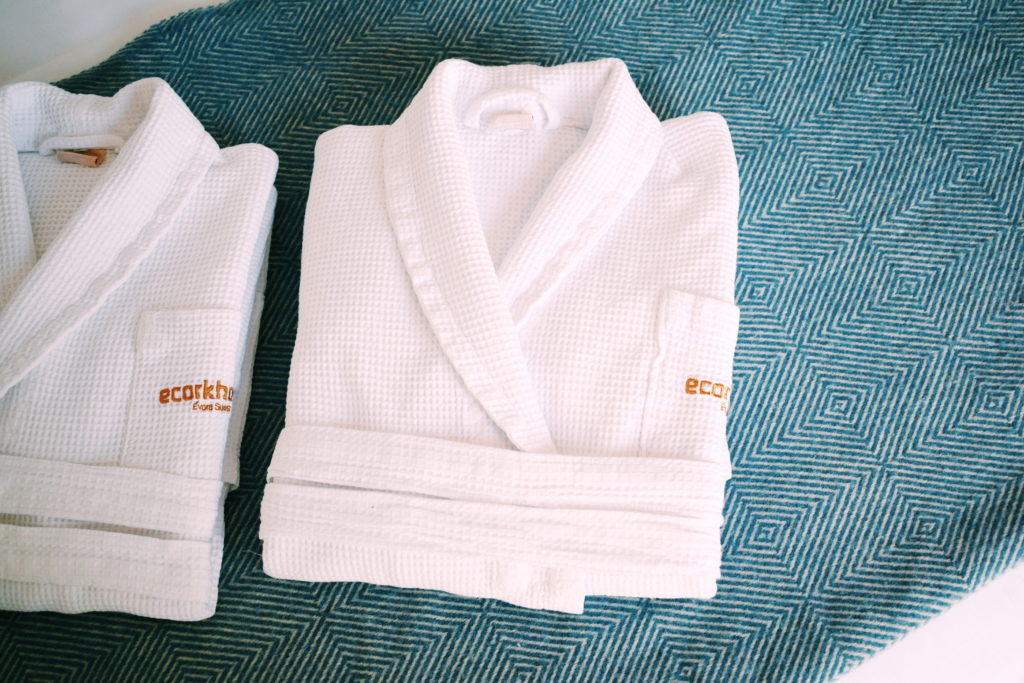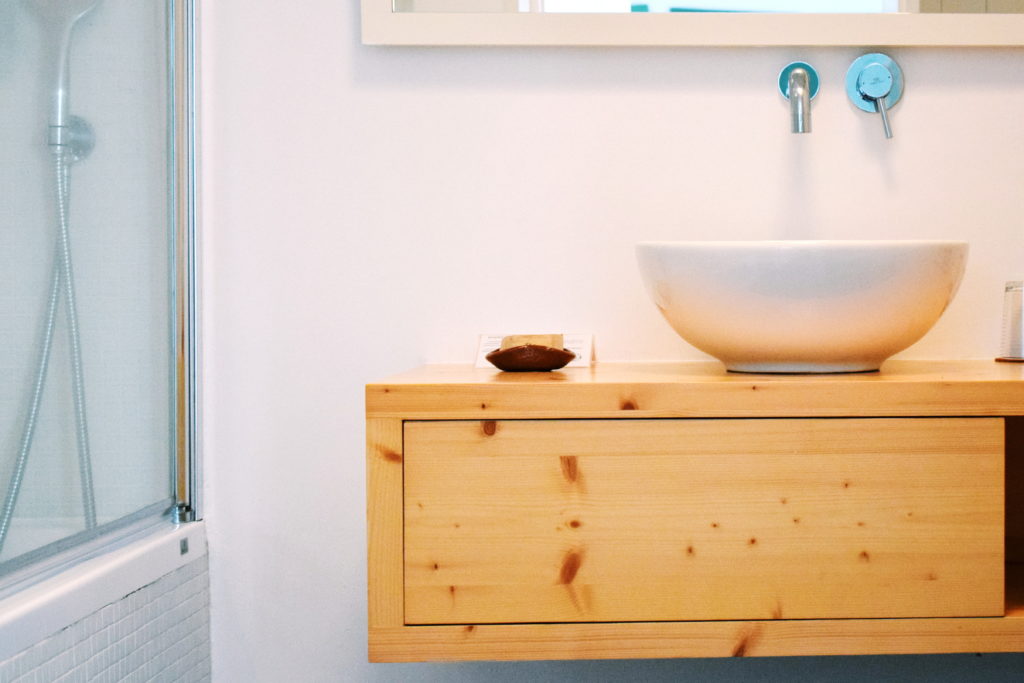 Ecorkhotel has two pools, one of the rooftop and one inside. It's low season and cloudy, so we opt for a dip inside along with a steam in the Turkish bath and sauna. Here you can flit between the humid cabins and the cool pool waters. Through the brick-sized windows at eye level when you're in the pool, take in views of the surrounding fields and watch lambs gambol around next to their mothers. A fully-equipped gym and spa treatment centre next door rounds off the wellness experience at Ecorkhotel to create a fitness and leisure circuit that entertains for hours.
Stopping by the pool on the rooftop, it's easy to imagine lying here on sweltering Alentejo summer days when the temperature can soar to well over 40°C. With the backdrop of the sprawling landscape, we can picture few better places to recline below a bluer-than-blue July sky.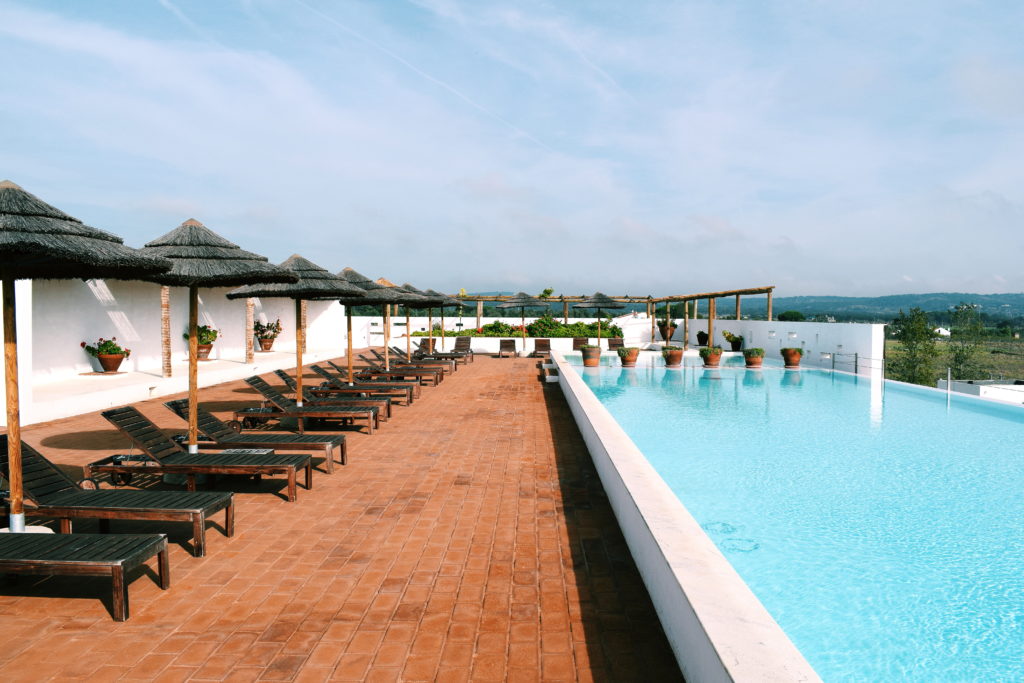 With Évora just a short drive away, we have dinner and drinks in town before coming back to a noise-free night's sleep on the firm but comfortable mattress, swathed in soft sheets and topped with plump pillows. The room's black-out blinds ensure a blissful lie-in, and our slumber is roused in the morning only by a faraway baaing of sheep.
Breakfast is a vast affair. Trays of meats and cheeses, cereal and fruit, cakes and pastries, sausages, bacon, eggs, and mushrooms fill the tables.  Delicious coffee smells waft through the restaurant, a space that follows the trend of cork on the walls and has a stretch of glass windows from which you can look out over the fields. The staff are attentive and friendly, and discreetly clear our empty plates away while we mull over what to devour next.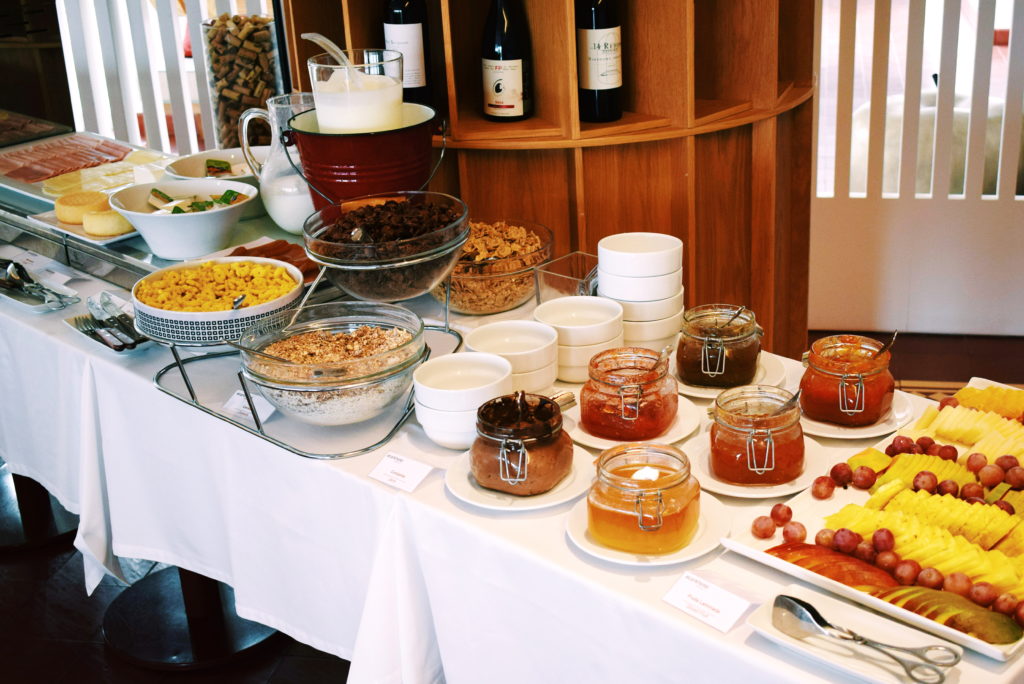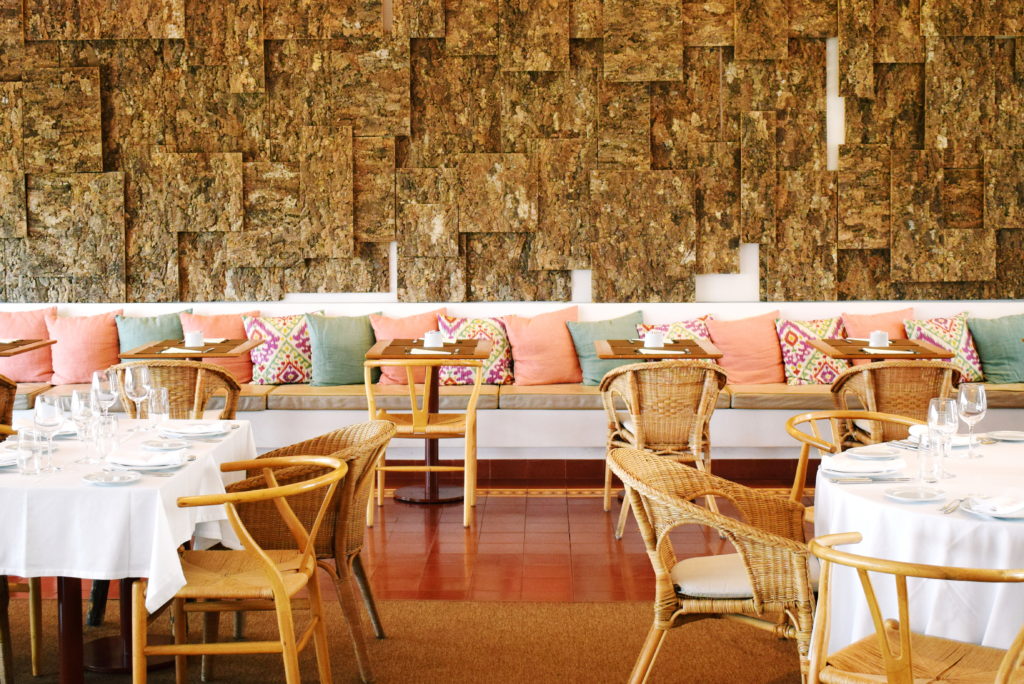 We leave accompanied by a chorus of sheep in the patches of grass next to the car park. They look curiously at us as we pack away, a firm reminder that despite all the modern amenities we've enjoyed during this stay, rustic Portugal is also strongly at the root of Ecorkhotel. This powerful combination of traditional and modern in such plain terms, alongside a strong eco-friendly ethos, is what makes this property stand out above many Alentejo hotels.
Would you stay at Ecorkhotel?
Do you have other favourite Alentejo hotels?