8 Best Boutique B&Bs in Southwest England
With some of the most beautiful coastal scenery in the UK and green rolling hills inland, southwest England is one of the best places in Britain for a weekend getaway. The beauty of this region calls for exceptional accommodation, and in that department the area does not disappoint. From rustic farm stays to ultra-chic city escapes, these are the best boutique B&Bs in southwest England.
1. The Idle Rocks, Cornwall
As one of the nation's top choices for a UK beach break, it comes as no surprise that Cornwall is home to an abundance of contemporary and stylish B&Bs. The Idle Rocks in the town of St Mawes is a shining example of the best Cornwall has to offer.
A traditional seaside vibe meets elegance and luxury in all 19 rooms at The Idle Rocks, and each are individually designed. Many rooms have seaside or harbour views, some have free-standing baths with views overlooking the sea, and all offer on-point, minimal design with a splash of colour.
Don't miss the food here – produce is sourced from markets and foraging spots in the local area, and is served up seven days a week for breakfast, lunch, afternoon tea, and dinner. If you're here at the weekend, the award-winning Sunday roast is an absolute must.
Rates from £200 per room per night
2. Cider House, Devon
The fact that Cider House is based on National Trust grounds, in the shadow of 700-year old Buckland Abbey, is reason enough to entice you to stay. However, this B&B doesn't rest on its laurels – the four beautiful rooms at Cider House are thoughtfully designed, evoking a bright and airy English country garden feel that echoes the B&Bs' surroundings.
With only a handful of rooms this makes for a quiet and peaceful stay. Cider House also ideally suits ethical eaters, as the owners rear their own pigs and chicken, plus gather fruit and vegetables from their orchard. Breakfast is a relaxed affair and many pubs and restaurants are found nearby. Dartmoor National Park is a short hop away for some of the most breath-taking scenery in Devon.
Rates from £135 per room per night
3. The Pig, near Bath
For an authentic country house getaway, there are few better places around Somerset than The Pig. Set in rural southwest England, a stone's throw from the historical city of Bath, The Pig offers luxurious accommodation with a rustic edge.
A total of 29 rooms make up what's on offer here, from small snugs (don't be fooled by their stature – each come with walk-in monsoon showers and giant beds) up to suites with two floors, free-standing baths, and wood-burning stoves. This is a midnight-snacker's delight – all rooms are equipped with their own treat-filled larder plus Nespresso machines.
The Pig boasts a 25-mile menu, with meats such as venison, wild rabbit, pork, and duck sourced locally. Their on-site Kitchen Garden allows chefs to pick produce on the very same day of serving, so you know you're in for something fresh here.
Weekend rates from £169 per room per night
4. Number 38, Bristol
Number 38 is one of Bristol's finest boutique B&Bs, set up in a renovated Georgian townhouse on a hill with sweeping views over the city centre. Breakfast here is rich and varied, with gourmet cook breakfasts and an array of pastries, cereals, and fruit.
On top of the indulgent food, every touch in Number 38 screams decadence: chunky beds (super king size is available), soft dressing gowns, and a mix of bold and neutral tones on the walls. Relax in the evenings with a cocktail on the B&B's terrace, from which you can look over the city's rooftops. After long days of exploring beautiful Bristol, there are few better places we'd rather return to.
Rates from £115 per room per night
5. The Wheatsheaf, Gloucestershire
Nothing says rural UK getaway more than staying in a 17th century coaching inn, which makes The Wheatsheaf in Gloucestershire more British than a bulldog wrapped up in the Union Jack. That's not to say The Wheatsheaf is overly traditional though – wooden features are mixed with bright, modern fittings across the inn's 14 rooms. Luxury is a priority with Egyptian cotton sheets, high-end bath products, and Bang & Olufsen TVs in every room.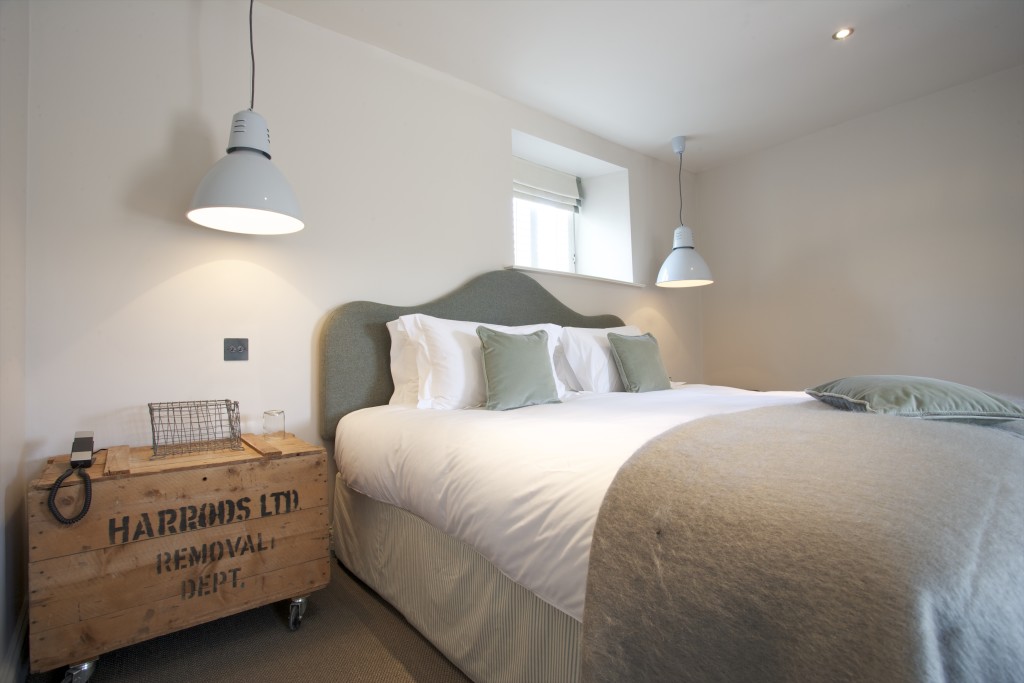 The Wheatsheaf, Gloucestershire
The Wheatsheaf calls the village of Northleach home, a traditional Cotswold village built in the area's signature stone. After pottering down to the hotel's restaurant for your included continental breakfast, take a wander around picturesque Northleach then venture further afield around the region to go clay pigeon shooting or have a day at the races (we told you this is super British…)
Weekend rates from £135 per room per night
6. Brindleys + Grays, Bath
It seems that a city a refined as Bath should be filled with beautiful boutique B&Bs, and Brindleys and Grays are leading the charge. These sister properties are filled with dazzling white features – from the sheets and pillows, to the sparkling bathrooms, and the tablecloths in their light-drenched breakfast rooms. Touches of bright colour here and there plus decorative beds give each property a design-focused feel.
Quality doesn't stop at the way Brindleys and Grays look – refined hospitality is a top priority here too. A warm welcome comes as standard, and breakfast is packed with continental and cooked options. Both properties offer free on-site parking (a God-send in Bath) and are a short stroll away from the best sights in the city.
Weekend rates from £135 (Brindleys) or £130 (Grays) per room per night
7. The Rectory, Wiltshire
Our founder is a Wiltshire native so we've got a soft spot for the county here at GKM. The Rectory near Malmesbury is the epitome of Wiltshire hospitality: a country house set on lush green land, twelve rooms styled in a mix of contemporary and antique pieces with splashes of pattern and colour, and fine dining made with local, organic produce.
The Rectory's sister business, The Potting Shed, is nearby and offers guests the opportunity to experience a classic British pub experience. The menu here is filled with iconic dishes such as fish and chips and rich tender meats served with vegetables picked from their patch behind the pub. This is as quintessential southwest England as it gets.
Rates from £105 per room per night
8. Launceston Farm, Dorset
Organic sausages, fresh eggs from the chickens, and the property's own pressed apple juice are just some of the perks of staying at this farmhouse in Dorset. Launceston Farm prides itself on not only offering guests an authentic countryside experience (this is a working farm with over 500 beef cattle) but also a welcoming, comfortable space to return to after long days filled with fresh air.
The B&B has six different bedrooms, some are cosy little hideaways, others are more spacious with free-standing baths. There are also self-catering cottages and dog-friendly options here, and the beautiful Dorset coast is just a half-hour drive away.
Rates from £100 per room per night
Have you stayed in any special boutique B&Bs in southwest England?
2 responses to "8 Best Boutique B&Bs in Southwest England"