7 of the most beautiful Portugal wine hotels
For decades, wine has been one of the top reasons travellers choose to visit Portugal. Hundreds of vineyards are spread across this country's rural regions, firmly imprinting winemaking into Portugal's culture. Experience the delectable drink at these Portugal wine hotels that combine this silky nectar with style, luxury, and comfort.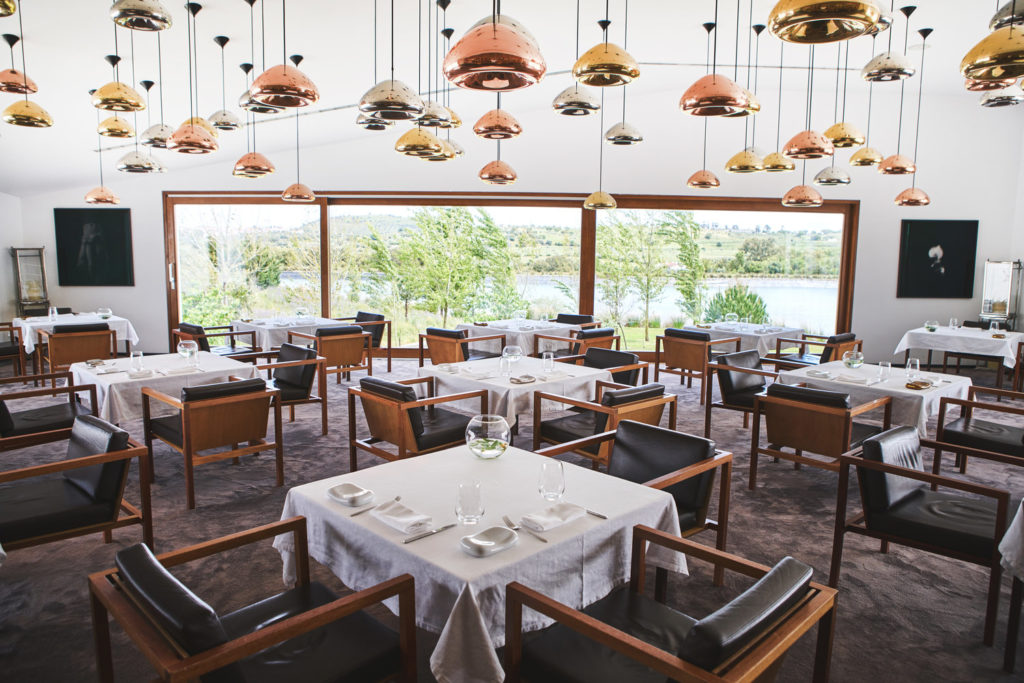 The restaurant at L'AND Vineyards
1. L'AND Vineyards, west of Évora
Championing minimal design and sophistication, L'AND Vineyards is one of the most modern vineyard stays in Portugal. Stone and wood play a major part in the make-up of this 22-room hotel in the Alentejo countryside, just west of Évora, giving it a rustic feel with contemporary edge.
The hotel owns 7,000 hectares of vineyard, growing domestic varieties such as Touriga Nacional, and some international grapes. To learn more about the vineyard's workings, you can join a guided tour and wine tasting, or opt for a L'AND Wine Route package deal. These three-day trips take you not only to L'AND's own vineyards but to other wineries in the region for an all-encompassing view of Alentejo wine production.
2. The Yeatman Hotel, Porto
Although not based directly on a vineyard, no round-up about Portugal wine hotels would be complete without The Yeatman Hotel in Porto. With tastings, a packed cellar, a wine club , and tours to vineyards outside the city, there's everything you need here for a dreamy wine break. That's not to mention the hotel's killer location: on the south side of the river in the city centre with views over to Porto's multicoloured old town.
The Yeatman's cellar is full to the brim with wines from across Portugal, making it one of best places in Porto to try a wide variety. Not only can you sample wine here and learn more about its production, you can also benefit from the vine's other products in the hotel's beautiful spa. Treat yourself to a Crushed Cabernet Scrub or a Merlot Wrap, then a dip in the panoramic infinity pool.
3. Herdade dos Grous, near Beja
Located in the southern Alentejo, Herdade dos Grous offers a more traditional atmosphere. This large estate evokes century-old Portugal – the building is white-washed with blue touches and terracotta roof tiles, and archways line the terraces. Dark wooden furniture is used throughout the hotel to emphasise that country feel, and alongside the vineyard the property is also a farm for horse breeding and an olive grove.
Herdade dos Grous' vineyard has been running since 1987, with the addition of a top-of-the-range wine cellar in 2005. The vineyard produces nine different varieties, mostly red, which are left to age in French oak barrels. Guests can learn all about the journey from grape to glass here, plus sample regional food from the restaurant, go horse riding, join a birdwatching tour, and take in views over the estate and beyond on a hot air balloon ride.
4. Quinta de Casaldronho, central Duoro
You couldn't be further into the heart of Portugal's infamous Duoro region when staying at Quinta de Casaldronho. Looking right into the Peso da Régua valley, this ultra-modern hotel is based on a 24-hectare plot of land – owned by the same family for four generations – surrounded by sweeping scenery.
The wine production here is relatively small, with around 100 barrels a year, 30 of which are reserved for Port. Dine in the restaurant to taste authentic Portuguese cooking, accompanied by a selection of wines. Follow your meal with a Port tasting and perhaps some cheese to nibble on too. The hotel's rooftop pool area makes for a spectacular place to watch the sun go down or the night sky shine, preferably with another glass of the hotel's own vino.
5. Torre de Palma, eastern Alentejo
A hotel, spa, winery, restaurant, and horse riding centre make up Torre de Palma's immaculate concept. This property dates back to the 14th century and was owned by the Portuguese Crown until 1863, when it was privately bought. Despite its historical roots, the current owners have entirely restored the building and Torre de Palma today is elegant with a rural twist.
It's thought that wine has been made here for thousands of years, which is why the theme was carried into Torre de Palma's core beliefs. The hotel is surrounded by vines, which produce red and white varieties of wine that can be tried in tasting sessions or at the hotel's restaurant.
6. Monverde Hotel, near Guimarães
Combining quality hospitality and years of experience in winemaking, Monverde Hotel is one of the most recent additions to northern Portugal's wine hotel scene. The accommodation is an addition to the well-established Quinta da Lixa vineyard, which prides itself on being one of Portugal's premier producers of vinho verde.
The main draw here is the restaurant, where you can try Quinta da Lixa and other Portuguese wine paired with regional dishes. The design of the hotel is simple but sleek, and the spa here further adds to the relaxed, calm atmosphere at this secluded countryside retreat.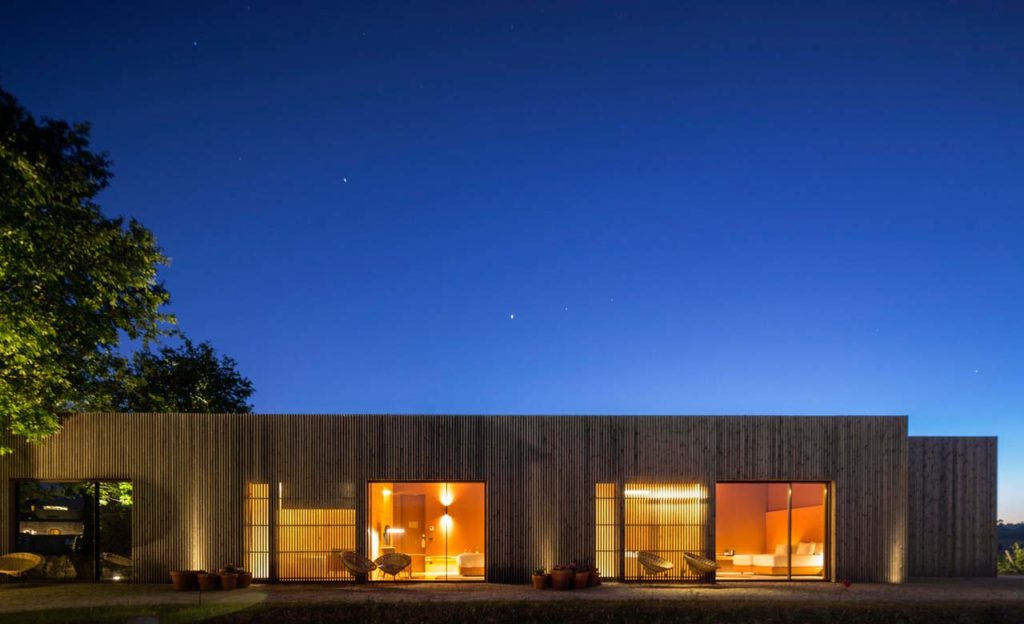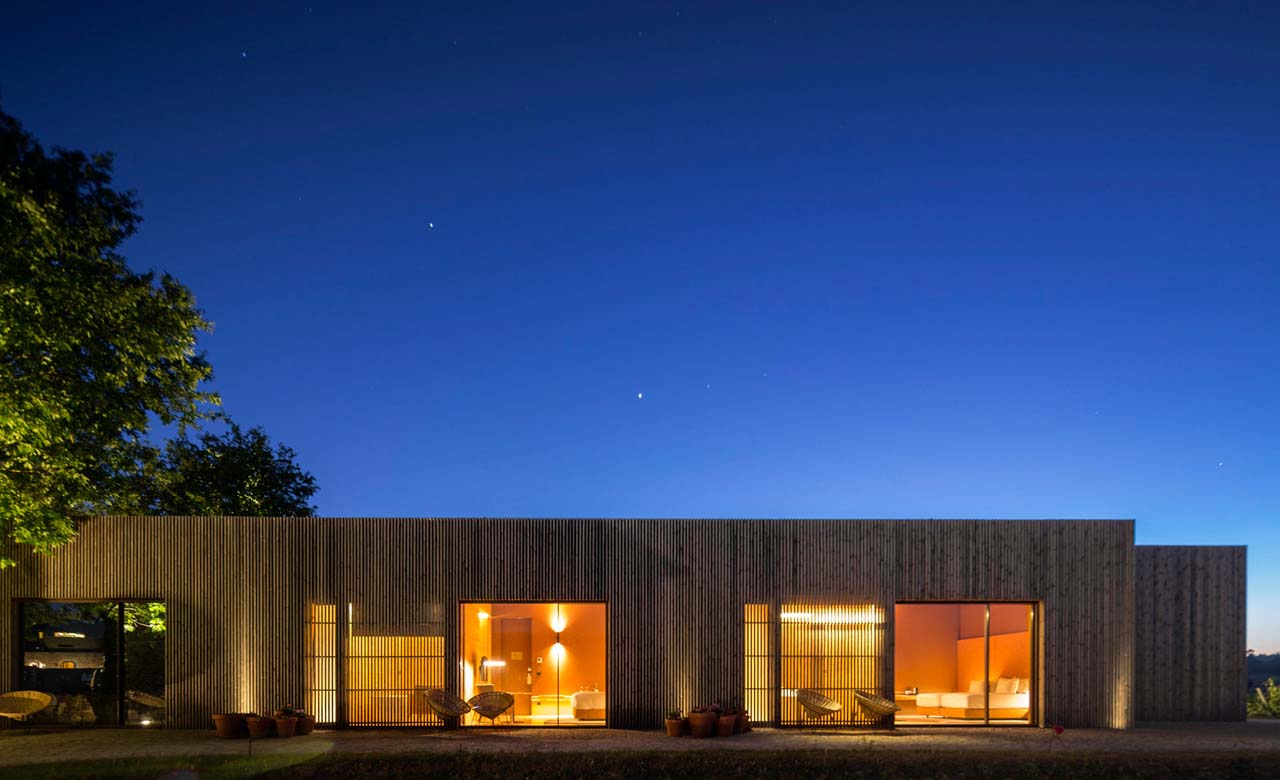 7. Casa do Rio, eastern Duoro
At the far eastern end of the Rio Duoro, near the border with Spain, you'll find Quinta do Orgal, and with it Casa do Rio. Sat just above the river with unadulterated views of the Duoro's magnificence, Casa do Rio is made almost entirely out of wood, with an orange grove at its feet. The hotel, which from afar looks like a letterbox stuck in the side of the mountain, has just six rooms and an infinity pool at its edge.
Even though the wine production here is not as extensive as other top Portugal wine hotels (vines were planted at Quinta do Orgal in 2009 and the first bottle was released in May 2016), you are nonetheless encircled by vines and in an undoubtedly stunning, unique environment. The vineyard is certified organic, and a label to look out for in the future.
Which of these Portugal wine hotels would you stay in?
One response to "7 of the most beautiful Portugal wine hotels"